Here at the Educators' Spin On it, we LOVE to make and play our own learning games. Our closets are PACKED with the best games for kids too.
Fill your game closet with some of the best games for kids!
In honor of our book launch for 100 FUN & EASY LEARNING GAMES FOR KIDS: TEACH READING, WRITING, MATH, and MORE this week, we have partnered with Hasbro to offer you a give-away of 5 games for kids!   Search #100LearningGames to follow along with all of our book fun on social media!  We love to see the games you are making and playing!  Amazon affiliate links.
The best games for kids are great for:
Afterschool play and learning
Birthday and holiday gifts
Quiet time play before bed.
Teaching life skills such as how to be a good sport.
Helping kids think strategically
Learning to problem solve
Strengthening social skills
Connect as a family
Start new traditions
The Best Games for Kids
That's right! We love games and want to send a pack of 5 fun kids games to one of you! Use them as gifts or play them right away. Games included in this prize pack:
US Residents Only. You must be over 18 to enter. For all rules visit our disclosure page.
We appreciate your support! BONUS entries of 5 points when you purchase the book.
a Rafflecopter giveaway (ENDED)
Best Games for Kids:  TWISTER
Best for Ages 6 years & up (My 3 year old joins in the fun too)
Players: 2+
Approx. Retail Price: $16.99
Add a twist of fun into any party or family night with the game that ties you up in knots! We like it because it gets kids moving!!! The little ones can work on
identifying colors,
position words,
following directions
Left and Right body parts
It's the #1 best seller for Floor Games on Amazon
Give the spinner a whirl and see what's next as you try to keep your hands and feet on the mat! Right foot green! Can you do it? Left foot blue… you got it! If your knee or elbow touches the mat, or you fall over, you're out. Be the last player standing to win! TWISTER game challenges you to put your hands and feet at different places on the mat without falling over! Be the last player standing to win.
A spin on the classic has two new moves! With Spinner's Choice, the spinner makes up a move for the other player to do. Fun Spinner's Choice ideas on the back of the spinner! If the spinner lands on Air, the player must put a hand or foot in the air! Includes 1 TWISTER mat, 1 spinner and instructions.
Best Games for Kids:  OPERATION
Ages 4 years & up
Players 1+/ Approx. Retail Price: $17.99
My 3 and 6 year old LOVE, LOVE, LOVE this game. It must be something about the fine motor challenge and the BUZZ if you hit the side. The fine motor practice is great for strengthening the muscles in your hands – which leads to better handwriting. YES – playing games can improve pencil grasp and neatness!
In the OPERATION game, you get to be the doctor and make Cavity Sam better or get the buzzer! Cure him of all his wacky ailments like headphone headache and gamer's thumb by picking funny ailment pieces out of the game tray with a pair of tweezers. But watch out! If you touch the sides of the openings, you'll get the buzzer and light up Cavity Sam's nose! The player who removes the most ailments wins! Two "AA" batteries required (not included).
Mom note: The pieces are super tiny and we "may" have lost one.  Luckily we found a tiny LEGO dog bone.
Ages 5 years & up
Players: 2-4/Approx. Retail Price: $19.99
Do you have a fan of Yo-Kai in your home?
Introducing THE GAME OF LIFE: YO-KAI WATCH EDITION game in which players choose to play as Nate, Katie, Bear, or Eddie, and then set off on exciting adventures!
Players explore the city and discover Yo-kai spirits in all different places – on the beach, at the school, the forest, and at the park. The spinner might send a player in an unexpected direction, but they can also use their Watch Detection Power cards to capture more Yo-kai! The first player to return home with 3 YO-KAI WATCH game medals wins! The game features two exclusive YO-KAI WATCH medals. Includes gameboard, spinner with base, 4 character tokens, 38 cards (4 YO-KAI WATCH cards, 4 character cards, 4 bonus cards, and 26 event cards), 16 YO-KAI board game medals, 8 Spin to Win Tokens, and 2 exclusive YO-KAI WATCH medals, which are not part of gameplay.
Best Games for Kids:  PIE FACE
Ages 5 years & up (Our friends bought this game for their teenagers)
Players: 2+/Approx. Retail Price: $19.99
The PIE FACE game has been on Amazon's top 10 games for kids list for a LONG TIME.  It is a simple to play game that brings friends and family together for laugh out loud moments!
We admit – not a lot of academic learning taking place in this game, but a lot of giggles. Players load the arm with whipped cream (not included) or the included sponge and take turns placing their head through the mask and spinning the spinner. Turn the handle the number of times indicated on the spinner and the tension on the arm will build — suddenly someone will be surprised with a face full of whipped cream! The PIE FACE game includes the throwing arm, chin rest, splash guard mask, spinner and sponge.
NOTE: Adult assembly and supervision required.
2nd Note: Ummm… the game is messy.  You may consider playing it outside and hosing everyone off or hopping in the sprinkler when done playing.
Ages 8 years & up
Players: 2-6/Approx. Retail Price: $19.99
Own the world's top brands in the 2016 version of the MONOPOLY EMPIRE Game!
Choose a token and move around the board buying and selling the world's top brands including Nickelodeon, Puma, Ford, Levi's, and more. Collect rent from rivals and try to earn as many brand billboards as possible to be the first player to fill up a MONOPOLY EMPIRE tower. With two new Super Empire cards, players will need to adjust their billboards based on the "Hands Off!" and "You're Fired!" rules. Own it all and fill up the MONOPOLY EMPIRE tower first with brand billboards to win the game! The MONOPOLY EMPIRE Game includes one game board, four towers, six brand tokens, 30 billboard tiles, six office tiles, 14 Chance cards, 4 Empire c
ards (including 2 Super Empire cards), one money pack, and two dice.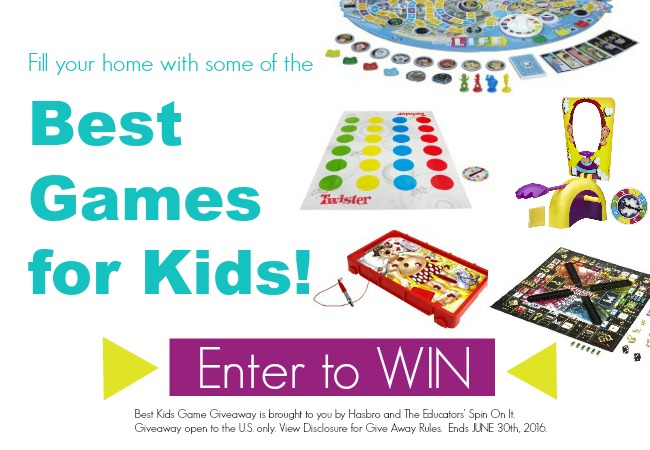 Love Kids Games? You May Also like: