Summer time is a perfect time to make a game using outdoor items. This kids writing game with sand and seashells is sure to be a big hit and keep your child learning all summer long.
Here's how to play.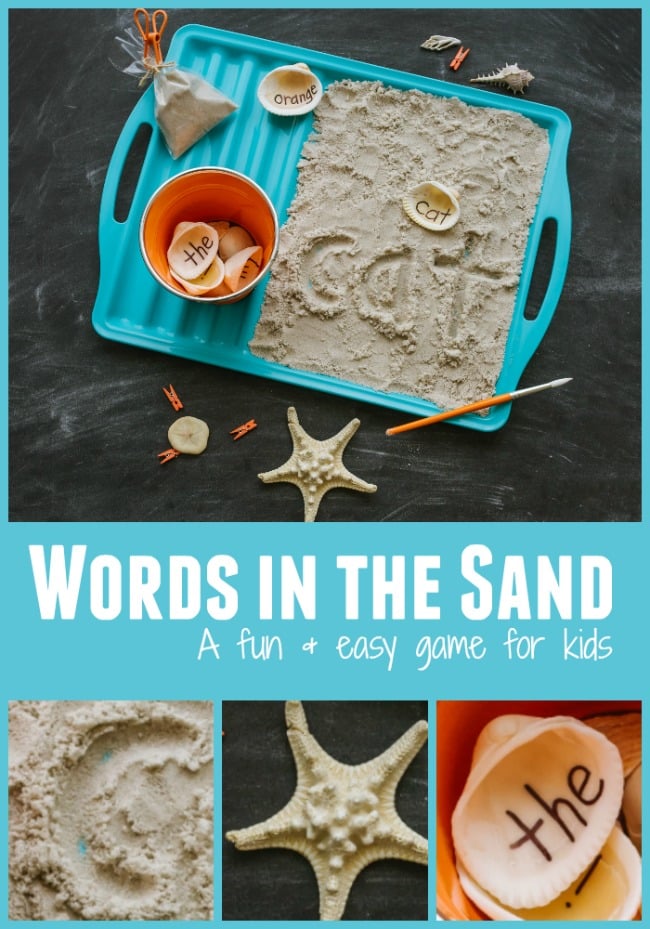 This post contains affiliate links
In our book 100 FUN & EASY LEARNING GAMES FOR KIDS we wanted to create games using items that kids are naturally drawn to. Sand and seashells are one of my kids favorite things to explore when they are outside.
We even made a sight word game with shells from our adventures last summer. For this game kids gather some sand and shells to create a writing game.
It's perfect for practicing sight words to avoid summer slide or to practice writing letters to get them prepped for Kindergarten and Preschool.
Here's how you make and play my game called Words in the Sand which you can find on on Page 62 in our book.
Kids Writing Game with Sand and Seashells
Find hidden words on seashells in the sand to encourage your child to learn to read. Players quickly memorize each word by writing it into the sand in a texture-rich experience. This multi-sensory game helps to engage children's senses as they learn their sight words.
Focus Skill: identifying and writing sight words
Materials
Permanent black marker
Seashells
Sand
2 plastic containers or trays
Directions to Make Kids Writing Game
1. Write sight words onto seashells.
2. Place the seashells in one container.
3. Place sand in the second container or tray.
Directions to Play Kids Writing Game
1. Players take turns pulling seashells from the container.
2. Once they've selected them, players identify the word and write it in the sand container.
3. Continue to play until all the word seashells are discovered and written in the sand.
Game Variations
In our book 100 FUN & EASY LEARNING GAMES FOR KIDS we share 3 variations for every game in the book . We want to be sure once you create a game it will last. Here's the 3 that are featured in the book.
Create letters in the sand for younger players to discover and write.

Form words from letter shells in the sand and write them in the sand container.

Write numbers on the shells for players to discover and write.
Kids Writing Games
Keeping kids writing all summer long is so important to help them maintain their skills that they've worked on all school year long. Plus it will give little ones more confidence as they start school too.
You could even extend this game to practicing how to use cursive for your older kids, trust me they need practice as they don't receive the lessons that we all received in school as much.
Here's all of our writing activities for kids at The Educators' Spin On It.
100 Fun & Easy Learning Games for Kids
Be sure to grab a copy of our new book to also see a few more ways to learn outside with! Here's a couple to flag in the book for ocean theme fun this summer.
Squirt the Letter Fish Page 23
Word Family Beach Ball Toss Page 45
Mystery Words with Sand Page 75
Storytelling Seashells Page 78
You can learn more about our new book and where's it's available by clicking on this link.
100 FUN AND EASY LEARNING GAMES FOR KIDS: TEACH READING, WRITING, MATH AND MORE
100 Fun and Easy Learning Games for Kids: Teach Reading, Writing, Math and More With Fun Kid Activities is here! We cannot wait to share it with you our educational book for parents and teachers of children ages 3-7.
In our book we have a entire chapter creating for teaching kids about both handwriting and story writing with kids. All super easy and fun so that you can spend time together playing while you're sneaking in learning too.
May your summer be filled with fun games and activities that your kids will love!