Are you looking for ideas for how to create hands on fun with math at home?  We were so excited to see so many fun math activities that linked up to our After School Link up last week!  Using simple household items there are some terrific ideas for making with your child. From muffin tins and bulletin boards to rocks and seeds you can create math games from anything around the house.  Check out some of these Activities listed below!  
Math Games with Household Items 
Math Pinterest Boards to follow for more Ideas
Do you have a favorite Math Game you play at home?
Exciting news… 
We're Growing!
We invite you to join us in welcoming Genny from Parent Teach Play to the After School Team.  She is currently the author of  In Lieu of Preschool but is now expanding to a new site where she will be sharing School Aged Activities.  We feel it's a perfect match for our weekly After School Link up and know that she will bring so many creative ideas for After School with your child.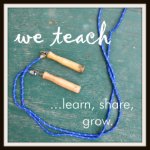 We're Exploring New Roles!
A little more exciting news!  
Kim has been selected as one of the Community Managers at We Teach.  A place to share the tools and resources we need so that we can all learn, share, and grow as parents, and teacher for our children.  If you're a teacher, come check it out!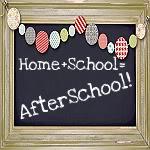 Cohosted by 
The Educators' Spin On It 
Little Wonders' Day
Parent Teach Play
We would love to have you link up your
School-Age Posts (Ages 5 and up)
about your learning week after school including
Crafts, Activities, Playtime and Adventures
that you are doing to enrich your children's lives after their day at school or on the weekend! When linking up, please take a moment to comment on at least one post linked up before yours and grab our after school button to include a link on your post or site! By linking up you're giving permission for us to share on our After School Pinterest Board or Feature on our After School Party next week! Don't forget to follow along and Join our After School Enrichment Community. 
Link up your After School Activities, Crafts and Adventures! We'd love to see them!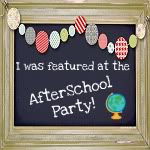 Don't forget to grab a button if you were featured this week!