When the weather gets nice – our sidewalk chalk comes out. It's inexpensive and screams – CREATE WITH ME! The kids love to smash it and make colored chalk (which is sooo messy), I like to use it to think of fun ways to learn.
We've played this sidewalk chalk sight word game with my four year old who is just learning a few words because he wants to read like his big brother, with my seven year old to practice harder sight words, and with my 10 year old to review her reading vocabulary words! More on how to adapt the game below.
This sight word game takes less time to set up than it does for you to drink a cup of coffee and BONUS, it lets kids burn a little energy while developing essential reading skills.
Disclosure: Affiliate Links included in this article.
Learning Objective: The child will be able to recognize and read the selected sight words.
Ages: 4-7, see game alternatives below for older and younger children.
What is a Sight Word?
Sight words are the most common words in printed text that do not follow a traditional spelling pattern such as the words; of, the, and, was.
The thing with sight words, is that for most kids they need to be practiced. A lot . This sidewalk chalk sight word game gives children the opportunity to repeatedly interact with the sight words though movement.
Every child is different in how they learn sight words. Providing a variety of activities and materials to practice reading them increases the fluency, or speed in which children read them. Children who master the sight words, can focus on sounding out other exciting new words.
You may want to try Sight word squirt, it's a splashy way to practice reading sight words in the bathtub!
Sidewalk Chalk Sight Word Game
The sidewalk chalk sight word game is a fun way to review sight words that have been previously introduced. I like to use a few sight words that my child has already mastered, meaning every time he sees the word he is able to read it without hesitation. Then, the majority of sight words I use for games like sight word squirt are words that have been introduced, but not yet mastered.
Materials needed for sidewalk chalk sight word game
Set up for sidewalk chalk sight word game
First, select 10 sight words that your child has been taught. Some early sight words are:  I, like, me , my, he , she,  am, the, and.  Write one of the selected sight words on each notecard.
Then, draw circles in chalk on the driveway or sidewalk. Write one of the selected sight words inside each circle. There will be 10 notecards with words and 10 circles with matching words. Finally, draw a line 3 feet away from the circles. Set the word cards near the start line facing upwards.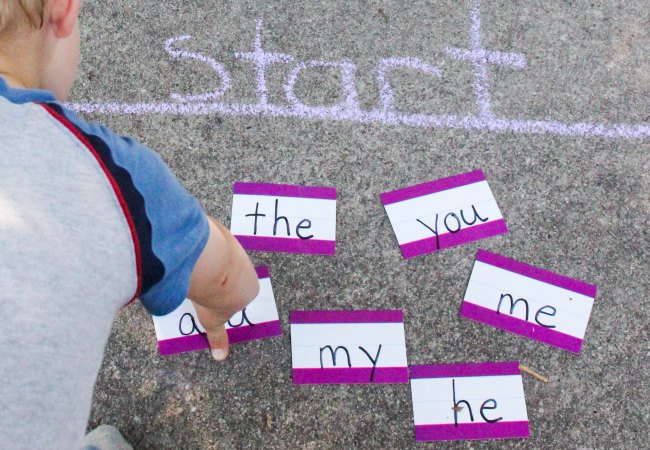 How to play the sidewalk chalk sight word game
First, have the child review each of the selected sight words using the notecards. Say the words together, then have the child read the words. Make a note of which words the child has mastered and which words will need additional practice.
Then, the child picks up a sight word card.  They read the card out loud and then race to place it on the matching sight word circle.  After placing the card in the circle, they run back to the stack of sight word cards and repeat.  Flip the card, read, run, and set it in a circle, until all words have been placed.
After playing the game through once, consider adding the element of speed to this sidewalk chalk sight word game. This is a fun way to get repeated readings of the sight words in – without the game getting boring. Start the time when the first card has been turned over. Stop it when all sight words have been read and matched. Repeat the game and compare times.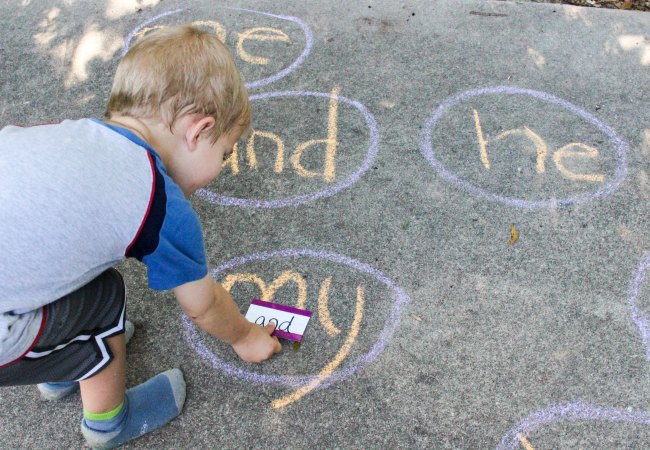 Sidewalk chalk sight word game alternatives
Switch out the sight words for vocabulary words. My fifth grader has a weekly test of 20 vocabulary words. The teacher reads the definition and she has to write the word for that definition. She writes the definition on the card and the word in the circle. We don't do this every week but have it in our rotation of fun ways to practice memorizing new words.
For younger children, you can play this game matching letters A – A, matching lowercase letters to uppercase letters a – A, or matching a number to its value 2 – ● ●.
To keep the game exciting and get their bodies moving in different ways – change the way kids move. Have them skip, jump, tiptoe, or hop from the start line to the sight word circle.
Sidewalk chalk sight word game is just one way to practice reading.
You may also enjoy these Sight Word Activities here at The Educators' Spin On It:
Looking for more sidewalk chalk games? Check out the Best Sidewalk Chalk Games for Kids!