I have an open pack of sidewalk chalk sitting in my garage. You probably do to. Kids just gravitate towards the bright colored chalk. Sidewalk chalk is an inexpensive, readily available material for play and learning.
The best sidewalk chalk activities are colorful, fun, and invite creative thinking.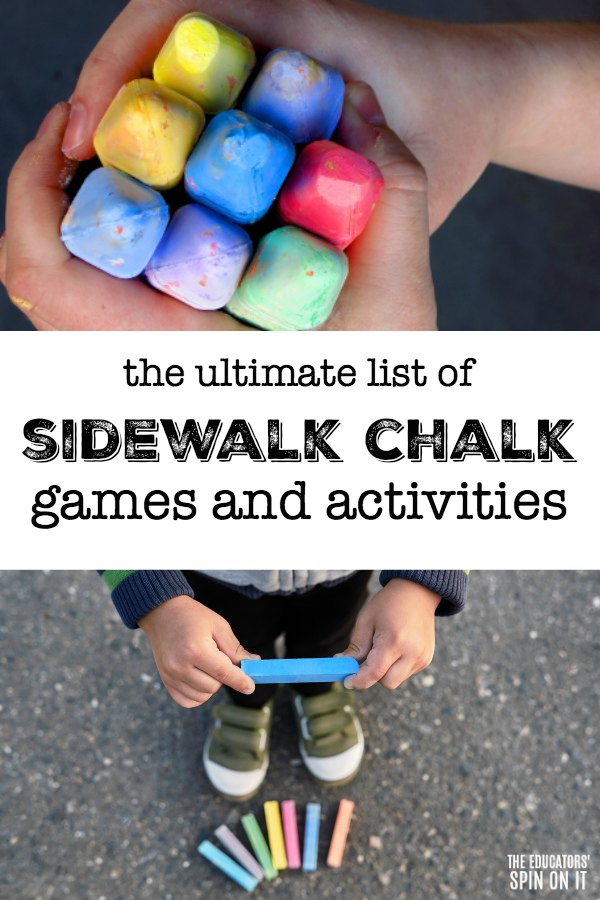 Grab a few pieces, put them in a plastic bag, and tuck them in your purse for fun on-the-go learning. Try one or all of these playful learning chalk activities for kids.
Disclosure: Affiliate links are used in this post.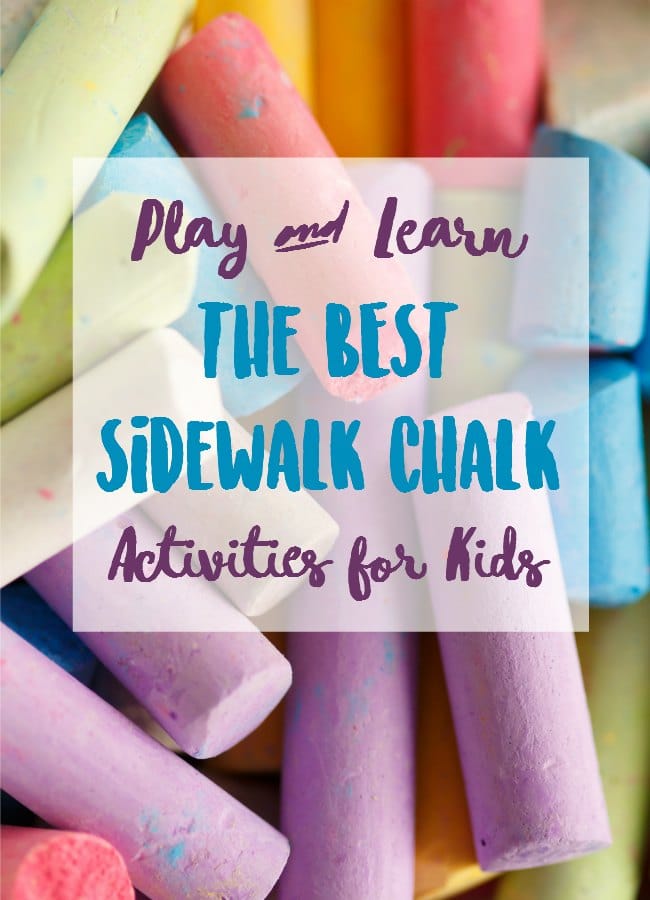 The BEST Sidewalk Chalk Activities for Kids
Of course, there is no limitation to what you can do with sidewalk chalk (this is our favorite brand), but I hope these activities will inspire some new ways to play and learn outside this summer.
Click the highlighted words to be taken to step-by-step directions or more information on the products we use.
LITERACY Themed Sidewalk Chalk Activities for Kids
Draw a letter carrot and hop to find the matching letter in this super cute Sidewalk Chalk Bunny Alphabet Game.
Grab 5-10 sight words that you want to practice and try this Sidewalk Chalk Sight Word Game.
Make a batch of cookies, then head outside to learn your alphabet with this Sidewalk Chalk Alphabet Cookie Themed Game
Learn and Zoom the ABC's Outside. Try this easy sidewalk chalk activity to practice the alphabet with kids.
You can even have fun with some of your favorite book characters like this Pete the Cat sidewalk chalk game.
Skip the pre-made worksheets. Make Letter Matching Roads in the middle of your driveway. Great for learning the letters, fine motor, and hand-eye coordination.
More letter love! Who doesn't love monsters? Make and stomp Chalk Monsters.
Math Themed Sidewalk Chalk Activities for Kids
When all the leaves come falling down, grab a bucketful and head to the driveway for this Chalk Numbers with Leaves Math Game for Kids.
Make the classic sidewalk chalk hop-scotch. Toss the rock, hop and count.
Draw a number line with the sidewalk chalk. Call out the number and let kids jump from 0 to that number.
Working on addition and subtraction? Try the number line again, this time read or show the math problem, let the child jump forward or backwards to solve.
Choo, choo! Draw and learn numbers with this fun Counting Chalk Trains *This is a great game to use with a transportation learning theme.
Throw a few colored circles on your driveway and let your kiddos sort their cars with this car color sort math activity.
Make a giant sidewalk chalk clock. Use 2 toys or sticks as the clocks hands. Practice telling time!
SCIENCE and GLOBAL LEARNING Sidewalk Chalk Activities for Kids
Get children excited about famous landmarks around the world with this Landmarks and Math Sidewalk Chalk activity for older kids.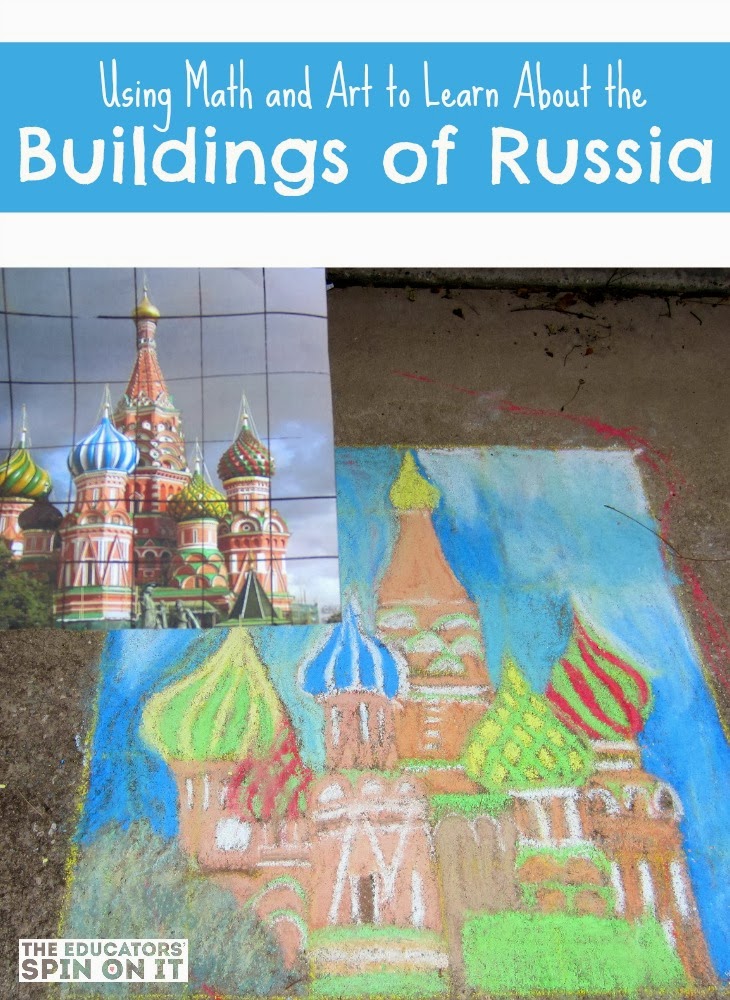 Learn about the Earth with this sidewalk chalk activity for kids.
Who are the people in your neighborhood? Explore your community, then make a model of your town out of chalk.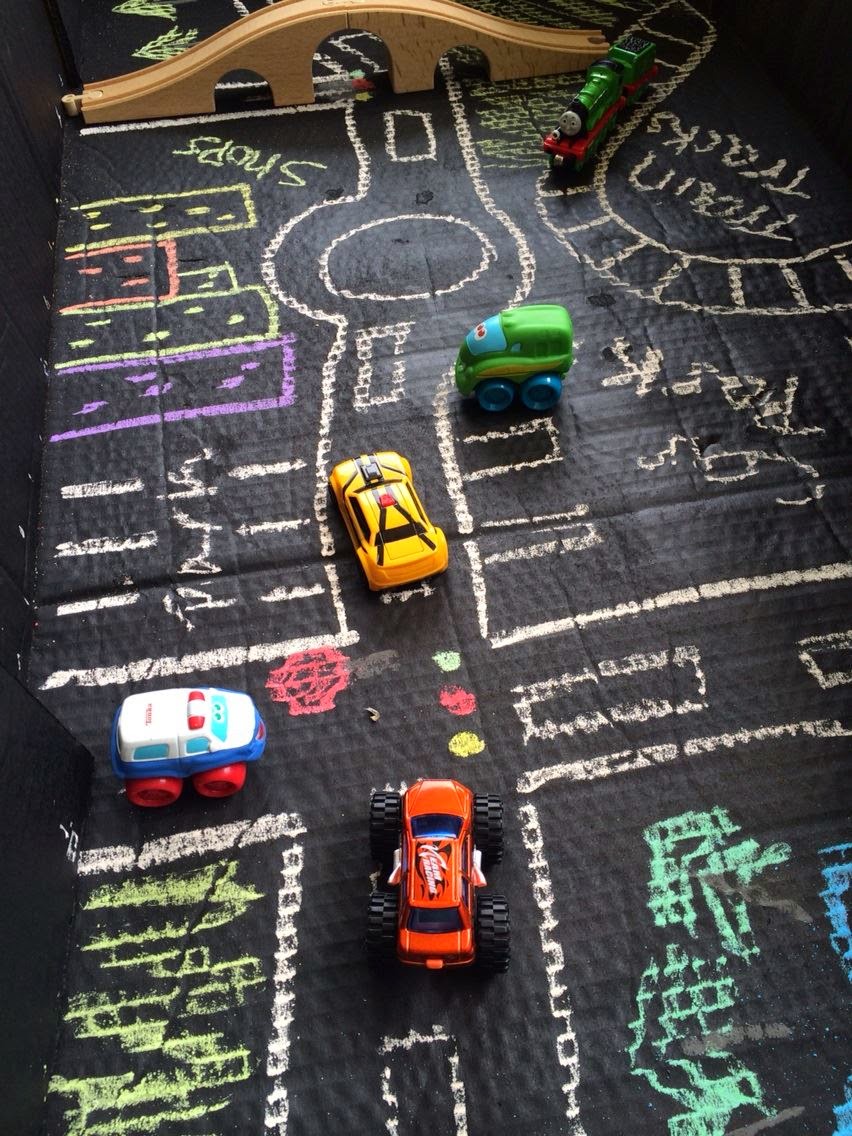 Head into the changes of season with this colorful fall leaf sidewalk chalk game that even works on eye hand coordination.
Draw the planets in order. Want a challenge? Figure out how to draw the planets distance between each other to scale. Glitter Chalk, like this one on Amazon, makes this whole project sparkle like the stars!
"Sidewalk chalk is great because we can make roads for our bikes in the driveway." ~ Nicholas, 7 year old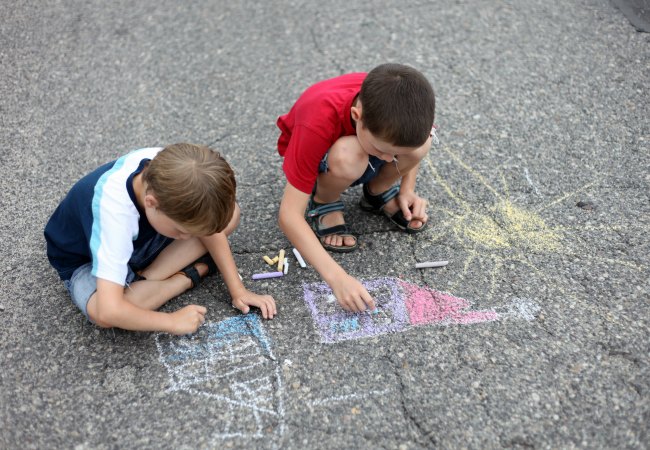 Even more Chalk Games for Kids
Put a twist on the classic chalk activities, try Sidewalk Painting with Siblings. This sidewalk chalk paint is a whole other level of fun!
Try wet chalk drawings – dip the sidewalk chalk into a shallow dish with water and then draw.
Trace around the kids. Let them decorate their "chalk selves."
And the best sidewalk chalk activity for kids of all times – just let them create!
What is your favorite way for kids playing with chalk? Save