Explore these chapter books and activity package ideas for hosting your chapter book exchange with friends!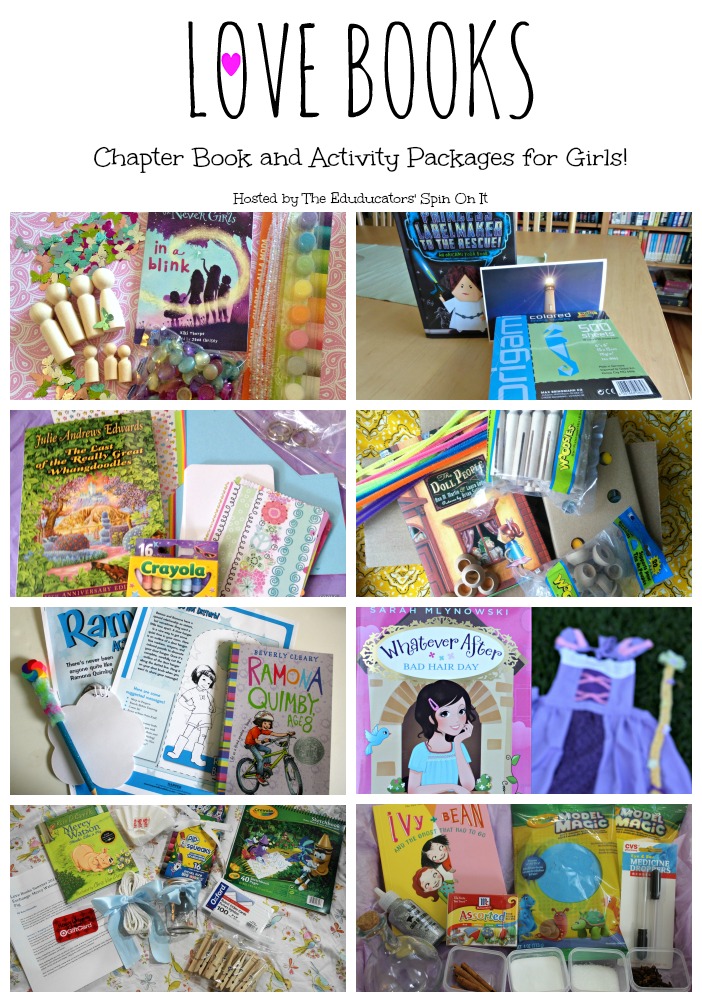 LOVE BOOKS participants have built and sent some amazing packages for our CHAPTER BOOK edition!
This age can be such a challenge for parents and teachers to extend reading into creative play, writing, building, science, and more. It is still extremely important to help kids make literature connections.
Find out how these talented parents and bloggers extended some popular chapter books for girls.
Disclosure: This post contains Amazon affiliate links.
Chapter Books Activity Ideas for Girls
Here is a special collection of the perfect chapter books for girls featuring unique activity ideas to go with them for you child OR send to someone special with your own LOVE BOOKS Package! You may also want to explore these Chapter Books about Nature.
Which chapter book will you read first?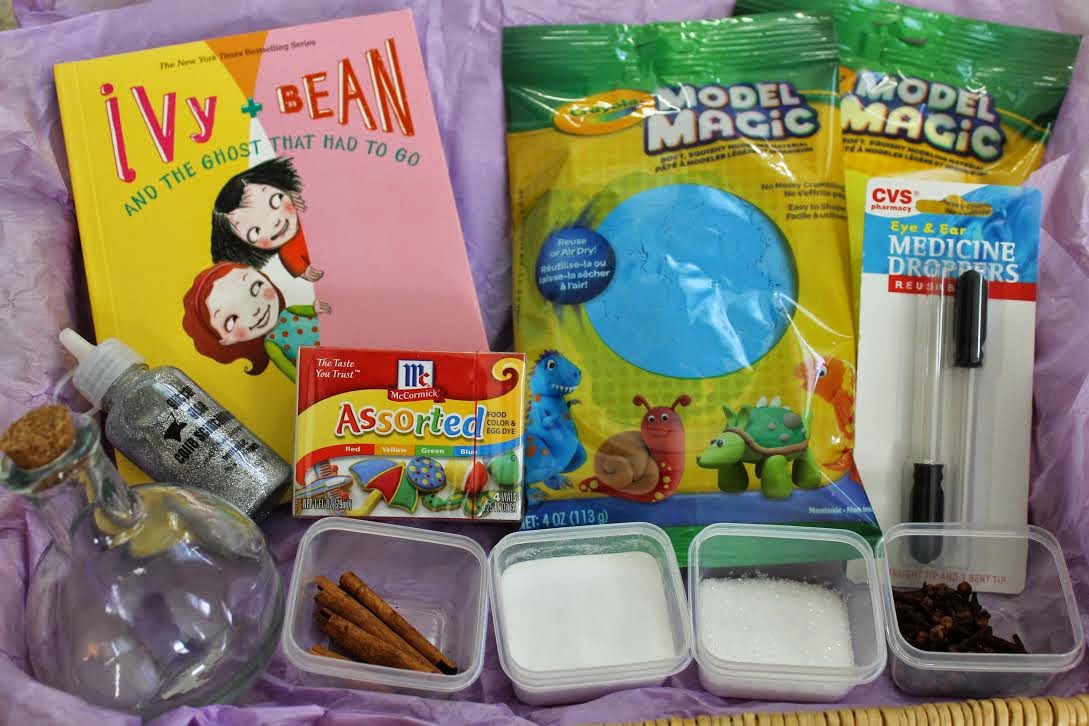 Book: IVY & BEAN and the Ghost that Had to Go by Annie Barrows
Activity:
When I asked my 9 year old what book we should send for the book exchange this year – she immediately said to send an "Ivy & Bean" book! The "Ivy & Bean" books actually lend themselves very well to an activity, because the girls in the books are active, creative and imaginative.
My daughter chose "IVY & BEAN and the Ghost that Had to Go" because she thought it would be a fun activity to make a potion, as the girls do in the book. This type of activity is a great way to engage younger elementary school children in a creative and scientific process at the same time. It can involve color mixing, dissolving solids in to liquids, the use of scents and more. Our package includes some of the ingredients that could be used (food coloring, glitter glue and fine gitter, cinnamon sticks, cloves, baking soda, eye droppers, small containers and a potion jar). Just add water!
We also added "Model Magic" clay for a second activity, as the girls in the book give the gift of a fossil to the ghost in the book. I thought it would be a great summer activity to use the clay to make impressions of things found outdoors in nature. The clay could be used over and over in a sealed container; or let air-dry for a permanent fossil.
Love Books Package Creator: The Seeds Network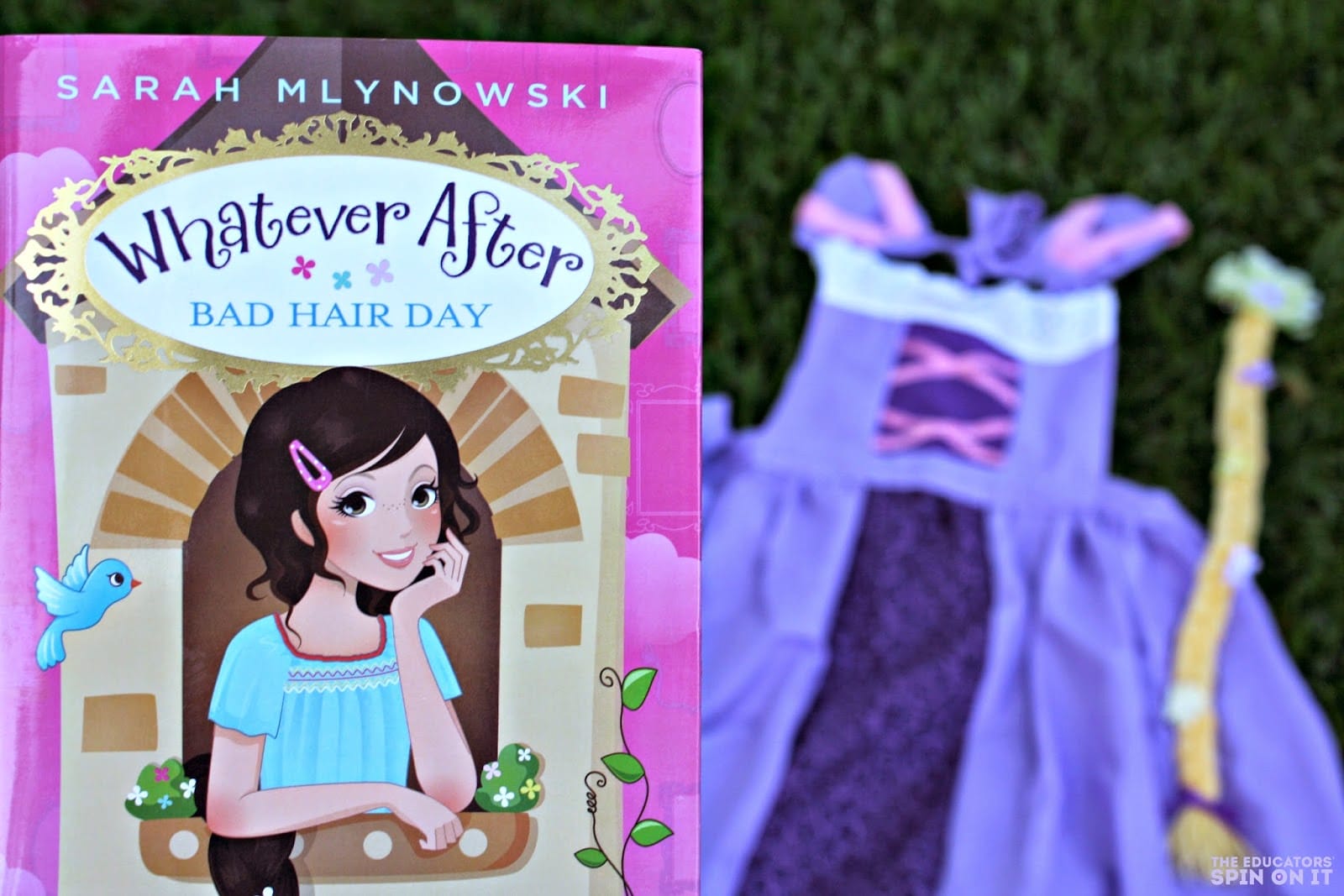 Book: Bad Hair Day by Sarah Mylnowski
Activity:
We decided to include a costume as our activity in our LOVE BOOKS package because it is easy to forget that our grade schoolers need to pretend and perform. So often, our schools do not have enough dramatic play and chances to perform in front of others. We thought this would be a great way for the recipient to act out their own versions to the story, because fairy tail endings DO change!
Kirra Birds was gracious to offer a discounted rate on her princess play costume for this package and
Sarah Mlynowski was so gracious to donate a copy of one her latest books for this package! THANK YOU for helping me stay under my $20 package limit!
Love Books Package Creator: Amanda at The Educators' Spin On It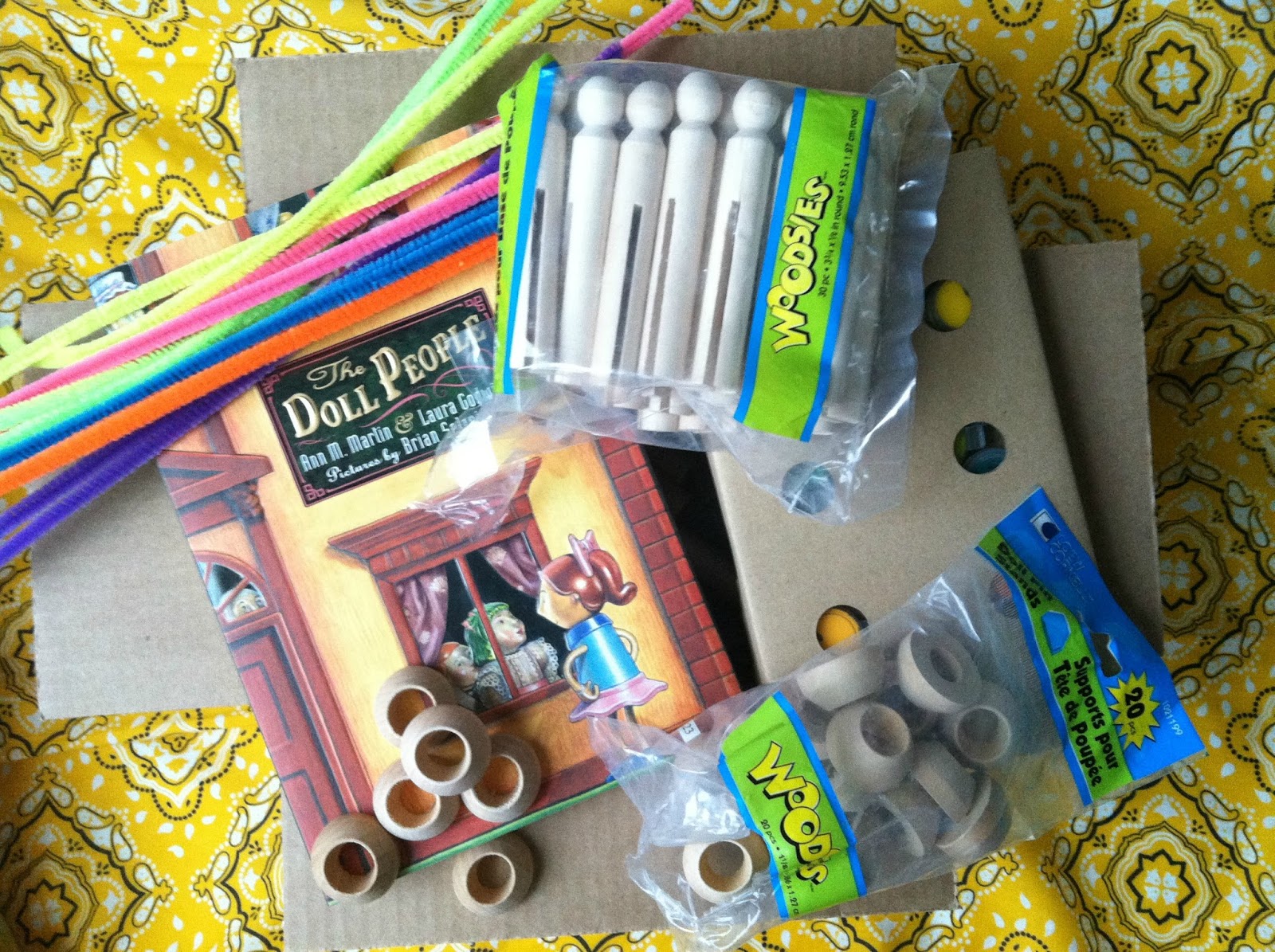 Book: The Doll People by Ann M. Martin & Laura Godwin
Activity:
We sent a copy of the book The Doll People. This book is a story about an old fashioned doll house doll named Annabelle who is 8 years old (and has been for a hundred years). When a new, modern doll house moves in next door, things get interesting. This is a fun book with a little bit of history, a little bit of a mystery, and a little bit about family life.
We included some wooden doll stands, round doll pins, pipe cleaners, and paint so that the kids could customize and make their own dolls. We can't wait to hear about what adventures these dolls have and what stories they will tell!

Love Books Package Creator: Simple Kids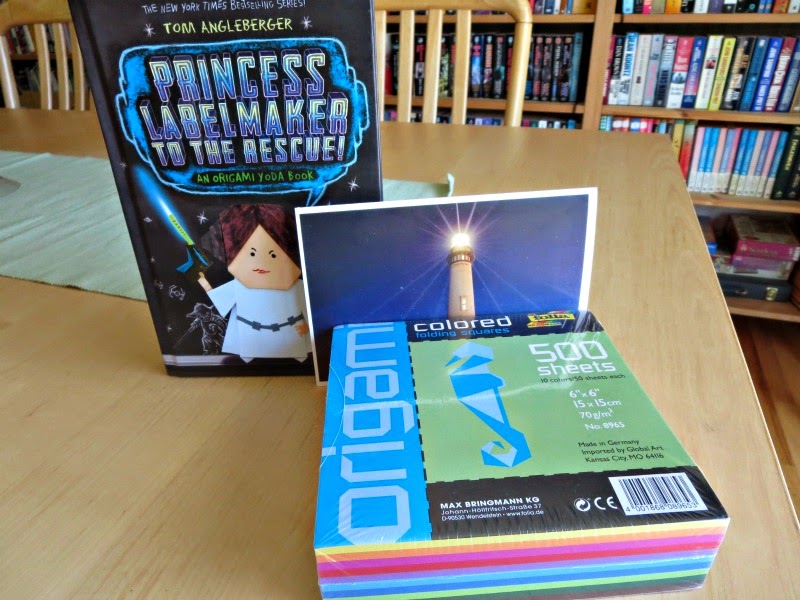 Book: Princess Labelmaker to the Rescue by Tom Angelberger
Activity:
We chose the latest book in Tom Angelberger "Origami Yoda" series, "Princess Labelmaker to the Rescue". The reason why we chose this book is because even though my Smarty is only 7 years old, she is dying to know more about middle school, and we guess that Sarah is curious too. Smarty read the first book in Origami Yoda series and thought that it will be a great book to send to an older girl who is closer to middle school years. We were not sure if Sarah already read the first books, so we chose the last book that came out only recently. And, of course, we thought that the best thing to send with this book would be an origami paper to create some paper characters of her own. We also included a card with a landmark of a place close to us – Pigeon Point Lighthouse.
Love Books Package Creator: Planet Smarty Pants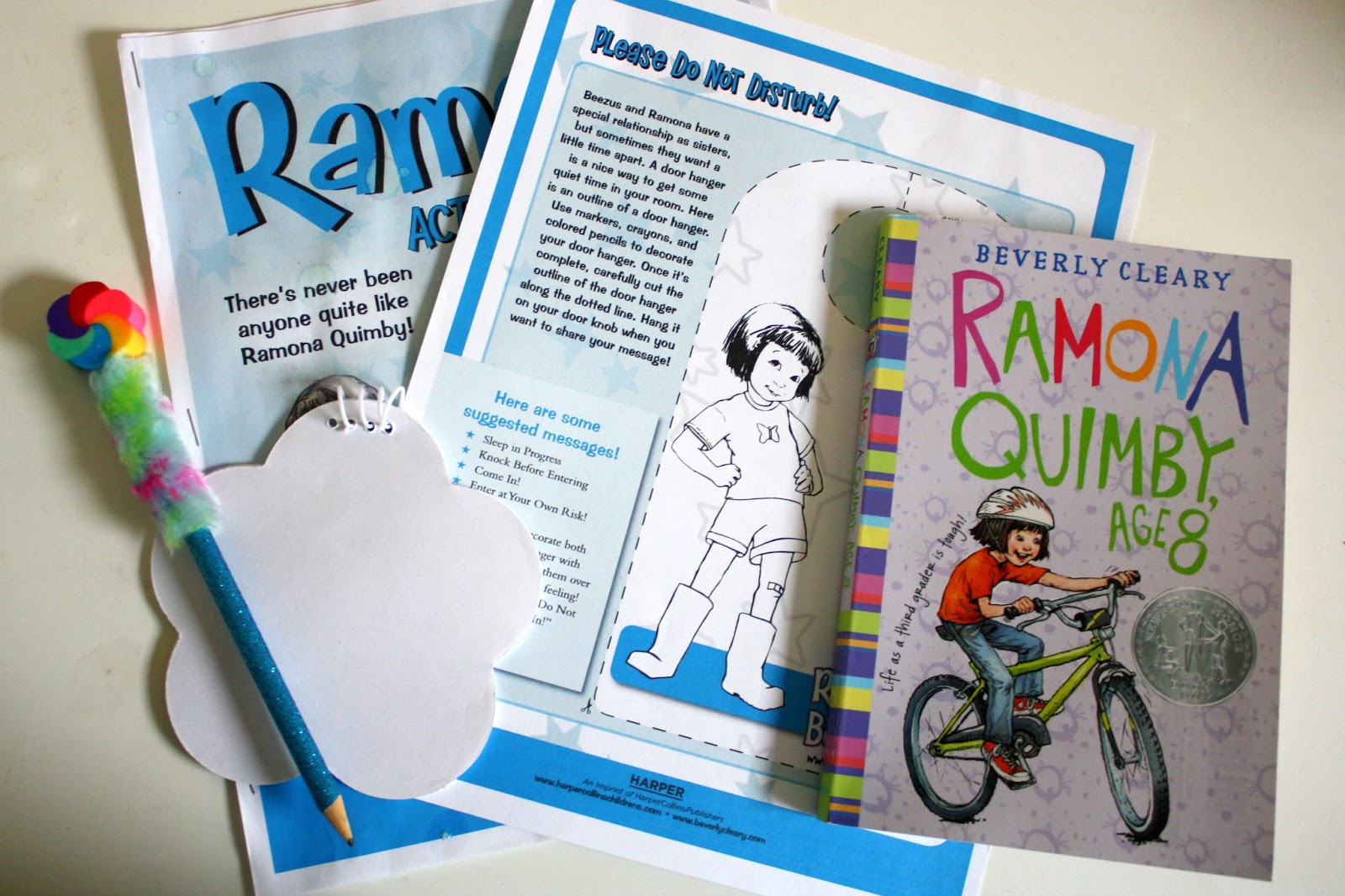 Book: Ramona Quimby Age 8 by Beverley Cleary
Activity:
As a child this was one of my favorite books and now I'm sharing it with my daughter. We all have a little Ramona in us. We are sending an activity booklet that has a quiz, fortune teller, a door know sign to decorate and a top ten lists. We are also sending a notebook, pens and stickers – this is to start a journal. The last page in the activity book has a list of some things you can write about.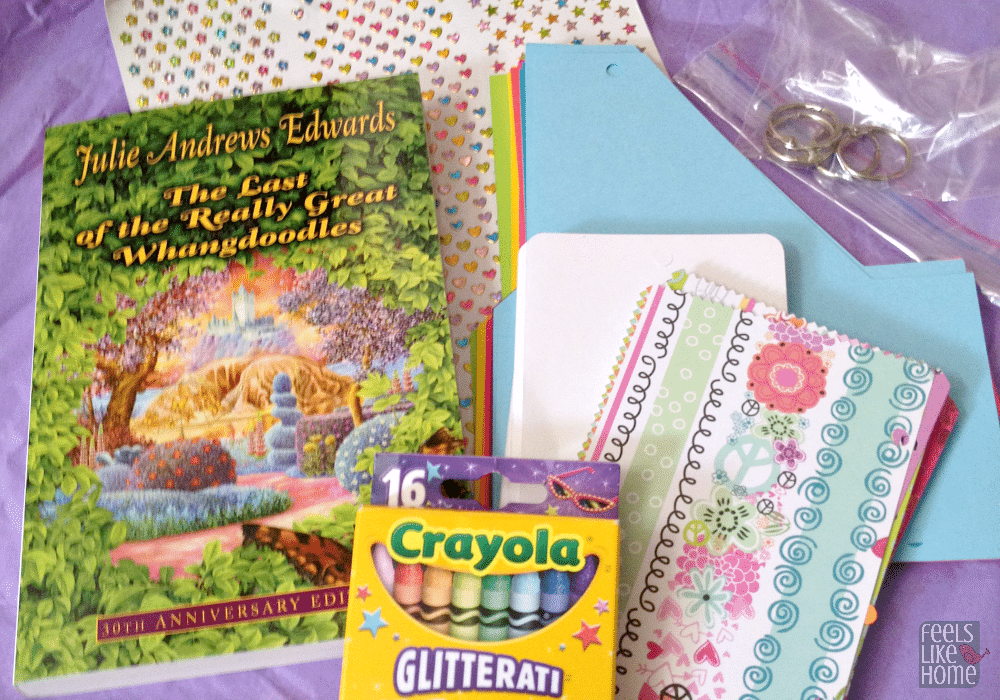 Book: The Last of the Really Great Whangdoodles by Julie Andrews Edwards
Activity:
My daughter's favorite book is The Last of the Really Great Wangdoodles by Julie Andrews (you know, Mary Poppins). In it are all sorts of crazy and fanciful creatures, so my daughter decided that her partner might want to create a "photo" album where she could draw them and keep them all straight. We used our Silhouette machine to cut out the pieces our partner would need to create her own beautiful picture album as well as tags on which to create her pictures. We also included fancy glitter crayons to get her started on the pictures and decorating the album itself.

Love Books Package Creator: Tara from Feels Like Home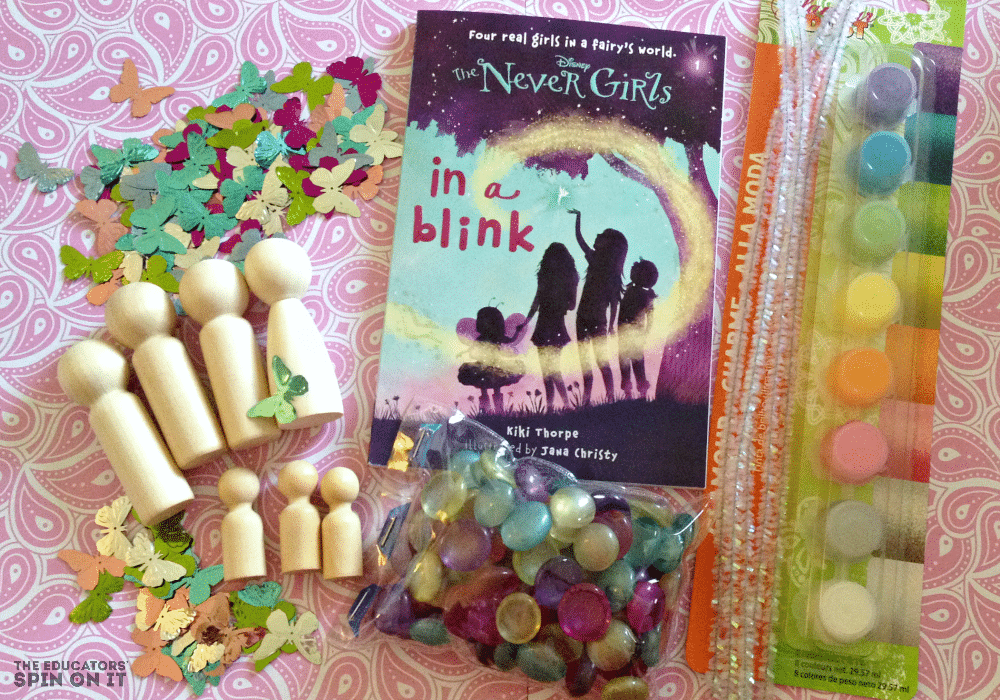 Book: The Never Girls Series: In a Blink #1 by Kiki Thorpe
Activity:
Fairies make some of the best topics for books, we were excited to discover this series The Never Girls this summer and wanted to send a little fairy magic to our love books partner. We included wooden peg dolls big and small to make the characters and fairies in the book. To create the dolls we included paint and pipe cleaners for wings. We alo included a stepping stone to create for the fairy garden. We included a few embellishments like butterfly sequins and colored glass gems to add to the stone kit.
Love Books Package Creator: Kim Vij from The Educators' Spin On It
Buy the books using my affiliate links and make your own package!
You may also enjoy these activities…