Have a little knight at your house? Follow this DIY tutorial to make this easy cardboard shield for playtime!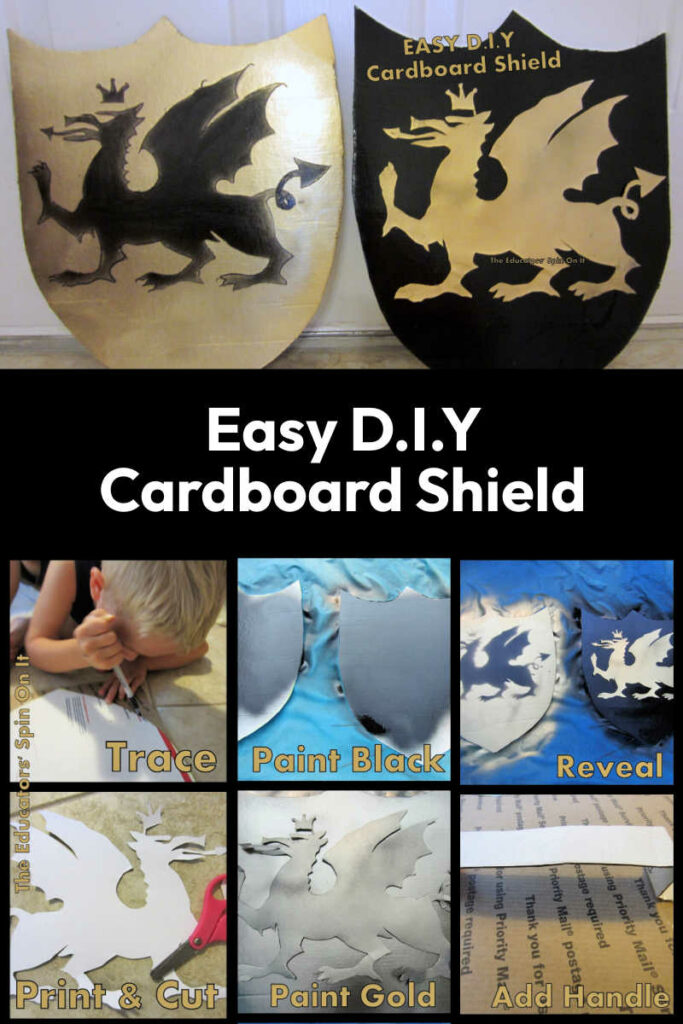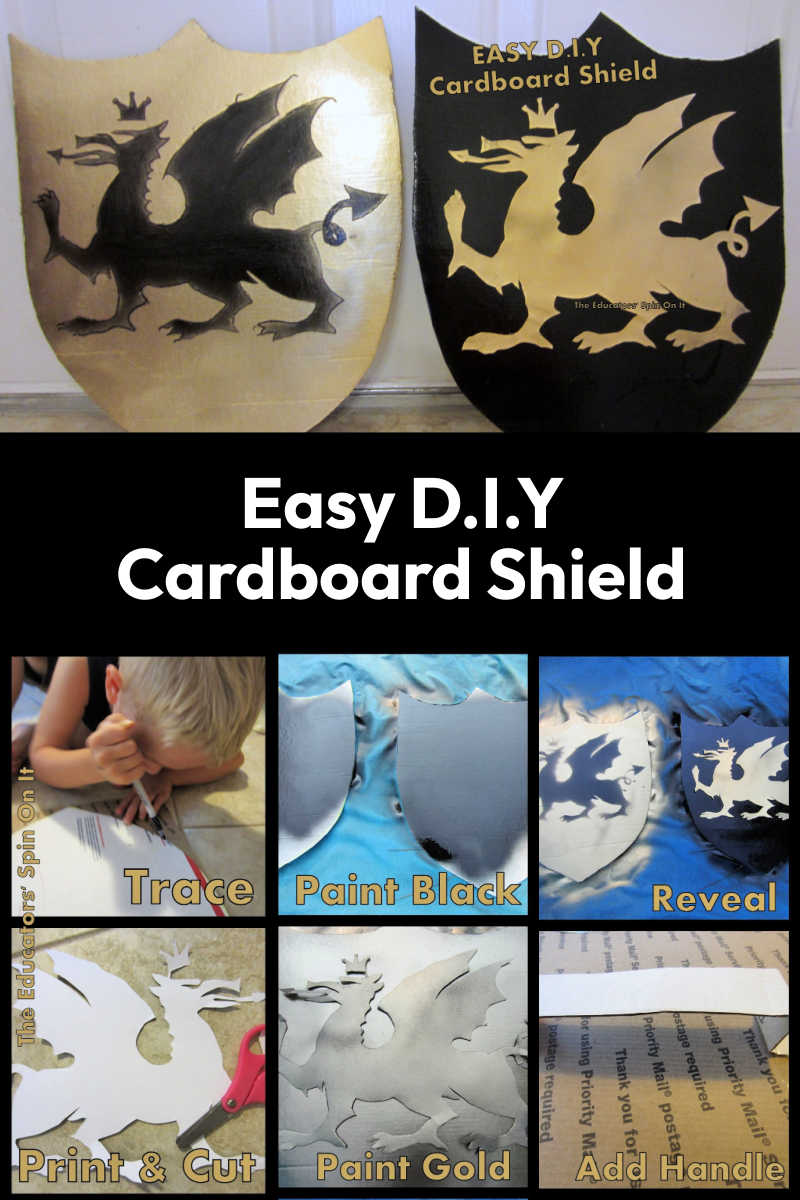 Pretend play comes naturally in our house. My three kids are always reusing boxes and bottles for new stories. The idea of making a cardboard shield for their pretend play came at the request of a 4-year-old knight who wanted to make a shiny dragon shield. We used leftover paint, and cardboard from our recycle bin.
Easy D.I.Y Cardboard Shield for you Knight
I decided to take the easiest route possible – cardboard and GOLD SPRAY PAINT! In less than 20 minutes of working together, he had a costume (well enough of it for him to be satisfied) and I was ready for my second cup of coffee!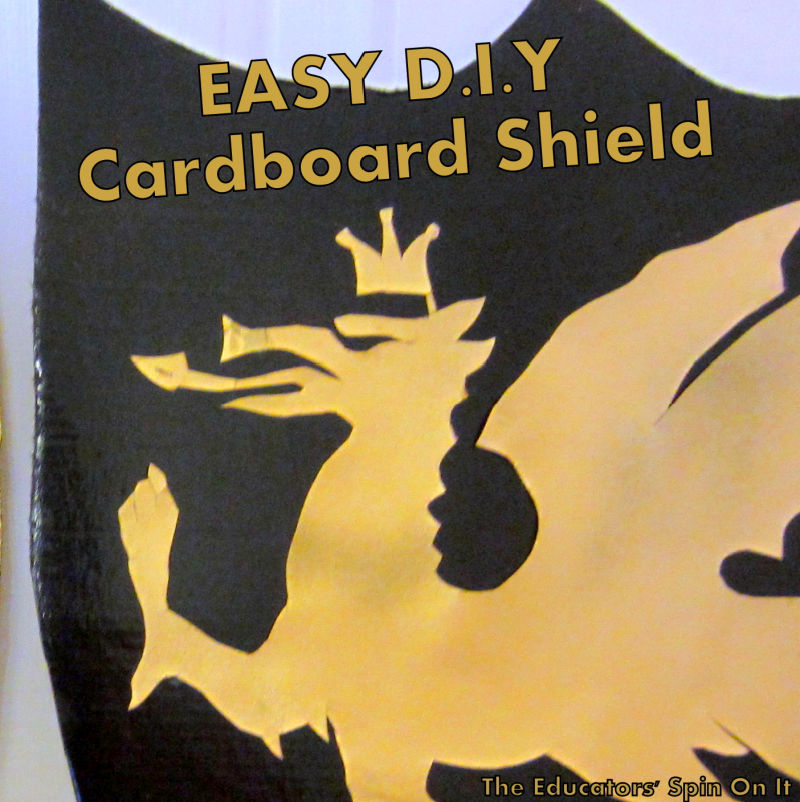 Supplies Needed:
Spray paint
Cardboard
Pencil
Access to a computer and images (or just draw your own)
Tag board
Scissors
Tape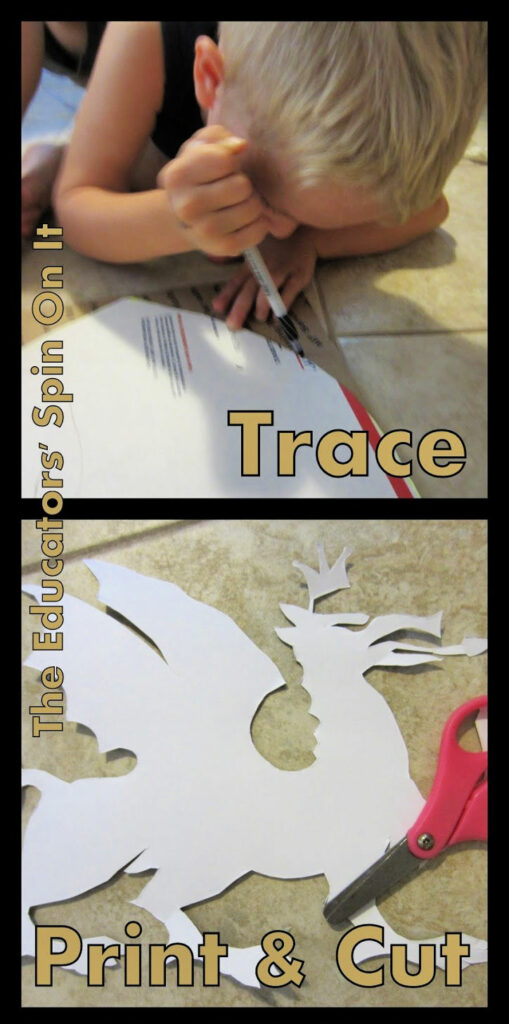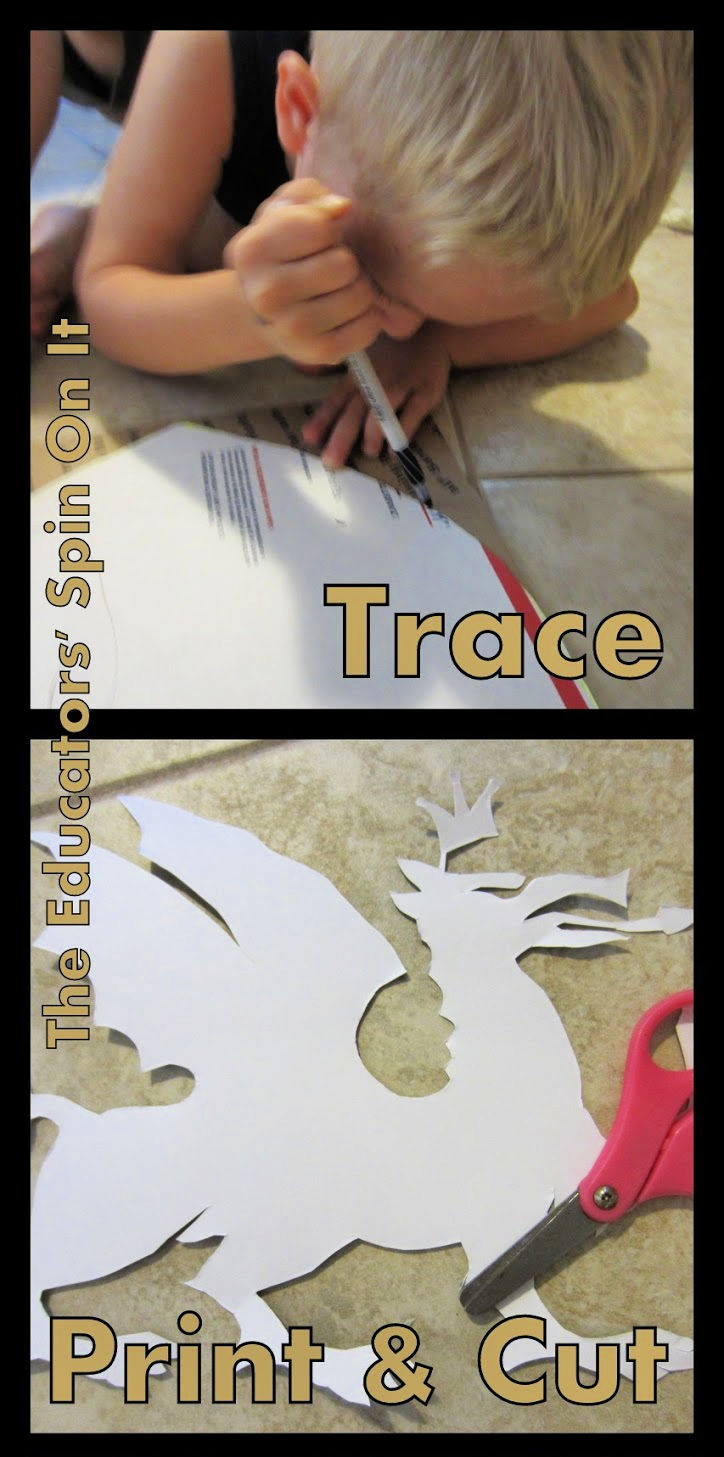 I cut one shield template out of cardboard and then had him trace his. Tracing is a great precursor to writing and lets little ones practice their fine motor skills.
Then, we hopped back on the computer to find a dragon (per his request) he pointed to the one he liked and I made it as big as possible, while still fitting on a piece of paper. I printed this on tag board and cut it out.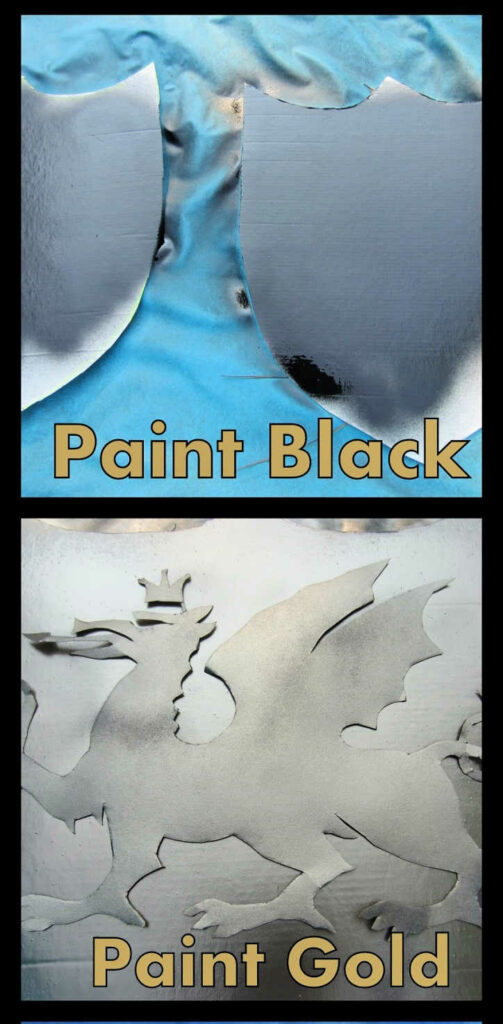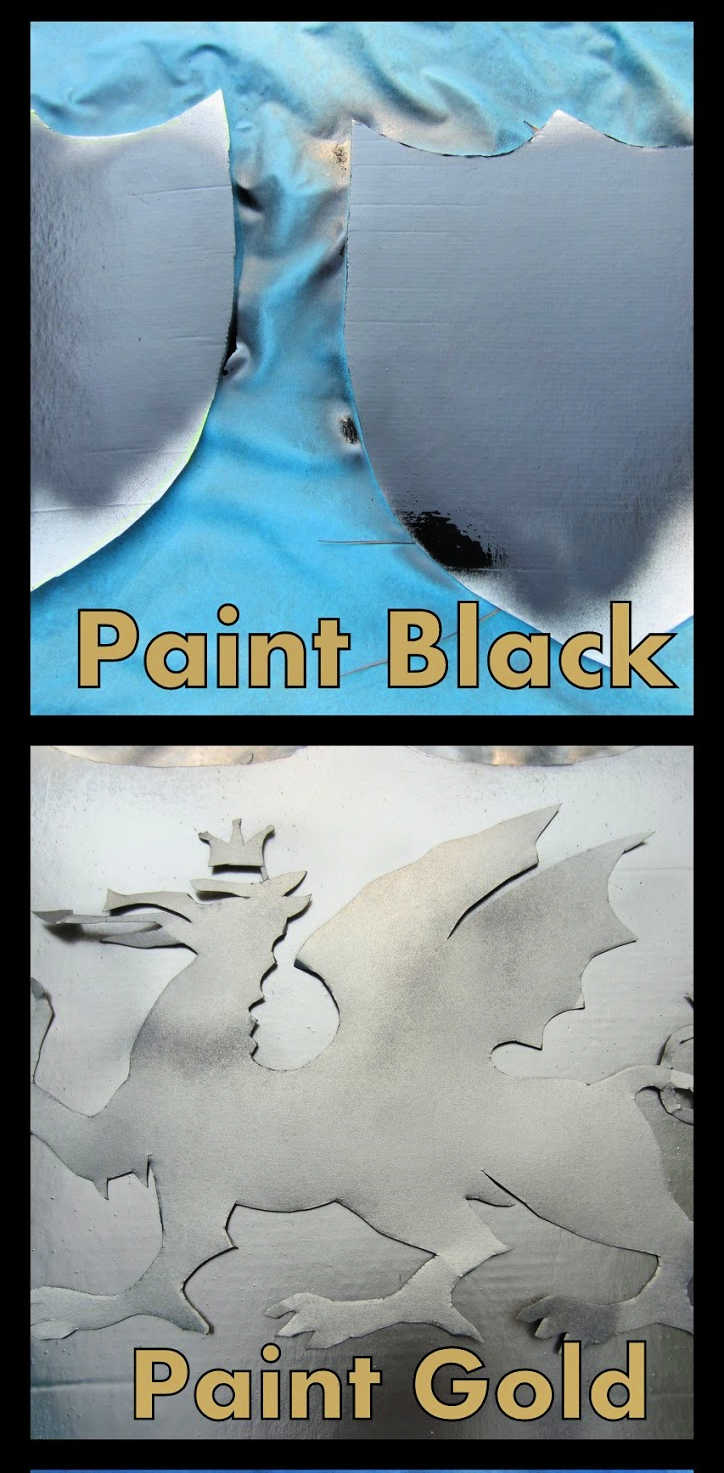 We wanted a black dragon surrounded by gold, so we painted the shields black first.
Then, I set the dragon over the black and spray painted gold around it.
When the paint dried, I lifted up the golden dragon to reveal the black one underneath.  And although you may think the gold dragon on black background was planned, you're wrong. I ran out of gold paint.  No worries – the thought of bringing 3 young kids to the store for new paint called for a quick adjustment.  
I sprayed the cardboard totally black and just glued the gold-painted template on!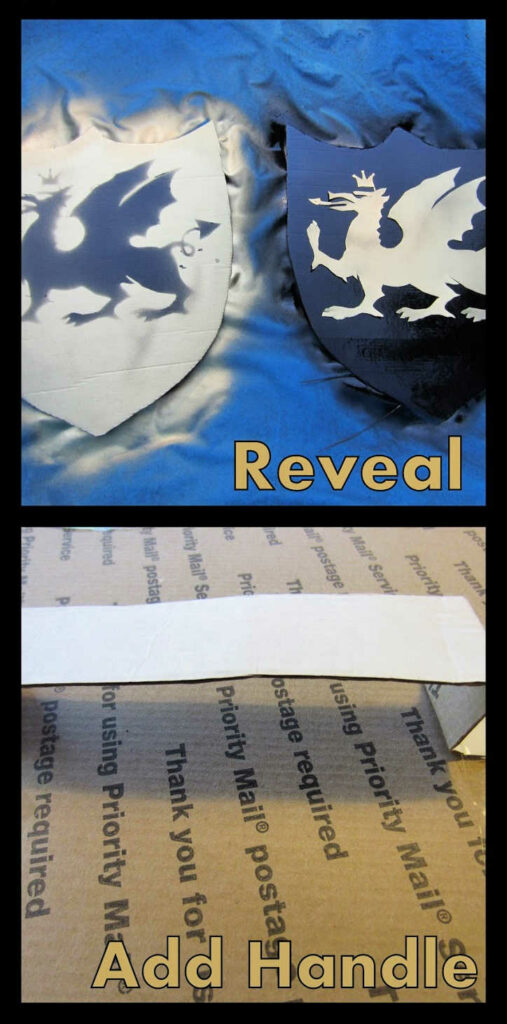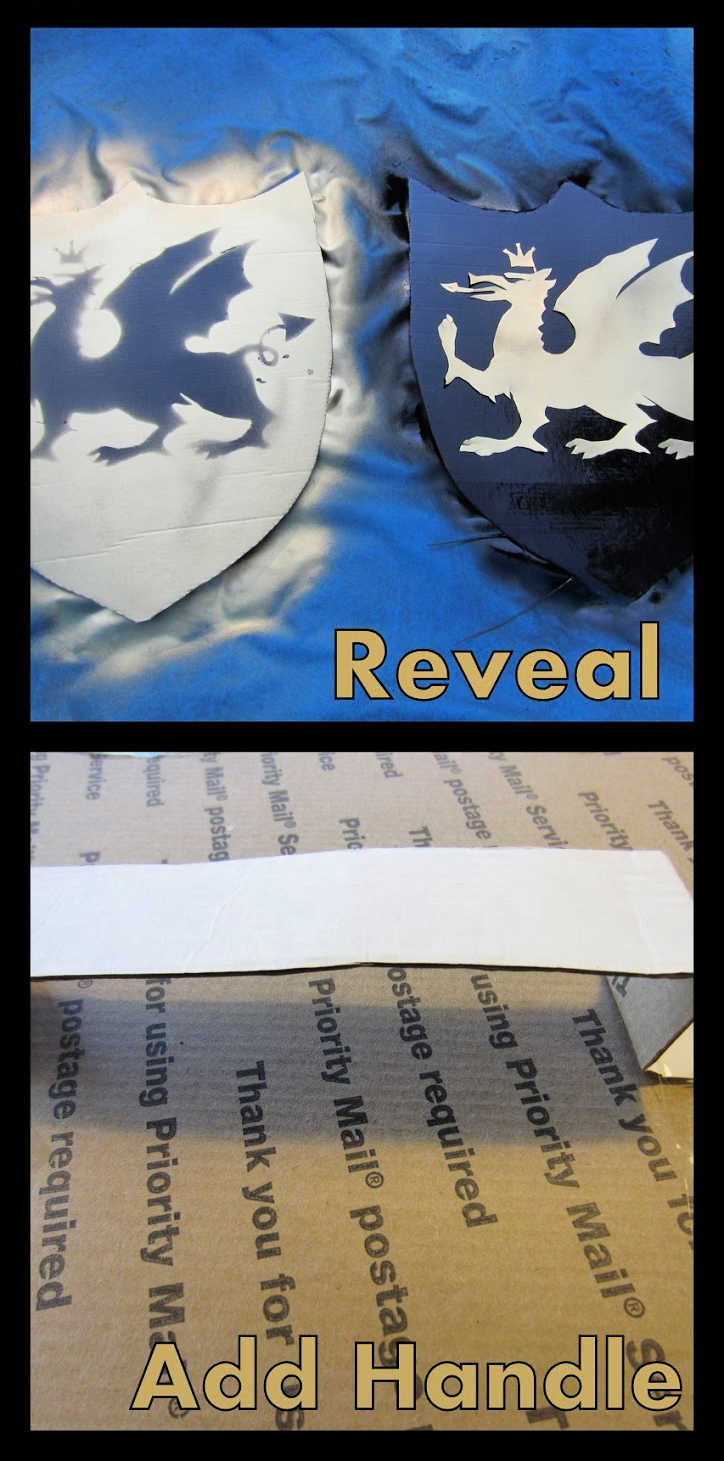 When they were completely dry, I cut a rectangle out of the cardboard, bent it, and taped it on.  Nothing fancy – but hey, who needs fancy when you are crafting with an anxious 3 year waiting to play knights.
Let me just tell you, that I have an enormous fondness for gold spray paint – it makes any paper or cardboard object instantly a treasure, in this case REGAL!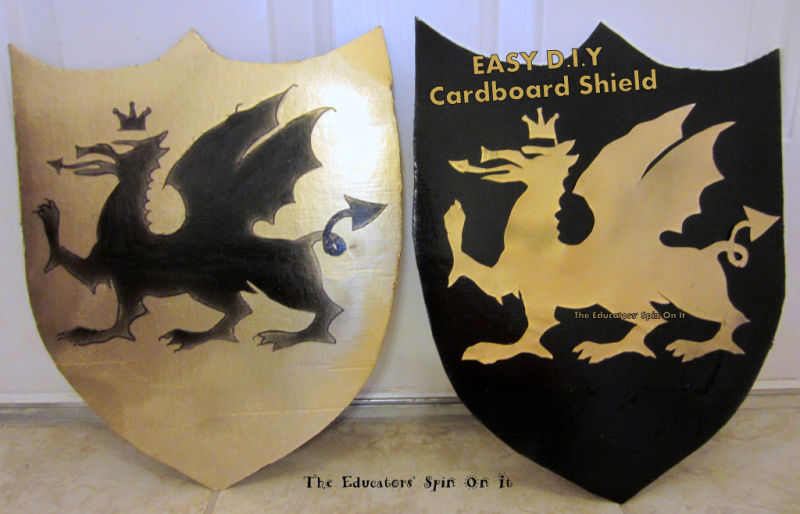 In any case – if you are like me and need something fancy in just a few minutes… stock up on the gold spray paint!
This post contains Amazon affiliate links.
These are some great Knight Books to go along with your pretend Knight playtime.
We may also play with our magnetic cereal box castle theater or cardboard castle this week too.
More Knight Shield Ideas:
You may also enjoy these activities…