The colors of fall capture the hearts of many children (and grown ups too) There is just something magical about the season and all the fall colors.  Reds, oranges, yellows, browns, paint the trees where green used to be.  In this activity preschoolers (and grade school children) will make a flip book of fall colors while studying leaves and the trees that they come from.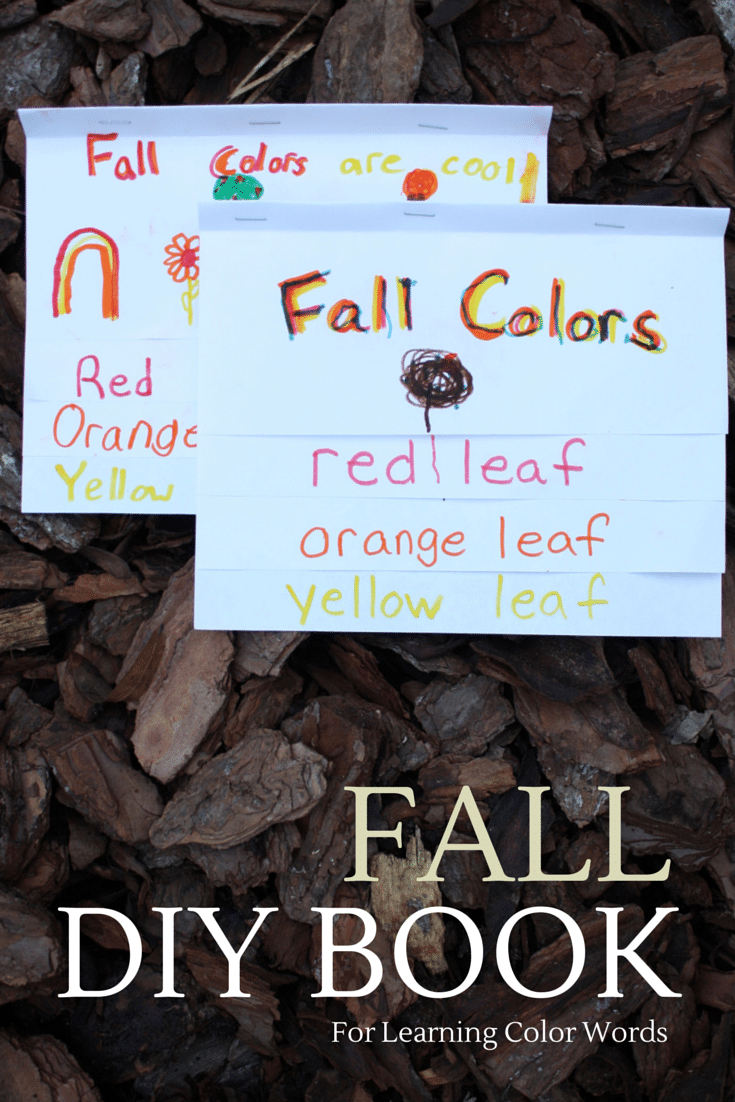 Affiliate Links included in this post 
 Preschool Lesson on Fall Colors: DIY Flip Book
This activity combines literacy, science, outdoors, a little art, and a bit of technology.  It is an extremely powerful educational activity for needing only 3 materials.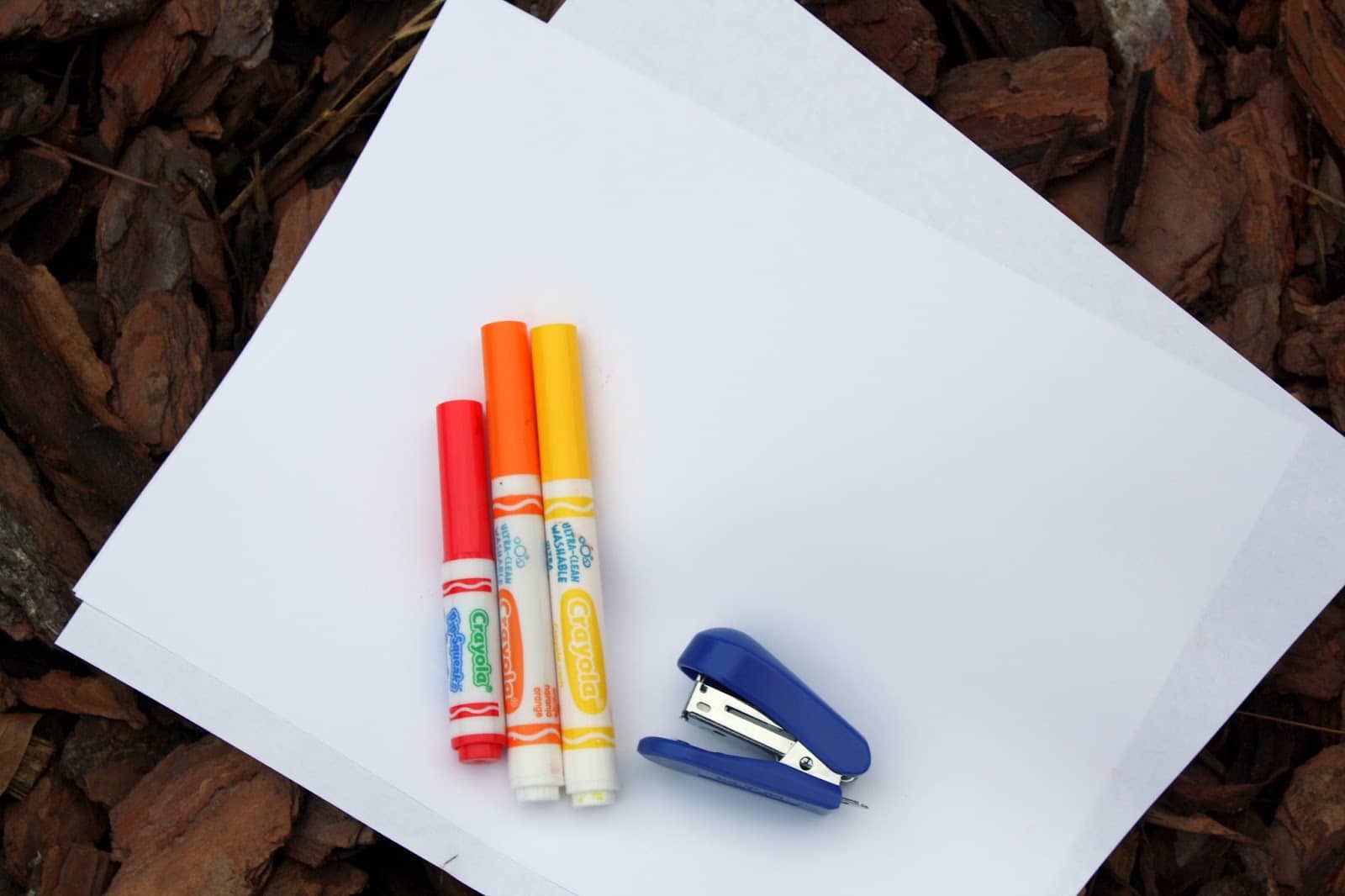 Materials Needed for  Preschool Lesson on Fall Colors:
At least 2 sheets of
paper
per child.
Make a Fall Color Flip Book
Prior to the Activity you will need to make the flip book or have your child help you make the flip book.  Here are the directions in pictures.
1. Lay the 2 pieces of paper together. Make sure they overlap as shown.
2. Fold the 2 pieces of paper in half, keeping the overlap.
3. Crease at the fold and staple 3 times at the top.
4. Write and illustrate the completed book.
This activity is great for children at varying abilities from preschool to grade school. Children at different levels may have different learning objectives, but they can all make a fall color book. Although the learning objectives may differ, when doing this activity side-by-side, the younger child is exposed to higher level science ideas and the older child has the vocabulary reinforced.
Preschool Learning Objectives:
read and identify the fall color words: red, yellow, orange
hear and write different texture words: jagged, smooth, bumpy.
practice fine motor coloring
Grade School Learning Objectives:
define and provide examples and non-examples of deciduous trees.
explain the science reasoning behind the leaves fall color change: chlorophyll and photosynthesis
Directions to Make:
1. First, go on a walk to observe the changing colors. Using your electronic device look up images of leaves in different colors.  Show them to the child and talk about the differences in textures.  This is also when we discussed what
a deciduous tree
was and
how the leaves changed color.
2. Then, using markers, make a title page on the first section and allow the child to draw their own picture.
3. Next, provide an example of a red leaf.  We looked at a maple leaf via google image search for "red leaves."  Talk about the shape and texture of the leaf.  Have them draw a red maple leaf on the second page.  Write the words for the preschooler. Point out the color words.  Then have them read the words back to you.
Here is the preschool drawing on the left, the third grader drawing on the right of a red fall leaf.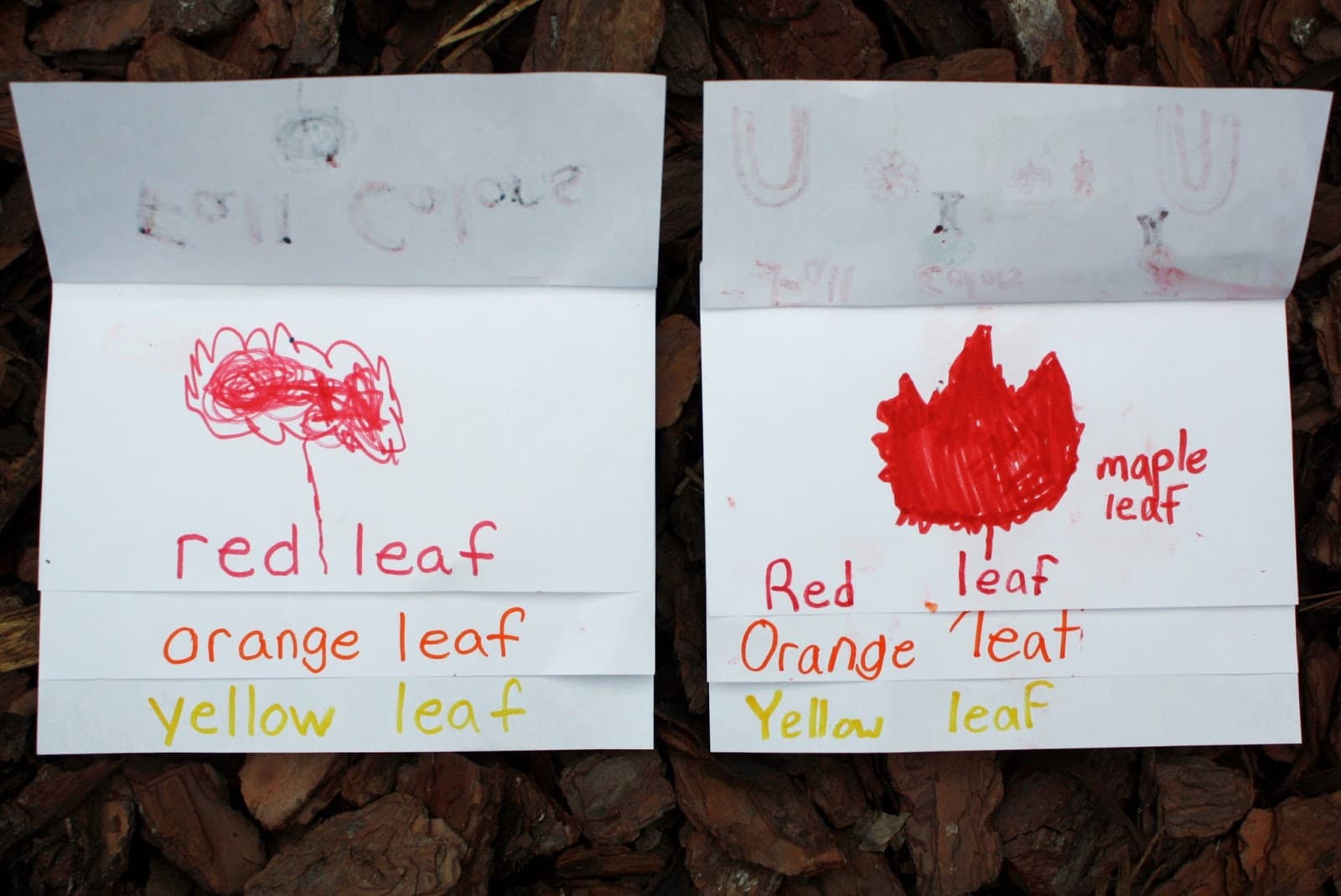 4. Repeat #3 for the orange and yellow leaf pages.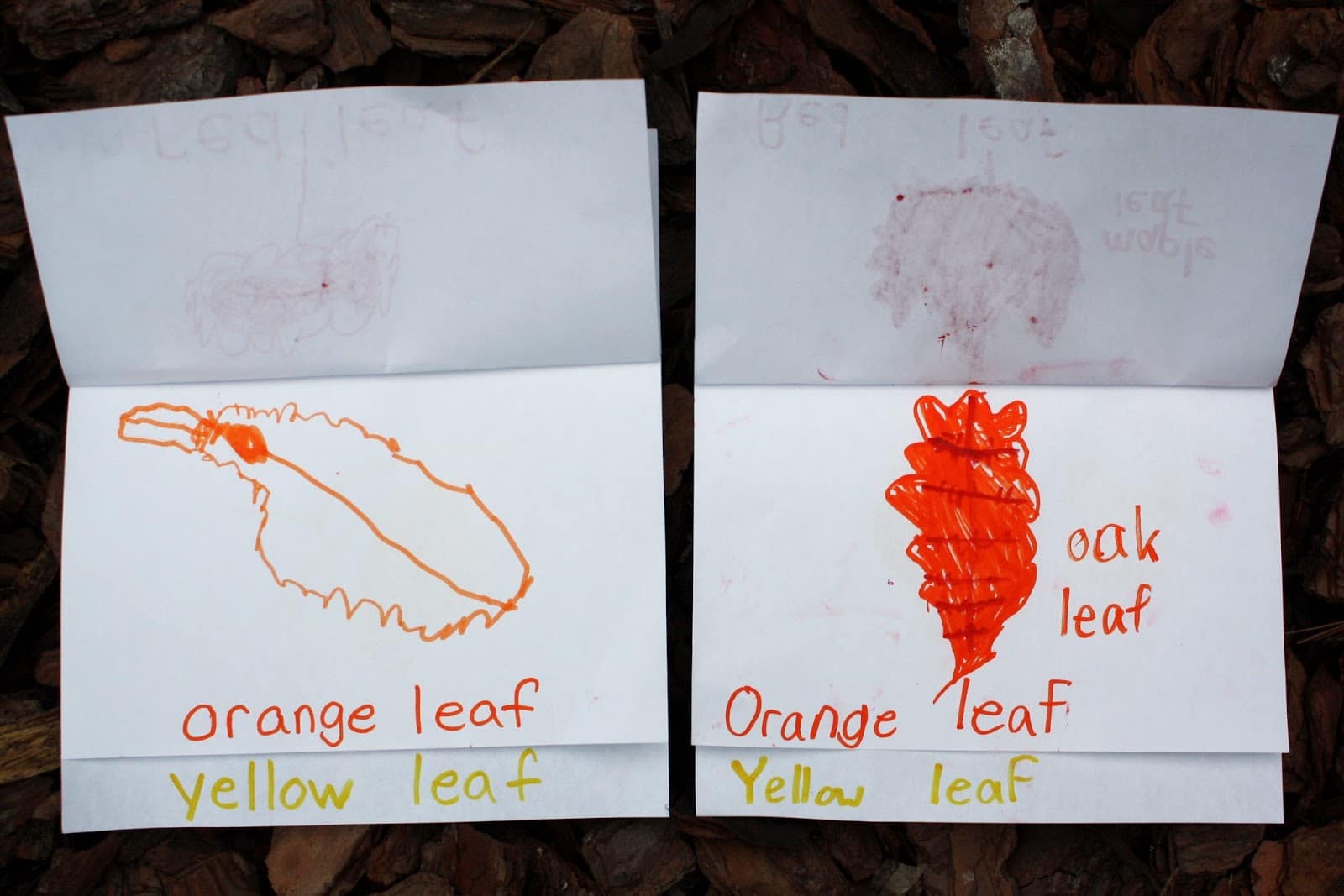 5. Once complete, have the child re-read each page out loud and share their book with a family or friend. Put the book in your home or classroom library to be read and re-read. This will help re-enforce academic concepts.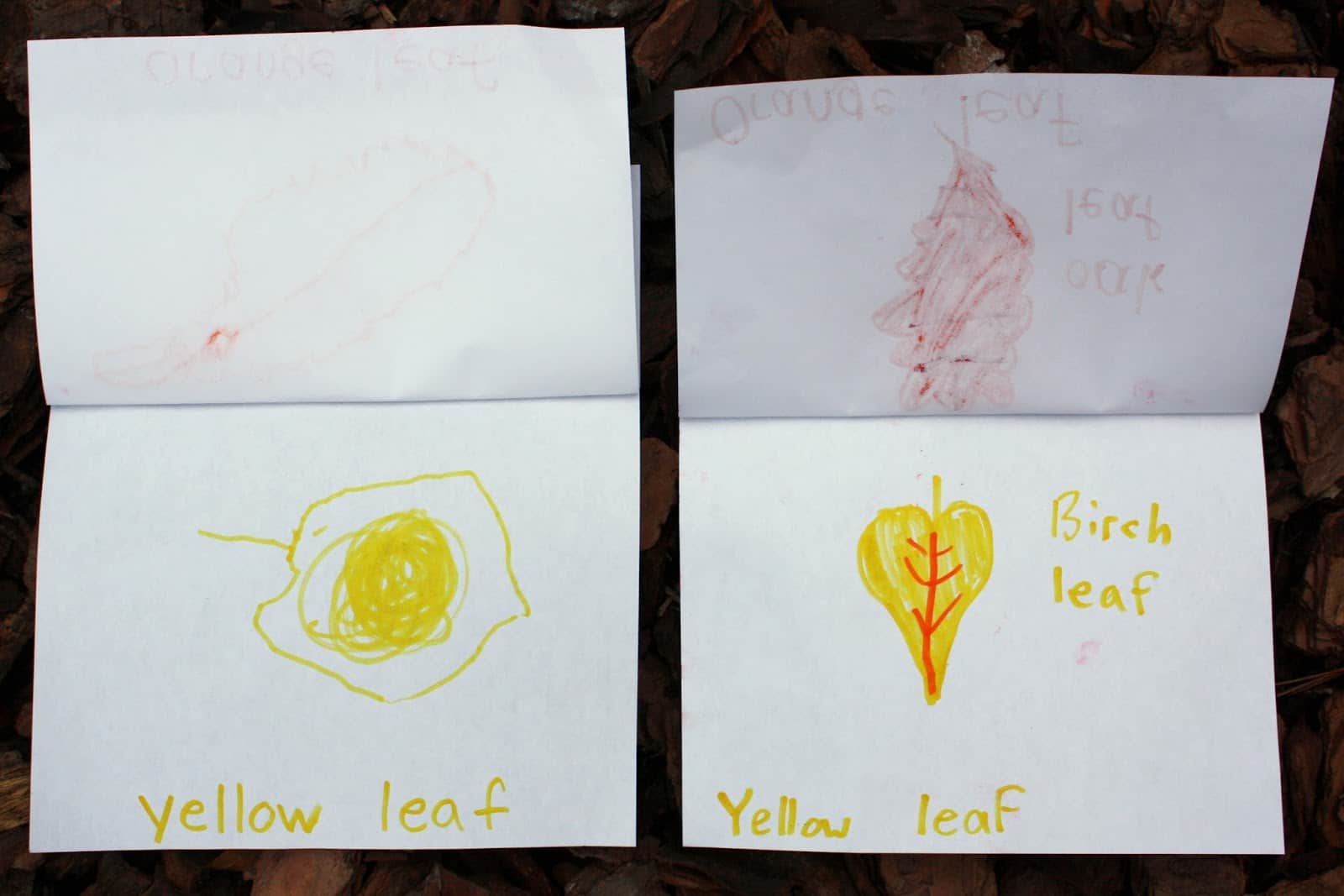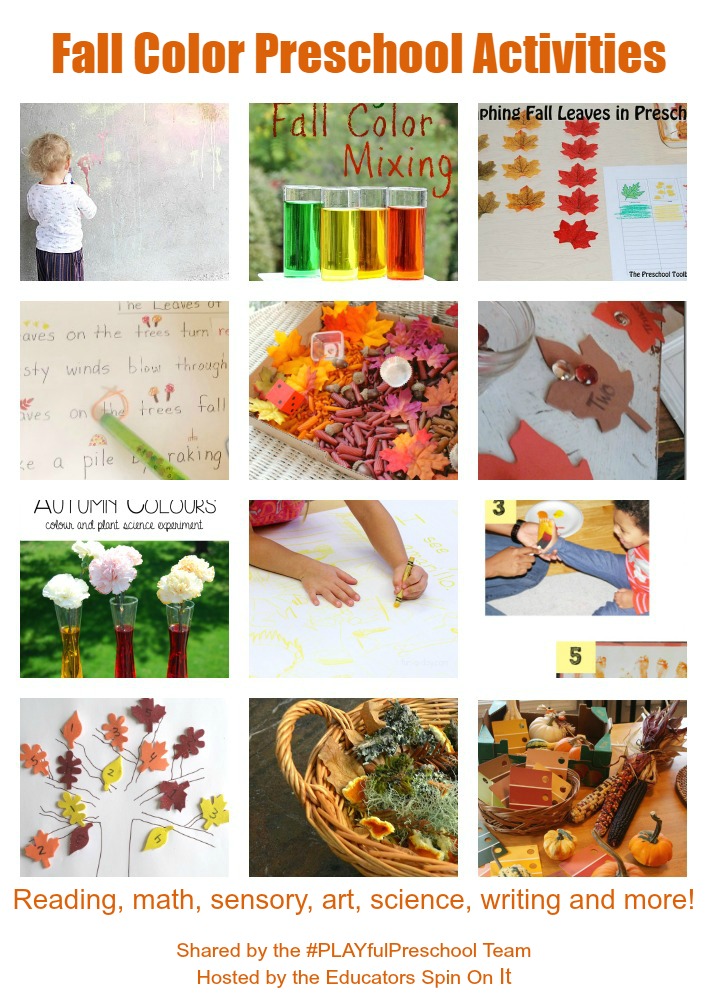 For More FALL COLOR Themed Preschool Activities from the PLAYful Preschool Education Team:
Fall Colors Water Mixing by Still Playing School
Exploring Fall Colors With Gourds by Little Bins For Little Hands
Why Leaves Change Colors by The Preschool Toolbox Blog
Learning With Preschool Songs: The Leaves of the Trees by Growing Book by Book
DIY Fall Color Word Book by The Educators' Spin On It
Learning Number Words with Fall Colored Leaves by Tiny Tots Adventures
Fall Tree Number Matching by Mom Inspired Life
Colors of Fall Sensory Bin by Life Over C's
Foot Painting The Fall Colours by Learning to Walk
Exploring Fall Colors in Paint by Powerful Mothering
Autumn Colours Plant Science at Rainy Day Mum
Make Your Own Fall Potpourri at Capri + 3
Listen and Watch as we share what activities we are doing for the fall color theme in our homes and classrooms.
A weekly lesson plan will be shared with our private virtual homeschool group. If you are interested in joining in, more details can be found here.
My Preschoolers Fall Color Book Picks
Help your child fall in love with books by providing a wide variety of fiction and non-fiction text for them to read. Use libraries, book stores, even garage sales to pick up themed books for learning. Gather fall themed books into one area and read them often. I like to choose 5-6 books each week and read them every day. Repetition is great for young learners and helps them develop a familiarity with vocabulary and the rhythm of words.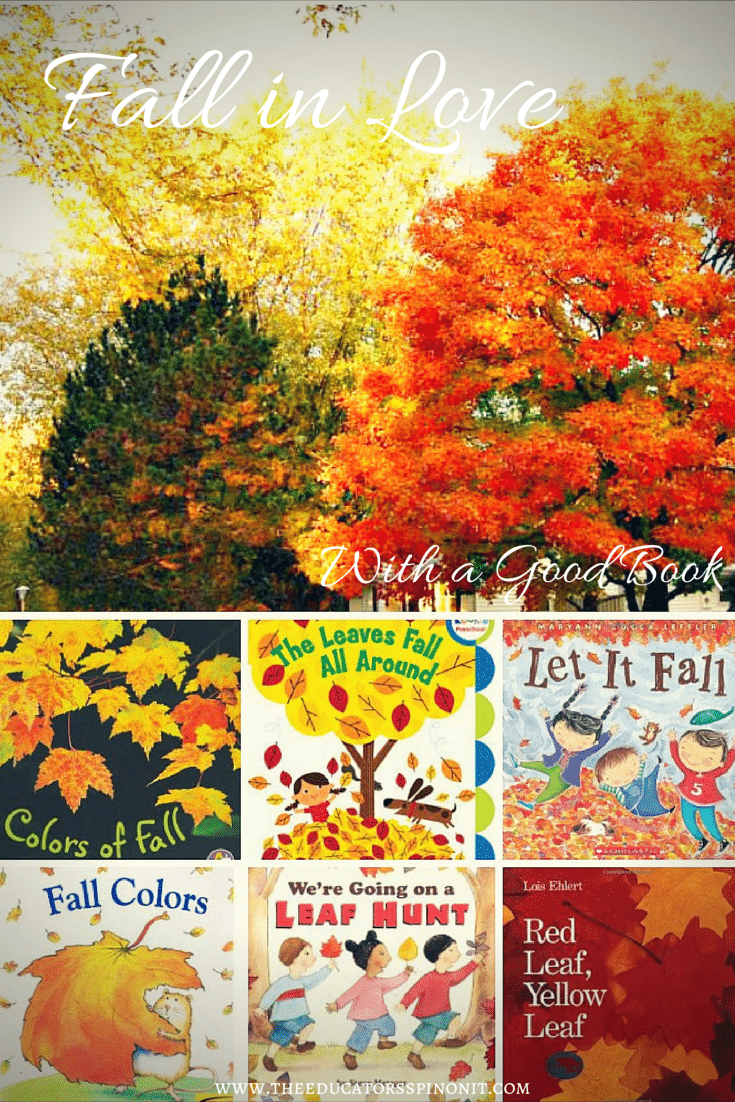 The Leaves Fall All Around (Rookie Preschool: My First Rookie Reader)
 A picture book designed for the emergent reader with rhyming text and strong picture clues.
Read the full description
Why Do Leaves Change Color? (Let's-Read-and-Find-Out Science, Stage 2)
 This book does an excellent job of explaining why leaves change colors to younger children.
Read the full description
Red Leaf, Yellow Leaf
 This story interweaves facts of photosynthesis with vivid illustrations.  A story treasured by many!
Read the full description
Let It Fall
 A quick whimsical read about children playing in the fall.
Read the full description
We're Going on a Leaf Hunt
 We read this book in a sing-songy voice and always follow it up by going outside for a leaf hunt of our own!
Read the full description
Fall Colors
 A small rhyming book about the season.  My kids like it because it is a little book and they pretend to read it to each other.
Read the full description
Colors of Fall (Colors All Around)
 Take a visual tour of the colors of fall in this picture book geared for ages 4-8.
Read the full description
Don't miss some of our other Fall Themed Preschool Articles:
These are free resources for parents and teachers.  We want to save you time finding great activities so that you have more time to DO them with the preschoolers in your lives!
Save
Save
Save