It's time for a playful preschool bunny math playdate. Your little ones will have a hopping good time.
Bunny Themed Math Activities
If you are like me and happened to pick up a package of foam bunnies to make, then you may be in for a hopping good time!
Classroom packs of to-make foam characters can be found at major retailers such as Target and Michaels or online through companies such as Oriental Trading. They usually come pre-stickered and ready to assemble quickly.
They are a quick and easy craft with lots of learning potential.
1. Assemble your bunnies
We had 24 little bunnies in our box. The kids had fun using the stickers. It was a great little fine motor activity.
2. Add numbers
Grab a handful of bunnies and write numbers on them. I am working with 1-5 this week.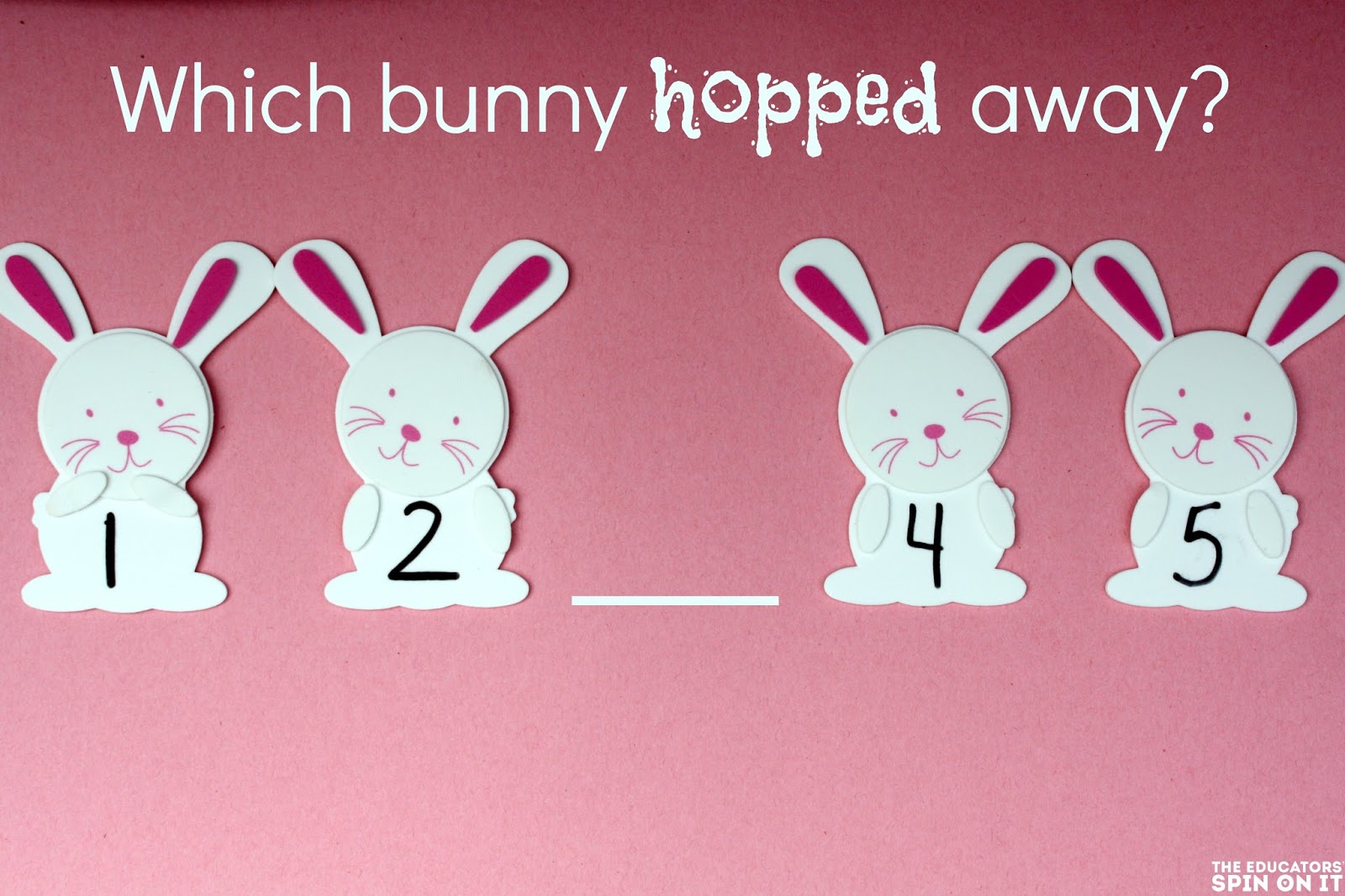 3. Play some hop-tacular bunny math games:
Hide the bunnies and hop to find them. Put them in numerical order.
Once they are in order, have your child close their eyes. Take a bunny away. Ask them "Which bunny hopped away?"
Play bunny numbers. Say, "I'm thinking of a special bunny. This bunny is one number greater than 3. Which bunny is it?"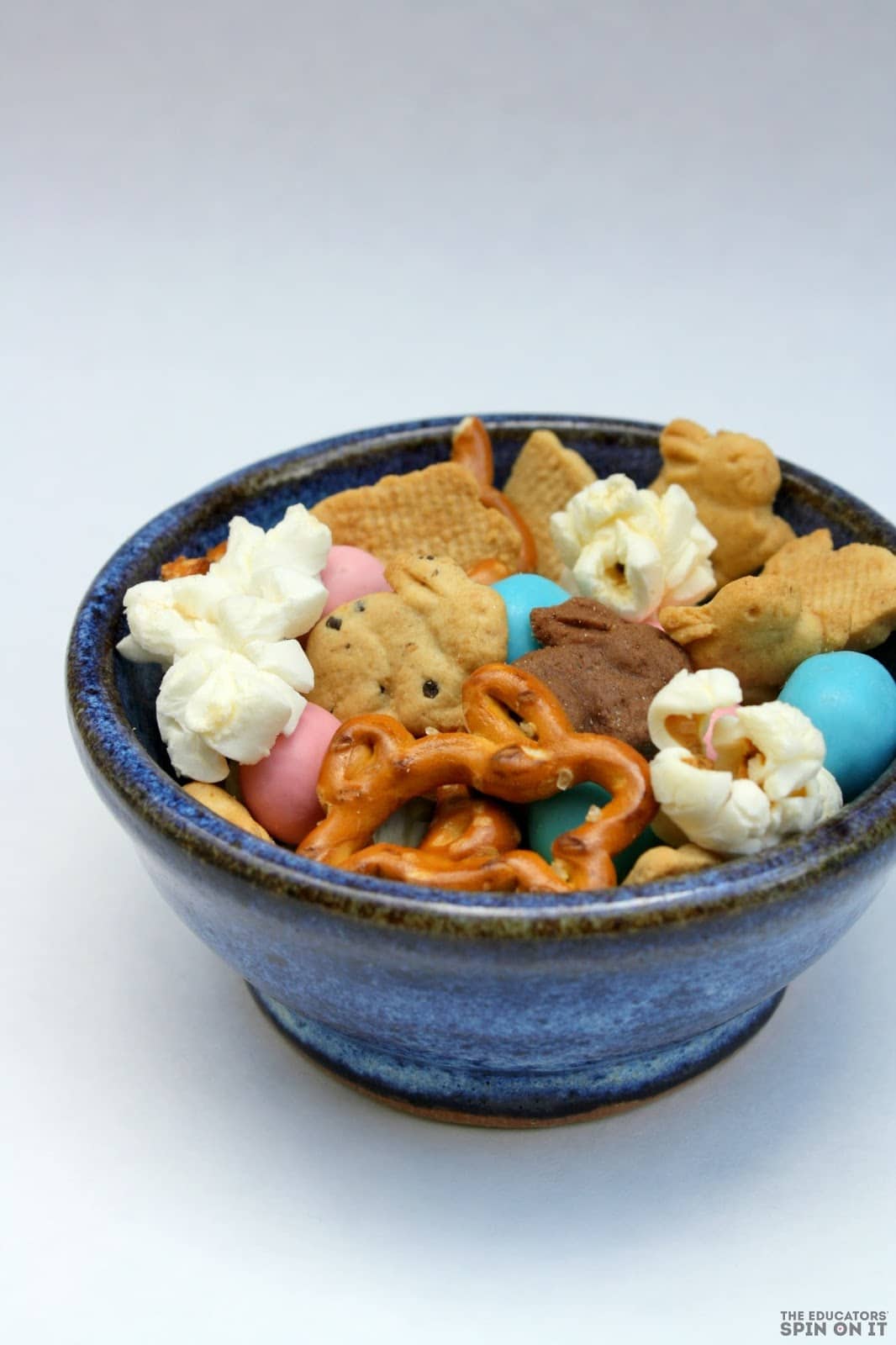 4. Snack-N-Graph
When your children bunnies get tired, set out your bunny snack. We like this simple snack with bunny pretzels, Annie's bunnies, chocolate covered pretzel eggs and popcorn for a treat. Before they eat, have them graph the gorp. Ask them what part had the most. Which had the least? How many pieces are there all together?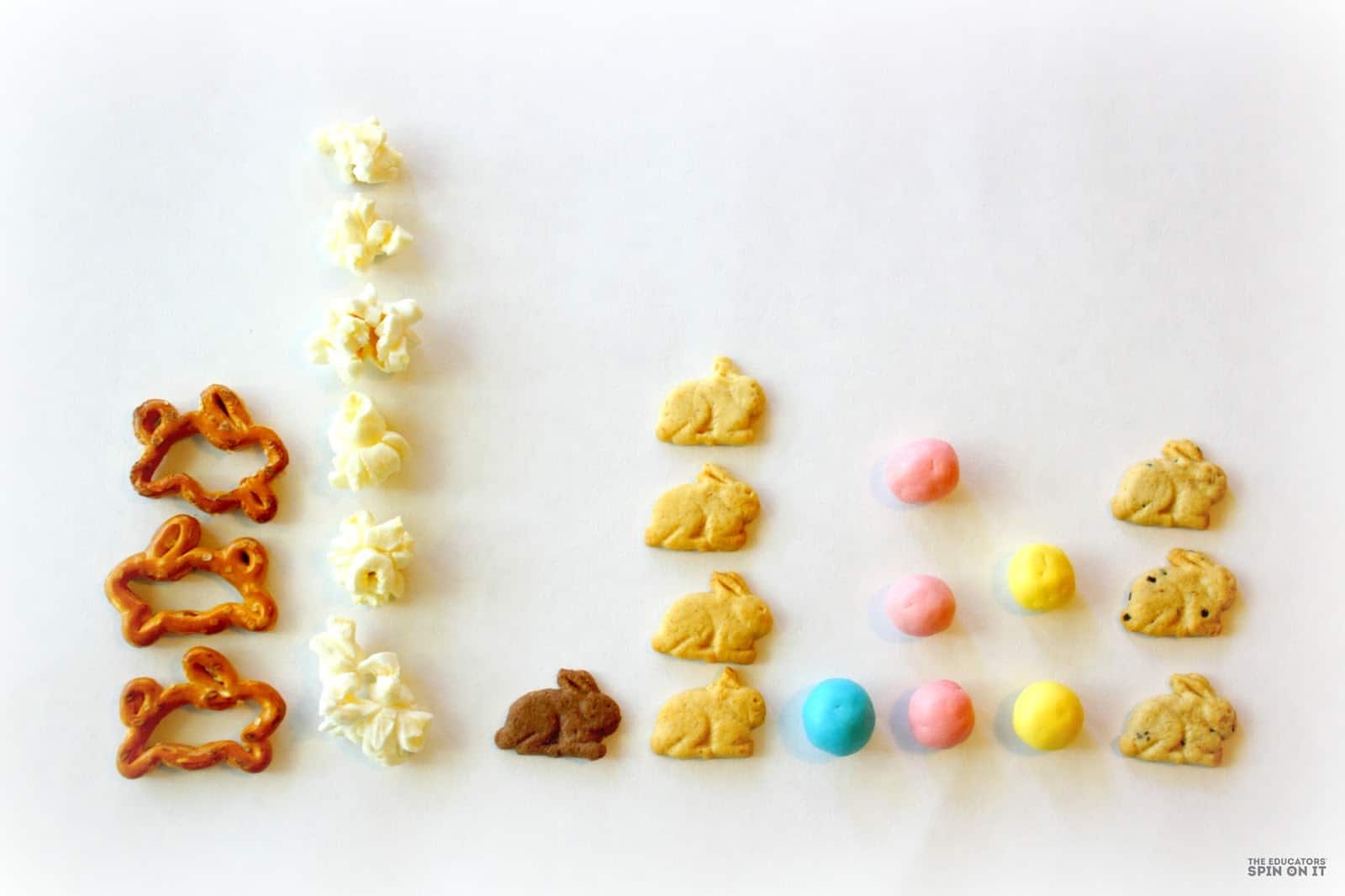 5. Writing Connection
As snack finishes, it is a great time to add some writing in. Here is my 4 year old's dictated story and illustration of a rabbit with 2 carrots. I know it's not math, but if you know me, I am a firm believer in connecting academics with each other for a more in-depth learning experience.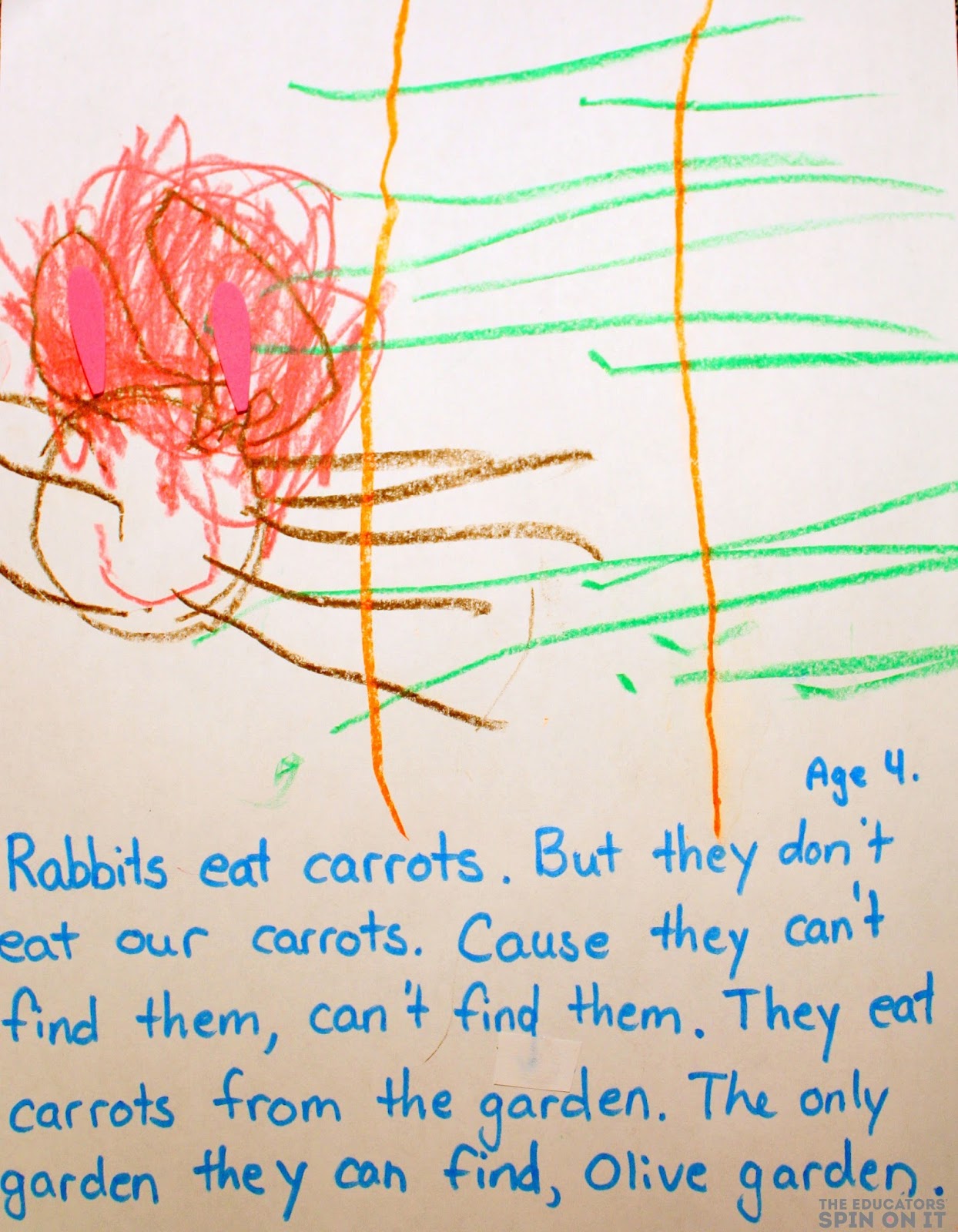 6. Creative Expression
By the end of any learning playdate, my kids are ready for a little creative expression. We have hopped around counting, put numbers in order, graphed, and wrote bunny stories.
Now I set out art materials and encourage them to explore. Crayons and markers are great mediums to set out.
Paint, play-dough, and stickers would work too!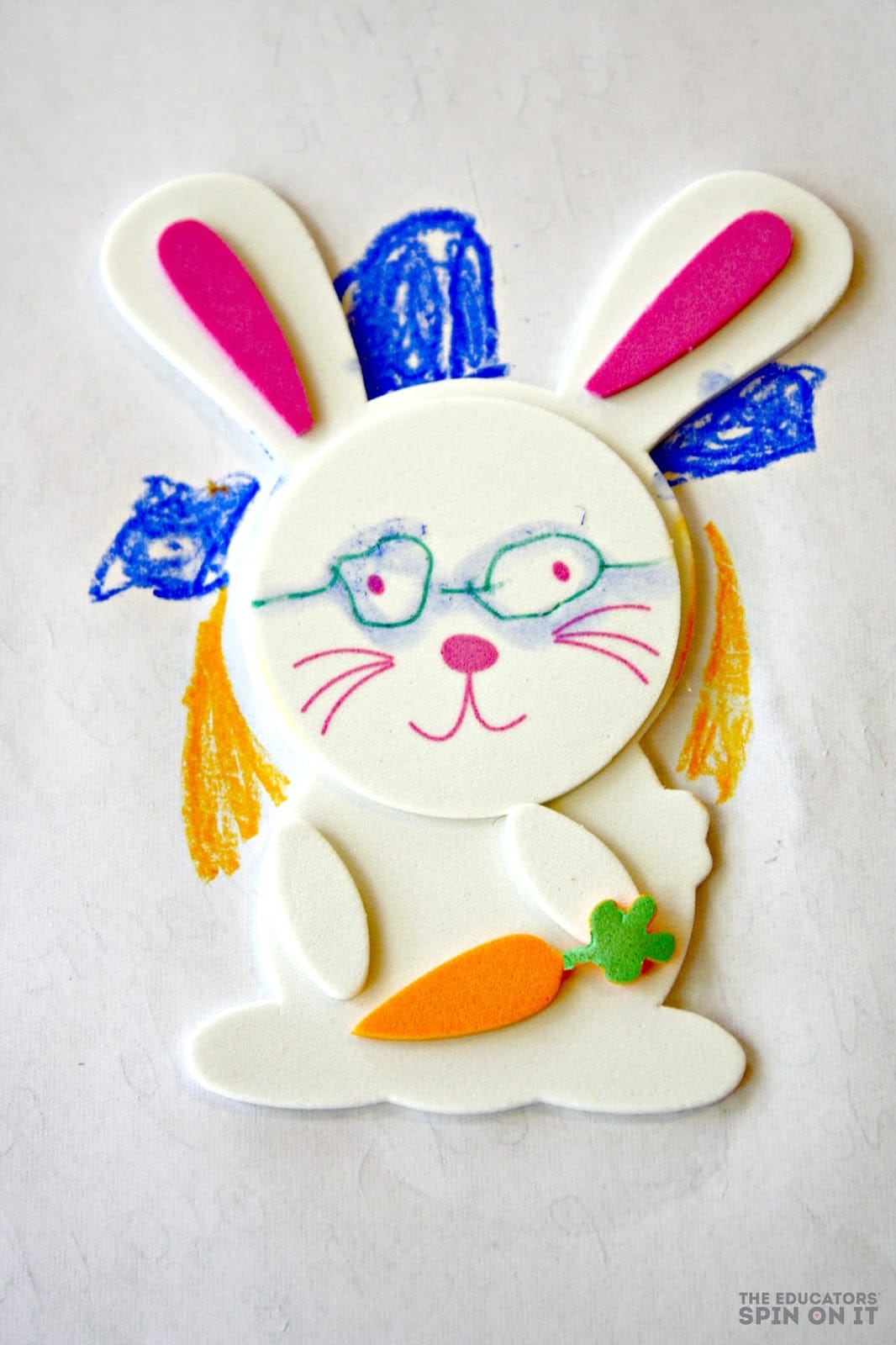 REMEMBER – bunnies come in all colors and sizes. Each is special and unique!
A charming tale of tolerance, acceptance and bunnies! Written and illustrated by mother – daughter team, Betseygail and Colleen Rand. Published by Random House, 2011.
Free downloadable crafts, coloring & activity pages at www.bigbunny.net."
For more Easter Themed Activities, we suggest
Edited: How cool is this tweet??? I LOVE, LOVE, LOVE seeing companies excited about early learning!