Connect children with a good book, then let them make a snack to go with it! Here are 9 Easter Snacks for Kids to make and eat – PLUS the books we think would pair with each treat.
These would be great for classroom celebrations and Easter themed play-dates!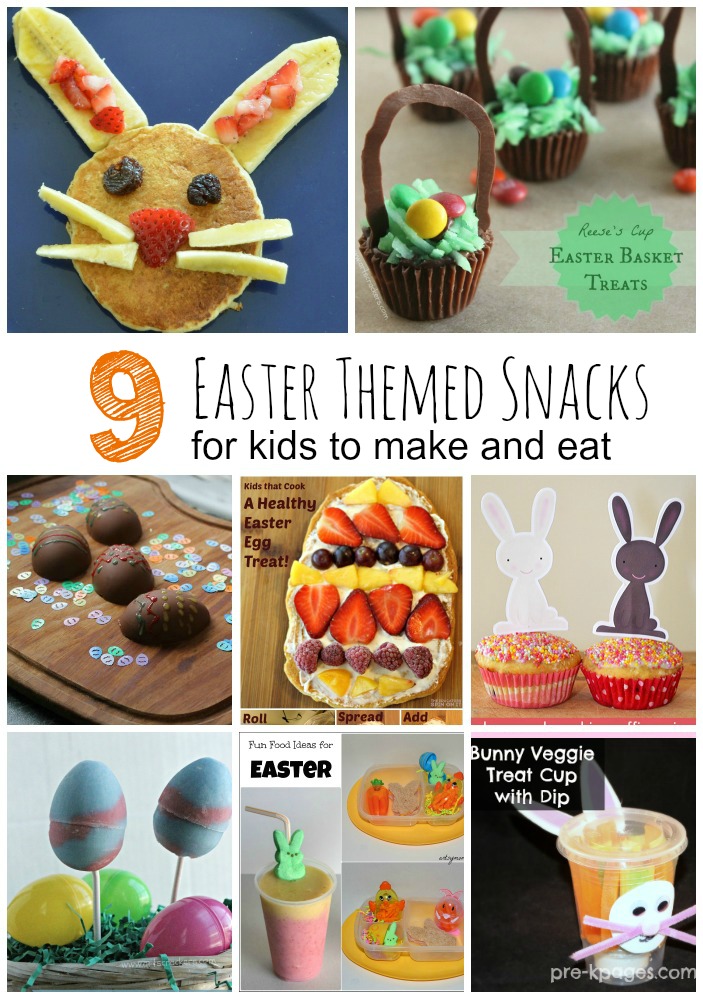 Disclosure: This post contains Amazon Affiliate Links.
Read a book and make one of these super cute, and a little more healthy Easter Snacks for Kids today after school. Eggs, bunnies and more!
9 Easter Snacks for Kids
Here are 9 sweet Easter Snacks for kids to make and eat – PLUS the books to read with them!
Read this: Here Comes Peter Cottontail
A level 2 reader, this story has simple sentences and pictures that help tell the story. Children are typically able to read this Easter tale at the end of kindergarten or first grade. Use it as a read aloud story for younger children.
Then, head to the kitchen to make this Easter Snack: Bunny Pancakes from The Pleasant Thing
Read this: Rechenka's Eggs
This traditional tale focuses on the traditional Ukranian Easter Eggs, which are made of wax and died in layers. Skip the messy dies and make this Easter Snack: Healthy Easter Egg Fruit Snack from The Educators' Spin On It
Read this: The Biggest Easter Basket Ever
My kids LOVE these mouse brother stories that focus on teamwork and highlight how to work together with others. After an egg hunt, use your sweets to make this Easter Snack: DIY Reese's Cup Easter Basket Treats from Arts and Crackers
Read this: Happy Easter, Biscuit!
Make this Easter Theme Snack: Banana Chocolate Chip Cupcakes with Bunny Toppers from Picklebums
Read this: Fancy Nancy's Elegant Easter
Make this Easter Theme Snack: Layered Easter Smoothie from Artsy Momma
Read this: Bunny's Easter Egg
Make this Easter Theme Snack: Bunny Treat Cup with Vegetables from Pre-K Pages
And if you are looking to dress up your Easter table with home-made chocolates or cupcakes – we love these Easter theme products: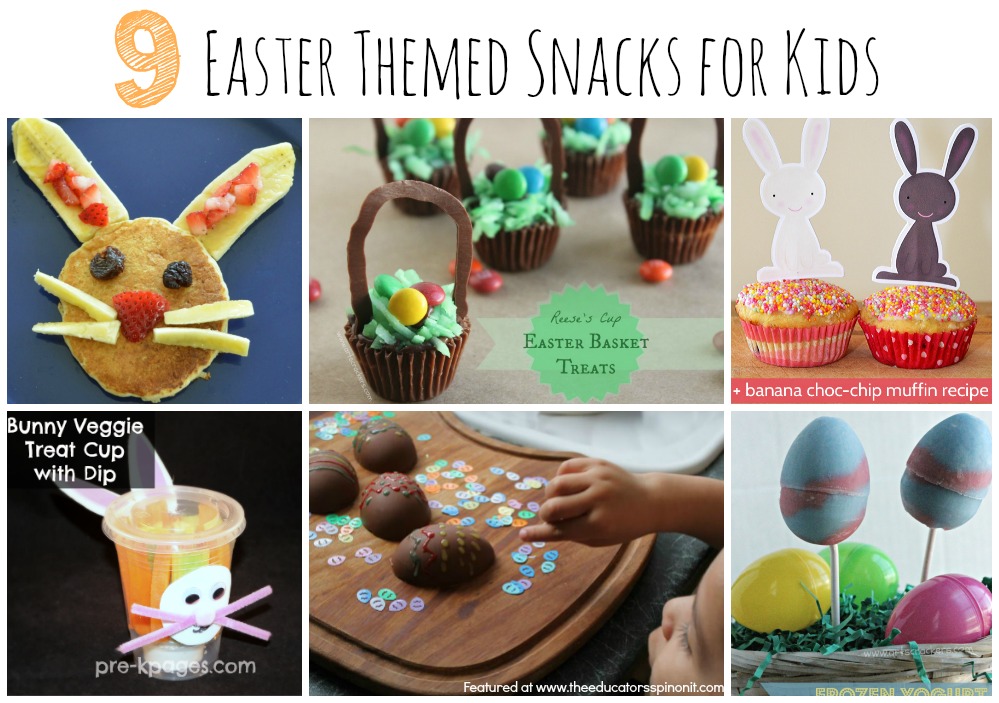 Explore Additional Easter Activity Ideas for Kids
These Easter Snack ideas are so much fun with a good Easter Book. If you're looking for more Easter themed Ideas to a peek below at these Easter Activities for kids that sneak in a little Easter learning too. Happy Easter!
14 Crafts & Activities with Plastic Eggs
101+ Easter Activities for Kids