How to make gardening a fun project for the whole family. Includes garden chores suggestions by age group.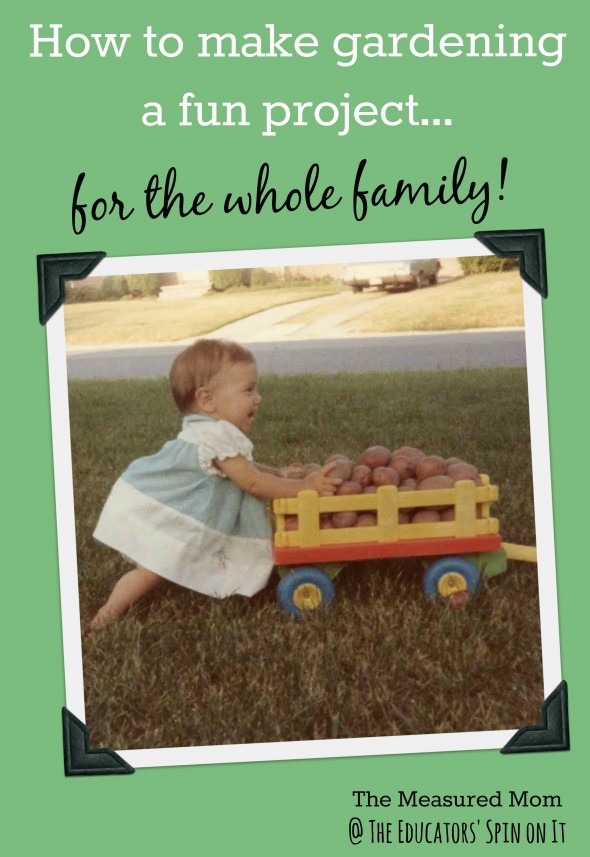 Gardening is a learning adventure, that's for sure.  We are so excited that there are so many families and classrooms gardening this season!  If you are a long-time gardener THANK YOU for continuing to share the love of the earth, the tradition of growing food, and the potential to harvest the most nutritious, best tasting food.  
If you are a new-to-garden family, THANK YOU for starting something that can be intimidating, but has the potential to be oh-so-life changing.  Anna, talented writer, mom and former teacher is with us today, sharing some amazing tips on how to make gardening a fun project for the whole family.  
Don't forget to stop by her blog too – she has some great articles on teaching preschool and kindergarten and even free printables for your young learners.
Garden Chores for All Ages
How to Make Gardening a Fun Project for All Ages
Do you have a garden at home? If you do,
you know that it takes a lot of thought, time and energy to go from a patch of bare earth to this: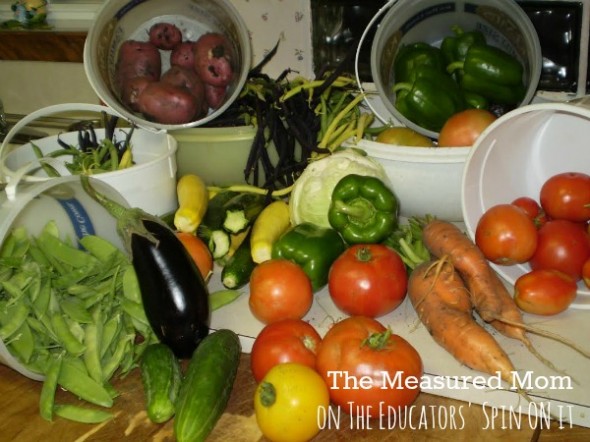 These vegetables sat on my parents' kitchen counter during last year's harvest. As a kid, I remember trays of tomatoes overtaking every surface of the house — not to mention the giant bowls of green beans to tip and peas to shell. Growing up, we five kids took an active part in helping care for the garden and produce that came from our Dad's pride and joy.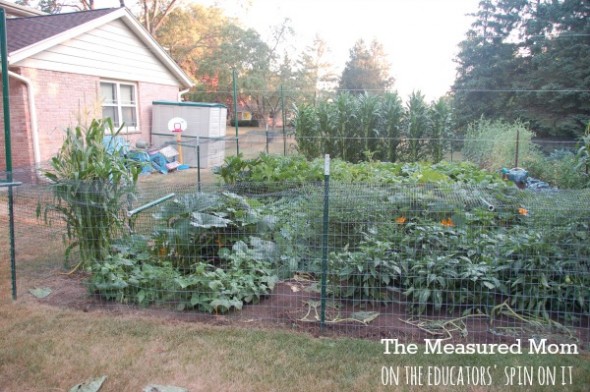 Now I'm married to a man who also loves his garden — all 6400 square feet of it! Besides providing fresh summer produce – not to mention fruit and vegetables we can put away to enjoy all winter – our garden has become a wonderful way to spend time with our children.
Today I'd like to share how you can make your garden a fun family project — by involving kids of all ages!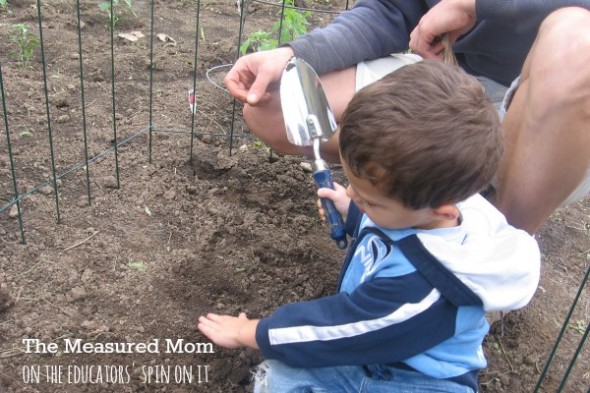 First, some tips to make gardening easier when you have small children:
1. When you've first planted the garden, put removable fencing (like this) around the plants so the kids have a clear path to walk on. This way you don't have to worry about them stomping on plants. As the plants become visible and hearty, remove the fencing.
2. Be sure to provide a small area for your child to have his or her own garden. Label it with a wooden stake with your child's name on it. Our rule is that kids can plant whatever they want (we discourage zucchini and pumpkins however, as these overtake a garden!). We also let them space the seeds however they wish. If five corn seeds are dropped in a single hole, so be it!
3. If possible, plant raspberries and/or strawberries. These are ideal for small children to pick and enjoy at any time. Our kids are allowed to pick raspberries whenever they want. The rule about strawberries is that they may only pick strawberries they can reach while standing at the edge of the patch. Cherry tomatoes are also fun for kids.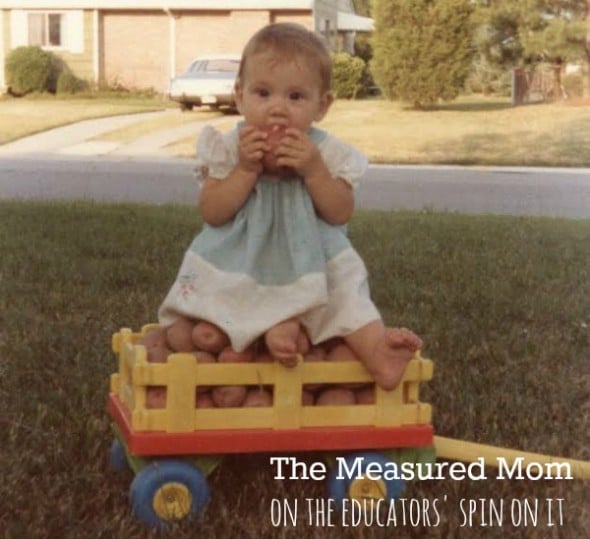 It's a bit of a challenge to find garden chores for toddlers — but as you can see from the above photo (my sister in 1981), even tiny tots can be part of the fun. We currently have a two-year-old who wants very much to be part of the action!
Garden Chores for Toddlers:
They can hand you seed packets as you plan your garden.
Use a tiny watering can to water container plants.
Follow you in the garden and put the produce in buckets as you hand it to them.
Wash fruit or vegetables in a bowl of water or the kitchen sink.
After the produce has been brought inside, have your toddler help you get it for cooking. Open the drawer in the fridge, and ask him to get out a cucumber. Bring him down to the basement to put potatoes in a bowl for supper.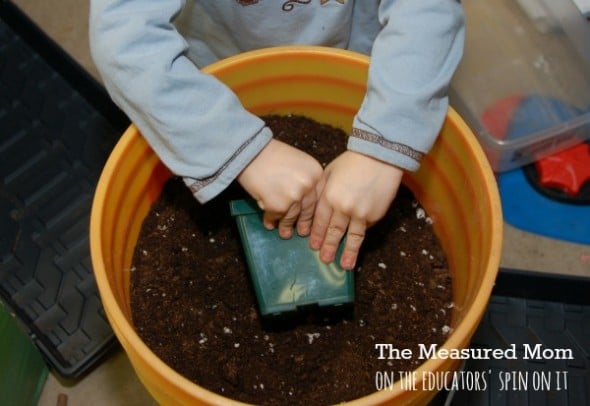 Two of our boys are currently three and five years old. Helping Daddy with the garden is one of their favorite activities.
Garden Chores for Kids Ages 3-5
At our house, my husband starts seeds in containers in early March. The kids love helping him by putting potting soil into the tiny pots.
After my husband puts a finger in the pot to show how far the seed should go, the kids drop the seeds in the pots.
In early spring, my husband moves the pots into a greenhouse. The kids water the greenhouse plants.
Our kids love to test the soil in the greenhouse and let us know when plants need to be watered.
Each spring, rocks come to the surface of a garden. Kids can find and gather the rocks before planting.
Let kids decide what to grow in their own garden plots.
Our boys love being zucchini lookouts… they let us know when one is getting too big!
Kids of this age can pick produce as they're able… raspberries and strawberries are easy to pick. So are cucumbers and green beans. Make sure your child understands how to hold the plant with one hand and pull the produce with the other. After you dig up the potato plants, finding the potatoes in the dirt is super fun for kids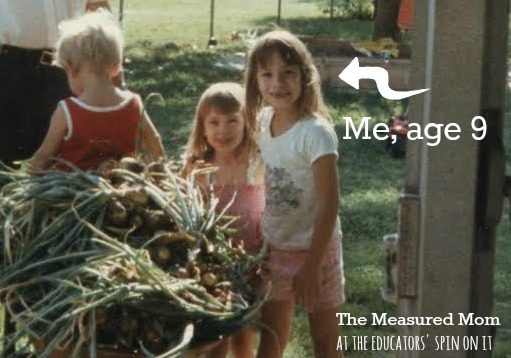 By this time, kids who have been gardening since toddlerhood can be given quite a bit of responsibility.
Garden Chores for Kids ages 6-9
With a little direction, these kids can fill the cups with potting soil and plant the seeds all on their own.
Prepare a stick cut to the proper length and have your child set it down between seeds so she can plant seeds in the garden without their getting too close.
These kids can be sent to the garden to get what you need for supper. My daughter likes to run and get basil and a few cherry tomatoes – or a green pepper and cucumber.
Take the tips off green beans, husk corn, and shell peas.
Deliver fresh vegetables to the neighbors.
Remember that you're teaching future gardeners! Give your children as much responsibility as they can handle.
Chores for Kids Ages 10+
Using a hoe, make a long line in the dirt to show where the seeds should go.
Plant seeds with supervision.
Weed the garden.
Pick the garden – produce ideal for older kids to pick include green beans, zucchini, peas, and strawberries.
Prepare vegetable trays for eating – wash the produce, cut it, and arrange it.
Sell vegetables to the neighbors. My parents used to prepare bags of fresh produce for us to take around to the neighbors for a very low price. We were allowed to keep the money and save it for an 18-inch high backyard pool (we went through a few of these every summer!).
Check out some other ways we've had fun outdoors!
Anna taught for eight years and received her MEd before staying home to raise her kids (ages 6,5,3,2, and infant). She loves to share free education resources and printables on her site, The Measured Mom.
For more ideas on connecting the garden to academics here at The Educators' Spin On It, we recommend:
Worms and Composing by Sandi Purdel Lewis
Experimenting with Propagation by Gailina
Learning about Bees by Helen
Together, let's inspire more parents and teachers to garden with their children!  Share any pictures of your gardens using the hashtag:
#plantaseed Did your parents have a garden?