Kids in the garden are learning about WORMS and COMPOSTING today! Join us this month for articles all about gardening with children.
Our special guest, Sandi Purdell Lewis, kindergarten teacher and garden ambassador, shares with us her classroom adventures.  She is the author of Rubberboots and Elf shoes, a kindergarten blog with all sorts of adventures including fairy garden activities, learning about famous art, and all sorts of sensory bin ideas!  
I hope her article will inspire you to learn more about worms with your children. They aerate our gardens, loosen our soil, provide natural fertilizer for our plants and are just really neat creatures to study.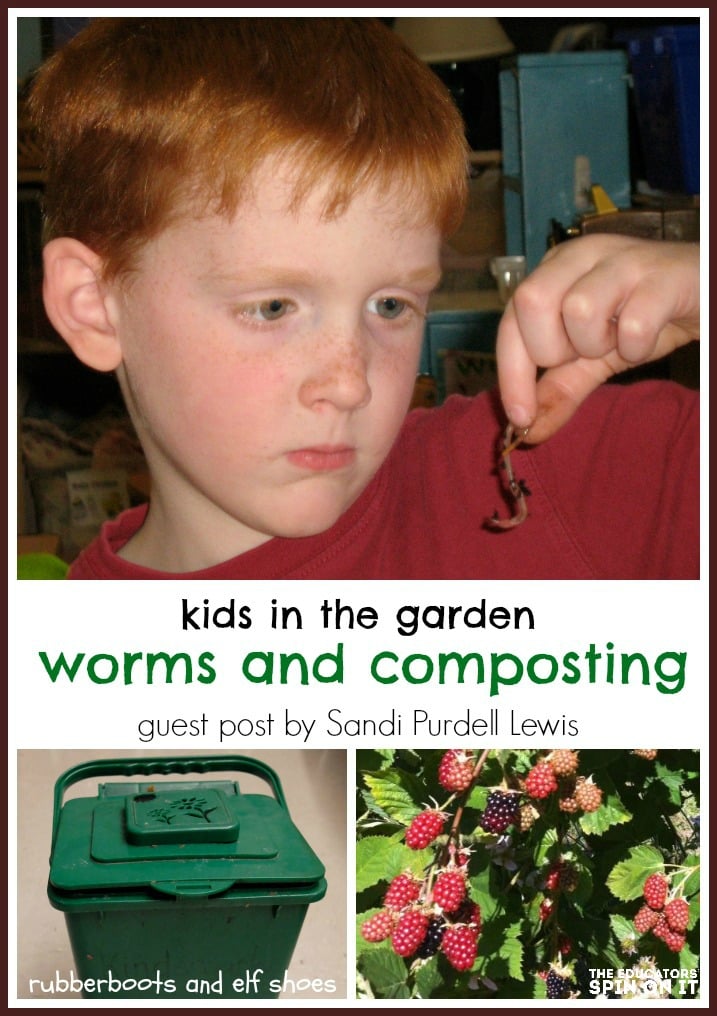 Worms and Composts
On my last trip to empty my class compost bin, I saw something that made my heart smile. Some early, miniature daffodils were blooming. Soon it will be time to use some of those banana peels, apple cores and occasional watermelon rinds that have been transformed into "black gold" to feed the garden and what it grows.
And kids can help. What kid doesn't want to feed worms?
Learn about Worms and Composting
There are lots of books about worms and composting for kids. Three of our favourites are: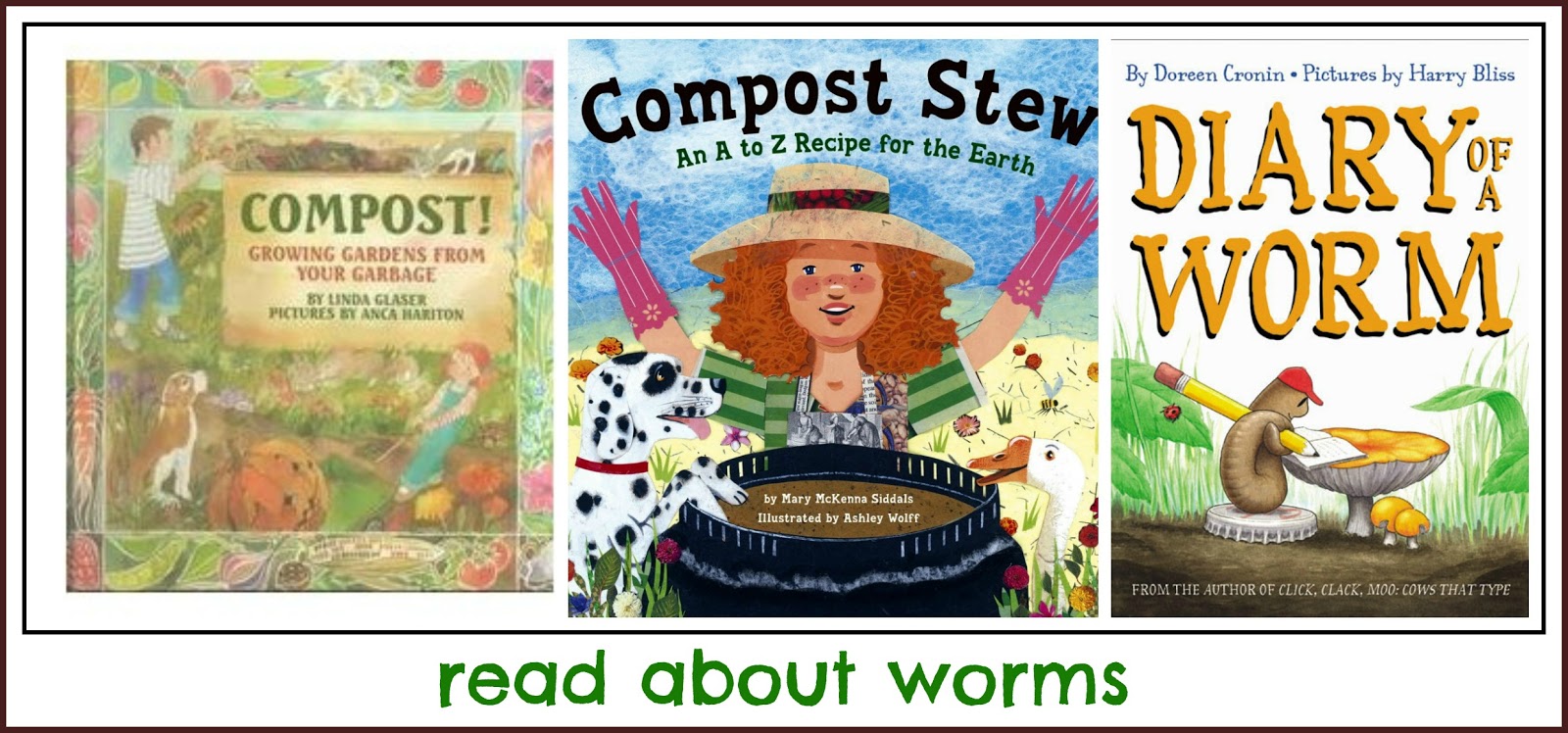 This post contains affiliate links.
Compost! Growing Gardens from your Garbage by Linda Glaser and illustrated by Anca Heriton. The lovely rhythmical prose and gently inviting water colour pictures show us the garden through the seasons, – a living changing place.
Compost Stew An A to Z Recipe for the Earth written by Mary McKenna Siddals and illustrated by Ashley Wolff. Cheerful, fun and rhyming text, along with Wolff's recycled collage illustrations make me want to run and add to my compost pile.
Diary of Wormwritten by Doreen Cronin and illustrated by Harry Bliss. This book makes you laugh out loud (real laughter, not the lol kind) while sneaking in some earthworm facts and information about their behaviour.
There are heaps more books about composting – read about some of them.
Make Friends with Worms
Kids, dirt and worms – what could be more fun?
Raid (with permission) a compost pile. Spread out the compost on a newspaper covered tables. Provide popsicle sticks and magnifying glasses. Remind the children that worms are living creatures, and need to be treated gently.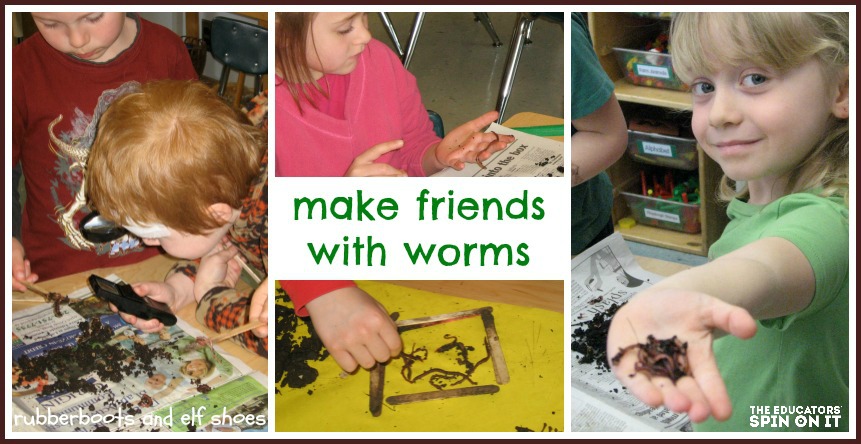 Watch the future wormologists explore
Feed the Worms so That They Can Feed Your Garden
What food do we collect for our worms?
We have a compost bucket in the classroom. We know that worms can turn banana peels, apple cores, grape stems, carrot tops, watermelon rinds, dead flowers, coffee grounds from the teachers' room, egg shells from baking (and a lot of other stuff) into fabulous fertilizer for the garden.
The kids know that sandwich crusts, cheese, meat, leftover yogurt and anything plastic is not good worm food.
Check out these online activities with your child to see what is good for your compost.
Online game – help Wallace the worm navigate his way around the compost bin Which bin – Recycling or Compost

http://www.recycledevon.org/kidszone/junkfood/

Can I Compost This http://www.compostthis.co.uk
The worms don't live in the compost bucket – they live in in a compost pile.
Earth Machines,(

http://www.earthmachine.com/index_r.html

)
a cage made of wooden posts and chicken wire (

http://www.motherearthliving.com/wiser-living/make-your-own-compost-bin.aspx

) ,
a fancy three compartment husband-built compost (

http://www.saskwastereduction.ca/resources/Composting/3-comp-bin.html

),

and a pile a corner of the garden.
The worms seem to like them all equally. If you provide the place and the worm food, they will come.
Feed the worms. Give them occasional airings and just the right amount of water. And let them do their work – creating fabulous and free fertilizer for the garden. Enjoy the fruits (and vegetables) of their labour.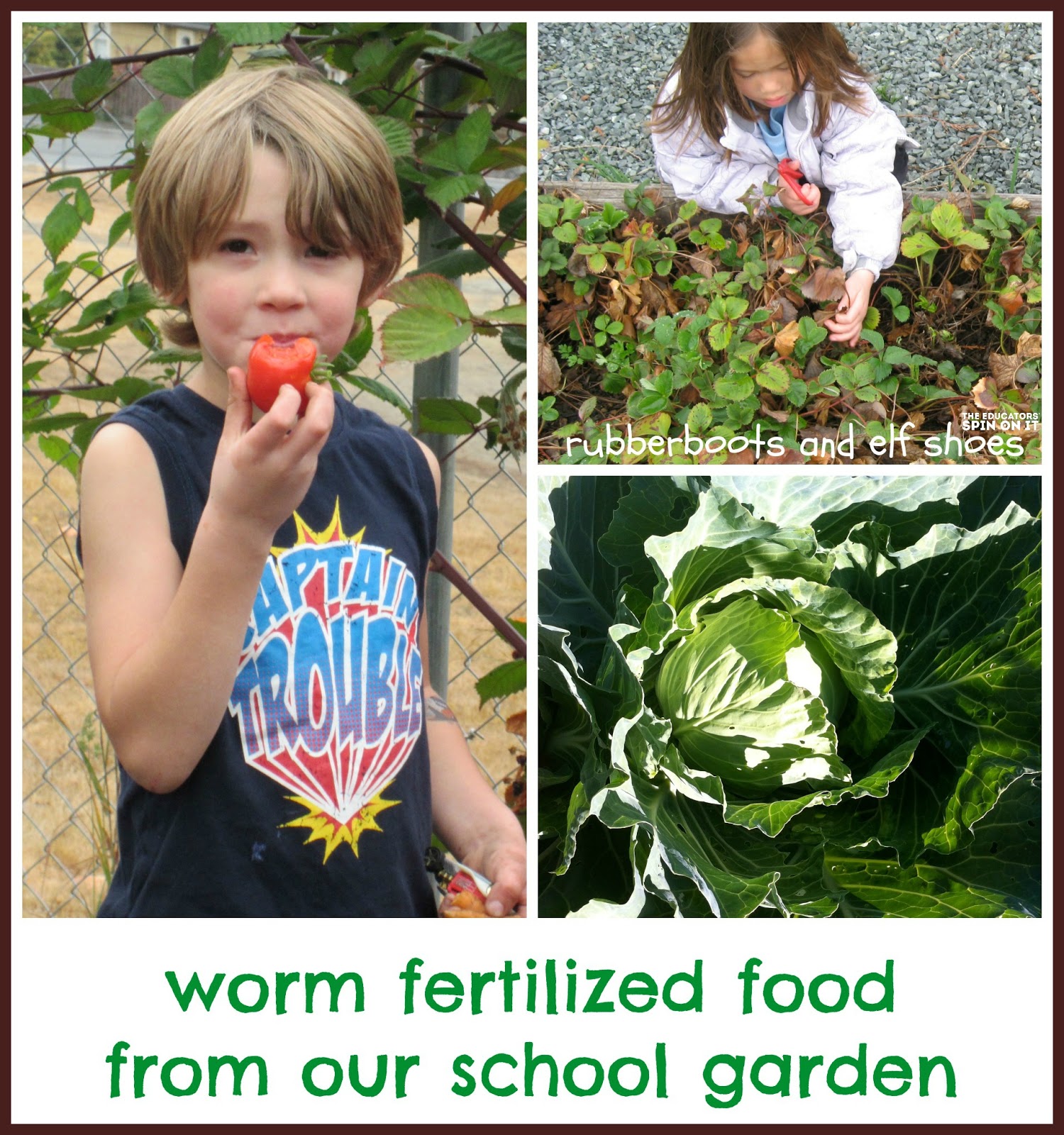 Celebrate the Worms
There's nothing like eating a little worms and dirt to put a smile on a kid's face and acknowledge the worms' hard work in the garden. (Not the real thing, please see the picture below – using chocolate pudding, chocolate cookie crumbs and a gummy worm)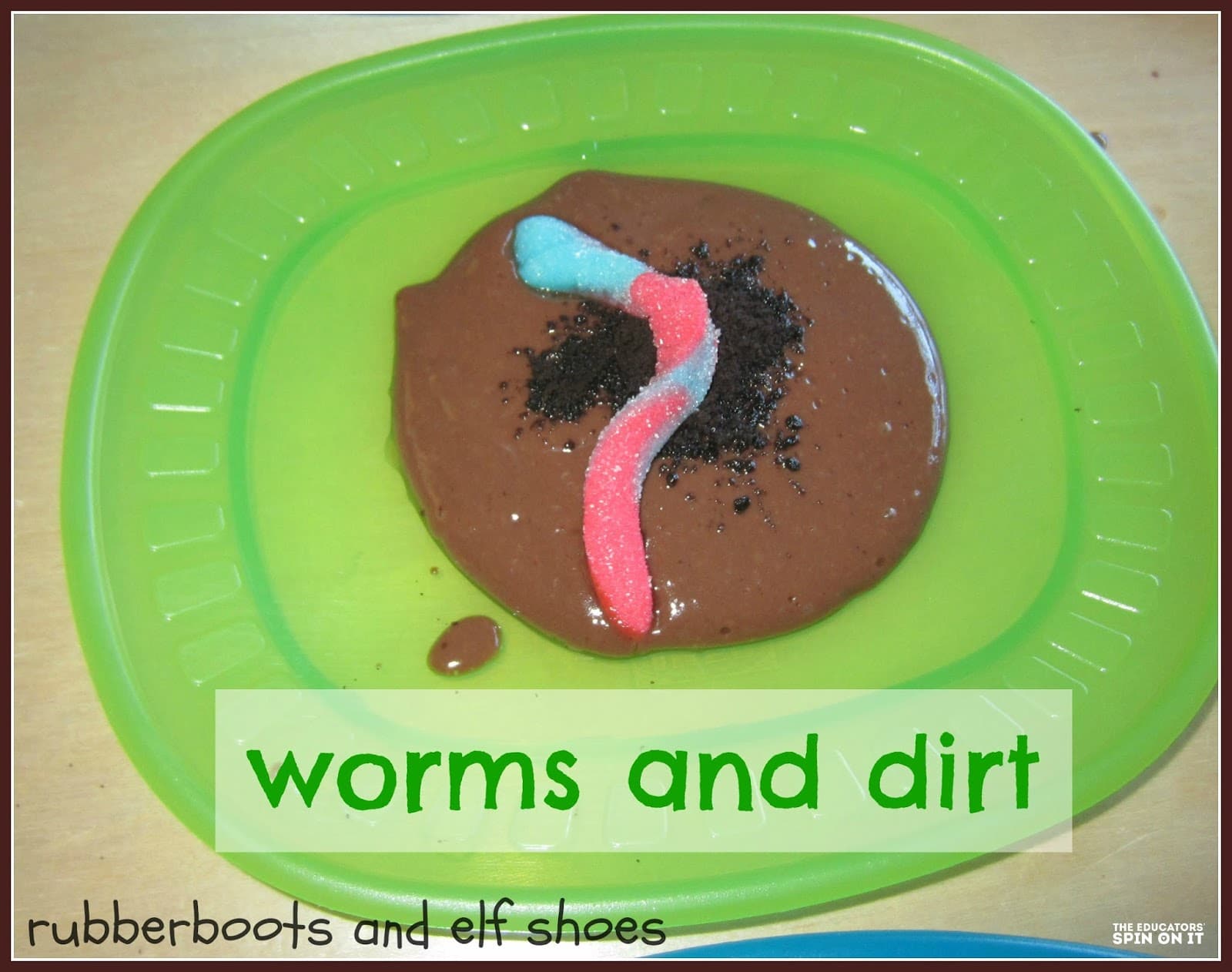 Reducing landfill waste.Free fertilizer. Yummy produce. Red wiggly pets that require no maintenance.It's a good thing.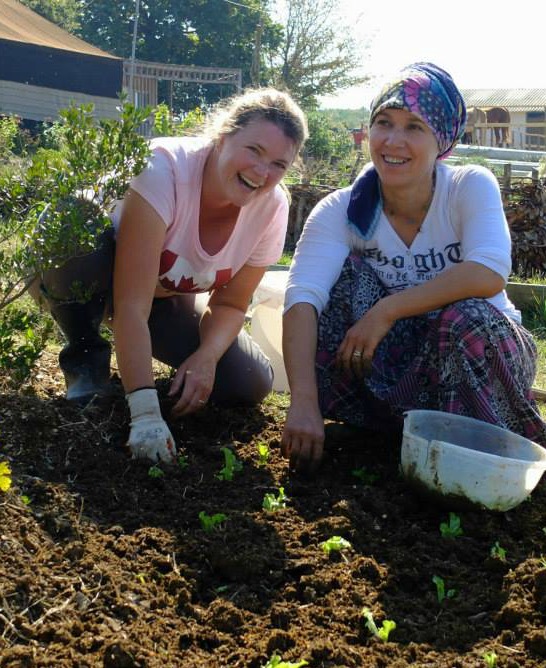 My name is Sandi. I am a learner, a kindergarten teacher, a mum (by Skype – both kids are away at university) – and a wearer of rubber boots and elf shoes. Playing in the garden comes under the rubber boots category. This photo is me planting on an organic farm in Turkey (with my friend Huria whose English was no better than my Turkish – but we both laughed in the same language)
For more in the Kids in the Garden series, you may want to visit…
Do you compost with your kids?