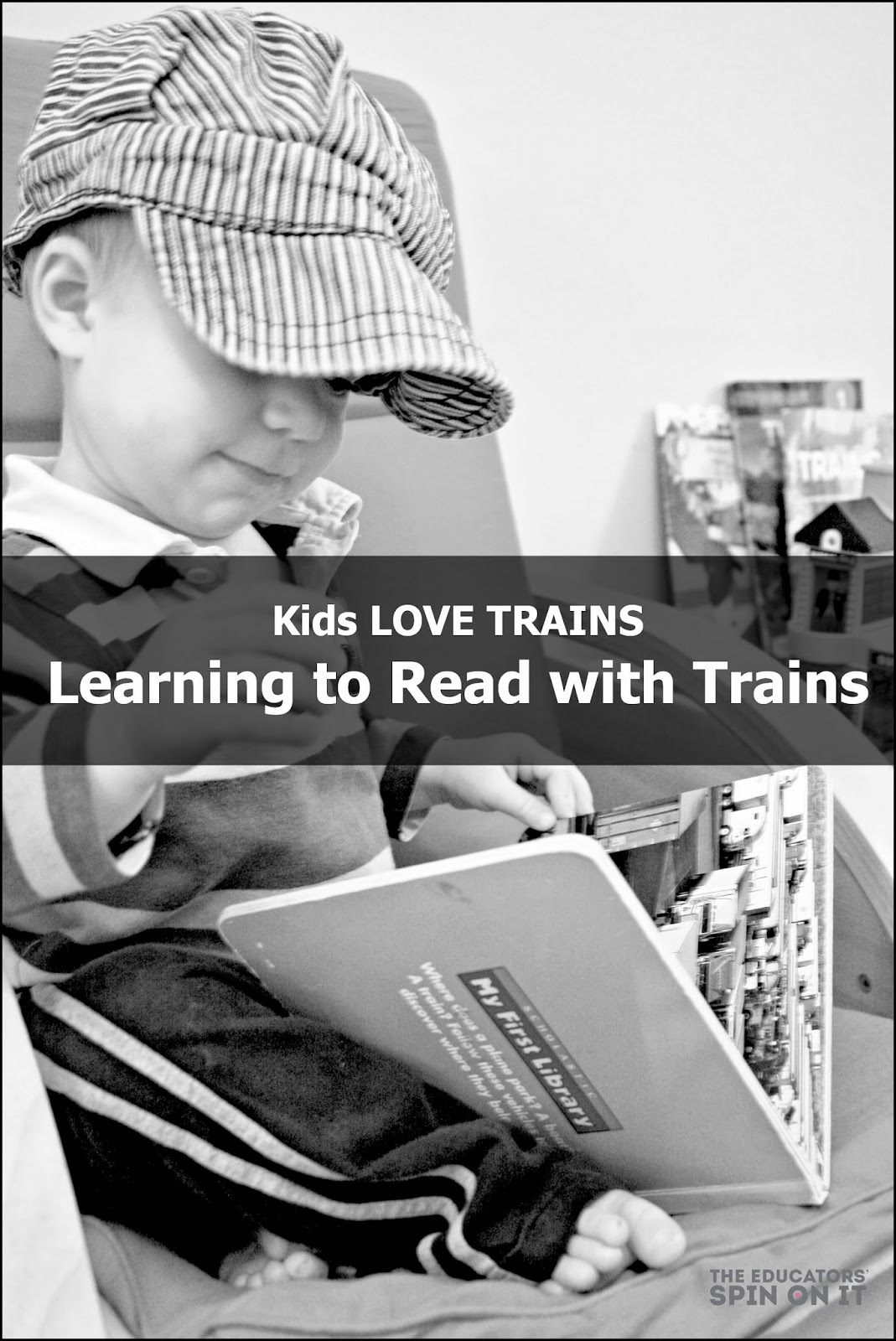 I believe that parents interactions with their children at a young age plays a vital role in their language development, success in learning to read, and future academic achievements.  PLAY is VERY, VERY important at the preschool age and every child should have an opportunity to explore materials in open ended and parent directed way.  Similarly, I believe that every child should have the opportunity to explore language in  open ended and parent directed activities.
One of the easiest ways to incorporate language and reading into your daily play is to take a look at what your child plays with and where they play.  My 3 kids have been on a train kick and we have been using our train table quite often this month.  So what can parents do to extend PLAY into Learning to Read?  Here are just a few activity suggestions of quick and easy activities you can do RIGHT NOW with everyday materials in your home.
Activity: Making Your Play Area Language Rich
Materials:
Books, Magazines, Maps, Signs
Directions:
Think about your play area and what tools or resources kids could use to enrich or extend their experiences?
Gather everything
Set them materials out in an attractive, easy to use way
Let them explore the materials during play.
Play with them and model how to use or make things such as signs or maps.
Activity: Making and Using a Vocabulary Word Wall
A word wall is a picture or a poster of words.  I like to make thematic word walls with my preschooler, taking his suggestions for theme related words.  For our month of trains, he chose; train, tracks, engineer, bell, rod, and passenger.  
Materials:
Paper, crayons, markers
Directions:
Divide your paper into 4-8 sections depending on the number of words you want to focus on.
Come up with a list of theme related words.  Ask your child what words they want to have on their word wall.
Explain the word as you are writing it.  What letters and sounds are in the word.  How many letters are in the word? What does the word look like? Are there all short letters?  Are some of the letters tall?
Practice using the words in sentences.  My son is NOT reading at 4 years old, but knows how to make a sentence with his words."Trains can jump on tracks if they are jumping trains." was his sentence this morning for the word tracks.
Hang your mini poster / word wall close to the area where your child plays trains or tape it on the train storage bin!
Activity: Train T Chart; What Trains CAN and CANNOT Do
Materials:
Paper and marker
This is another mini poster that you can hang next to your word wall.  Teachers often refer to this type of graphic organizer as a T chart.  A T chart is mostly use for comparing things and is easily drawn with one line horizontal and one line vertical on the page, like a T.
Directions:
Think about what trains can and cannot do.
Look at the pictures in your books to get some ideas.
Have your child tell you what they can do and write these words down on the can side.
Have your child tell you what trains cannot do and write these words down on the other side.
Read the lists together and add more if you think of them!