If your kids are like mine they are very fascinated in trains. Freight Train by Donald Crews is a book that inspired my crew to create their very own DIY paper train for hours of play.
Here's how to make your own.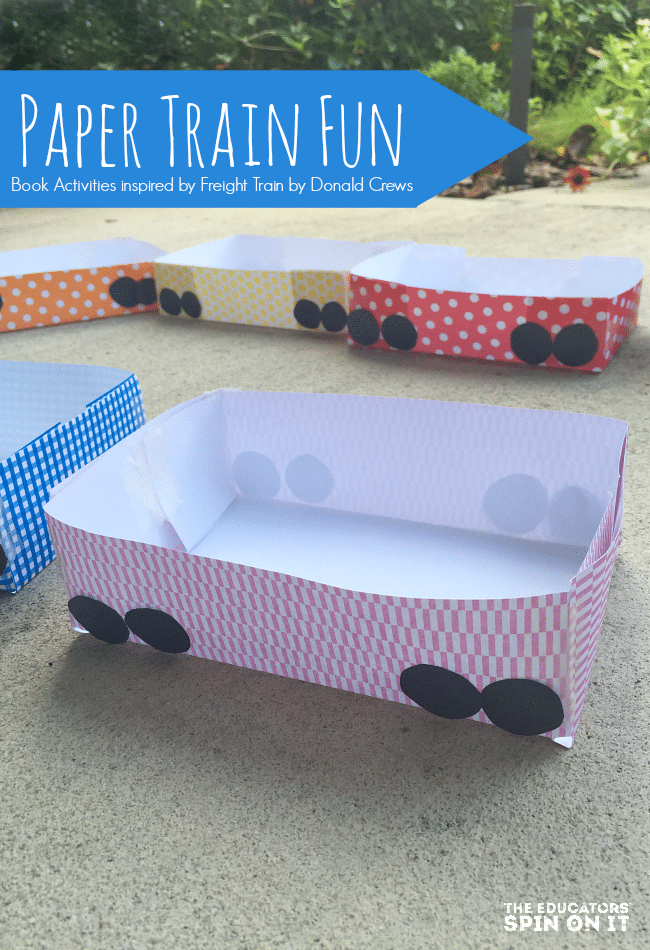 This post contains affiliate links
This month we're featuring Freight Train by Donald Crews
for the Virtual Book Club for Kids. It's a colorful and bright book that is inviting to babies, toddlers, preschoolers and even grade schoolers based on the extention activities you create. This activity just take 4 materials from around your house to create , a little bit of time to create and then you have your own train!
One of main focuses of this activity is to just play and have fun with the concept of a train with your child. Be creative who can the passengers be? They just might inspire a train story of your child's own. Allow older kids to "create" their own train cards by using their engineering skills too.
Paper Train Tutorial for Kids
To start this book themed fun with the Freight Train be sure to read the story together. As you're reading discuss the various styles of trains and colors. This is one of those books that your child will quickly pick up and start to read on their own as well building confidence in their reading abilities. Once you've read it a few times it's time to create a TRAIN!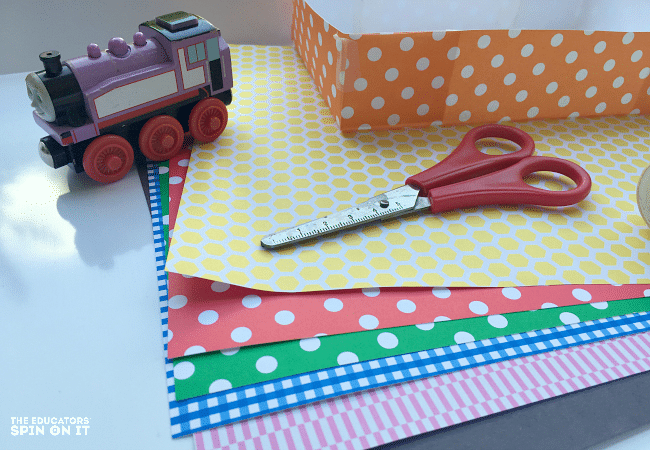 Materials
Colorful Cardstock or Construction paper

Scissors

Glue

Tape

Stuffed animals or plastic animals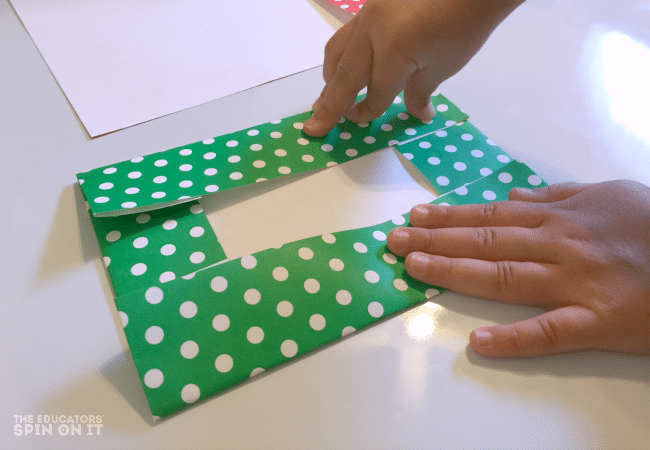 Directions for Train
Create your own paper train using paper by folding in the sides on the paper on each side evenly. Approximately 1 inch worked best of our paper that was 81/2 by 11 inches. For little hands you can start the fold and have them help you push it down. For bigger kids let them experiment to create.
Once folded unfold the paper to expose the fold lines for your child. Have them cut on the line on two sides of the paper to create a place to fold the extra paper behind.
Fold paper in on each side to create the side of the train. Then tape on the interior and exterior for stability.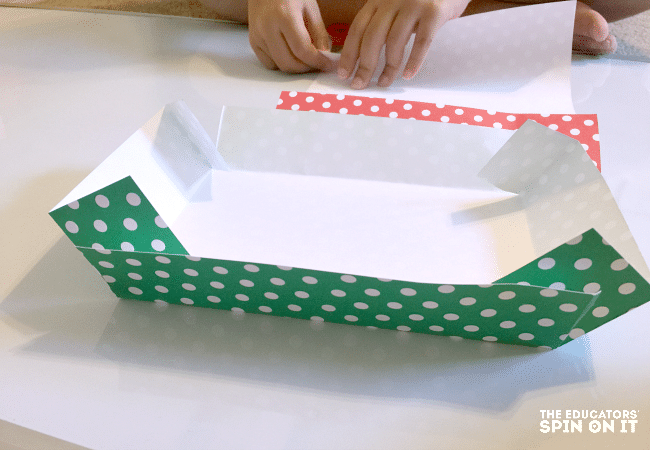 Cut out black circle for the wheels of your train cars and attach with glue. Perfect task for little hands to practice fine motor skills.
Now it's time for creative play with your trains! Find some special stuffed animals to ride in your train cars to retell the story!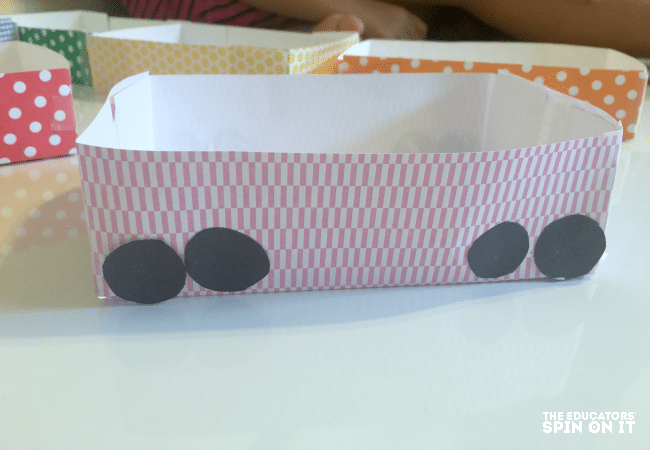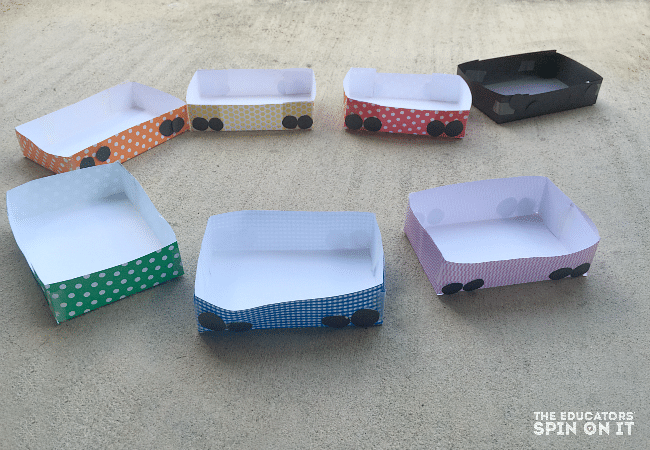 There are so many fun ways to play with these little paper train cards that you've created from cardstock. We add stuffed animals to our for playtime. You could sort things by color just like the book or even create a number or alphabet train too.
Let your child discover a variety of ways to play with trains to move items.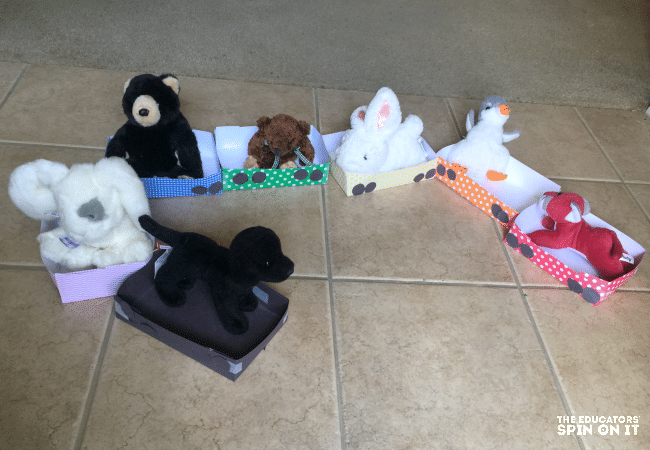 Train Themed Games and Activities
I'll be sharing MORE ideas soon for Trains to go with Freight Train. Here are quite a few more for a Train Themed Preschool Week with your child.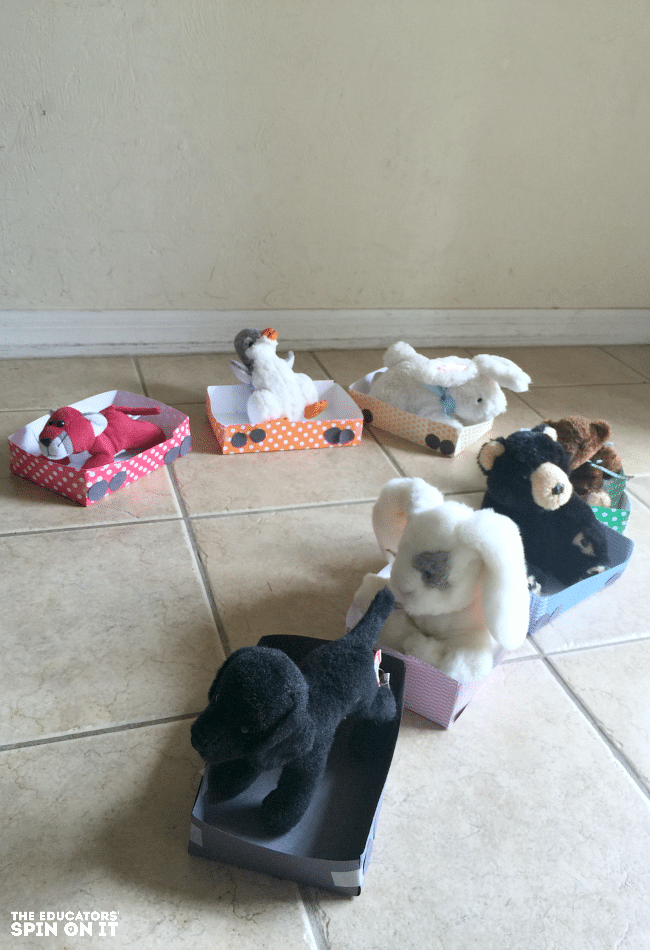 Donald Crews Virtual Book Club for Kids Activities
Now go check out some creative ideas that have been created by the Virtual Book Club Bloggers this month for each of the three books by Donald Crews !

Activities to Go Along with Freight Train
Shape Train Matching by Toddler Approved
Learning Your Name Freight Train by Growing Book by Book
Color Freight Train by 3 Dinosaurs
Freight Train Counting Games by Inspiration Laboratories
Dotted Pattern Play by Mama Miss
Black Dot Printing by Rainy Day Mum
Activities to Go Along with Truck
Three Truck Inspired Activities by Lalymom
Your child may also enjoy these activities…