Create some Halloween fun with Ghosts for beginning readers. Create flying ghosts in this colorful Ghost Themed Sensory Bottle Sight Word Game.  
Most children show a high interest in sensory bottles, now you can encourage them to read and write their sight words too. Here's how…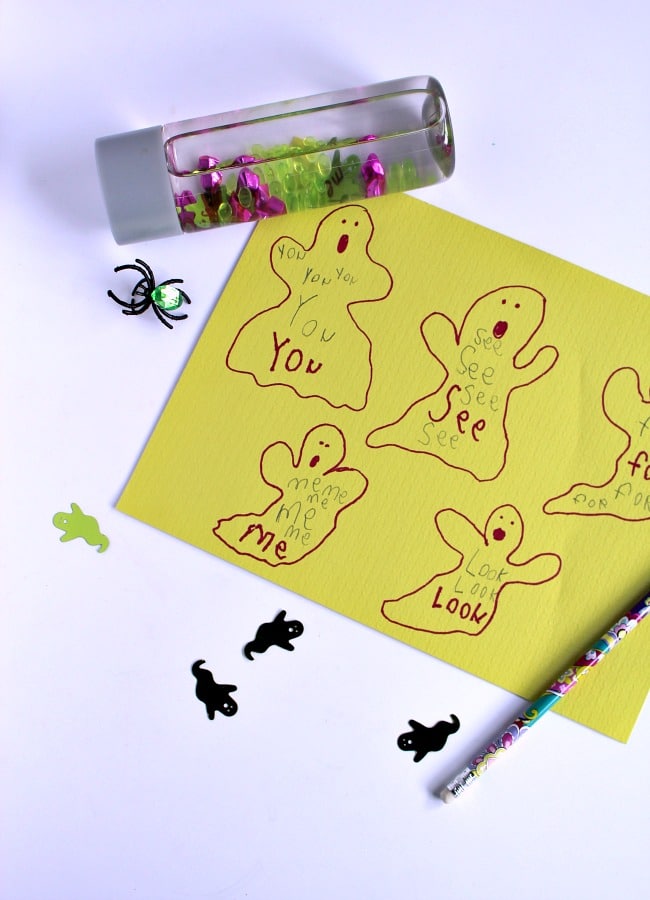 This post contains affiliate links
Ghost Themed Sensory Bottle Sight Word Game
To create your own Sensory Bottle for Halloween you just need a few fun things to make the spooktacular magic happen. I found ours at our local craft store but you can also find these items on Amazon. Who wouldn't want to play with flying ghosts and sparkling gems as a kid?
So grab your sight word list or PRINT our Sight Word List and let's get started!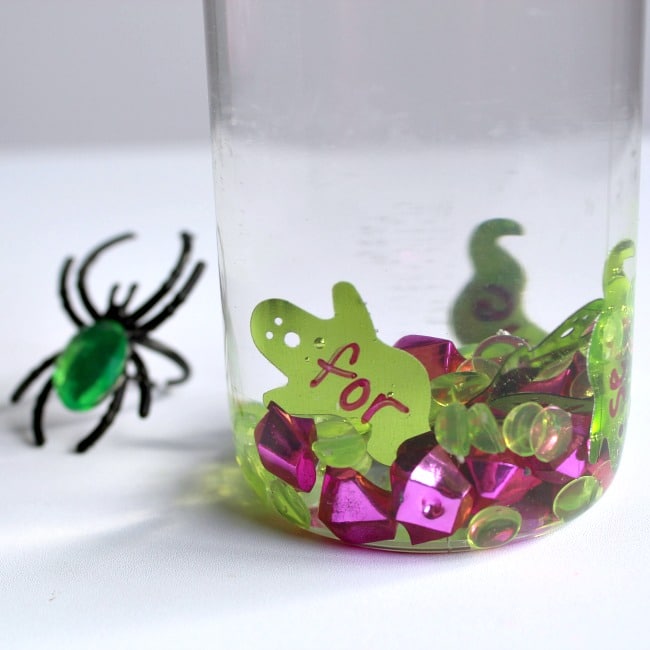 Click here to join our 7 Day Sight Word Challenge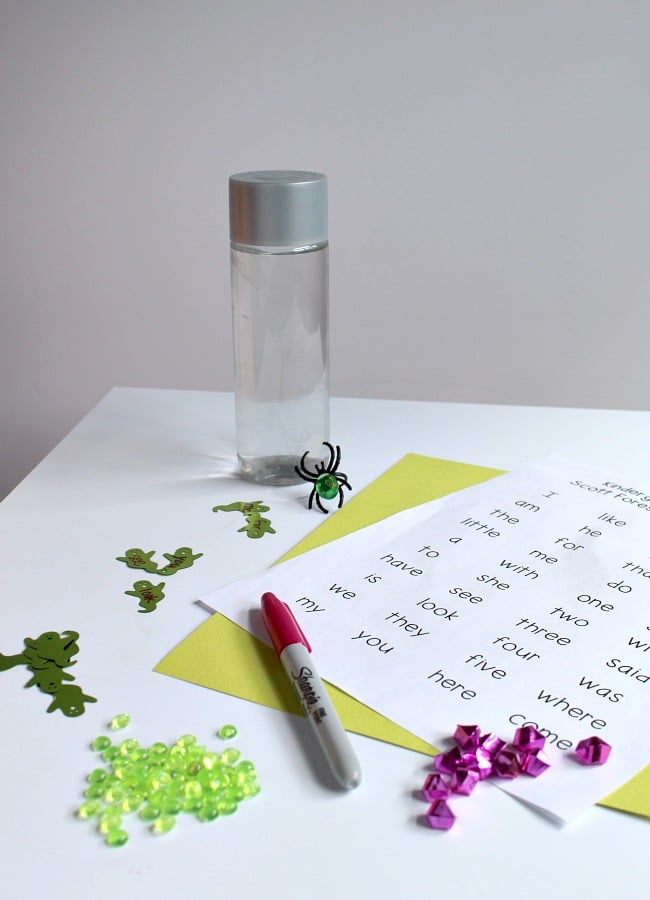 To create your own Ghost Themed Sensory Bottle Sight Word Game you will need the following supplies…
Materials
colored gems
recycled water bottle (I prefer Voss Bottles)
pencil
colored paper
water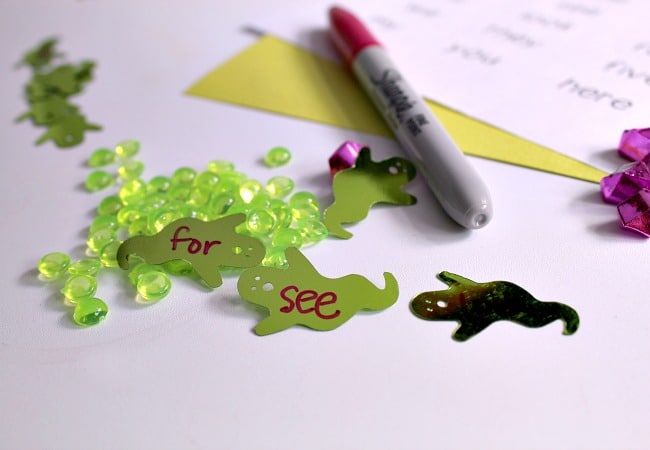 Directions for Ghost Themed Sight Word Game
Write down the sight words onto the ghost confetti. I used our Sight Word list and had my child point to the words as we wrote them down. I recommend starting with only 5 Sight Words. The goal of this sight word game is frequency by seeing, saying and writing the sight words to memorize them.
The next thing you need to do is to create 5 ghosts on your colored sheet of paper with your child. They can draw it or you can, I always prefer having them create what we're working on to give them ownership and to help them with fine motor skills of drawing. If they need a little help you could create a template for them to trace or use a ghost shaped cookie cutter.
Now looking at each of the five sight word ghosts you created have your child write one word on each ghost for the game before you begin.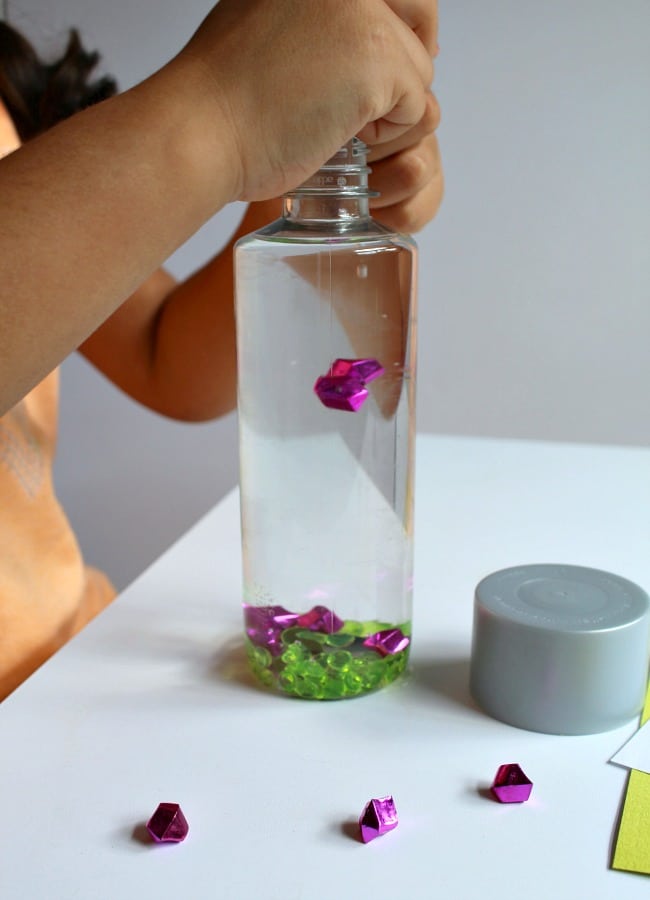 Click here to join our 7 Day Sight Word Challenge
Then select the items that you want to go into your Ghost Themed Sensory Bottle Sight Word Game. We found these adorable ghost confetti at our craft store. You can find it there on Amazon here. This alone in the bottle is pretty fun for Halloween, love how by adding the sight word ghosts in you've made it into a learning game for kids.
Once you've added all of your ghost themed items into the recycled water bottle it's time to add the water and close the lid on the water bottle. You can hot glue it closed if you are concerned about it spilling. We leave ours open so we can swap things out often.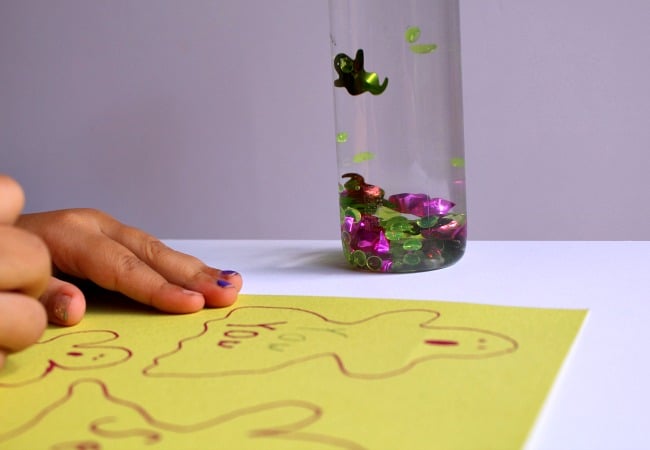 HOW TO PLAY
To play our ghost themed sensory bottle sight word game it's pretty easy and keeps them coming back to play. You have them shake the bottle and write down the first word that they see or lands on the bottom of the bottle, whichever is easiest for them to determine.
The little playful challenge is that they need to see each sight word 5 times before they are finished. It's a great lesson in chance and what they predict will happen.
KITCHEN TABLE FUN
This is a fun game to keep at the kitchen table this fall while you're getting dinner ready. They can simply sit at the table and work on sight words with their sensory bottle and a piece of paper.
The better they get at the game you can add additional sight words to make it more challenging or simply swap out words and add five new sight words to the game.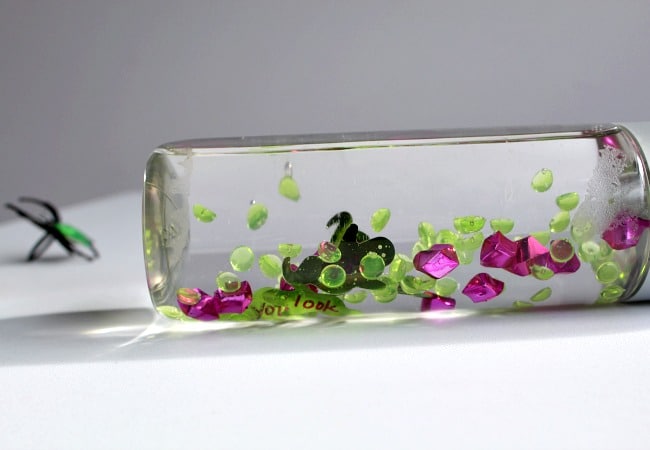 SIGN UP for our 7 DAY SIGHT WORD CHALLENGE for Halloween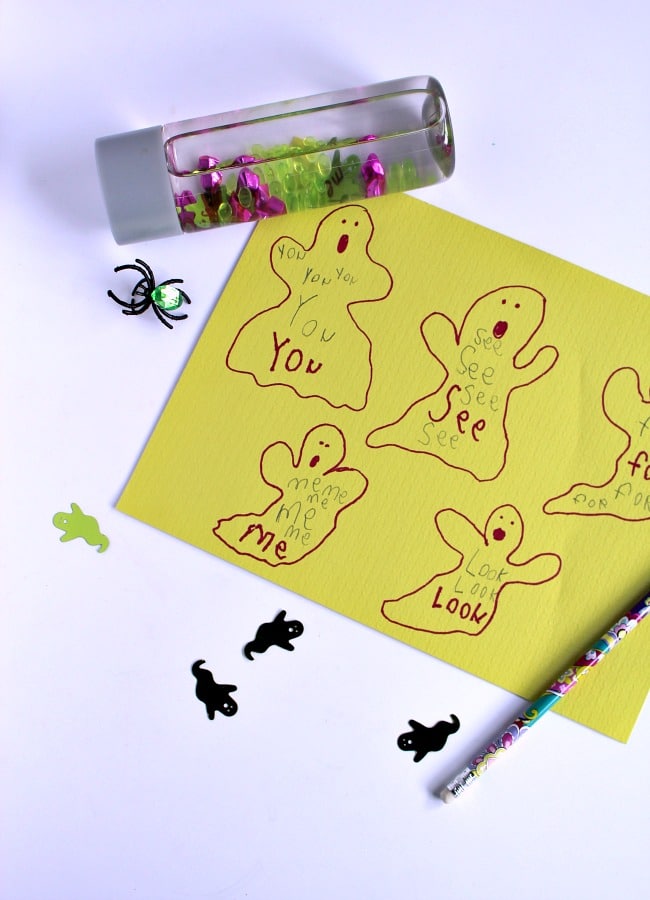 JOIN the 7 Day SIGHT WORD Challenge
I can't wait to hear how much your child loves playing this ghost themed sight word game with a sensory bottle. It takes lots of practice but having a strong base in recognizing your sight words can lead to a successful confident reader.
Are you looking for more ways to practice Sight Words this Halloween with your child? JOIN our 7-Day Sight Word Challenge!
CLICK HERE to JOIN! Start with this sight word game!
Join US! and I'll email you ideas each day for our 7-Day Challenge all the way up to Halloween!
You may also enjoy these Halloween Activities for Kids…
Have fun with your child for Halloween and SNEAK in some spooky learning too!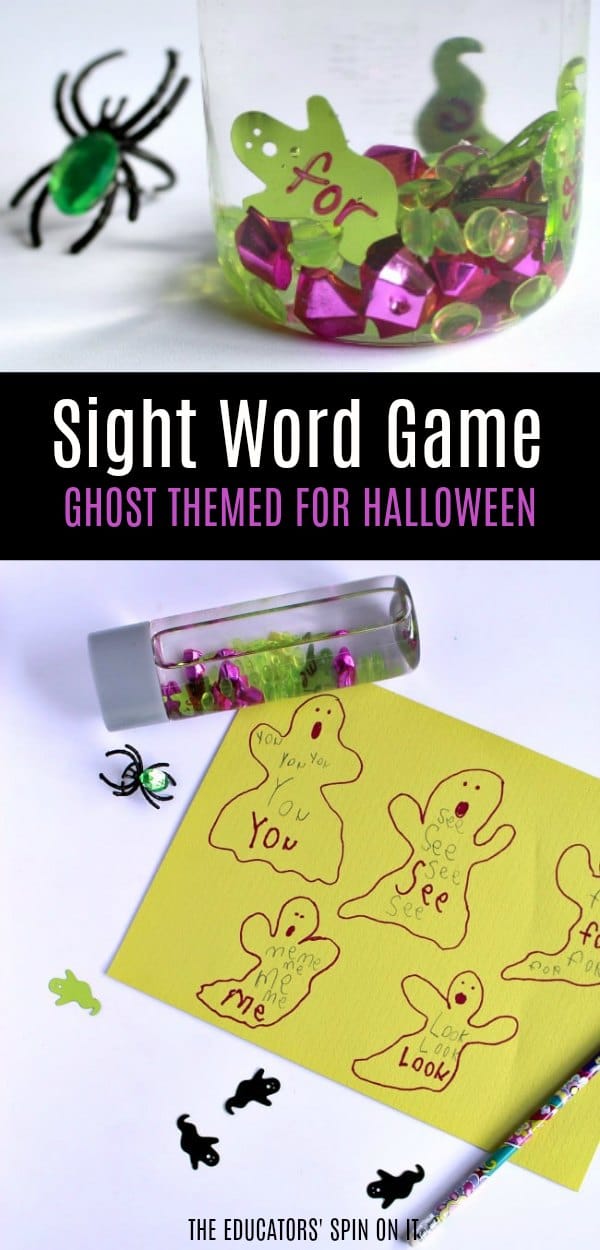 **LIKE IT? PIN IT!! **