Are you a fan of science and math activity boxes, like Tinker Crates, delivered to your door with all the materials inside for your kids to make and learn? Then you will LOVE the Groovy Lab in a Box too. We found this subscription box to be the perfect challenge for my grade schoolers to work on afterschool. As an affiliate, I'm sharing the most recent Goovy Lab in a Box Coupon Codes on this page. Stop back often for update deals!
**The links in this blog post are affiliate links. If you make a purchase after clicking on these links, I will receive a small commission from Groovy Lab in a Box.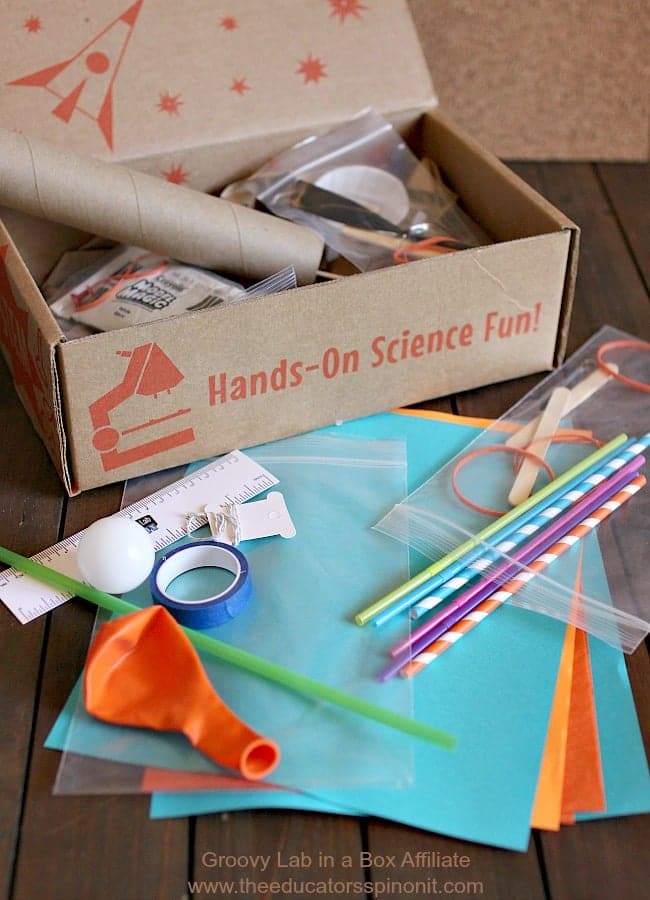 What is Groovy Lab in a Box?
Groovy Lab in a Box is a monthly STEM kit that encourages critical thinking, problem solving and fun! Groovy Lab in a Box incorporates STEM investigations and an Engineering Design Challenge – all designed around the Next Generation Science Standards. Each box has a retro-themed lab notebook and access to the Beyond…in a Box, a special web portal for additional groovy STEM fun!
In fact, Popular Mechanics magazine included Groovy Lab in a Box in its 100% Wholesome Holiday Gift Guide – a compilation of some of the best toys that promote scientific inquiry and engineering.
Here is a sneak Peek into a Groovy Lab Box box:
Goovy Lab in a Box Coupon Codes and DEALS
Directions on how to use the Groovy Lab in a Box Coupon Codes.
As a mom to three little ones on a budget, I am always looking for ways to enrich their learning on a budget. Subscription boxes can add up, so I'm always on the lookout for great deals! As an affiliate, I get the insider scoop on what's happening and I am SO EXCITED to share these coupon codes with you!
First, click here to visit Groovy Lab in a Box. Select the item (s) mentioned in the sale and add them to your cart. Type in the coupon code. (When Available)
*Remember, most coupon codes are time sensitive. I will only share the codes provided to me as an affiliate and have no control over when or what they run their sales on. In a sense, I'm the messenger of good news =) If you have any problems or questions, the team at Groovy Lab in a Box is more than happy to help you out! Here is their contact information.
Groovy Lab in a Box, the award-winning educational kits for kids ages eight and up that teach about science, technology, engineering and mathematics (STEM), recently announced a new partnership with Popular Mechanics.
Each month, they send out a themed box filled with investigations that are fun and hands on. The investigations culminate into an Engineering Design Challenge, where your STEMists must apply what they've learned from the investigations (and use their critical thinking skills) to complete the challenge. The boxes contain everything you need to complete all of the activities, including a groovy retro-themed lab notebook.
The box activities are supplemented with their Beyond…in a Box web portal where your children will find videos, interactives and additional activities. Head over to Groovy Lab in a Box's website to learn more about this great service!
What is in the Moon Dance Groovy Lab Kit?
Engineering Design Challenge: You are an optical engineer, using only the materials from your Groovy Lab in a Box, can you design and build a two lens telescope which can expand and contract while you make observations of the night sky?
Fellow STEMists who want to become optical engineers can be on their way to doing research and investigations through the engineering design process found in monthly-themed Groovy Lab in a Box. Explore Earth's moon, gravity, mass vs. weight, moon phases, tides, light, telescopes and much, much, more. Check out "Moon Dance" for more groovy fun for STEMists!
---

STEMists do the "E" in STEM – Engineering Design Process for little engineers. Ages 8+
Are you looking for the perfect STEM activity for children, ages 8 and older? Consider Groovy Lab in a Box!
You may also enjoy:
Save
Save