Connect science, art, and writing with this fun and easy desert animal writing prompt for young children! Select an animal that lives in the desert habitat. Then punch "stars" on the outline to create a constellation. Encourage children to write a sentence about the animal constellation they selected in their night sky.
I don't know about your kids, but my son LOVES to make constellations, aka holes in paper. We tape them in our window to let the lights shine through. The stars in his pictures "glow" like the real night time sky. Just like the farmers, poets, and astronomers made up stories about the pictures they saw made with stars, he too likes to make up stories.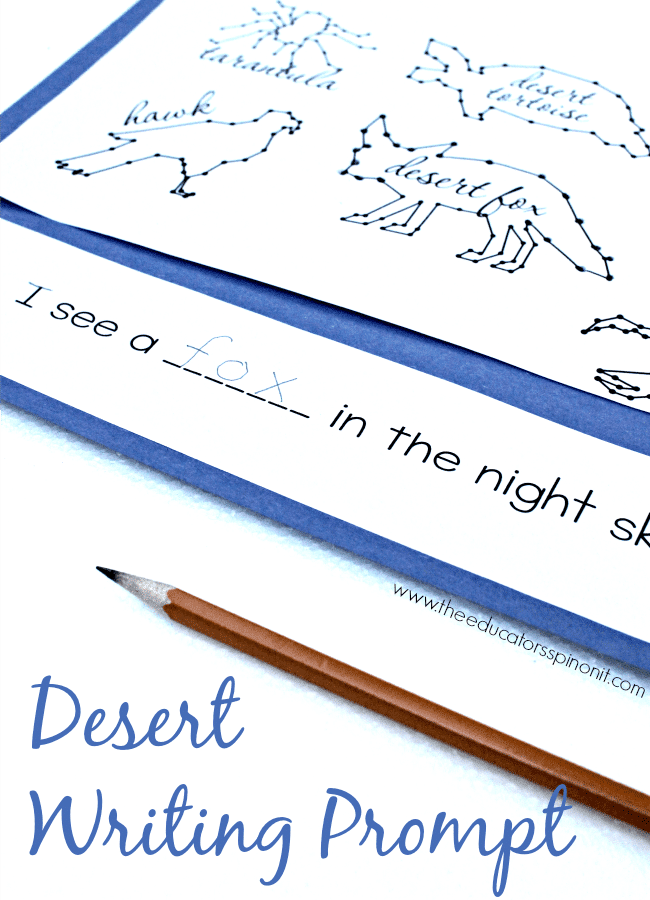 Today, we connected the love for making holes in paper with our desert themed learning activities. Affiliate Links to products.
Science Vocabulary for Desert Animal Writing Prompt
Constellation: A constellation is a made-up picture by stringing together starts in the sky. Long ago farmers used them to tell seasons. Some more well known constellations are only visible during specific times of the year.
Desert: A desert is an area of land that gets little to no rainfall. There are limited plants and animals that can survive in these harsh living conditions.
Materials Needed
Blue or black construction paper
Desert animals drawn or printed
Sharp pencil (some teachers use thumb tacks)
Foam or cork board
Strips of paper or printed sentences.
Directions for Desert Animal Writing Prompt
Read books about the desert and talk about the animals that are able to survive. (tarantula, desert tortoise, rattlesnake, hawk, desert fox, scorpion, camel, and insects)
Explain that the children will create a constellation in their nighttime sky. Let them pick from several images that you have pre-printed.
Demonstrate how to safely punch a hole in the paper using the pencil tip, keeping the paper on the foam or cork board.
Let the children punch holes around the outside of the desert animal picture they selected.
Glue a pre-printed sentence or write the sentence for your child. Have them fill in the animal by sounding out the letters. For young children, it is OK for them to spell phonetically, meaning how a word sounds, rather than how it is spelled in the dictionary. Rattlesnake for example could be written as RTLSK for an early writer or Ratlsnak . I encourage my kids to say the word slowly and listen for all the sounds they hear.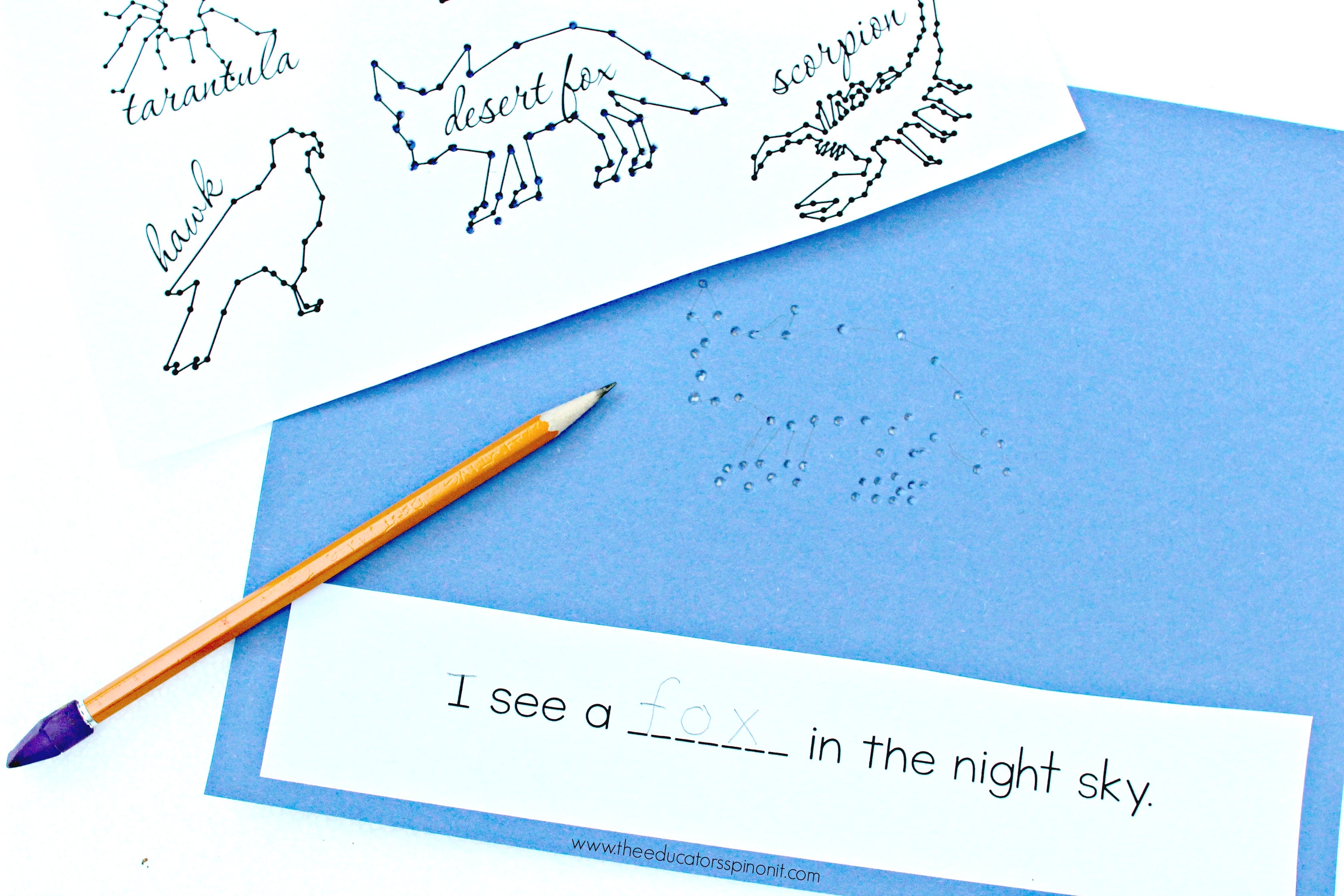 Alternative Directions for Desert Animal Writing Prompt
You can have children write their own sentence
Advanced writers may write an entire story about their desert animal constellation.
Young learners can also dictate the story behind their selected animal and the adult could write that story down.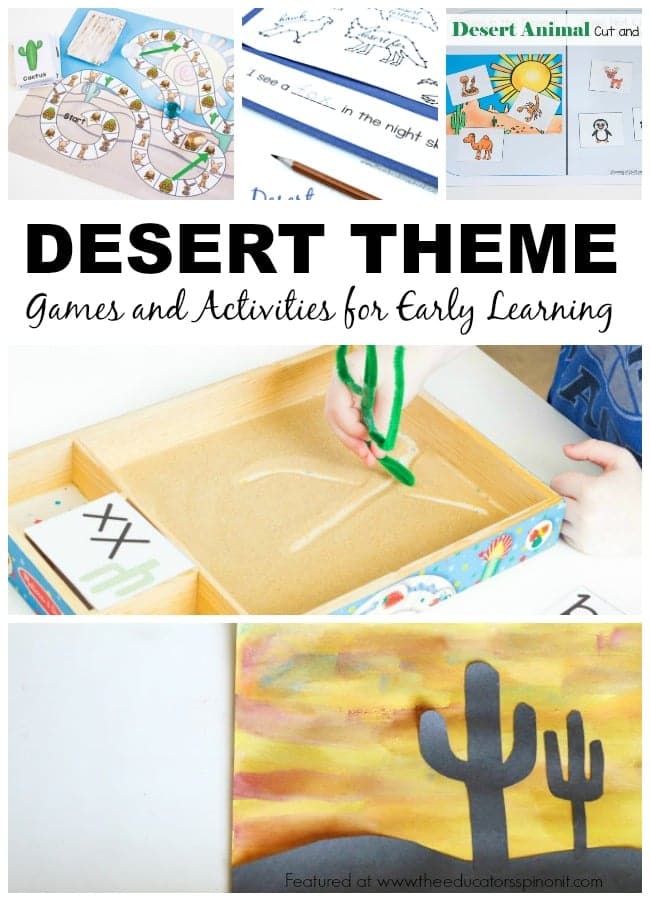 Plan Your Desert Theme Unit with these activities from the Early Childhood Education Team
Set out these desert activities in different areas of the room and let children rotate through each station throughout the week. OR Gather the supplies for each activity and work on one a day with your child or classroom.
Desert Sand Alphabet Writing Tray by Mom Inspired Life
Desert Animal Cut and Paste Sort by Learning 2 Walk
Desert Animal Game for Preschoolers by Life Over C's
Desert Sunset Paintings by Still Playing School
You may also enjoy these writing activities for early learners here at The Educators' Spin On It!