Pete the Cat is a bright and colorful book series that children are drawn to. We're sharing a fun Pete the Cat movement activity to go along with one of our favorites written by Eric Litwin called Pete the Cat and His Four Groovy Buttons.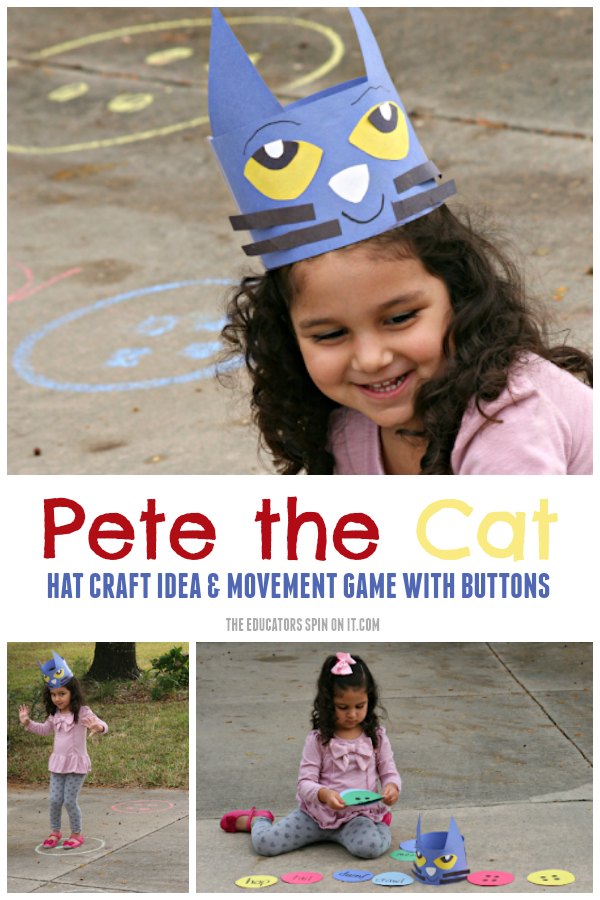 Once you get moving you can enjoy 10 more Pete the Cat and his Four Groovy Button Activities your kids will LOVE!
Pete the Cat Activities for Kids
Take a moment to read Eric Litwin's Pete the Cat Books, the first 4 books in the series.  The creative way the play with words and join with music can be so much fun with kids.
Disclosure: Amazon affiliate links included
My buttons, my buttons, my ____ groovy buttons.  Trust me yours will be signing along too.  
Then we added colors and numbers to the mix to create a playful movement game outdoors.
Pete the Cat Movement Activities for Kids
Materials for Pete the Cat Game 
construction paper
chalk
glue
scissors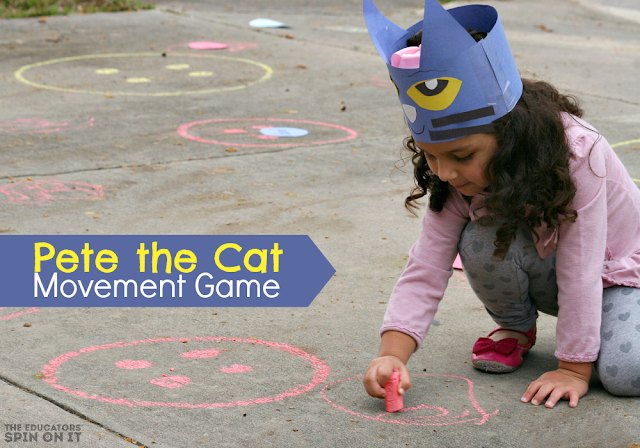 Directions for Pete the Cat Activity
1. Write down with your child action words that a cat can do
2. Create large paper buttons for the game
3. Encourage your child to draw with chalk buttons on the sidewalk outdoors make them different colors and different sizes and different amounts of each.
4. Have your child sort the buttons by calling out ways to find t hem, color, size, number.
5. The way to sort is by jumping onto the button being called.
6. Then use the Pete the Cat Action buttons and encourage your child to act out the movement activities.
Pete the Cat Plush Doll
Action Words inspired by Pete the Cat  
hop
jump
run
crawl
wiggle (tail)
meow
many many more!
Watch the video below for ideas!
Pete the Cat Dancing Video
This outdoor activity for Pete the Cat become my daugher's favorite and was so easy to host when we had our friends over for a playdate too.  This activity would be fun to follow up with button cookies and several of the activities listed below by our Virtual Book Club for Kids Co-hosts.  So many fun ideas inspired by Pete the Cat.

Pete the Cat Activities by the Virtual Book Club for Kids Co-Hosts
Check out all of these activities create for you to go with Pete the Cat Books!