Explore these adorable Gruffalo themed activities with your child for hours of fun with this beloved children's book by Julia Donaldson.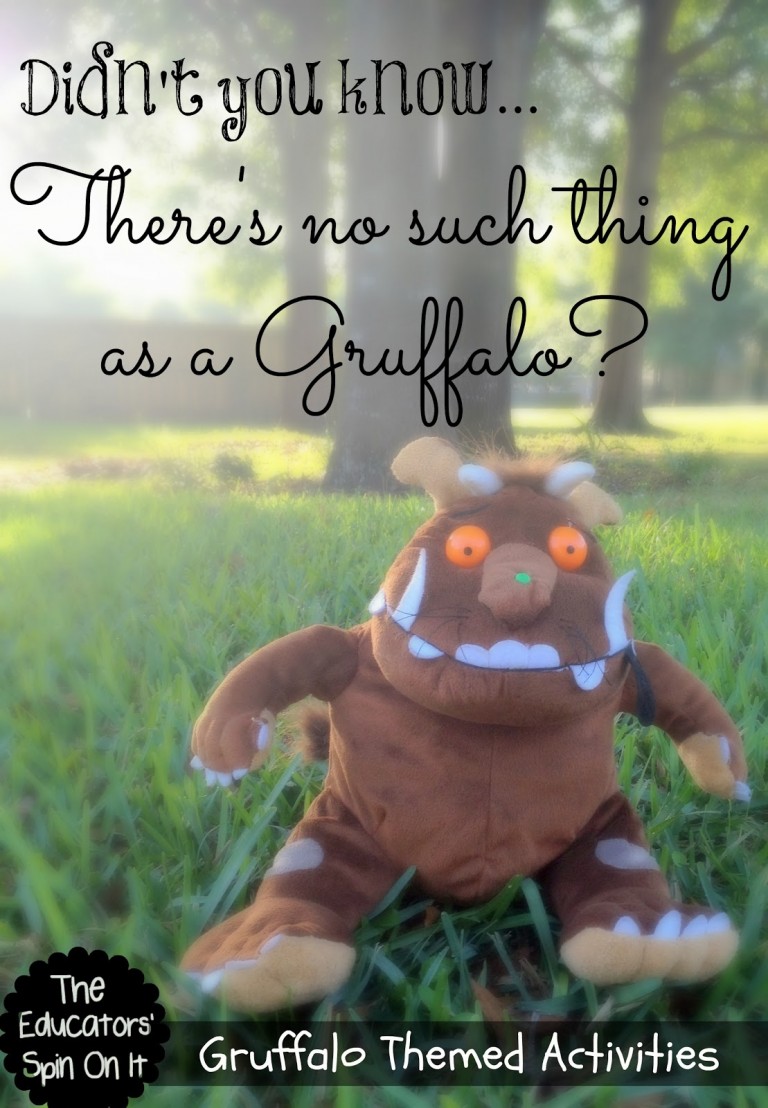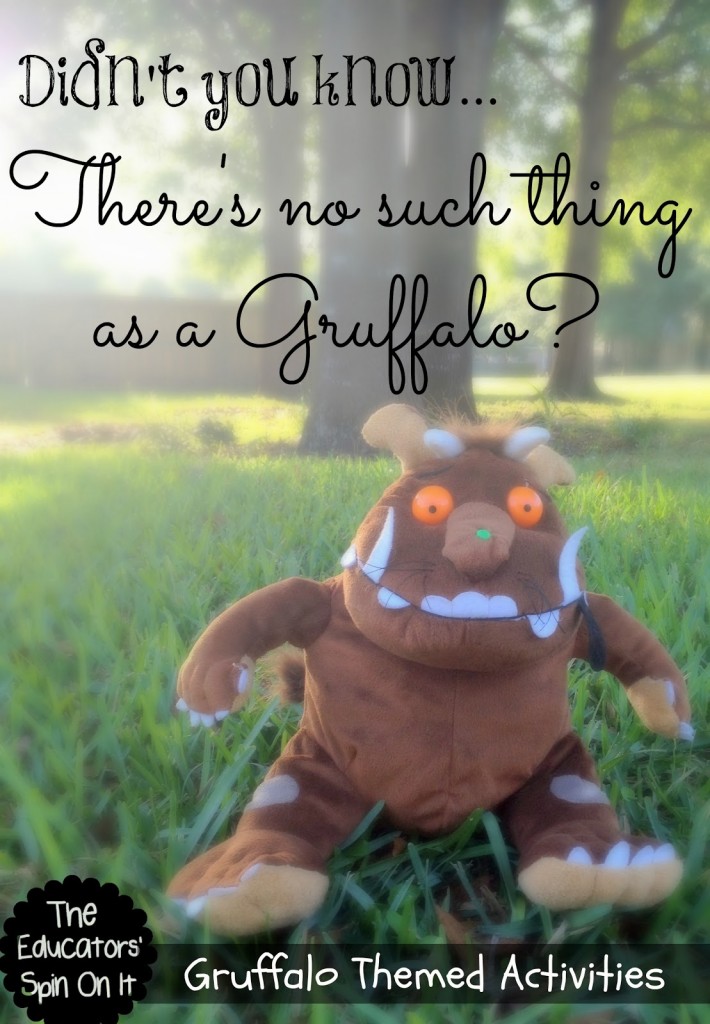 Gruffalo Themed Activities for Kids
Have you discovered The Gruffalo? Do you have a Gruffalo fan at your house? We're sharing our Favorite Gruffalo Themed Activities with you!
We were so thrilled that The Gruffalo reached out to us to review their products. After watching Julia Donaldson's Videos describing how she created her books and The Gruffalo in her head, we just had to get our hands on the books and activities.
We were so delighted to open our box which was full of a variety of products!
Affiliate links included in this post 
Gruffalo Books for Kids
We have spent the past few weeks reading The Gruffalo and The Gruffalo's Child. These stories are absolutely adorable and the creative mind of Julia Donaldson and the artistic talent of Axel Scheffler completely capture you and your child's attention and imagination. Both my 2 and 6 year old have even been retelling the store in playtime and recreating their own versions.
Then we discovered the DVD's, which are adorable! We planned all week for a special movie night for The Gruffalo. Then the next week we watched The Gruffalo's Child. It's been adorable watching my daughters recreating the Gruffalo around the house.
Amanda's home even went a step further and created a special Gruffalo Apron and Finger Puppets. Trust me you'll want to stop by and check them out! So cute! I loved that I was also able to bring the DVD's on a recent road trip for our family and the kids both loved watching them in the car.
During the week we explored the Gruffalo Board Game and Gruffalo Reusable Stickers which were so much fun. I loved that both activities worked for both ages at our house. I even was able to get dinner made while they played with the Gruffalo Colorforms.
The Gruffalo Board Game really had us using our memory in trying to remember where the characters were hidden. Here's a brief description of each product.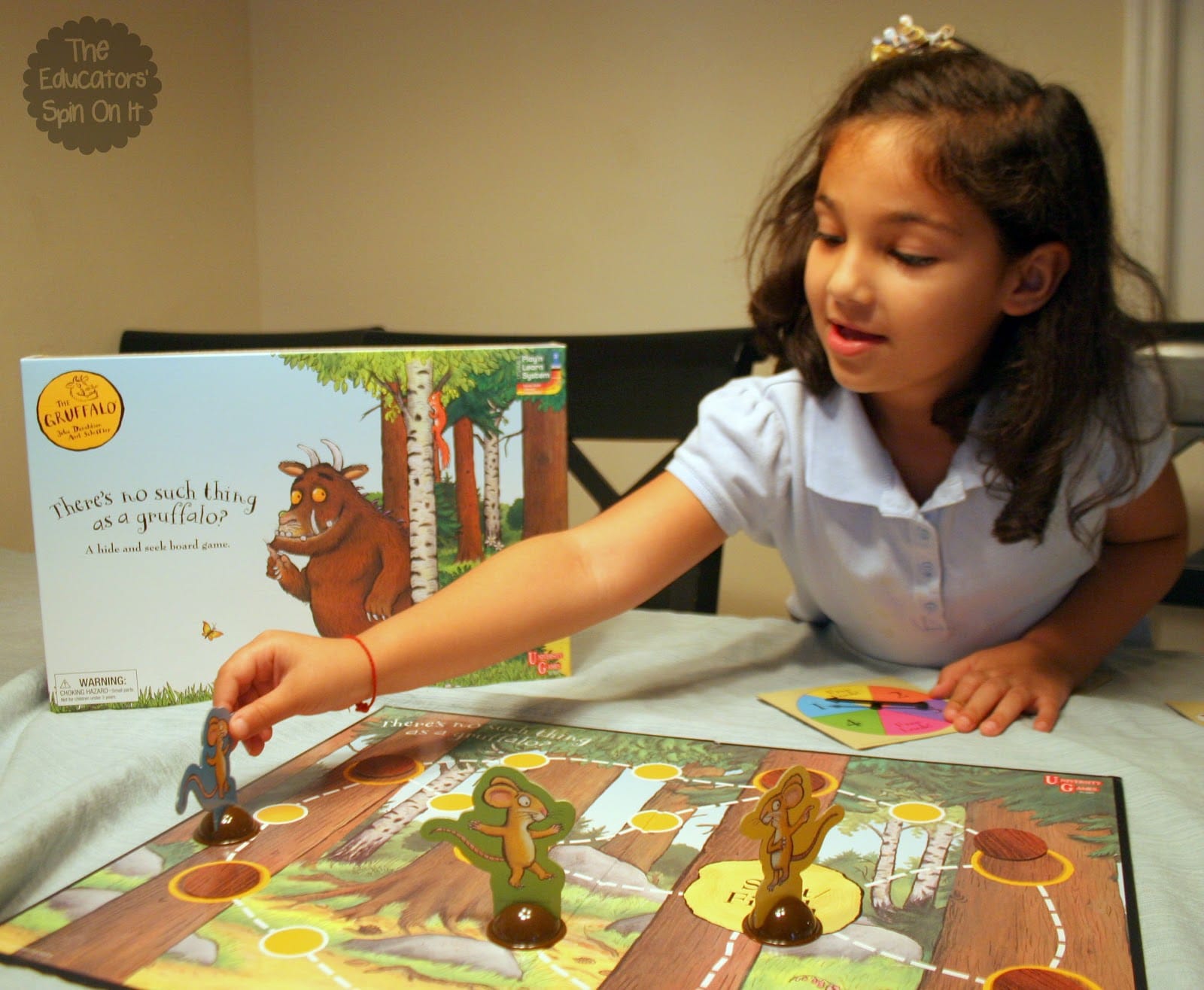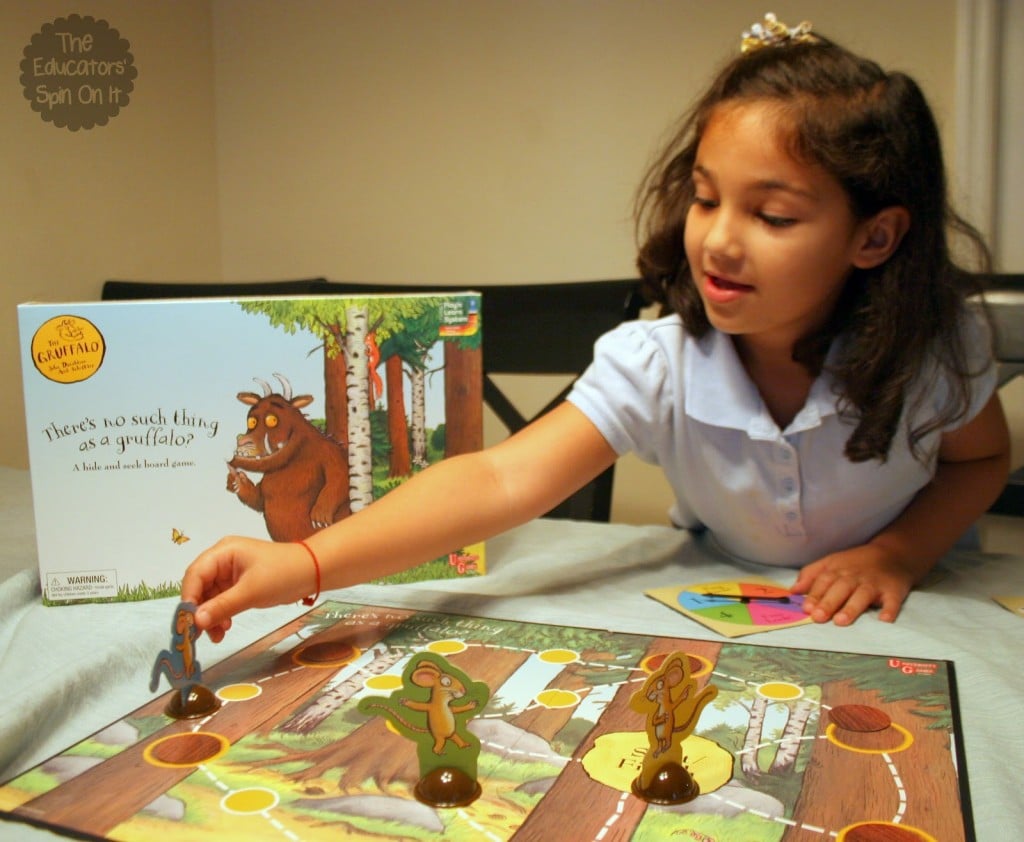 The Gruffalo Game (boardgame) Let's Catch the Gruffalo!
Julia Donaldson and Axel Scheffler's characters come to life in this adorable game of hide and seek. Children have fun searching in the deep dark wood for their favorite animal characters. The first player to find their three animals and The Gruffalo, wins. (The trick is to remember where they are hiding!)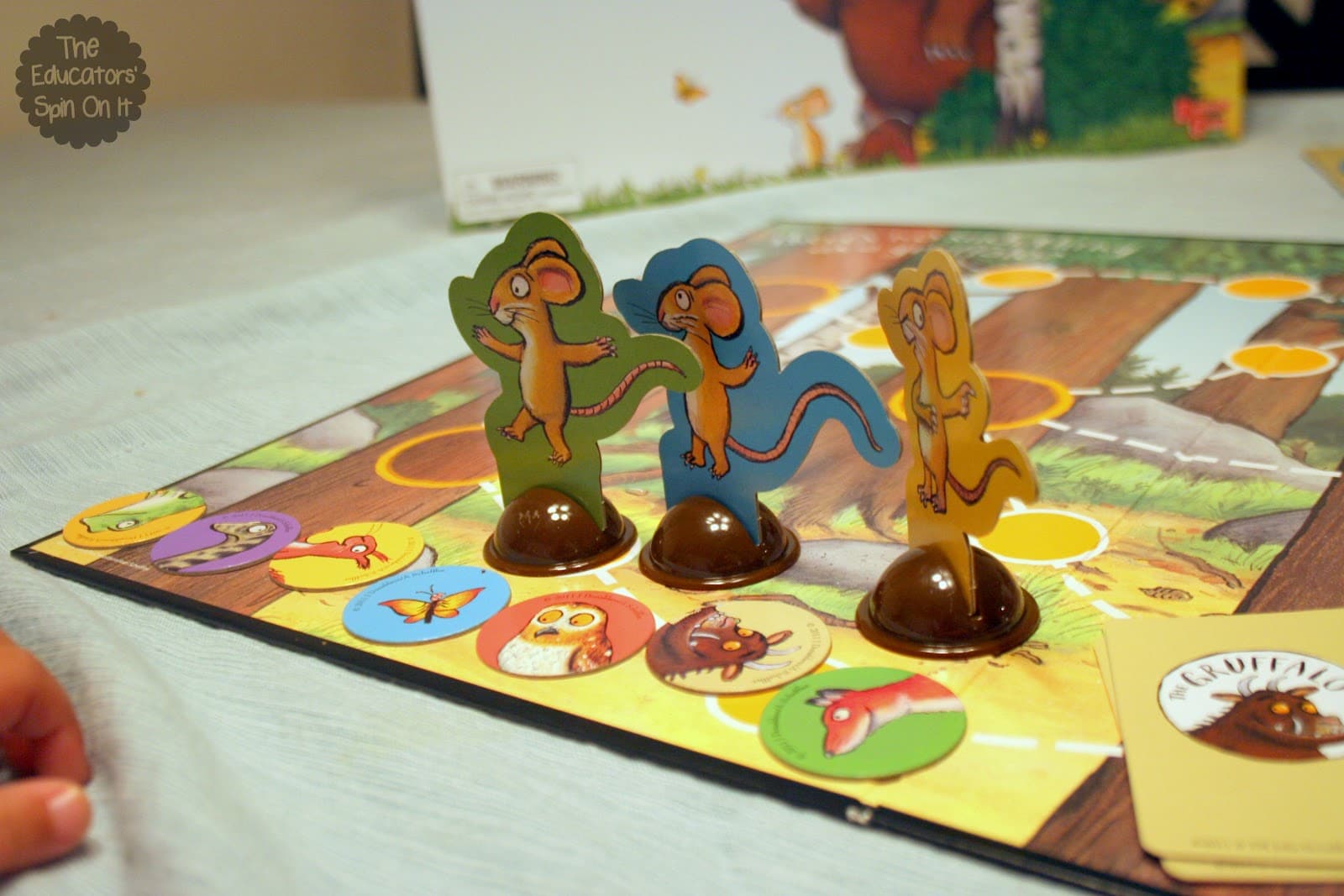 The Gruffalo Reusable Sticker Scenes
Enter the world of Julia Donaldson and Axel Scheffler's beloved character, The Gruffalo. Perfect for play on the go, this kid-sized kit is packed with creative Colorforms. Best of all, the fun packs neatly into a go-anywhere, tot-sized tote. Comes with two play boards, a Fun Pockets reusable pouch, and 33 Colorforms pieces.
It worked out so well using this while I was cooking dinner! Both girls created a variety of scenes from the book and even a few scenarios of their own.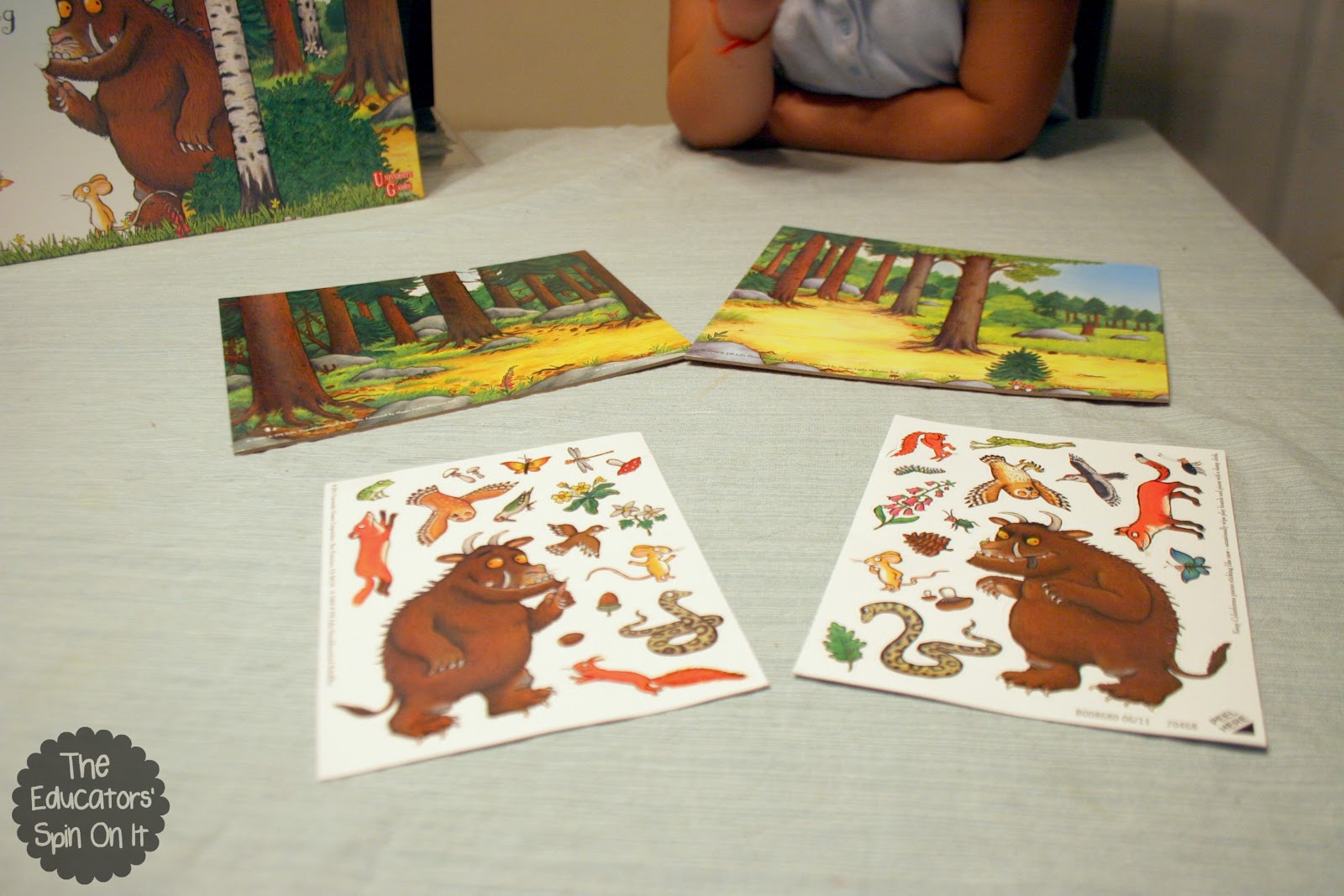 Overal I would highly recommend The Gruffalo Books and Products ifor the Gruffalo fan in your house.  The products worked well for various ages and were made with a child's imagination in mind.  There are all types of opportunities for learning within the story lines too!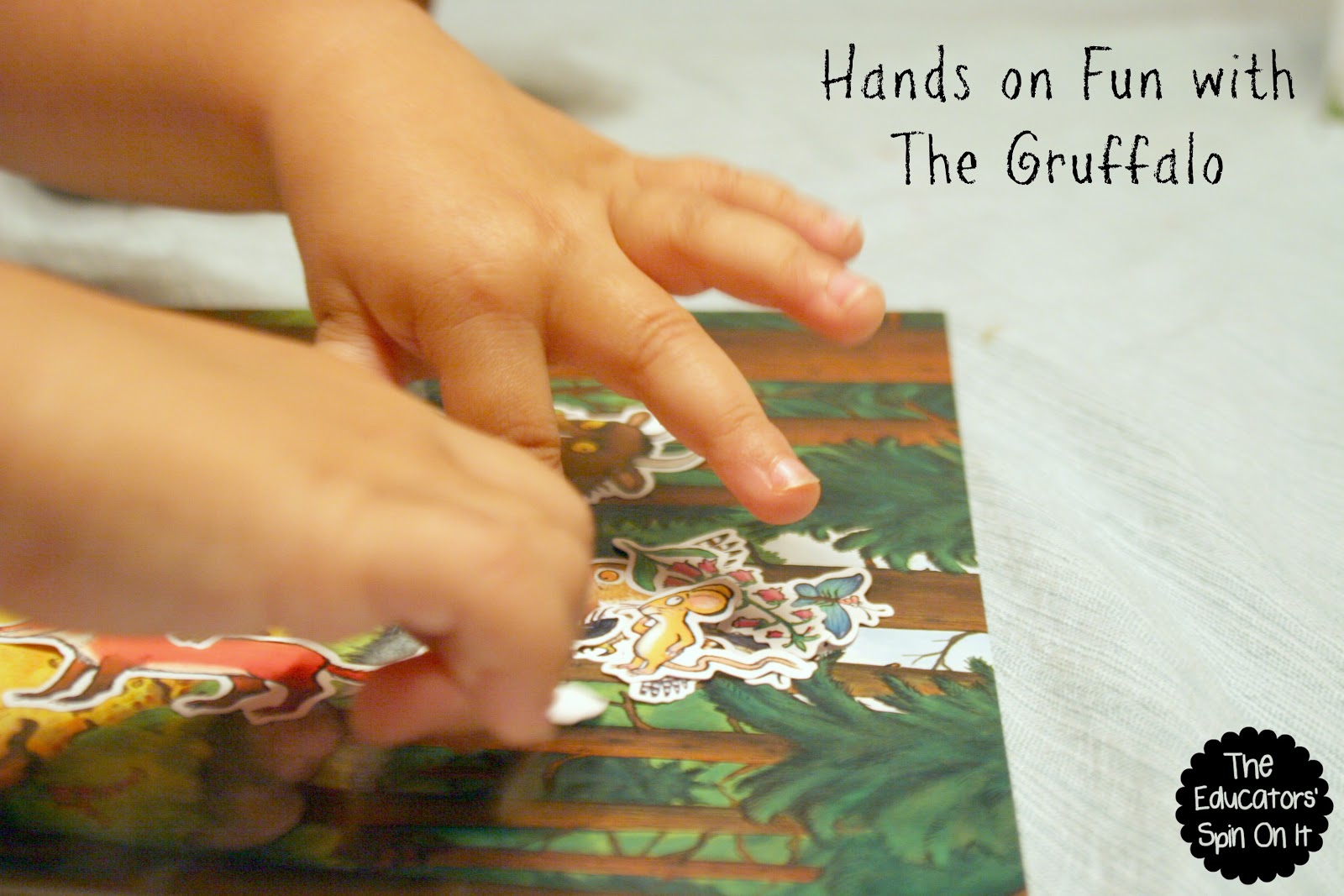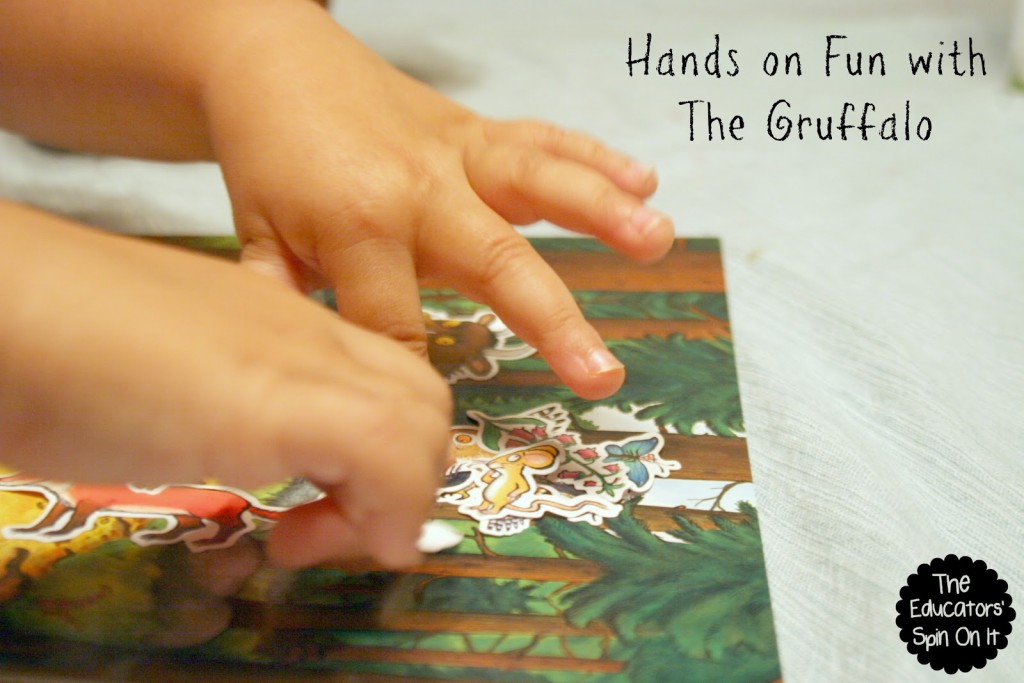 Now I'm all about balancing special items with budget-friendly ideas so I've collected some of my favorite Gruffalo activities for you from the Julia Donaldson Virtual Book Club for Kids and from some of my favorite resources with teaching. 
I recommend combining these to make a fun Gruffalo playdate or Gruffalo Thematic Unit!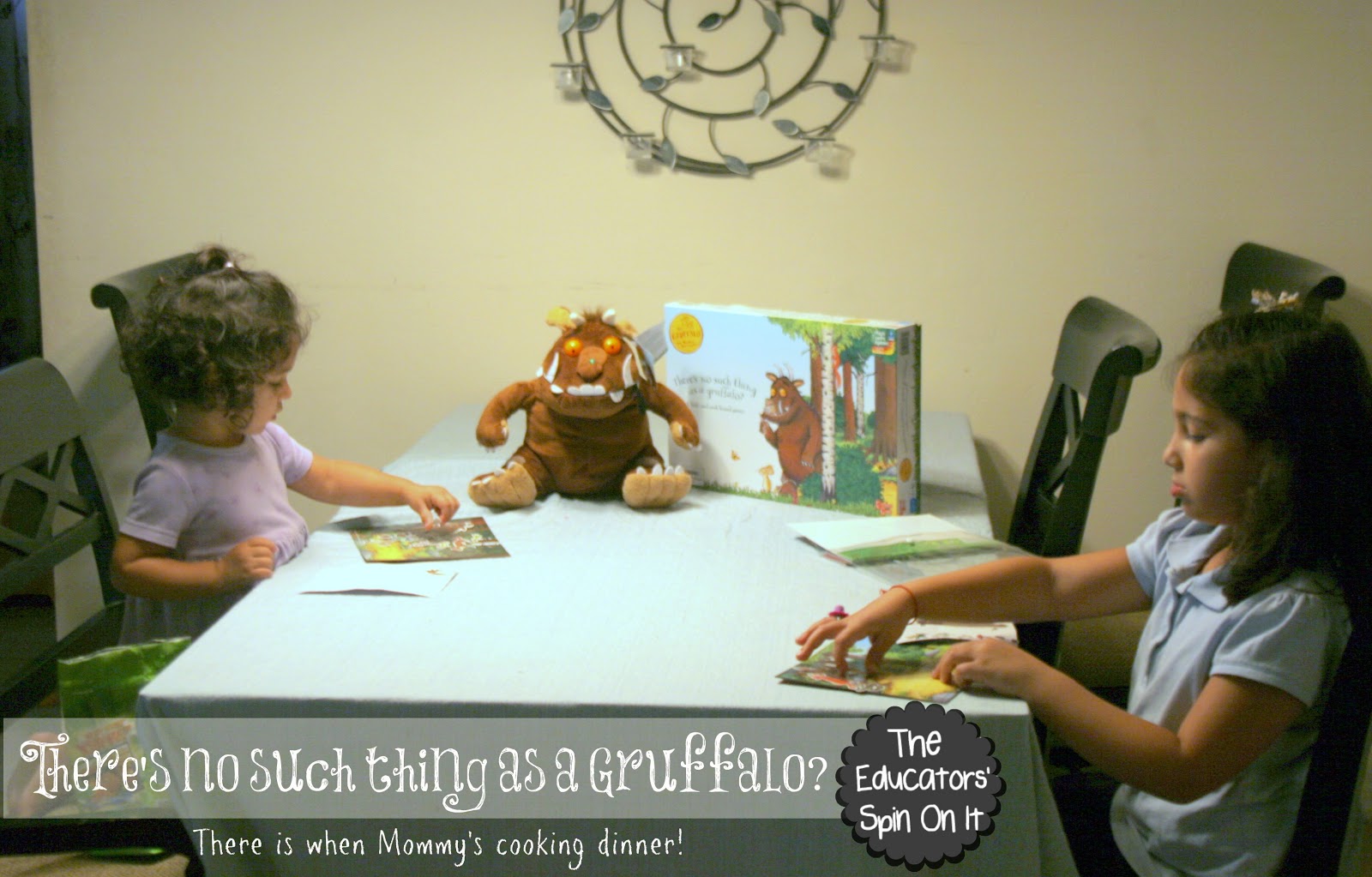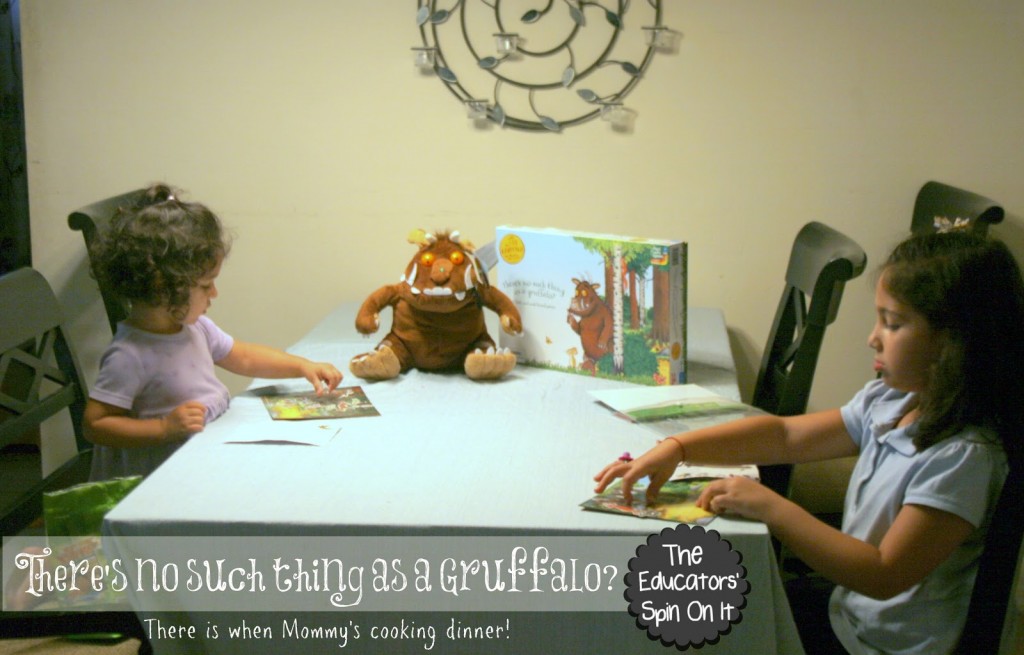 Our Favorite Gruffalo Activities for the Perfect Playdate or Thematic Unit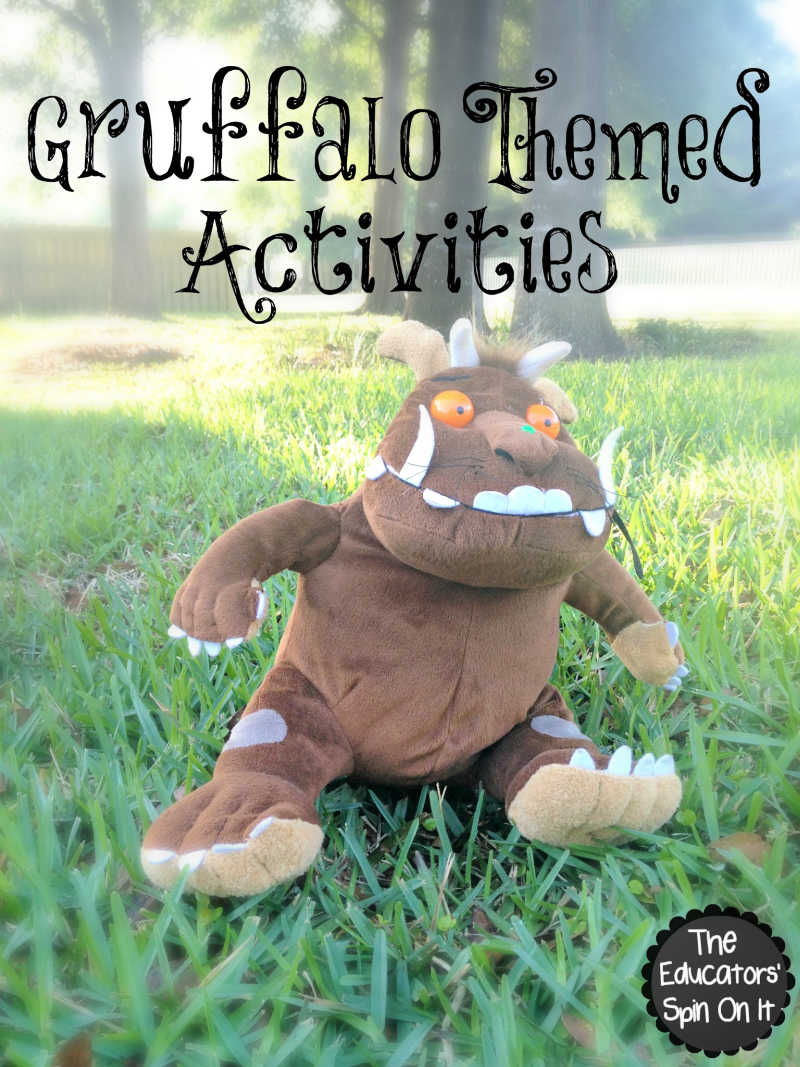 Gruffalo Crafts and Activities
Shape Animals with Gruffalo Animals
Gruffalo Hunt from Toddler Approved
Gruffalo Shadow Game from Reading Confetti
Gruffalo Puppet Theator from Mama Pea Pod
Gruffalo Characters from Recyled Material from Here Come the Girls
Gruffalo Pinterest Board
Gruffalo Themed Spoon Puppets from The Feverish Feltist
Gruffalo Puppets from Coffee Cups and Crayons
Gruffalo Pinata from Mud  Hut Mama
Gruffalo Tracks from Toddler Approved
Language Development With The Gruffalo from Playing with Words 365
Gruffalo Sewing Projects
Gruffalo Apron from Amanda at The Educators' Spin On It
Gruffalo Finger Puppets from Amanda at The Educators' Spin On It
Mouse Headband from Amanda at The Educators Spin On It
Gruffalo Printables
Character Cards from The Gruffalo
Gruffalo Printables from The Gruffalo
Gruffalo Dice Game Printable from Royal Baloo
Gruffalo Resources from Rubber Boots and Elf Shoes
Printable Gruffalo Activities from Primary Treasure Chest
Gruffalo Recipes
Gruffalo Food Ideas from Coffee Cups and Crayons
Gruffalo Themed Lunch from Eats Amazing
Gruffalo Chocolate Crumble from Toddler Approved
Now that's we've entered the World of t
he Gruffalo there are a few more items I'd love to purchase for the kids too.  All of these items would be great for Centers in a classroom too!  I've included links to Amazon, just in case you want to join me in my Gruffalo fun with your own children or students. 
Can you imagine how much fun the characters would be at a children's library!
Gruffalo Themed Toys and Games
Don't forget to Visit The Gruffalo's website and follow them on Pinterest, Facebook & Youtube. There are so many great resources for FREE!