Create a fun STEM Challenge for Halloween with this Stacking Pumpkins STEM Activity for Kids inspired by Five Little Pumpkins! Collect some mini pumpkins and playdough and it's time to play.
Here's how to set up this Fall STEM Activity.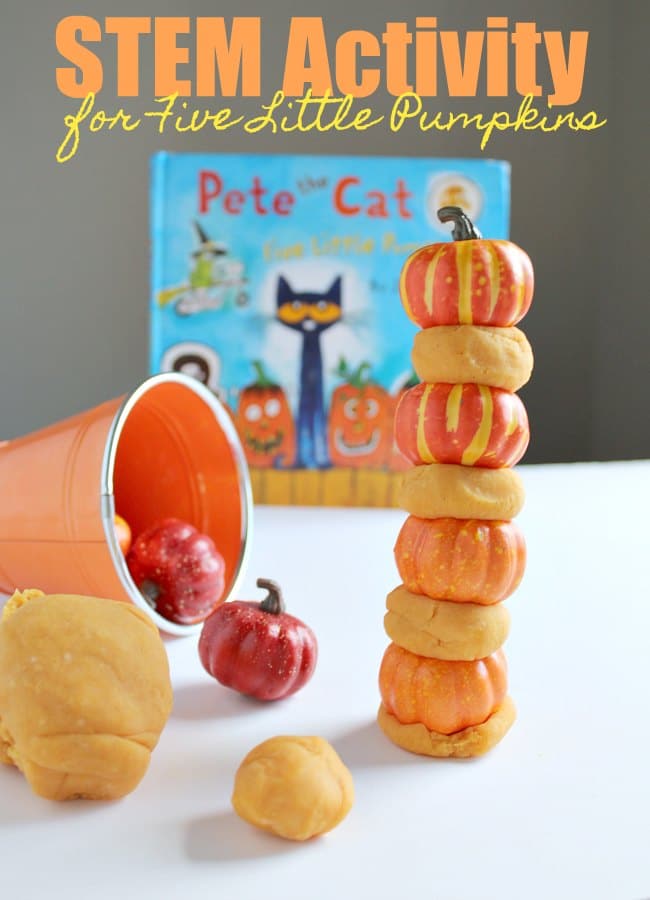 This post contains affiliate links to amazon.
Pumpkins can be such fun to experiment with your child. You can find them at your local grocery store, pumpkin patch, and even pretend ones at your local dollar tree or craft stores. We were inspired by the story Five Little Pumpkins, our featured book for the Virtual Book Club for Kids.

Pete the Cat: Five Little Pumpkins
by James Dean
Here's some of my favorite pumpkin books
Stacking Pumpkins STEM Activity
Materials for STEM Pumpkin Activity
Directions for STEM Pumpkin Activity
1. Read the story Five Little Pumpkins
with your child.
2. Get out the pretend pumpkins and allow your child time to play with them and see what they do.
Before starting any new game with young children it can be helpful to give them time just to play before you begin to give them specifics tasks that need to be completed.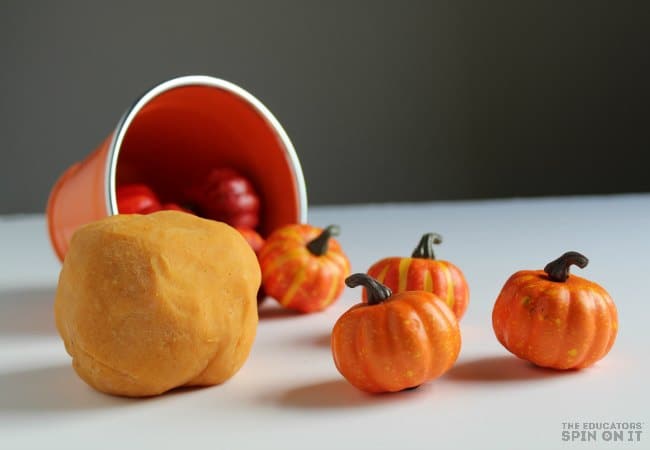 3. After exploring the pumpkins discuss with your child how it would be fun to stack the pumpkins up on top just like in the storybook. Make a STEM Challenge!
Ask your child how many they think they could stack on top of each other.
4. Create a tray area for them to explore the Pumpkins STEM challenge. Give them the container of playdough and tell them they can use it if it will help them get 10 apples up on top, just like the book.
Better yet give them a container of numbers and challenge them to build up the matching amount to the number they pull out from the selection.
And then wait… see what they come up with on their own as they stack the pumpkins.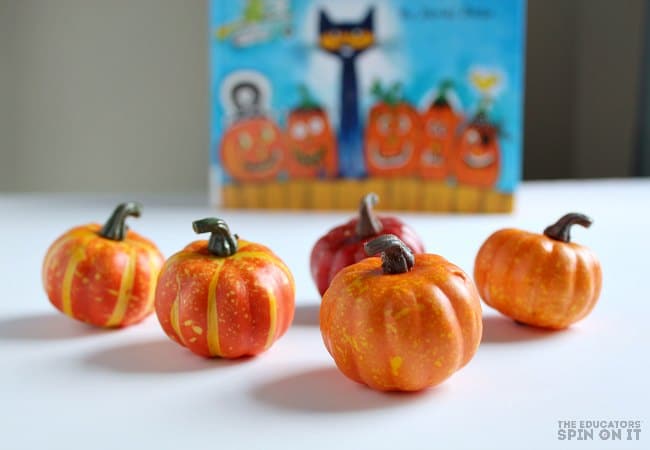 Five Little Pumpkins
by Dan Yaccarino
Here's the best collection of pumpkin books to add to your pumpkin fun with your child!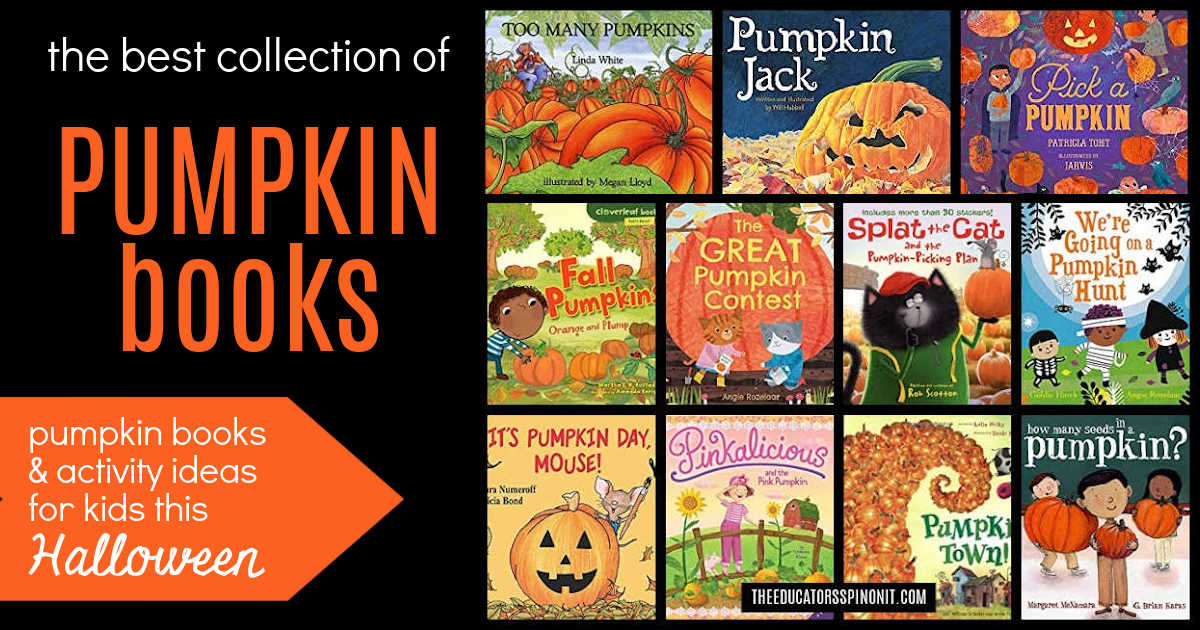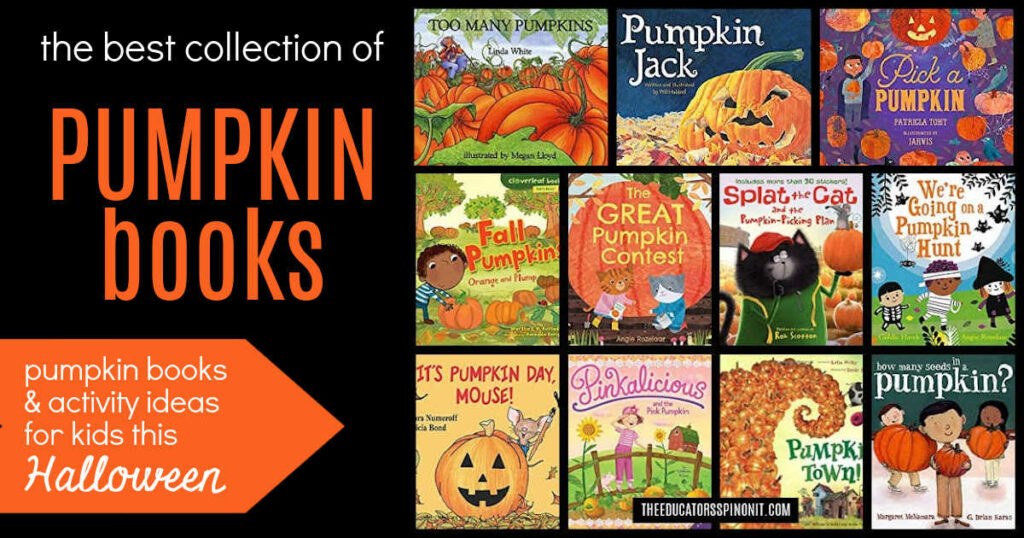 Share a photo with us how your child creates their Stacking Pumpkin STEM Activity in our VBC Facebook group! Join now!

You can visit more Pumpkin Themed Activities at The Educators' Spin On It or you can take a look below and be inspired by the 20+ Pumpkin Themed Activities from our Virtual Book Club.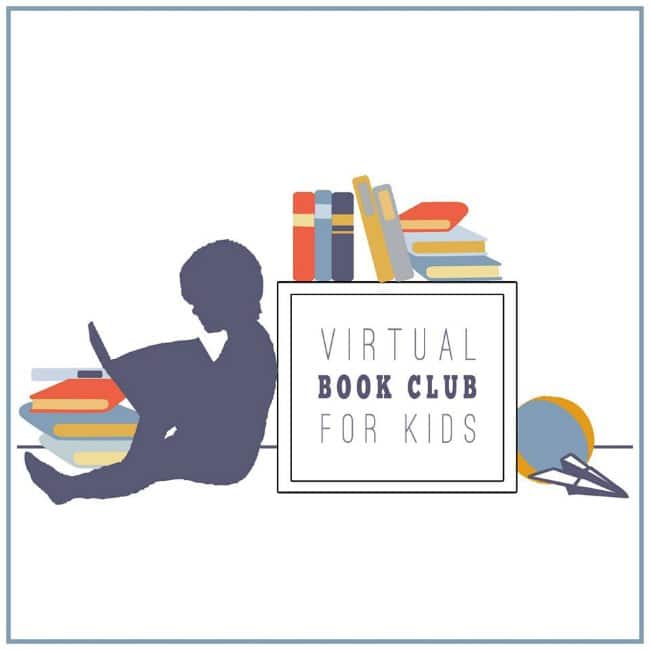 Join our Weekly Virtual Book Club for Kids Facebook Group
YOU'RE INVITED. We're inviting you to join along and share your own pumpkin themed ideas with your child or students using the featured story Five Little Pumpkins
or one of the other Pumpkin Books. You can share on our facebook page or join our VBC Facebook Group and share there with nearly 10,000+ members!
I'm featuring quite a few hand picked pumpkin activities for you to check out and get ideas for your preschoolers.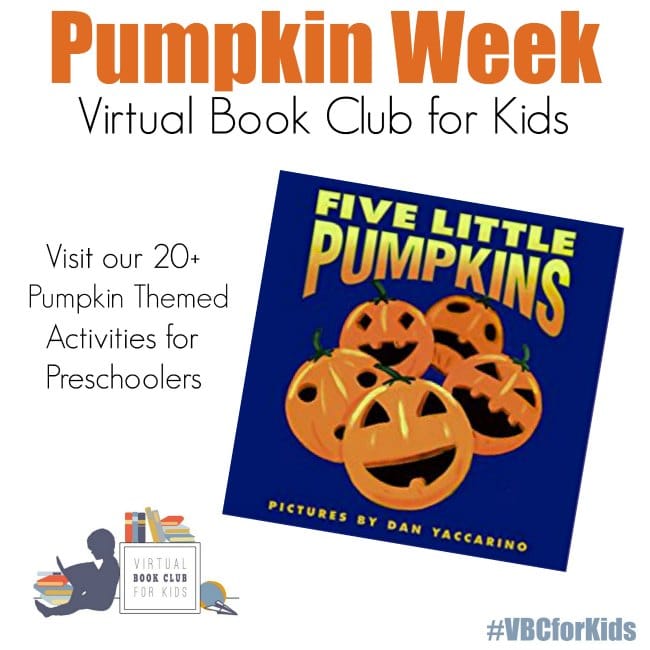 Pumpkin Crafts and Activities for Preschoolers
Name Pumpkins on a Gate – Preschool Powol Packets
Dabber Pumpkin Count – My Storytime Corner
5 Little Pumpkins Playdough Counting Activity – Clare's Little Tots
Stacking Pumpkins STEM Activity – The Educators' Spin On It
Pumpkin Solar System– Teach Beside Me
Tracing Worksheets with a Pumpkin Theme by JDaniel4's Mom
Pumpkin Pre-Writing Activity with Chalk Markers – Inspiration Laboratories
Puppet Craft Activity and Acting Out the Story-The Moments at Home
Pumpkin Shape Memory Game – Rainy Day Mum
Pumpkin Activities on The Educators' Spin On it
How to Create a Pumpkin Sensory Water Play
5 Little Pumpkins STEM Activity
Pumpkin Sensory Bottle Sight Word Game
36 Educational Pumpkin Activities for Kids
Salted Caramel Pumpkin Muffins Recipe with Kids
Fine Motor Pumpkin Activity with Washi Tape
Pumpkin Patch Virtual Field Trips
The Best Pumpkin Books for Kids
If you are looking to learn more about STEM or science, technology, engineering, and math, explore our awesome STEM resources for parents OR explore our favorite STEM toys for kids.
You may also enjoy these activities for your child this Halloween…