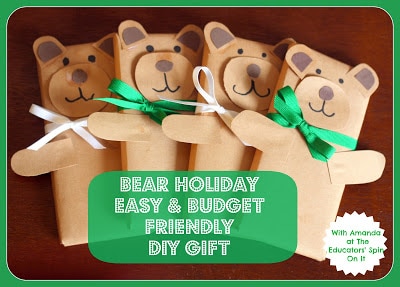 Simple Craft = Simple Gift for Teachers and Friends.
We want our children to learn to think of others during the holiday season, with the ultimate goal of teaching the concept that "giving is better than receiving." We are trying to stay on a budget, but are so fortunate to have so many wonderful friends, neighbors, and teachers to shop for.  For the last two years we have made these adorable snowman candy bars, and I will have to admit, this year I was stuck on what to do.  These guys are really hard to beat.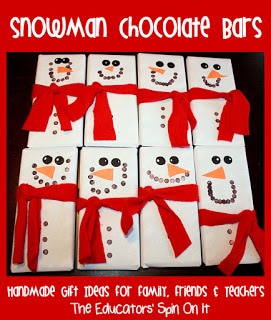 It really is hard to find something special, preferably hand-made and usable for everyone special on our list. While reading one of my 3 year old sons favorite Christmas books to him this morning, I found my inspiration!!! You Can Do It, Sam
is an adorable story about a momma bear and her cub.  They make cakes for all of their neighbors, wrap them in red bags and head out to deliver them to their friends.  As they stop at each house, Mrs. Bear encourages her cub, Sam, to take the cakes by himself.  This story fits right in with what we are trying to teach our children AND the bears are VERY cute. And so, the Bear Holiday Candy Bars were born! These bar covers are great for any holiday; Christmas, Valentines Day… and I bet you could even make a cute egg for him to hold and he could be an Easter Bear! (or give him long ears and make him a bunny)
Not only is this project budget friendly at slightly over $2 each, this gift is also hand made with love (and yummy!)  It allows our young learners to practice following directions and has a little bit of fine motor work as well.
You will need
Construction Paper

Scissors

Tape
 and or glue
Ghirardelli Peppermint Bark Bar

ribbon for the bow
and a marker
Cut, wrap, tape, draw, tie and your done!!! If you have little helpers like I do, I found it streamlined the process to have a bunch of bear parts already pre-cut and ready to go.  For my 3 year old, I put the glue dots on the bears first, but my 6 year old did that part herself!    We talked about how we were going to deliver our Holiday Bears to our neighbors and my toddler was BEARY excited.  He said, "Can I do it myself, like Sam?" "Yes," I said, we can deliver them, just like Sam did!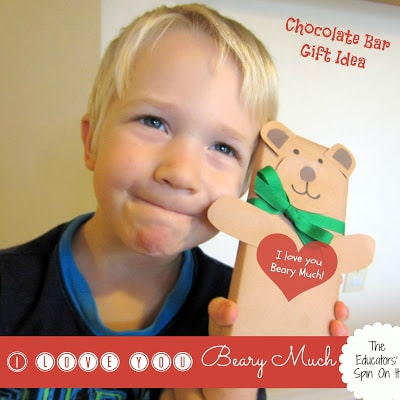 Save