Reindeer Candy Bar Wrappers are a fun and easy gift for kids can make and give to teachers, neighbors, and friends this holiday season.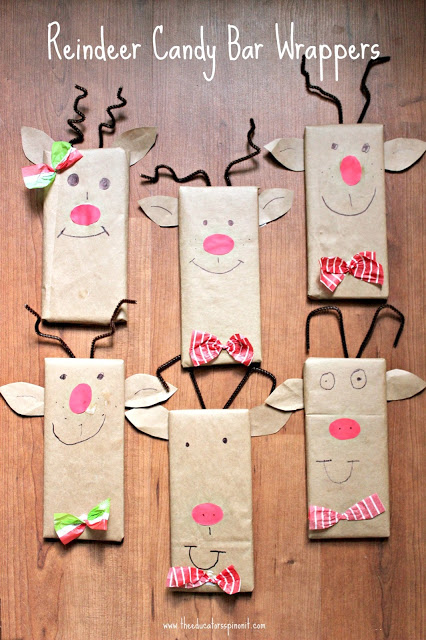 We like to give teachers holiday gifts that are part home-made, part store-bought, within our budget, cute, AND something they can use.
Several years ago, these snowman candy bar wrapped chocolate bars were a hit and a tradition was born. Each year, the kids have wrapped a candy bar and decorated them using the materials we have on hand. Affiliate links to products.
We have made:
We've even given them for other holidays too!
These are perfect if you're doing Kindness Elves with your child this holiday season. (Print your daily kindness elves prompts here)
Disclosure: This post contains amazon affiliate links.
Reindeer Candy Bar Wrappers
For this project, you will need: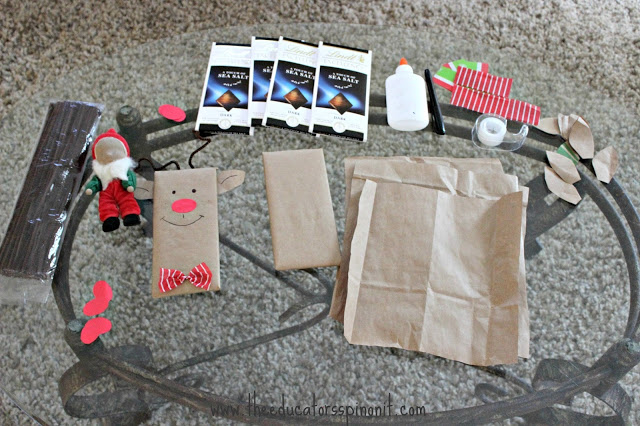 Directions to Make Reindeer Wrappers
1. Cut rectangles out of paper grocery bags. Wrap the chocolate candy bar with the brown paper bag rectangle, keeping any printing on the inside.
2. Tape or glue ears to each side and a Brown Chenille Stem folded in half at the top. Make a line inside the ear if desired and bend the brown chenille stem to look like antlers.
3. Glue a red oval nose in the middle.
4. Draw eyes, mouth, and other facial features.
5. Twist a small rectangle of Christmas Tissue Paper into a bow. Glue on as a hair bow or a bow tie.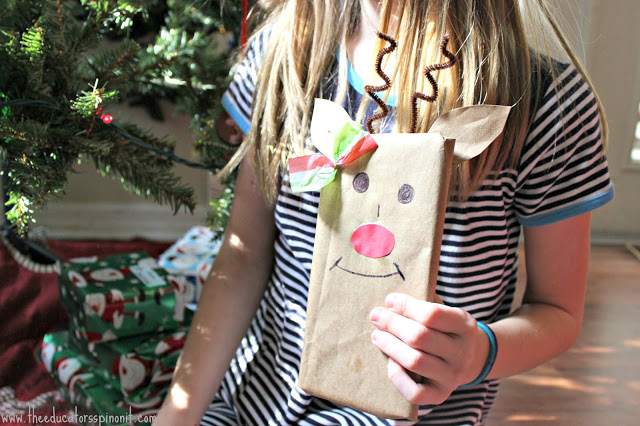 Write a message with the permanent marker on the back that says who the reindeer candy bar wrapper is to and who it is from.
To:
From:
Then give your gift!
*** As shown in the set-up picture, I set all the materials on a table and let my kids make their own reindeer candy bar wrappers.
My 9 and 6 year old made theirs 100% on their own, my 3 year old did need my help wrapping, taping and writing. All three couldn't wait to deliver their gifts this morning.
Such a quick and easy way to tell a special teacher or loved one you are thinking about them during this holiday season.
Who will you make a Reindeer candy bar wrapper for this Christmas?
For more reindeer themed fun this holiday season be sure to check out these reindeer craft ideas and gift ideas!