My 8 year old LOVES cooking. You can find some of our kids in the kitchen recipes here. She is a whiz at making biscuits from scratch, juicing oranges for smoothies, and flipping pancakes. It is soooo nice to have a helper in the kitchen!
This conversation is sponsored by Horizon. The opinions and text are all mine.
With three little kids, my days are busy and dinner preparation is no exception! When offered the chance to create a recipe and share with you about Mac & Cheese I jumped on the chance. It is nice to have a back-up dish in the pantry that the kids can make on their own.
My kids are happy that they can help with dinner, and I'm happy to have food on the table in less than 30 minutes!
About Horizon:
We purchase Horizon products as a family, so it is nice to know that:
Horizon is part of the National Organic Program (NOP), which prohibits the use of GMOs.
Horizon's farmers keep their cows in good health, the organic way with attentive daily care, fresh air and a wholesome organic diet.
The cows enjoy the great outdoors to exercise, socialize and interact with the land!
All Horizon Mac & Cheese products are made with real, USDA-certified cheddar cheese and whey as well as USDA certified organic wheat pasta.
Click here for more product information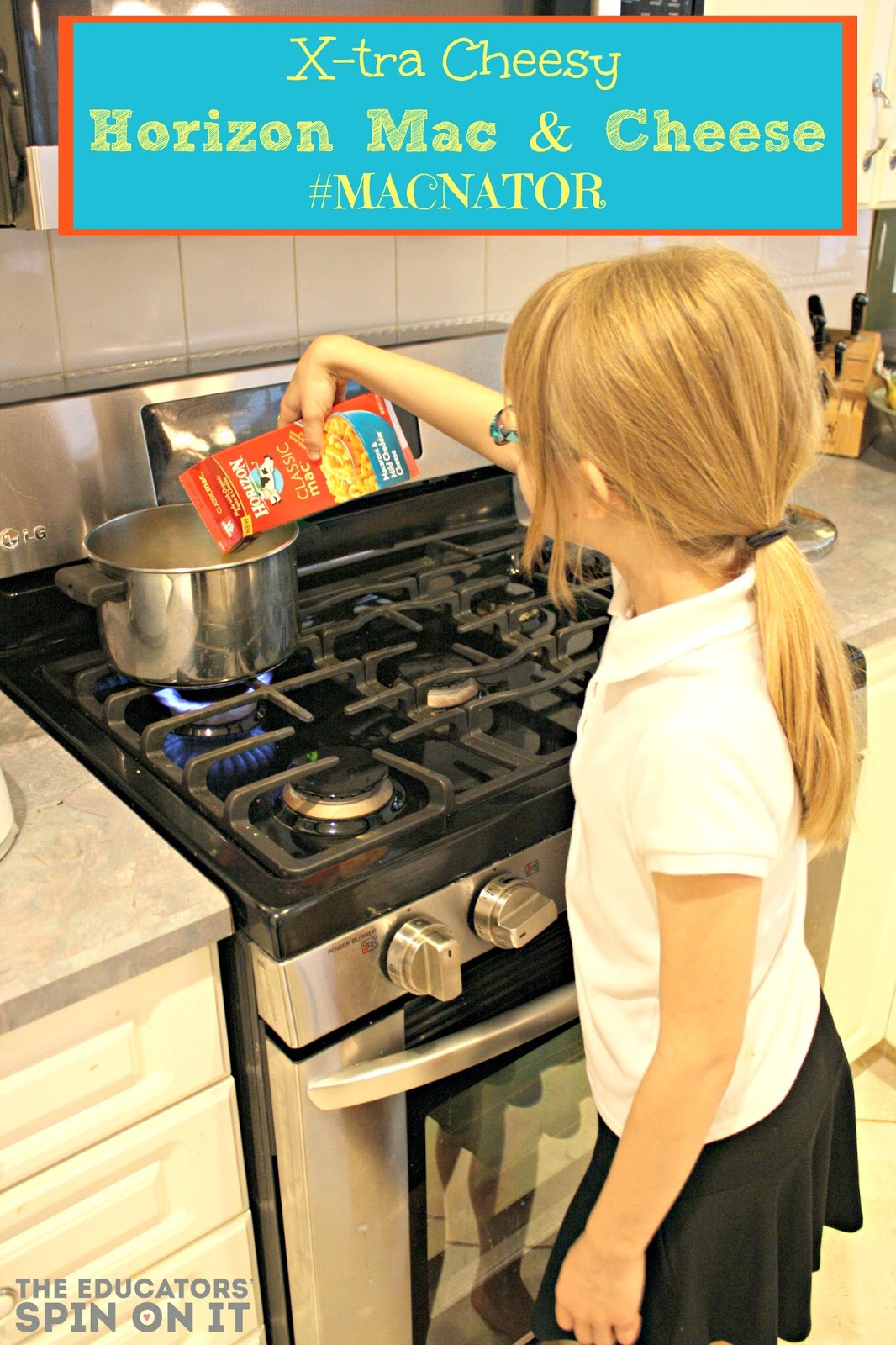 Recipe: X-tra Cheesy Mac & Cheese
I handed my 8 year old the box of Mac & Cheese and asked her how we could put "our spin" on the classic dish. She giggled and read, "Mom, it says made with mild cheese, we must load some sharp cheese in for an x-tra cheesy dish."
"Can we add broccoli?" I asked.
"No way! But I'll juice some orange and make a smoothie." She replied.
Click here to see all we make with our oranges
"It's a deal!" I replied. and we got to making!
Ingredients:
Horizon Classic Mac™ Macaroni and Mild Cheddar Cheese
1 Tbsp of Butter
1/2 Cup of shredded sharp cheddar cheese
Horizon Organic Milk
Earthbound Farms cooked broccoli florets (optional)
Directions:
Cook the noodles according to the package directions.
Drain and pour into a large bowl.
Immediately add the butter and shredded cheese. Stir to mix while still hot. The cheese should melt. If it doesn't, put the mixture back in the pan and heat for another minute on medium, stirring constantly until the cheese has melted.
Add the cheese mix and milk (and broccoli). Stir until combined.
Serve with home-made meatballs and fresh squeezed orange smoothie!
*** Not all 8 year olds are ready to cook on the stove. Know your child and review safety procedures and your house rules for cooking.***
For some more Mac & Cheese menu ideas?  http://www.horizondairy.com/MAC-N-ATOR™ is an online tool that incorporates existing ingredients in your kitchen to create a recipe including Horizon Mac & Cheese
Enjoy Horizon Mac & Cheese as a versatile meal and keep your family happy. Try different vegetables in the dish to promote alternative uses of Horizon products or let your imagination take over.
Horizon is a pioneer in the organic industry.  Every choice they make is carefully considered with National Organic Program (NOP) guidelines in mind.  Horizon Mac & Cheese is made with these guidelines and the happy family in mind. 
For more information, visit Horizon's website for more information. 
You may also enjoy these kid friendly recipes…