I need quick and healthy side dishes, drinks, desserts, breakfasts, snacks for my 3 young kids. Ready to blend Blueberry Smoothie Packs for my freezer are a great way to save the summer bounty all year AND feed my family healthy on a budget.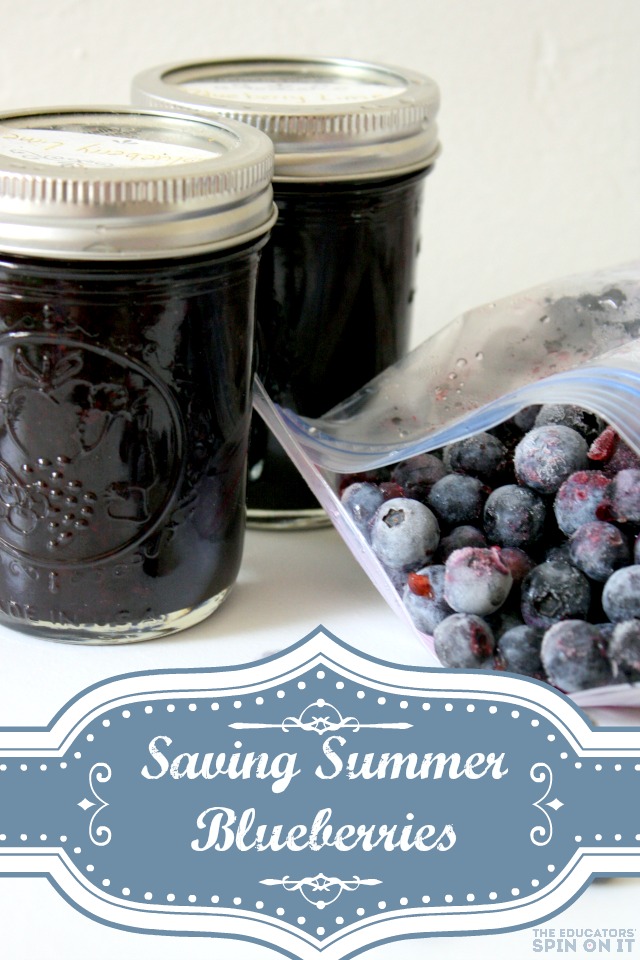 Harvesting Blueberries for Freezer Blueberry Smoothie Packs
Last week, my three little kiddos and I trooped across town and snuggled into a cave of towering blueberry bushes. The birds chirped. The butterflies fluttered. The blueberries were thick and plump that they almost fell into our buckets.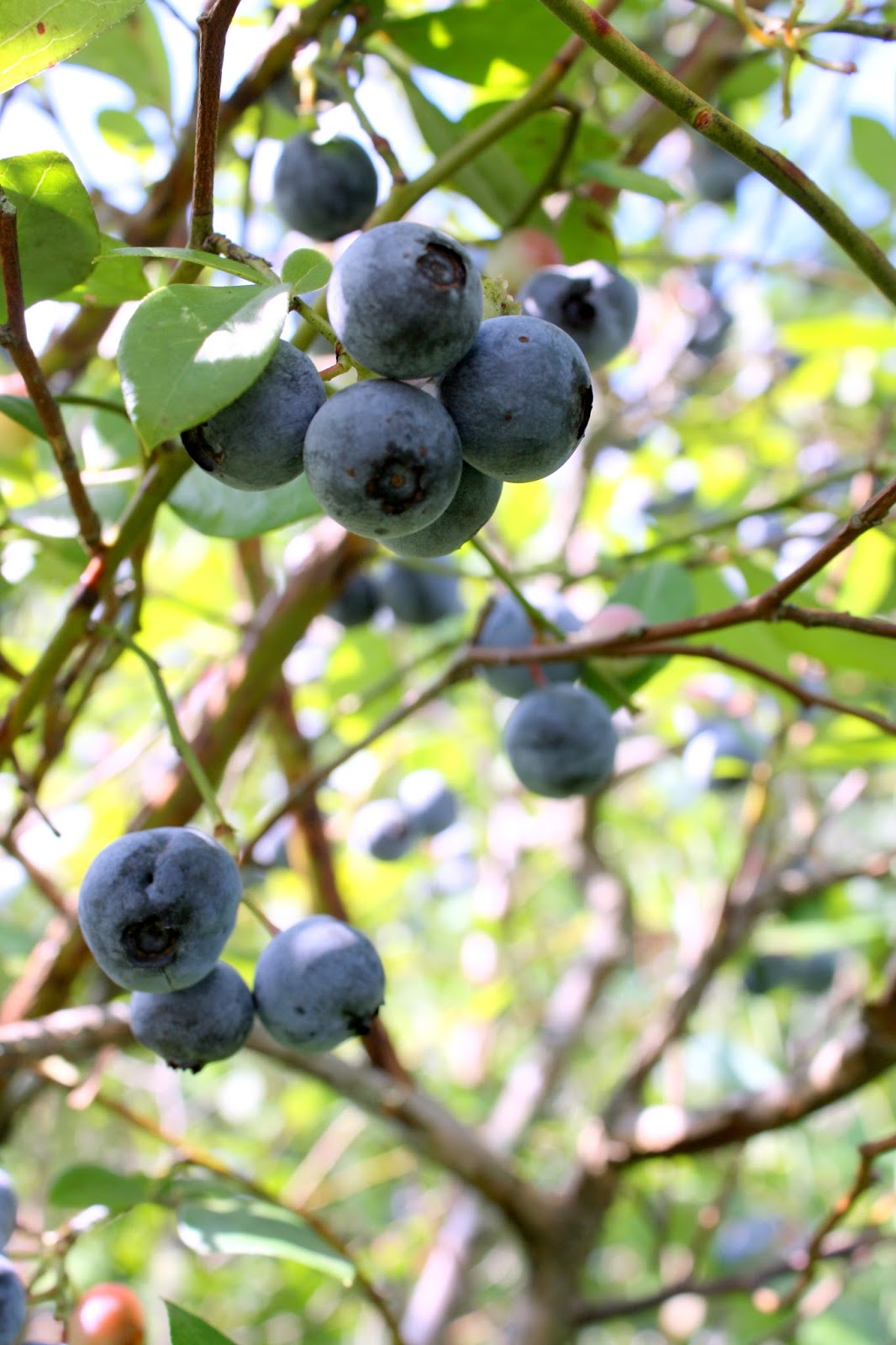 My littlest reminded me of the story Blueberries for Sal. He would sneak his hand into my bucket and put some berries into his own. Then eat them all. The preschooler picked a few and then grabbed some sticks and started to build a fort.
My 3rd grader picked as fast as us grown ups, cooking out loud. We should make blueberry pie, blueberry jam, blueberry Popsicles, blueberry smoothies…. She must have been inspired, because her bucket was bursting over the rim by the time we were done.
With my 3 little helpers, were able to pick 31 pounds of local, organic blueberries at $1.00 per pound at a U-Pick farm in a neighboring city. Yes 31 pounds of local, organic blueberries for $31.00. I cannot beat that price for health and nutrition and am thinking I probably should have gone back again for more!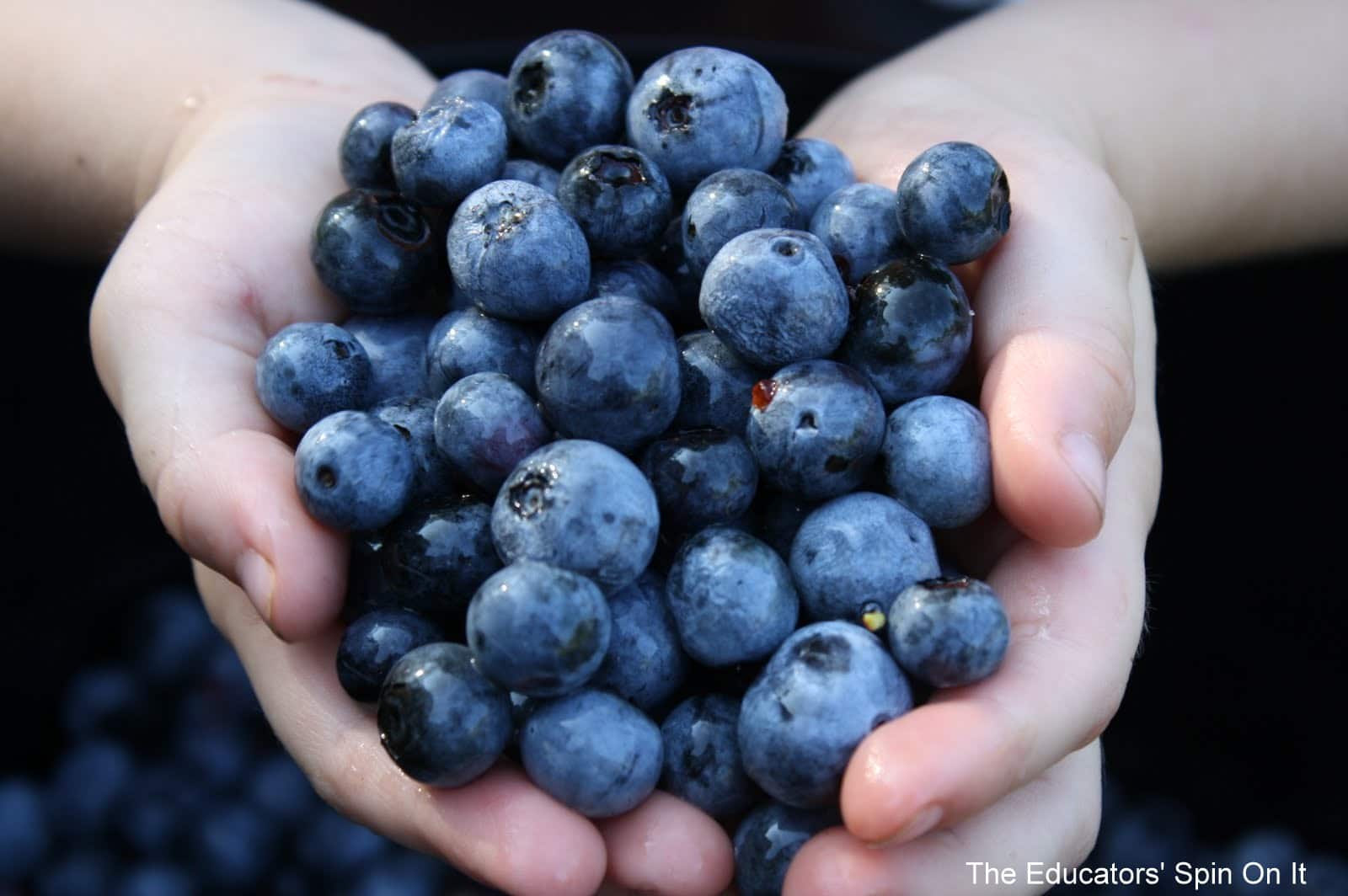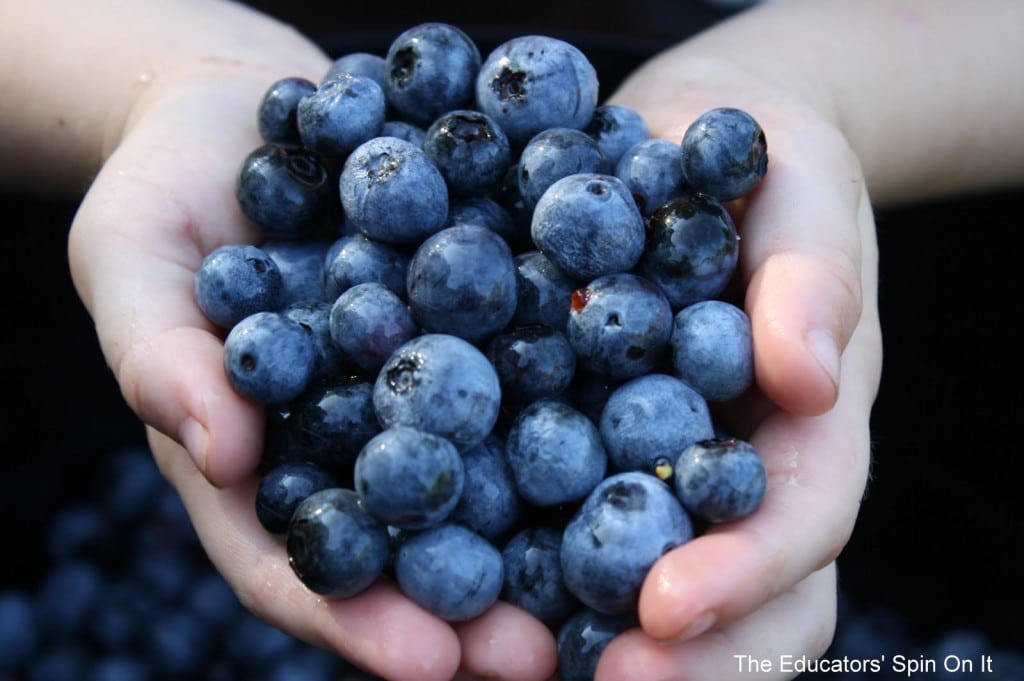 We found out about the farm from a friend in the area. Word of mouth is often the best way to find small organic farms in your area. The local paper also advertises some local u-picks in the classified section. I also use the U-Pick or Pick-Your-Own website http://www.pickyourown.org/ to find new farms that are open in my area.
If there is a phone number, call ahead. If not, go ahead and head out (just keep your expectations low in case it is closed).
What you will need to harvest blueberries at a U-Pick farm:
bugspray
sunscreen
buckets
belt or strap to attach the bucket to your waist
long pants
cash (most you-pick farms do not have credit card machines)
When we got home we made peach and blueberry cobbler, fresh blueberry pie, blueberry pancakes, and blueberry orange muffins.
Preparing Blueberries for Blueberry Smoothie Packs
My family LOVES blueberries, but there is no way that we could possibly eat that many blueberries in a week. So we worked as a team to prepare the summer harvest of blueberries for preserving.
Yes, the blueberries were organic. Even so, they are dirty from growing outside. We filled up the sink with cool water and gently tipped the berries into the water by the gallons. My children mixed the berries in the clean water with their hands, picking out any stems and leaves, then scooped them out of the water with a strainer.
We used the spray attachment for one more berry rinse and then poured them onto the towel covered counter to dry.
Children as young as one year old can help with washing!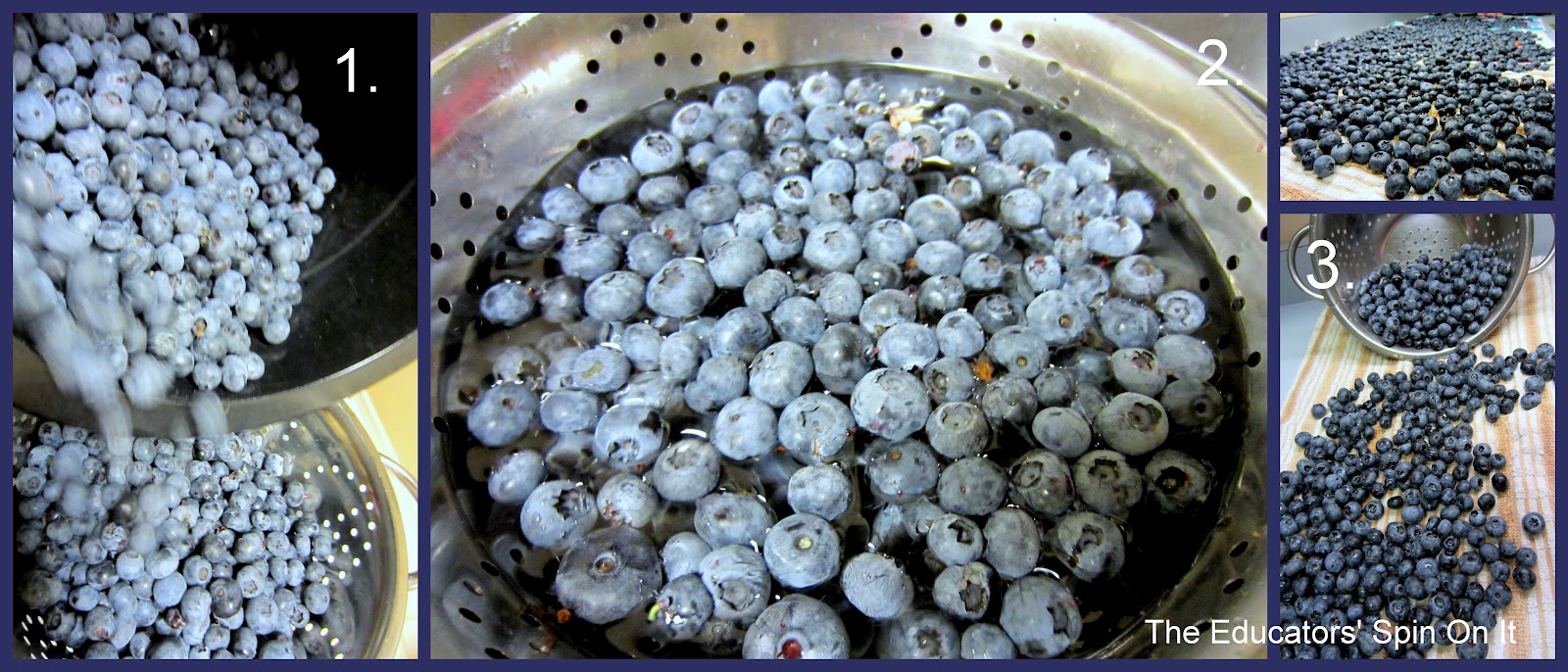 When all the berries were washed, we started packaging them for the freezer.
I like to freeze them in quart packs for use throughout the year.
Make a Ready to Blend Blueberry Smoothie Packs for the Freezer
Makes 3 Smoothie Servings
Ingredients:
1 cup of plain yogurt

1/4 teaspoon of vanilla

1 tablespoon of local honey*
1 banana
1 cup of blueberries1 quart freezer bag
parchment paper or tin foil
Prepare A Day Ahead of Time:
Mix plain yogurt and honey in a small bowl. Spoon into an ice cube tray, cover and freeze.
Slice a banana and lay on parchment paper. Cover and freeze.
Wash and dry fresh picked blueberries. Freeze in a container or bag.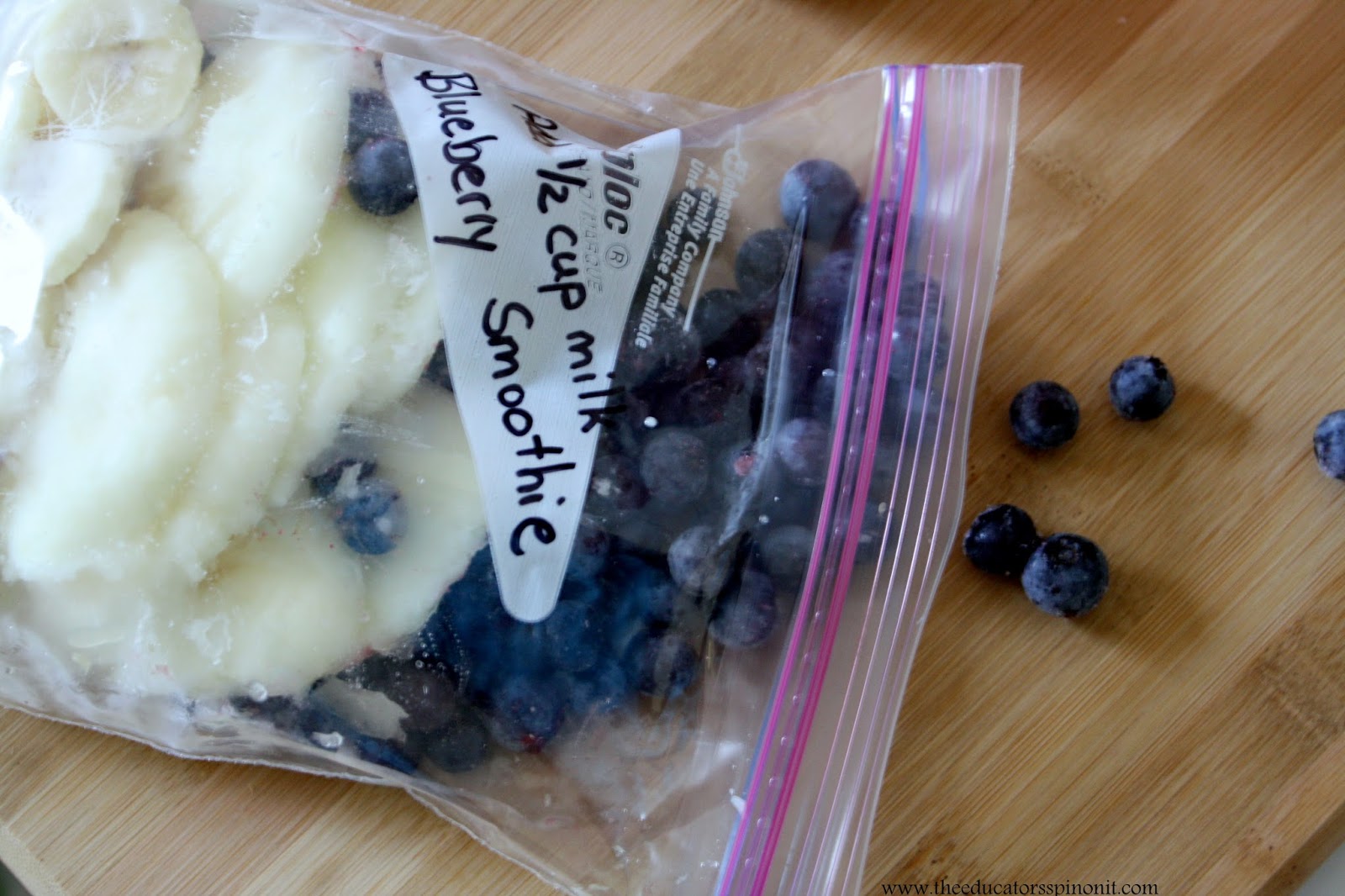 If you are like me and want to make a larger batch – just triple the recipe for 3 ready to blend smoothie bags. We try to make 5-10 bags of each smoothie flavor and rotate the bags we choose to take out.
Assembling the Blueberry Smoothie Packs
Label your freezer bag:
Blueberry Smoothie. Add 1/2- 1 cup milk.
Take the yogurt mixture, banana, and blueberries out of the freezer. Layer the bananas, yogurt + honey cubes, and blueberries in the bag. Remove all the air from the bag and freeze.
*I am not a nutrition expert, but understand that there may be some allergy benefits to eating local honey. Children under the age of 1 should not be served honey. We buy our honey by the quarts from a lady 5 minutes from our house. It is very mild in flavor. She ran a special this month and each quart was $15. I use it in smoothies and baking.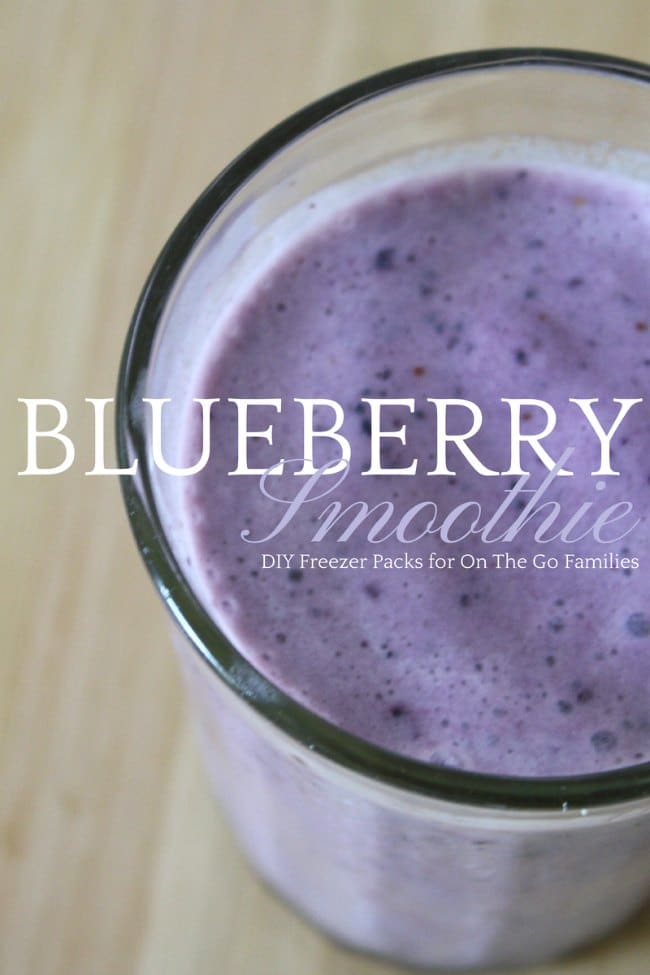 Ready to Make Your Blueberry Smoothie?
Take the ready to blend smoothie pack out of the freezer and dump it into the blender. Add milk. Use less milk for a thicker smoothie. Blend and serve.
What is great about these ready to blend smoothie packs is that they are versatile:
Blueberry Smoothie + Hard Boiled Egg + Raspberry Coconut Muffin = Breakfast
Grilled Ham & Cheese + Side Salad + Blueberry Smoothie = Lunch
Blueberry Smoothie after dinner = Dessert
What is also great about these ready to blend smoothie packs is that my 8 year old can make them on her own with a relatively small mess in the kitchen. She just gets the blender out and dumps the ready to blend smoothie bag in, adds the milk, blends and it is ready!
Kids that Cook with Blueberry Books:
Of course, as true educators cannot resist the urge to sneak in a little literacy and learning into any and all activities.  Cooking with kids is no exception.  We read Blueberries for Sal, a picture book favorite of mine since childhood together and talked about how we would feel if we discovered a bear walking behind us!  For more Blueberries for Sal lesson plans, stop by Scholastic.com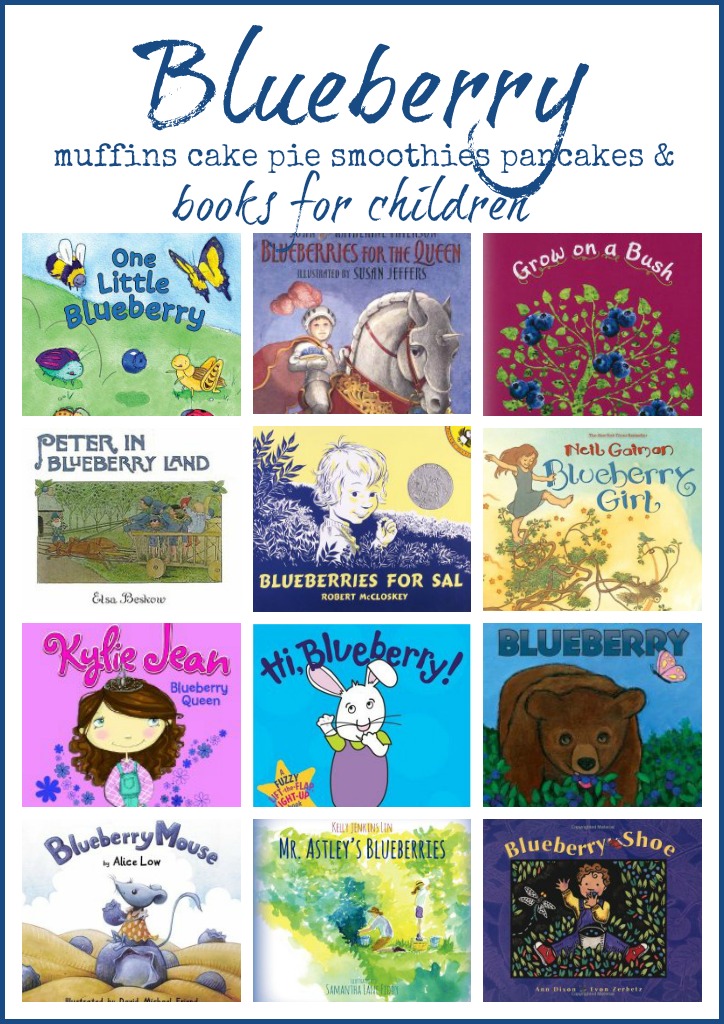 Would you like to add a book or two to your home library all about blueberries? We like to order a bunch of thematic books from the library online. They e-mail us when the books are available and we go pick them up. Here are a few on the market you can request from your library or consider purchasing:
Disclosure: These links contain Amazon Affiliate Links
Blueberry Books for Kids
*This one does talk about WWII. As with all books, make sure you preview before reading with your child to find the best fit books for your family.
For more BLUEBERRY ideas here at The Educators' Spin On It, we recommend
Blueberry Gift Idea
Blueberry Activities and Recipes for Kids
Sewing Adventures with Peter in Blueberry Land
Save
Save