Cooking noodles from scratch with kids teaches them about the products that go into noodles. I make noodles from scratch as a parenting choice because I want them to learn the value of time and resources that it takes to make noodles.
Even I look at a box of noodles in the store from a different perspective.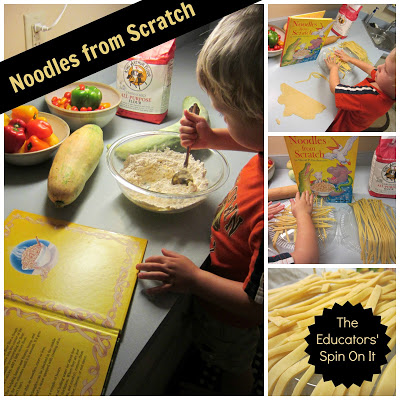 When do we make noodles from scratch?
I am a hybrid parent. Meaning, I love to make things from scratch, but I also appreciate the conveniences of store bought food such as noodles. We do make noodles from scratch, but not every week. It's more of when the inspiration hits.
Kim gave my oldest daughter this delightful book, "Noodles from Scratch," by Harold P. Gershenson for her 2nd birthday. We have read and re-read it for many years. When my 3 year old son asked to read it this morning we were once more inspired to make noodles.
I can usually convince the kids to pretend to make them in their wooden kitchen, but, he was not just content with making pretend noodles today. He wanted to make the "real" noodles and so we did.
It has been a LONG time since I have made my own noodles.
Making noodles is such a surprisingly easy thing to do with children,
Amy Scattergood says in a post about making pasta with kids, "Making your own pasta is fun, a lot easier than it sounds, and your children will probably love it too. "  The recipe at the end of this book actually called for only 4 ingredients; salt, flour, oil and eggs.  
If you are inspired to make them right now, here are a couple recipes from All Recipes that look similar to the one we tried.
Recipes for Noodles from Scratch
*** Make sure to wash your hands BEFORE and AFTER cooking!!!
How can children participate in making noodles from scratch?
There are so many steps that the kids can participate in.
Reading the ingredients and directions.
Measuring and adding the ingredients.
Mixing and kneading the dough
Rolling the dough with a rolling pin
And cutting the dough (with immediate adult supervision)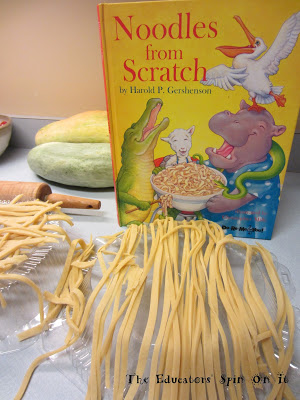 So what is the big deal about making your own pasta?
You can control what goes into your noodles. Over at Cherry, Men, Love, they say "It tastes so FREAKING DIFFERENT to the shop-bought stuff. It is so light it's almost fluffy and THAT is why the Italians can have a pasta dish as a starter or middle course because it is not like eating a bowl full of concrete with an hours nap required afterward."
The Kitchn reminds us that "fresh pasta freezes very well, so it's very possible to make a big batch every few weeks and freeze portions for quick weeknight meals."
I personally, also appreciate recipes during the summer that do not require me to turn the oven on. It is just too hot outside. I cannot rationalize paying for the energy to heat the oven and even more money to cool the house back down with air conditioning. I try to do quick, seasonal meals in the summer to limit my energy usage and save money.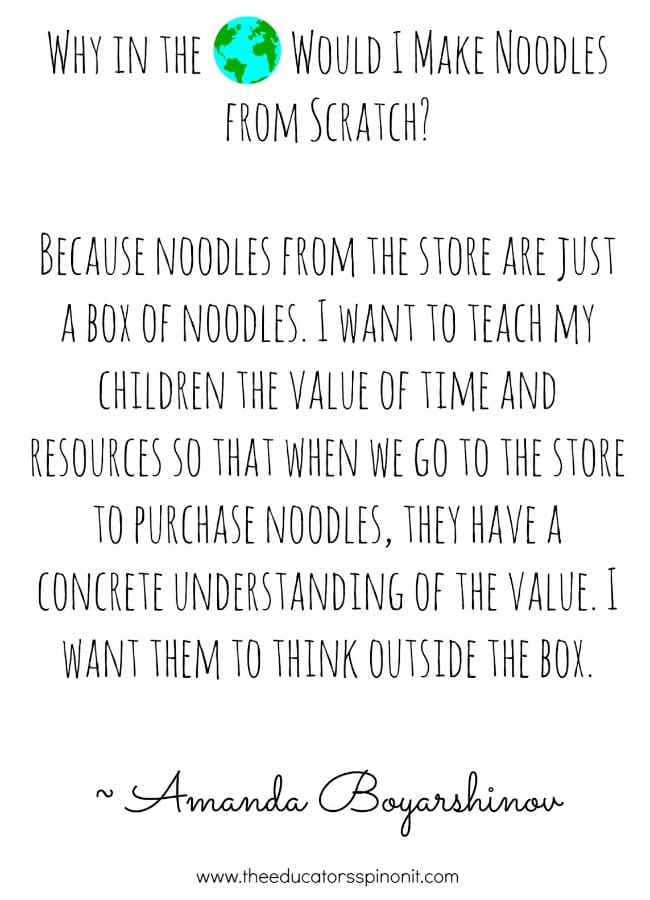 Making noodles takes patience and teaches my kids the value of the product and time that goes into making even a small amount of noodles. ;I feel that by making noodles themselves, they are more able to appreciate when we purchase the noodles from the store. It is a concrete way of teaching them the cost of a food product.
The hardest part of noodle making is waiting. Each of the recipes requires the noodles to dry for 2-4 hours. This was SOOOO very hard for my 3 year old. We made the noodles right before lunch and he was extremely disappointed that we didn't get to eat noodles for lunch! I told him not to worry, we would have noodles for dinner.
Connect Cooking with Play!
If your child is like mine, having another noodle project – like making or playing with some felt noodles would be a great in-between learning extension. These are designed for kids 3 and up.
Felt Food Noodle Tutorials:
So what are you waiting for? It's time to make some noodles from scratch!!!
Save