Need a quick idea for a Halloween costume this year for your little one? Try these DIY Halloween Costume Ideas using a little bit of fabric and your child's imagination.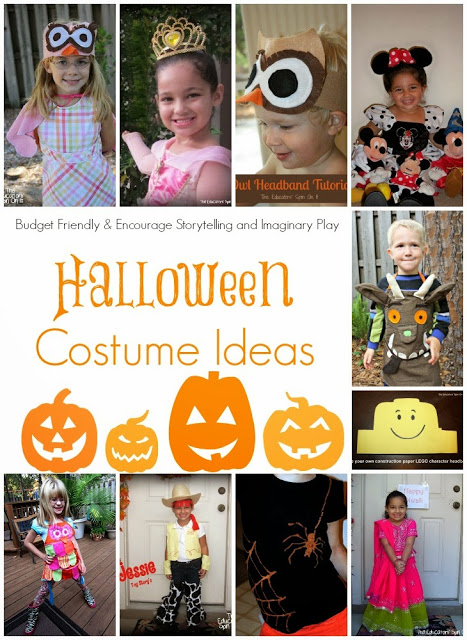 DIY Halloween Costume Ideas
Are you making your child's Halloween costume this year?
Do you have a plan yet?
Do you have one to share to inspire others?
Confession….
I'm the mom that despite my good intentions… tends to wait until the last minute.
My friend is the Mom who will have it done early or can throw it together in a hour, I know she's amazing! Her Owl Costume Tutorial or Owl Apron are great examples of how creative she is with her kids.
In hopes of getting things done early this year we're hosting a Costume Parade! I was looking back over the past 6 years with my daughter and we've had some fun costumes which have always made their way into the dress up box for years after.
She's been a Butterfly, Minnie Mouse, Witch, Princess, Winnie the Pooh, Cat, Cinderella, & Jessie. This year I think she's planning on being a pirate. I grabbed some Pirate stuff at the Dollar Tree and found this tutorial on a Pirate Tutu from Red Ted Art that I can't wait to try.
Here are a few more DIY Costumes you could make for your little one…
Homemade things can be so much fun. We've have fun over the years making a Pillow Case Dress and Ruffled Skirt for different holidays too. There's just something very special about picking out fabric with your little one and creating something special for them.
Of course in true fashion, I must confess I'm throwing these together at the last minute or Amanda so kindly sews two, one for her daughter and one for mine, it's nice to have that kind of a friend.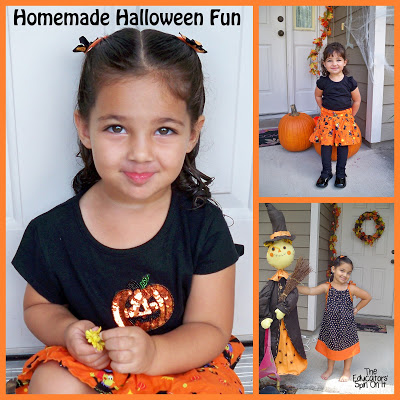 I thought it might be fun to share what we did for our Jessie Costume from Toy Story.
To show you that you don't necessarily have to go out to the store and spend lots of money on a costume. Getting creative is half the fun! We just used a simple Jessie toy and this Toy Story Book for our inspiration.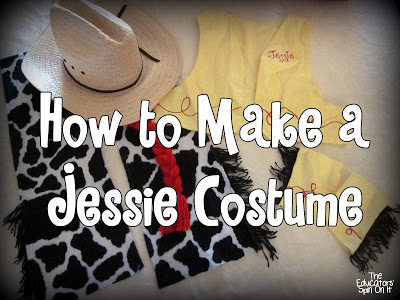 How to Make a Jessie Costume
My 5 year old daughter came up with this plan and I think she did a fabulous job!  We were very lucky and ran across a family that was getting rid of the cow fabric and black fringe at a garage sale. It was leftover from a cowboy party. 
It's not very much to buy a limited quantity at a fabric store won't be too much either, especially if you bring your coupons or pay attention to the sales.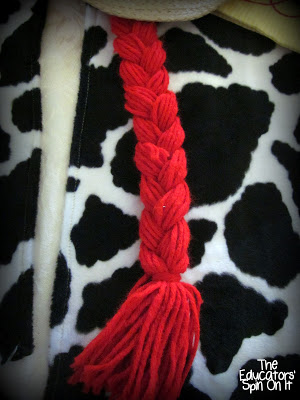 First we started off with some red yarn. My daughter was quite certain that Jesse has red hair and she needed it too. It was fun teaching my daughter how to braid while we were making it. We also added a little to the the front of the hat for Jesse's bangs.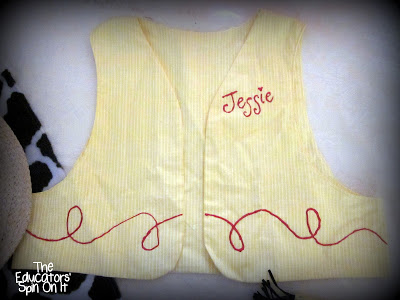 Then we made a vest. She picked some simple yellow fabric and we designed our own little pattern. Yes I know I'm that kind of sewer, just creates things last minute from the top of my head.
It's so easy, I promise you can do it too. If not here's a vest pattern.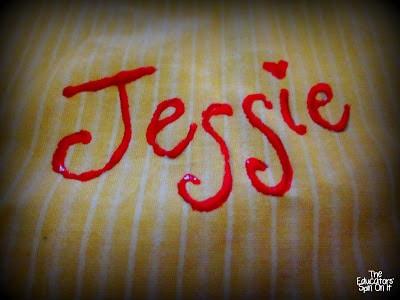 We added some red fabric paint designs to dress it up a bit. I love how the Jessie turned out. Of course then we needed something for our arms too so we came up with these using the extra black fringe that we had.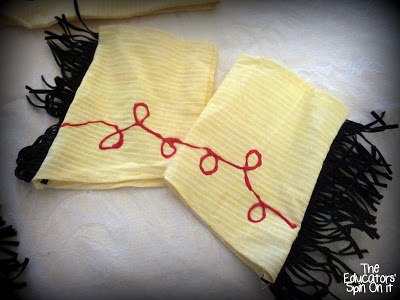 For the Pants we just attached ours with elastic around the legs, very simple and easy to put on and off. If you have an extra pair of jeans you could always just sew it onto them too.
Here's my little Jessie! She was so proud of her creation. And I truly mean it, she's the one who came up with the costume. I think having your child involved in the making of it makes it so much for meaningful and at times can save money for your family.
Plus I think it shows up more and more in playtime and in various forms.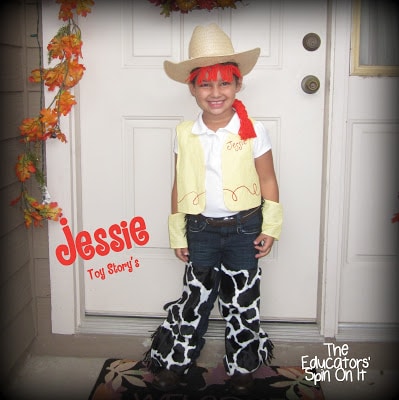 We are always putting our Educators' Spin On Things here on the site. Here's a great way how your child's costume can connect their imagination and literacy and writing.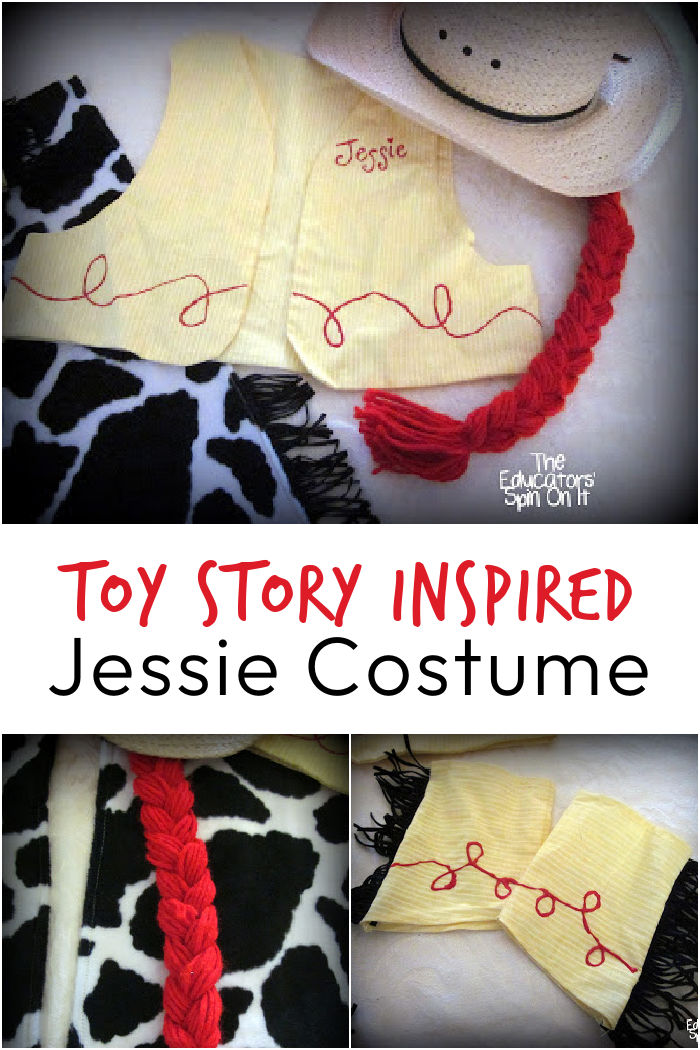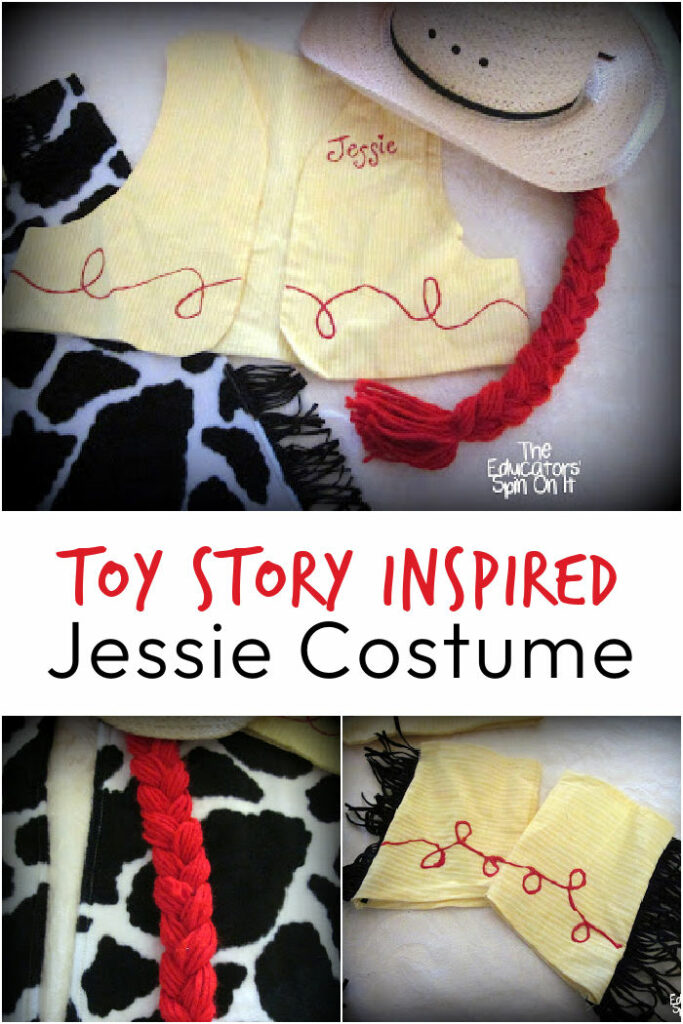 Connect Literacy with your Costume. Now here's the fun part with this post. It's time to share. Leave a comment below…