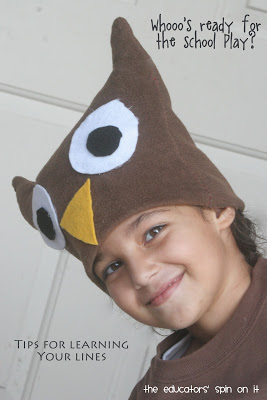 It's school play time at our house and my little one is so excited that she has a few lines in the school play this year. She's going to be an owl. As you know we happen to like
owls
at The Educators' Spin On It, so it was a perfect match. Now here's where the fun begins she has to learn 3 different lines in just a few weeks. We've been practicing and practicing and I figured I'd share some tips of what seem to work for us. Crossing my fingers I think she's ready for her performance. Can't wait to see my little Owl on stage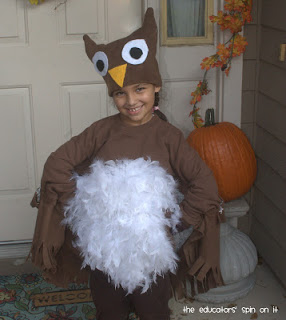 Tips for Memorizing Part in School Play
Make a video and audio tape of your child practicing their parts. Listen to the tape between practices or in the car. They will start to remember the lines in order by hearing them continuously.
Tell children to take some time to study alone until they are confident and have some lines memorized. Then work together.
Practice reading the lines, then saying them out loud and then closing your eyes and repeating the lines again. Try this together.
Have fun practicing together. Have them Write their lines on a card and read the lines as you begin to practice together. Hang them up somewhere where they can look at them each day.
Get children to say them out loud if they are auditory learners and write them on paper if they are kinesthetic.Most people need a combination of these methods.
Pretend you are in the play too and study your lines with the lines your child needs to learn. Repeat your lines until you memorize them.
Get into character. Dress the part and make believe you both are the characters you are portraying. This makes it more fun and more believable. Puppet shows are great for this too!
I hope these simple tips can help you get ready with your little one for their next performance! Can't wait to see how my little owl does in her performance!
Little Hoot was a big inspiration for our character.  Have you seen all the activities that have been shared for Amy Krouse Rosenthal Virtual Book Club?