If your family does elf of the shelf or kindness elves every December and you are in need of inspiration. Here is a list of activity ideas and messages the elves could send the children.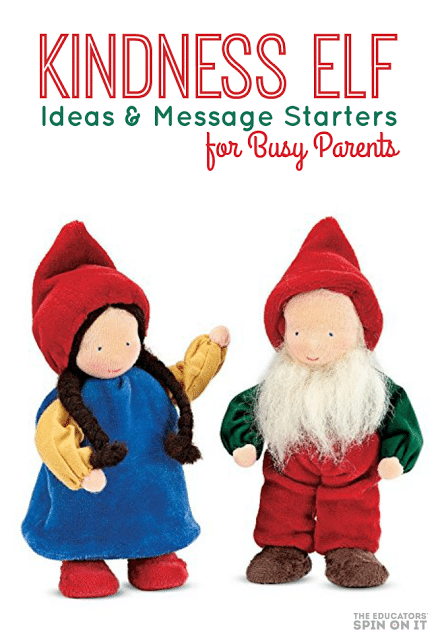 Here is a set of free kindness elves printable messages if you do not have time to make your own!
Affiliate Links included in this post

As a family, we want to make sure that we are focusing on a season of gratitude and kindness. The kindness elves are a way to encourage and highlight positive behaviors.
Many thanks to The Imagination tree for introducing our family to the kindness elves tradition. I only do the elves for 10 days because I think that they are FUN, but do take time. No one says you have to start them on December 1st! Ours arrive every year on December 15th!!!
These ideas work well if you do Elf on the Shelf as well.
I made a cute card design using PicMonkey and had my activities and cards ready to go ahead of time (because I'm not good at keeping up daily traditions!) The night before, I would grab a card and set the materials out in a few minutes, rather than having to search for inspiration last minute!
Please do copy the messages and paste them into your own cards. I want to save you time!!!
BUT, do not sell or distribute my writing to anyone but your own children or classroom. You are more than welcome to share our articles with others on social media!!!
Features Gnomes by Nova Natural Toys and Crafts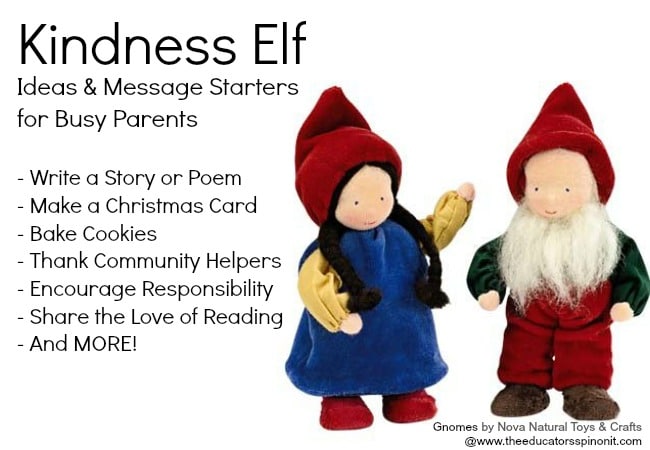 Make a List of Polite Words
We are the kindness elves of the Christmas season. It is our job to help spread joy and love. Will you help us? We do hope you will!!! Can you make a list of the most polite words you can think of, put the list on the fridge, and use those words as much as you can? That will help us oh so much.
Speaking of help, would you name us please?
Love,
The Kindness Elves
Encourage Responsibility
We noticed your playroom was rather messy. Cars were on the floor, toys were not taken care of and books were left out, so we picked it up. We love helping you! Today while you are playing would you be so kind to help the family pick up things so everything stays neat and tidy? Being responsible for your things and helping others pick up is a great way to be kind. Thank you!!!
Love,
The Kindness Elves
Share the Love of Reading
Let's spread kindness and joy to our friends. Do you have any books that you are willing to share? If so, let's make up a book bag for one of your friends. Maybe your Mom would help us drop it off at their home as a surprise!
Love,
The Kindness Elves
Search for a Sweet Treat
Sharing is such a terrific way to show kindness. We've hidden 12 candy canes in the kitchen. Can you find them all? You of course may have one for a treat later today, but what do you think we could do with the ones that are left? Is there anyone we could share them with?
Love,
The Kindness Elves
Draw and Write a Story or Poem
We made this little stocking last night. Would you be able to draw a Christmas picture, write a story, or create a poem for us to put inside. I think one of your neighbors would love to have this Christmas treat! Let's spread kindness and Christmas cheer!
Love,
The Kindness Elves
Say Nice Things
Words are so powerful. Kind words can help make someone's day brighter. Can you help us find one nice thing to say to everyone you meet today. If you need some ideas, look back at your kind word lists. Write back and let us know how it went!
Love,
The Kindness Elves
Write Letters to Loved Ones
It is so wonderful to see how helpful and joyful you have been this Christmas season! Our hearts are filled with happiness when we see all the kindness you have shared with others. Today, let's write letters to the people who we love that live far away.
Love,
The Kindness Elves
SMILE!
A smile is one of the best things in life. A gentle word, a kind look, and a smile tells other people you care. Let's see how many people we can smile at today!
Love,
The Kindness Elves
Make a Christmas Card
Tomorrow we will be celebrating the season with some special people! Can you help decorate some Christmas Cards for them?
Love,
The Kindness Elves
Make a Treat for Birds
We enjoy seeing you do such wonderful things for others! Let us make some treats and spread kindness to our feathered friends. We thought you may enjoy making these bird feeders!
Love,
The Kindness Elves
Bake Cookies for Someone Special
We love to bake cookies and hope you do too! We left the supplies out and hope that you will help us make cookies for someone special. Who do you think would enjoy getting warm cookies today?
Love,
The Kindness Elves
Thank Community Helpers
There are many people in our community who are helpers and spread kindness and joy all year round. Can you think of someone in our life that helps others? What can we do special for them today?
Love,
The Kindness Elves
Gifts for Classmates
We are so glad to be with you this holiday season! Your kindness towards others is such a great gift. Speaking of gifts, would you be willing to give these to your friends and classmates today?
Love,
The Kindness Elves
Printable Kindness Elf Notes
If you are busy and want these messages printed out in card format – hop over to free kindness elves printable messages.
Christmas Books for Elf Fans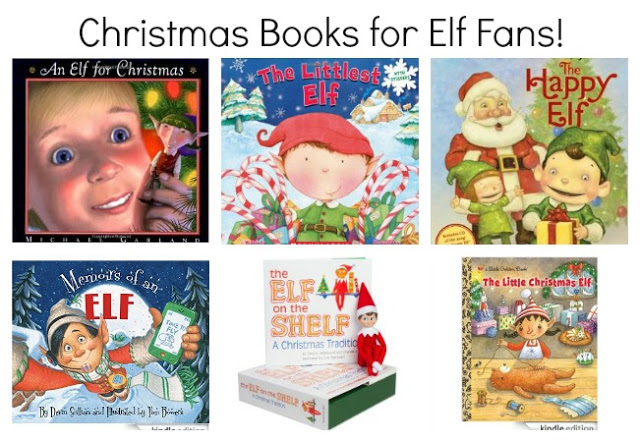 Elf on the Shelf:A Christmas Tradition
The number 1 Best Seller provides the background story to the holiday tradition. Read book reviews here
A cheerful story based on the song by Harry Connick Jr, about not giving up on others. Read book and cd reviews here
A cute little story for preschool – kindergarten children that encourage even the littlest to be helpers. Read book reviews here
This book gives you a run-down of Christmas Day from and Elf's perspective. A hilarious modern-day twist. Read book reviews here.
An elf accidentally gets delivered to a child by mistake! In this vibrant colored picture book for children, follow along on his journey to return to the North Pole. Read book reviews here.
This book is a story of perseverance and finishing what you start, as a little elf doesn't have a special bear done in time for Christmas. Read book reviews here.
The Story of the Kindness Elves
Elves need the help of special children on a very important kindness mission. Read book review here.
Grab your Own Kindness Elf on Amazon.