Choo Choo!  We have rolled through this Month with a TRAIN theme, complete with MATH, READING, CRAFTS, and SCIENCE activities for preschoolers all about trains.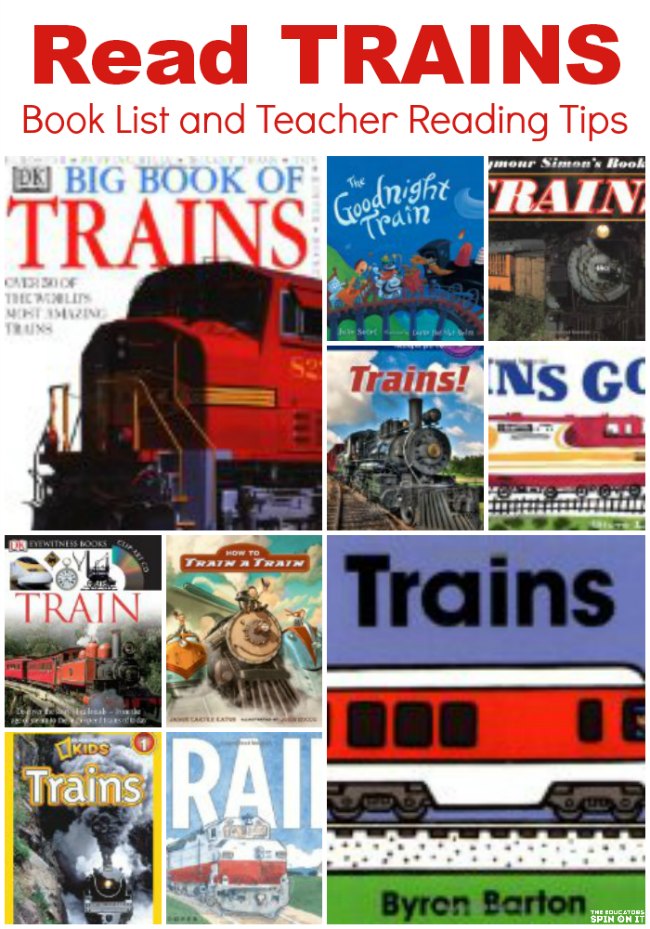 As a kindergarten teacher, I would read a variety of fiction and non-fiction literature out loud to the children in my classroom on a daily basis.  Studies have shown that there are numerous benefits to reading out loud to your children including language, word knowledge, rhythm of words, and a caring bond with the care-giver.  As a parent, I try to apply this same philosophy in our home, by purchasing or checking out from the library an assortment of both fiction and non-fiction text.  It is important to read a variety of different books with your kids!
Don't forget to talk about the story and pictures as you read.  Make predictions. Ask questions!
Fiction Books Train Books
Amazon Affiliate Links
Although you see a set of Thomas books for little ones in the list above, I am NOT a Thomas the Train book fan.  Sorry to offend those of you who enjoy them, but I find them dry, long winded, and not witty.  We owned several and just passed them on for someone else to enjoy, because I didn't like them.  The board books, however, weren't all that bad.  Short, sweet, and to the point, not great literature (In My Opinion) but ok for ADDING to your train book stash.  PLEASE, even if you love Thomas the Train books, read some other train books with your children as there are truely some AMAZING stories about trains that you don't want to miss.
Non-fiction Books Train Books
My 2 oldest children LOVE learning about trains.  Trains are a great topic to introduce your children to using a non-fiction text.  We actually own 5 out of the seven pictured books in this section and read them often!  I keep them in the wooden train storage bin for easy play extensions.  See if the books you choose have a glossary or an index.  Grab a fiction and a non-fiction story about trains and compare the two.  How are they similar? How are they different?  What clues tell our little readers that they are reading real information, and not a made-up story?  These conversations are important in developing reading skills.
I like to combine books with learning activities!  Read a book, do an activity.  This will enrich and extend your child's reading experience. Stop by these 3 posts for some learning activity inspiration.