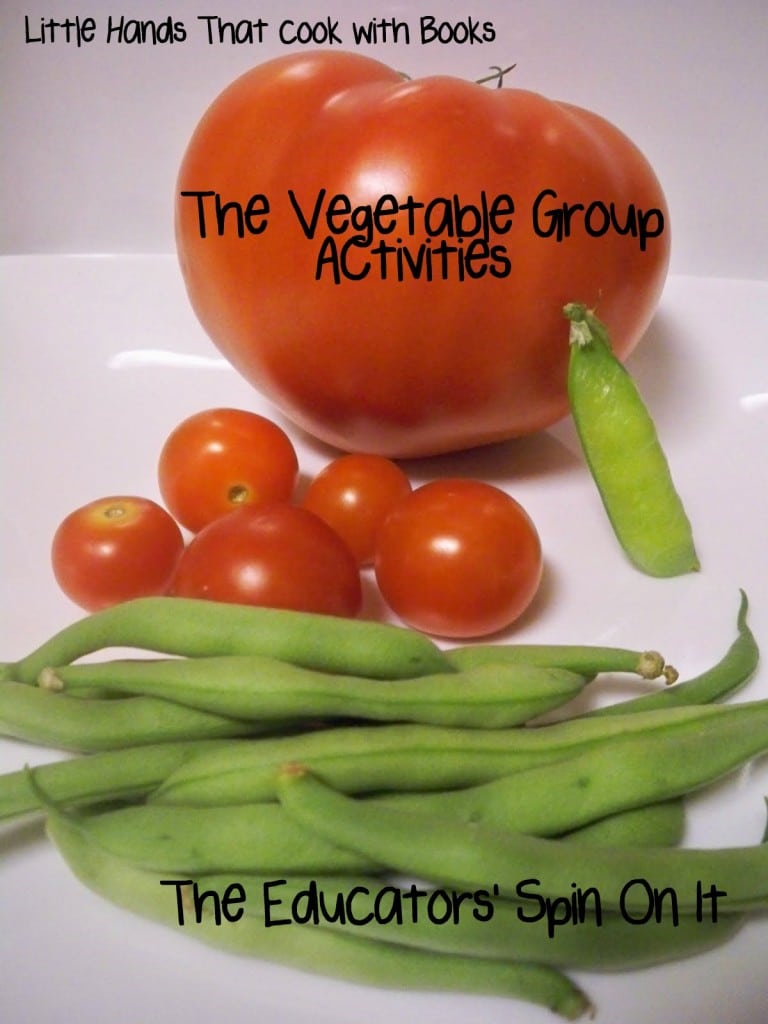 Let's Eat the Vegetable Group
We're learning about Vegetables this week and how important they are for our bodies.  Did you know that you should fill half your plate with vegetables every time you eat?  What are your favorite vegetables?  Do you know how they grow.?  All questions you should be asking your children as they shop with you, cook with you and eat with you.
We Like Vegetable
(sing to the tune of "Are You Sleeping?")
Do you like veggies? Do you like veggies?
Yes, we do ! Yes, we do !
Tomato and spinach
Potato and carrot.
Yum, yum, yum, yum
Yum, yum, yum, yum
After singing you can substitute different vegetables into the song ie. broccoli, cauliflower, peppers, cucumbers, radish, peas, corn, anything works.
We started out our lesson asking these very same questions and by reading these books.  Once we were done we made a list of all the vegetables we read about.  We talked about our favorites and also new ones that we want to check out at the grocery store and farmer's market.  We took out a variety of real and plastic vegetables from our Play Kitchen and sorted them with the word cards too.  I'm always trying to encourage literacy into everything we do.  We even made a list of what we want to grow in our garden when it's time to start planting with Amanda's post last week.
Here are the Vegetable Books we Recommend
Oliver's Vegetables by Vivian French

From Seed to Plant by Gail Gibbons

Up, Down, Around by Katherine Ayers

The Vegetables We Eat by Gail Gibbons

Growing Vegetable Soup by Lois Ehlert


We had fun making our very own vegetable soup and posted about it.  Make sure to try it out with your children!  Here's the link…
Little  Hands that Cook: Alphabet Soup
We made  a modified  version of Veggie Pizza from Pillsbury for our Cooking Class Recipe
Vegetable Pizza Snack
INGREDIENTS
1 – Pillsbury® Big & Buttery Refrigerated Crescent Dinner Rolls 12 oz (8 ct)
1 (8 ounce) package fat free cream cheese, softened
1 cup fat free sour cream
1 package dry Ranch Dressing Mix
Finely chopped fresh vegetables of choice zucchini, mushrooms, green peppers, green onions, tomato
DIRECTIONS
1 Preheat oven to 350 degrees F (175 degrees C). 2 In a lightly greased 9×13 inch pan or 13 inch round pizza stone, arrange the crescent roll dough in a single layer. Pinch together the edges of the dough. Bake for 12 minutes, or until it becomes a golden brown crust. Remove the crust from the oven and allow it to cool. 3 In a medium bowl, mix together the cream cheese, sour cream and dressing mix. Evenly spread the cream cheese mixture on the crust. Sprinkle veggies on top of the cream cheese spread. Refrigerate for 30 minutes to allow the spread to thicken. 4 Cut the chilled pizza into wedges or squares with a pizza cutter to serve.
Directions  for Kids
1. Spread the dough onto the greased pan (Let grown up bake crust)
2. Mix together the cream cheese, sour cream and ranch dressing
3. Cut vegetables up using a butter knife (remember safety first)
4. Then spread the ranch mixture onto the cooked crust
5. Sprinkle on the vegetables
Do you eat 5 a Day?
Printable Food Tracker for 5 a Day
We've been tracking our fruits and vegetables on our fridge this week.  It's really a challenge to get 5 Portions a day into my little ones unless I really plan it out.  Below I listed how much a portion really is.  I'm the first to admit I didn't know any of these and researched them online.  I thought maybe I might not be the only one, so I saved you the time in looking it up.  This list came from http://www.healthy-eating-made-easy.com/
Vegetable Coloring Page
Vegetable and Fruit Matching Game from Crayola
PLAYTIME Set up a Vegetable Stand. Provide the children plastic fruits, a cash register, play money and bags. Create name cards "seller", "buyer" and "cashier" for children to wear around their neck. Encourage the children for buy, sell and pack the vegetables. The children can take turns being a buyer, seller or cashier.  Use the vegetable labels that you used during the lesson for your child to incorporate literacy.
For more Food Resources
http://www.enchantedlearning.com/themes/food.shtml
http://preschoolalphabet.blogspot.com/search/label/Vegetables
Food Portions for Children
Last week I posted about the Fruit Group and My Plate with Little Hands that Cook.   We also learned about how "My Plate" should look with each food group.  Here's another site.
WebMD is a great site for health resources.  Here's what WebMd had to say about portions with children and how they vary from Ages.
School Ages
For Preschoolers
For Babies and Toddlers
Are you trying to get more Vegetables into your Little ones and let's face it the whole family?  Here are some great books I've used over the year to help you out.
The Sneaky Chef by Missy Chase Lapine


Deceptively Delicious by Jessica Seinfield

Healthy Eating Made Easy  recommends the following…
What Does Five a Day Look Like?
For pre-schoolers and younger children, be guided by your child's appetite. You'll be doing well if they have four or five servings a day. A typical portion for a young child might be:
1 small whole fruit, like a plum
½ a larger fruit, like an apple or orange, chopped or sliced if necessary
2 tbsp (1/2 cup) strawberries or other berries
8 grapes or cherries (remove stones)
1-2 heaped (1/2 cup) tbsp cooked vegetables
small handful carrot or other vegetable sticks.
Serving Sizes for Kids Ages 2-6
http://www.healthy-eating-made-easy.com/fruit-and-vegetable-servings.html
VEGETABLE SERVINGS: SIZES
Asparagus, canned 7 spears
Asparagus, fresh 5 spears
Avocado Half
Aubergine One-third of a large one
Baby sweetcorn 6
Baked beans 3 tbsp (1/2 cup)
Broad beans 3 heaped tbsp (1/2 cup)
Broccoli 2 large florets
Brussels sprouts 8
Cabbage 3 heaped tbsp shredded, (1/2 cup)
Carrots 1 large
Celery 3 sticks
Cherry tomatoes 7
Chickpeas See Pulses
Courgette Half a large one
Curly kale 4 tbsp (1/2 cup)
Eggplant One-third of a large one
French beans 4 heaped tbsp (1/2 cup)
Kidney beans See Pulses
Lentils See pulses
Mixed salad Cereal bowl full (1 cup)
Mushrooms, button 14
Onion 1 medium
Parsnip 1 large
Peas, fresh, frozen or canned 3 heaped tbsp (1/2 cup)
Potatoes Never count towards your daily vegetable servings, in any form
Pulses, cooked: kidney beans, chickpeas, lentils etc 3 heaped tbsp (1/2 cup)
Salad leaves, lettuce etc Cereal bowl full (1 cup)
Scallions 8
Snowpeas Handful
Spinach, cooked 2 heaped tbsp (1/2 cup)
Spring onions 8
Sugarsnap peas Handful
Sweetcorn, fresh, frozen or canned 3 heaped tbsp (1/2 cup)
Tomato 1 medium
Vegetable soup 1 serving of fresh or canned soup
Vegetable sticks Handful of mixed – celery, pepper, carrot etc
Zucchini Half a large one
Here's Our Fruit Group Lesson and Serving Sizes too
Hope your little ones enjoy learning about Vegetables!   One of the best ways to teach your children about vegetables is by creating your own garden. Here are some helpful tips from The Educators' Spin On It about creating a Learning Garden with your Kids.
Balanced Eating Fun Series with Little Hands that Cook with Books!