Giant Pattern Blocks are great for teaching math through movement.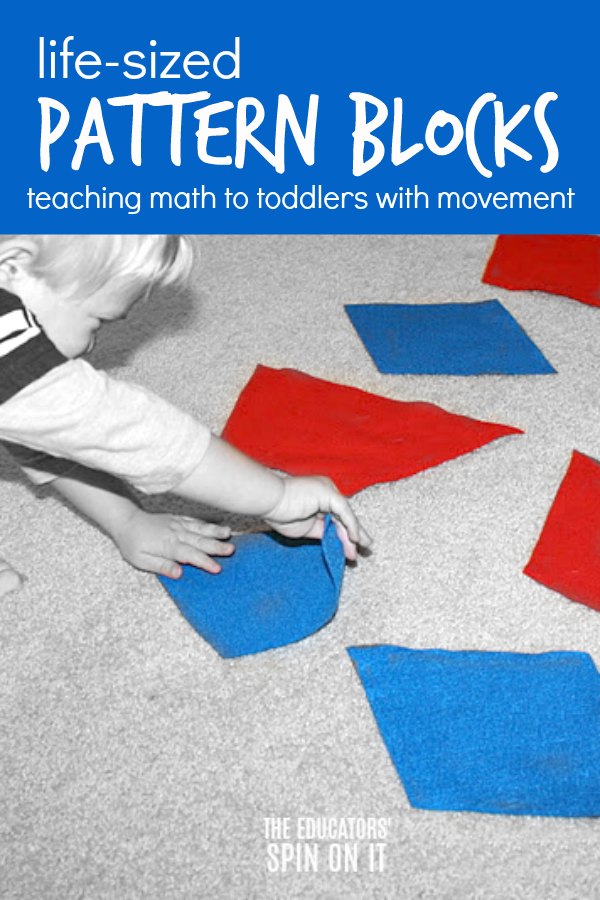 I love pattern blocks! The little wooden ones that you can make pictures with, sort by color and shape, teach patterning, symmetry, fractions and more.
In fact, I think with just this one manipulative, I would be able to teach most of the kindergarten and first grade math curriculum. They are versatile, easy to use, take up a small space, and are fun to use!
My tot, however, is not quite ready to manipulate these tiny pieces of wood with ease and they won't help him be active. When I saw this post, I was immediately inspired to create a giant version of pattern blocks that would be affordable, easy to use, and not take up a bunch of space.
I'm not sure really how my brain took the concept of sensory steps to giant pattern blocks, but it did. =)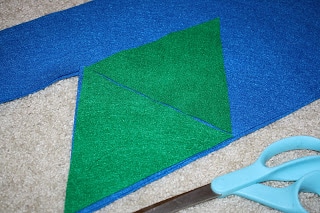 Disclosure: This post contains amazon affiliate links.
Giant Pattern Blocks with Felt
This set was made with craft felt from the bolts at the fabric store.
I cut the cost down by using 40% off coupons.
Winlyn Felt Sheets 12″ x 8″ Set 45 Colors Felt Sheets
The first thing I did was make an equilateral triangle.
Using this pattern, I cut green triangles.
Then, I put 2 green triangles together to make the pattern for the blue diamond.
I put 3 green triangles together to make a pattern for the trapezoid.
I put 2 trapezoids together to make the pattern for the yellow hexagon.
I then made orange squares.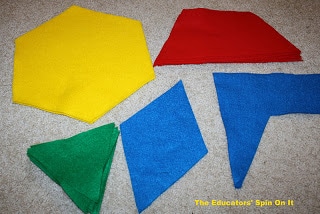 We spent 2 days just playing with the giant pattern blocks and exploring how they went together. The kids built pictures and flung them around the room in undirected play.
In my years of teaching, I have realized that kids must have an opportunity to interact with the materials and explore how they work and move before teacher (or parent) directed instruction can occur effectively.
My five year old got the connection between the giant pattern blocks and the smaller wooden ones immediately.
I will be working on different math concepts with her using these pattern blocks that are better suited to challenge a grade schooler (more on that later!).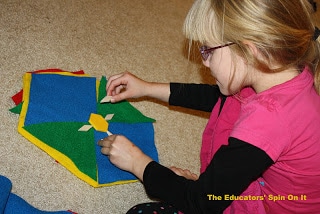 With my tot – I wanted to start out by using them to teach colors, shapes, and simple patterning through movement.
First, we built a bunch of AB patterns like the one pictured below. AB patterns are the simplest to copy, extend, and make.
This one can be read, "red, blue, red, blue, red, blue," or "diamond, trapezoid, diamond, trapezoid," (or in your second language – if you are teaching your child one.)
We would build them together and I would have him run from the pile of shapes to the end of the pattern.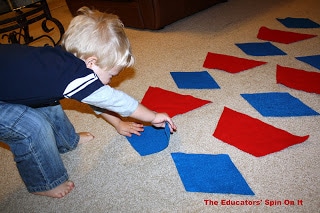 Then, when our patterns were built, we would hop, skip, or run on them while saying the colors or shapes. After a couple days of this, we started to get fancy!
We started handing out challenges to special shapes. The yellow hexagon has been assigned the task to"lay down" if you step on it.
Now this makes for a TON of movement and laughter while learning the basic math concepts. For some reason, this task has lasted all week and now I can just set the hexagon on the floor and both kids lay on it (me too!). I am sure if anyone saw us, they would be laughing too!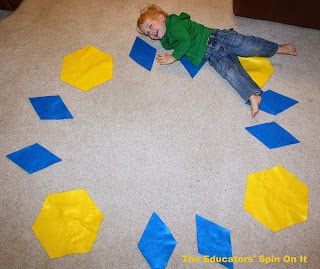 So, for less than $10, a trip to the fabric store, and a little effort, you too could be learning and moving with these giant felt pattern blocks!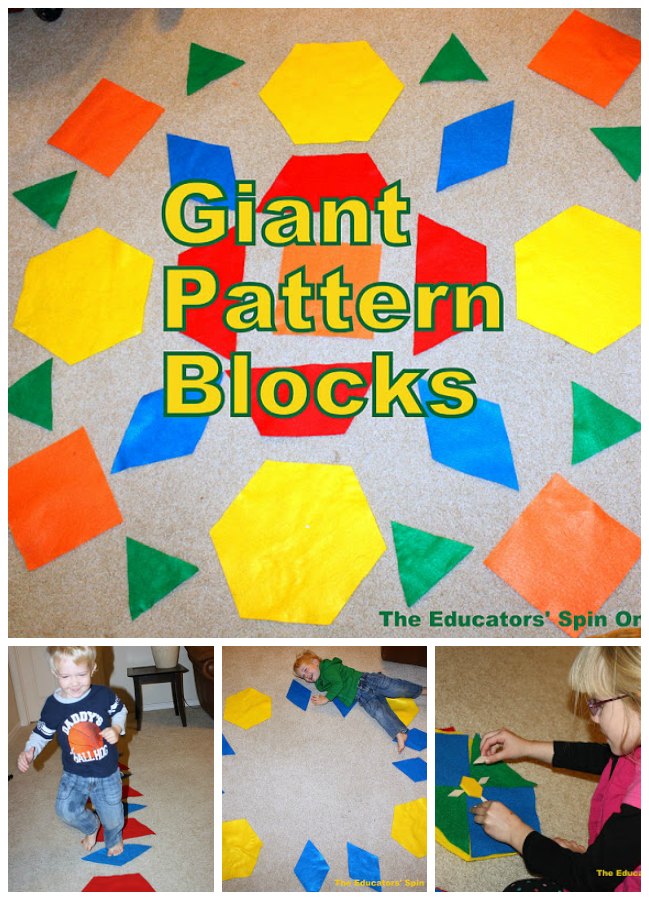 PS – you can buy Giant Foam Pattern Blocks from several stores online, but they are not as easy to walk on, take up more space, are more expensive, and you cannot fold them =)
Learning Resources Giant Magnetic Pattern BlocksSave
You may also like these shape activities for kids…