As your child begins to read it's important to check their reading comprehension skills as they are reading a book. I will confess that my daughter is a pretty good reader at 5 years old. However she had me a bit fooled that she was comprehending more of what she was reading. I recently discovered this more when we sat down and read the book Matthew's Monsters by Stephanie Sisler and illustrated by Kyle Grzelak. This book is designed just for this specific purpose to encourage your children to visualize the text as they are reading it to fill in the missing pieces. It's a hands on reading experience. It's a fun interactive book that allows children to even color in the pages as they read the text. Here's a sneakpeek of the book. You can find out more about Matthew's Monsters on their website at Creative Reading with Kids or on Facebook to purchase your own copy.
Matthew's Monsters for my child's age was a very interactive book that required adult interaction. Reading it together was fun to sit and work on it together. I think it's important to remember that even though your child reads very well you need to sit and ask questions about the text as they are reading. I knew she loved the book once we were done because she immediately wanted a sheet of paper to create her own Monster with his own details that she independently wrote down.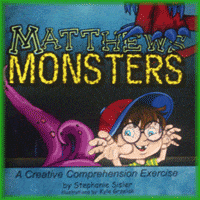 We received the book for review but the thoughts and opinions are entirely our own! We encourage you to check out their website. If you're interested in purchasing Matthew's Monsters by Stephanie Sisler make sure to mention The Educators' Spin On It in the comment box at the end of your order, then you will receive a FREE set of Color-Yourself Matthew's Monsters greeting cards which feature all the monsters in the book and allow your child to add the adjectives in the text inside the card!
As you know with many of our Afterschool Express Posts we enjoy spending a week learning with a theme. We had fun as we collected a Monster themed activities to do after school. There are monster activities for art, language, numbers, fine motor and even dramactic play! I know your child will enjoy these Monster Activities too!
Monster Activities
How to Create an Ink Monster by The Chocolate Muffin Tree & Stories and Children
Make your own Monster Poem by Lancashire Grid for Learning
Monster Lids by Crafts By Amanda
Monster ABC's App Review by We Read Better
Monster Word Search by Creative Reading for Kids
Monster Number Game by Mom to 2 Posh Lil Divas
Monster Number Cards & Puzzles by Over the Big Moon
Shape Monsters by House of Baby Piranha
Monster Playdough by Crafts~N~Things for Children
Watercolor Monsters by Deep Space Sparkle
Monster Handprints by Meet the Dubiens
Monster Dressup Tutorial for Dramatic Play from Fiskars & Red Ted Art
Felt Monster Game by Nifty Thrifty and Thriving
Kindergarten Homeschool Monster Pack from Homeschool Share
Monster Crayon Holder from The Iowa Farmer's Wife
Make a Monster Playdough from The Iowa Farmer's Wife
Reading Comprehension Strategies
Printable Handout Reading Comprehension Strategies from Scholastic
Printable Parent Letter and Checklist from First Grade Factory
Seven Strategies to Teach Students Text Comprehension from Reading Rockets