Your preschooler can practice fine motor skills with this adorable paint resist toy boat art project inspired by our favorite boat books for kids.
Ahoy there! It's the theme of BOATS at our Weekly Virtual Book Club for Kids
A boat theme can be so much fun with your preschooler. There are so many fun books and imaginary play ideas that they will adore.
Plus you can sneak in some learning with games likes this Pool Noodle Alphabet Boat Matching Game or Sight Word Boat Races.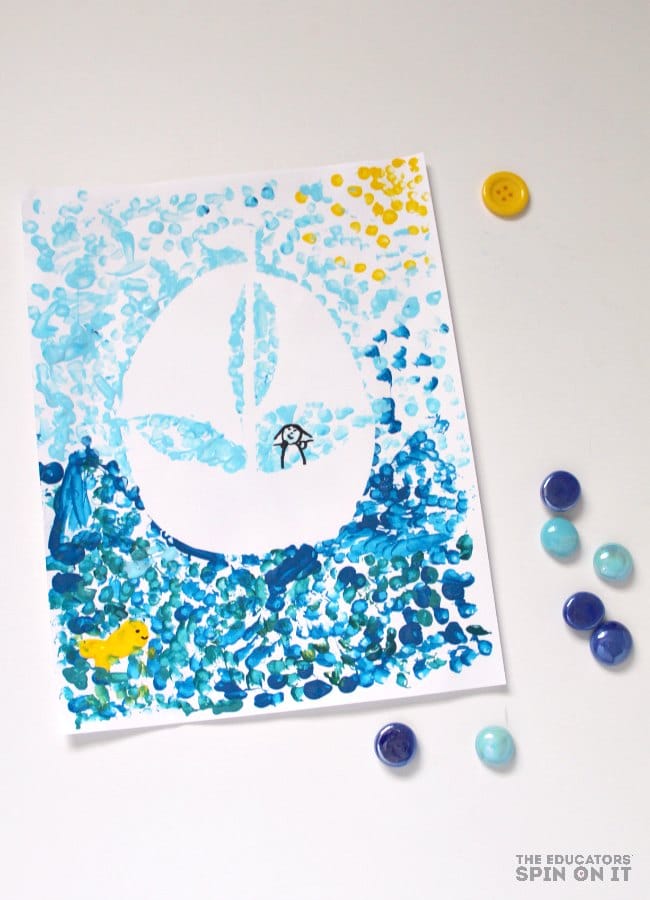 This post contains affiliate links to amazon.
Toy Boat by Randall de Seve
Sail Away (Rise and Shine) by Donald Crews
Paint Resist Toy Boat Art Project
Your child to work on their fine motor writing skills with the paint resist toy boat art project, plus create a gorgeous piece of art to create as a keepsake for this special book Toy Boat by Randall de Seve.
It just takes a few materials from around your house to make with minimal set up! Let's get painting!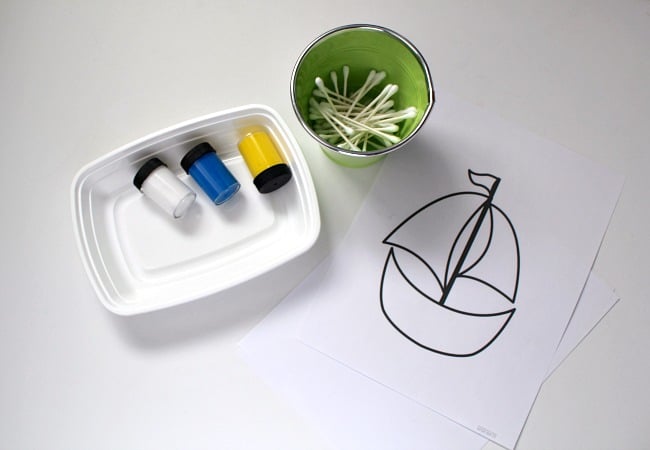 Materials Needed for Toy Boat Art Project
Paint (Blue, White, Yellow)
Cotton Swabs
Cotton Balls
2 sheets of Plain White Paper
Scissors
Tape
Paint tray for mixing colors of paint
Book: Toy Boat
Directions for Paint Resist Toy Boat Art Project
1. Print out the outline of the toy boat OR drawn your own on a sheet of white paper.
2. Cut out the outline of the boat and attach it to a separate white sheet of paper with small pieces of tape below.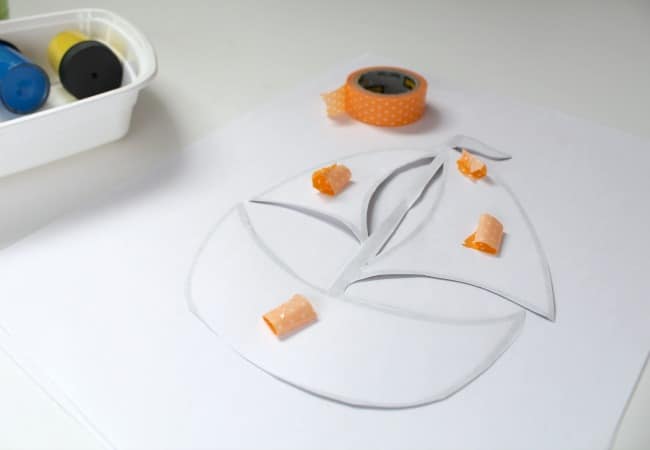 3. Place paint onto the paint tray. The goal is to create different shades of blue and blue green for the ocean colors. Create different shades of very light blue for the sky.
4. Have your child start with the yellow paint to create the sun in the sky by placing the cotton swab into the paint and dabbing it onto the paper.
5. Now move onto where you want the ocean and skyline to meet, around where you've taped the toy boat. Start with the darker blues and blue greens to create the ocean and waves.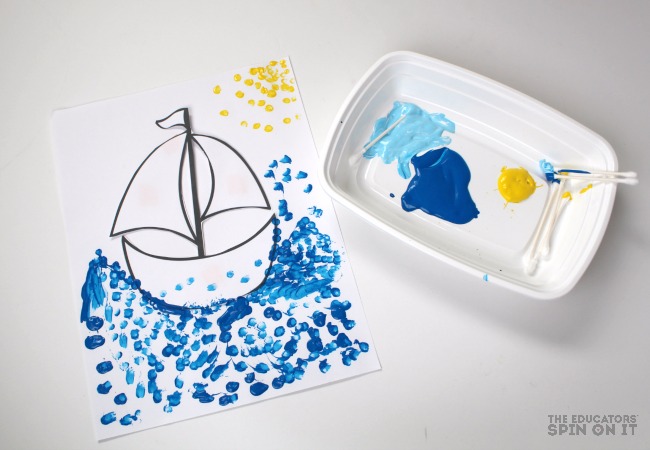 6. Next once the ocean is complete move to the sky and use a very light blue to create it. Just dab the cotton swabs into white paint mixed with blue.
7. Now that you've made the ocean, waves and sky you can create your clouds! Use just white paint and a cotton ball to create a few clouds in the sky above the toy boat and ocean waves. Allow to dry.
8. Once all of the paint is dry it's time to reveal your paint resist toy boat by removing the sailboat that you taped onto the paper at the beginning. Carefully pealing it away you'll see that after all of the dabbing with the cotton swab of blues you've created a beautiful outline of the toy boat using a technique called paint resist.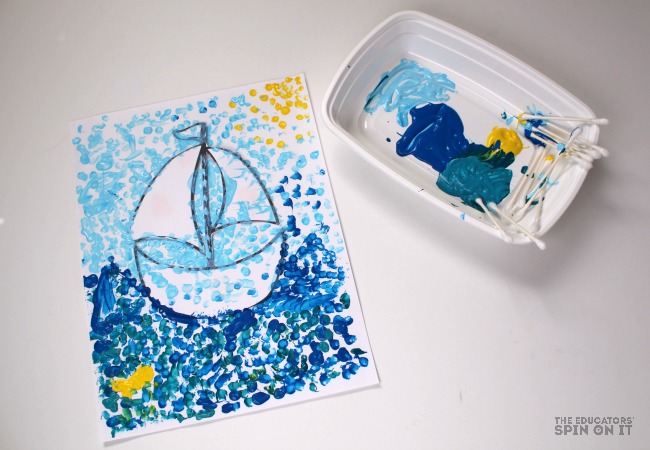 9. To add a little customization you could draw in a self portrait on the boat, just for fun.
For more book themed ideas be sure to join our Book Newsletter!
There are some adorable boat books for kids that go along with this the Toy Boat by Randall de Seve. One of my favorites is the Ten Little Ducks by Eric Carle.
Boat Themed Books for Preschoolers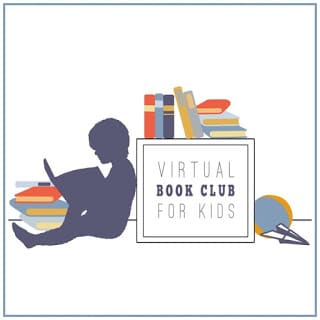 Here are a few fun ideas all about Boats for you to do with your child too. Go check them out below after you make your Toy Boat Art Project.
Boat Themed Activities for Preschoolers
CLICK HERE FOR MORE BOAT ACTIVITIES featured at the Virtual Book Club for Kids.
We'll be sure more boat themed activities in the Weekly Virtual Book Club for Kids Facebook group plus you can share your boat ideas too.
Join 9000 Moms sharing their book fun with their child HERE.