Plan your PLAYFULPRESCHOOL learning week with the amazing ideas from our fellow kids activity bloggers. I know my preschooler is going to love the trying out the fire rescue number game outside and testing the strength of corrugated cardboard bridges!!!!
These articles were shared with us on the Educators' Spin On It Facebook Sharing Days.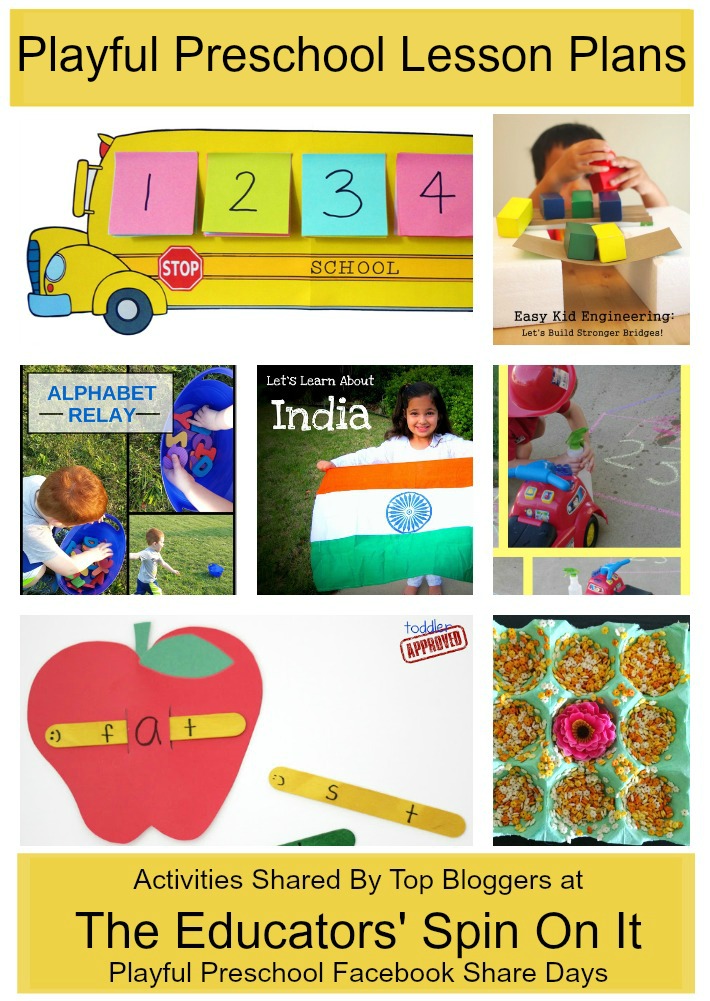 * Articles pictured in the above collage are starred with *
Thank you to all the bloggers who generously share with parents and teachers their ideas!
A Week of Playful Preschool Learning Activities
It's all about STEM for us this week. A single wood board has sparked a whole new level of play and learning. It has been a balance beam, a ramp for car races and even part of a guinea pig obstacle course.I love how such an every day object has sparked so many learning opportunities.
So, without further adieu – here are my Playful Preschool activity picks for this week! Included in each preschool week lesson plan are preschool reading and math activities, hands on science and social studies lessons for preschoolers. These activities are great for parents, teachers, and homeschoolers to do with preschool children between the ages of 3 and 5.
If you are looking for a support group for homeschooling your preschooler – consider joining our Virtual Homeschool Group. More Information can be found here.
Preschool Science Activity:
Building Cardboard Bridges from Pink Stripey Socks*
Preschool Reading Activity:
Short Vowel Apples from Toddler Approved*
Alphabet Relay from Mom Inspired Life*
Preschool Sensory Activity:
How to Make a Sensory Bin from Amanda at The Educators' Spin On It
Preschool Social Studies Activity:
Let's Learn About India with Kim from The Educators' Spin On It*
Preschool Art Exploration Activity:
Exploring Patterns and Symmetry with Wugs and Dooey*
Preschool Math Activity:
Negative Snake Game (This takes some thinking) from Montessori on a Budget
School Bus Sorting from Tot Schooling*
Fire Rescue Number Game from Creekside Learning*
Preschool Movement & Music Activity:
Move and Graph Charts with Pink Oatmeal
Undersea Yoga with Kids Yoga Stories
Want Even MORE Preschool Lesson Plans?
Don't miss the other posts in this series!
There is also 6 WEEKS of FREE PRESCHOOL Activities here
Use the hashtag #playfulpreschool to connect with other like-minded parents and teachers.