Are you considering homeschooling your preschooler this year?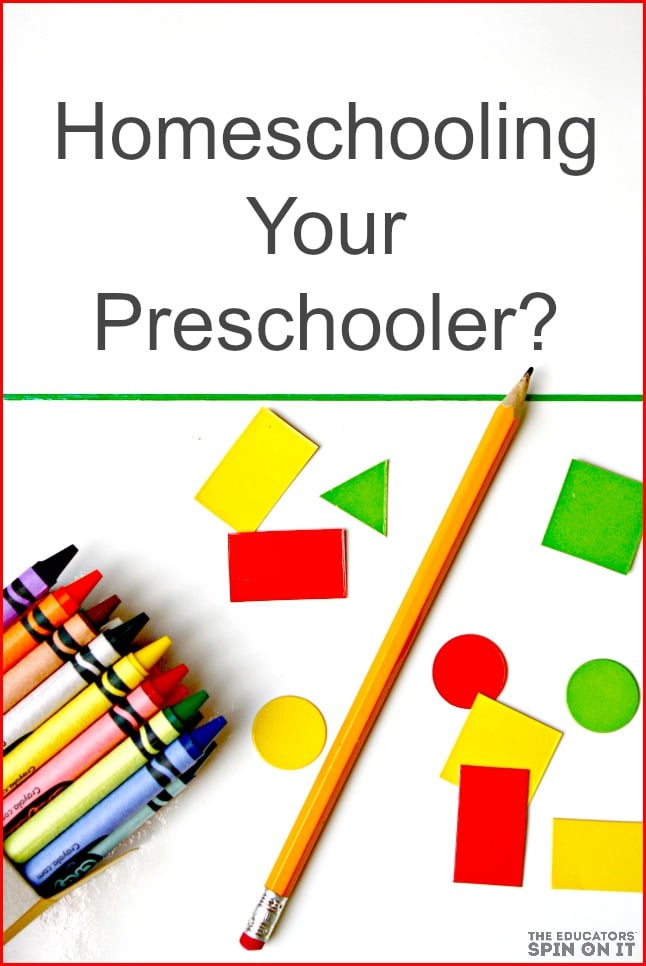 Homeschooling your preschooler means that you are going to be providing educational opportunities for your child to learn and grow daily.  It means that you are making a choice to educate your child between the ages of 3 and 5 outside of the public or private school system. Homeschooling most often takes place in the home environment by a parent or trusted care giver.
Questions Parents Often Ask about Homeschooling their Preschooler
How do I start homeschooling my preschooler? 
I will be Homeschooling my Preschooler this Year.
My son will be 4 ½ this year.  He is an energetic, hands-on, climb the wall kind of kid.  Although he can test my patience at times, he can also be the sweetest, most kind-hearted kid I know.
At three years old, he refused to count past 2. Saying 1, 2, and many.  It was sooo frustrating.  He wanted NOTHING to do with academic learning in any way shape or form.  So, I didn't push it, rather kept PLAYING!!!!
At 4 years old, he is now counting to 20!!! The other day he started counting out loud.  I started silently cheering him on in my head when he reached 14.  By the time he reached number 18 I was doing the happy dance.  At 20 – he got a great big smile and high five from me!
This year, my goal is to keep making learning fun!
My hope is to keep his interests in mind, while exposing him to art, music, math, movement, reading, writing, engineering, and the world.
I WILL plan, prepare, and do a minimum of one play-based, hands on educational activity every morning.
Free Preschool Learning Activities for Your Homeschool
This year, we are making PLAYFUL PRESCHOOL on the blog even more of a resource to you by teaming up with other bloggers to provide you with FREE thematic learning activities geared for ages 3-5 in all subject areas. Stay tuned for some amazing learning ideas!
We have gathered great materials from around the internet on our award winning Pinterest Boards.
We share activity ideas on our
Facebook Page
with our followers.
You can even sneak a peek into my every day life though Instagram
I'm not a perfect parent or a perfect teacher, I'm just trying my best every day!
Support for Homeschooling Your Preschooler – Now What Do I Do?
Sometimes it is nice to have a group to bounce ideas off of.  To help motivate you to be your best.  It's nice to hear what other parents are doing and what has (or hasn't) worked for them.  If you are looking for a preschool support group – this is it!
This year, I will be offering a support group to other like-minded parents who are also planning to homeschool their preschoolers. My teaching background may help you navigate academic and content area questions.  I have a Master in Reading Education K-12, B.A. in Elementary Education, National Board Certification, ESOL Endorsement, and classroom teaching experience.
My parenting background will help show you what homeschooling is really like (behind the scene pictures that you won't see on blogs). But the best resource will really be YOU!  That's right, you have awesome ideas and I can't wait to get to know you better. 
For the entire school year, you will get 9 months of homeschool support virtually for less than $1.00 each week from the comfort of your own home.  Stop by every day, once a week, or when ever you want too – it's all up to you!
This Membership is for the 2014 – 2015 School Year (September – May)
We will "meet" virtually in a PRIVATE Facebook group.
In this group, you will receive
Bonus learning activities
Teacher support
Weekly discussion questions
Troubleshooting & advice
Weekly teaching videos to watch with your child.
And a place to share your child's successes!
It is a virtual homeschool support group for parents of preschoolers with a focus on enriching our childrens' lives. (and to keep me on top of MY homeschooling preschool!)
***You will need a Facebook Account to join this community***
What are you waiting for?  Join us!
IMPORTANT NOTES:  
All INFORMATION WILL BE SENT TO THE EMAIL YOU USE FOR PAYPAL. PLEASE MAKE SURE IT IS THE CORRECT EMAIL YOU WOULD LIKE TO USE. NO EMAIL CHANGES WILL BE MADE ONCE YOU REGISTER.
Registration is via Paypal but you don't have to use a Paypal account to register. You can also just use your credit card. Please contact me with any questions regarding payment at amandaboyarshinov (at) gmail.com. Put PlayfulPreschool Virtual Homeschool Group in the Subject Line.