Meet Bear.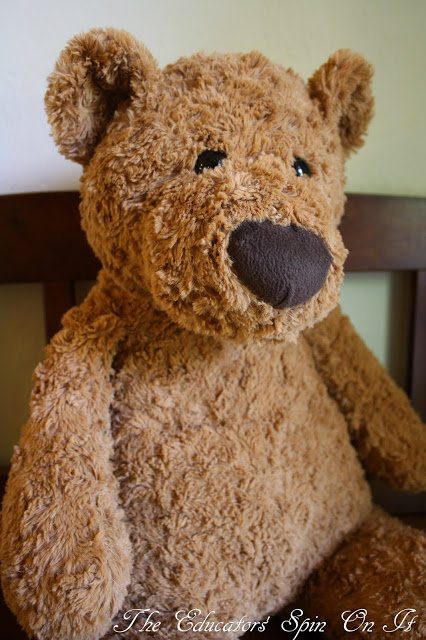 Avoiding Impulse Buys on Cheap Holiday Gifts
He is a 2 foot stuffed bear that was an impulse purchase for last year's Christmas.
He sat at the end of the register with a friend and a sign for $4.99. I need him, but I thought of how cute my brand new baby would look with this bear, a big red bow tied around his neck, sitting under the Christmas tree.
"Is it really only $4.99?" I questioned the registrar.
Yes, she said, "They are sooo cute. Are you going to get it?"
"Yes" I replied and handed the giant stuffed bear over.
"beep" went the scan,
"swipe" went my card and
Bear landed swiftly into a large plastic bag "crinkle".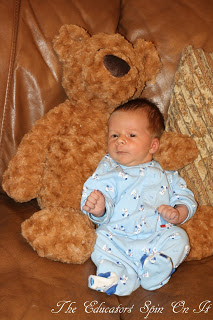 Let me tell you, Bear looked ADORABLE under the Christmas Tree and sat on my couch for 3 months. I started taking monthly pictures with my son and Bear. They both are way cuter in person!
By the third month, my older kids were playing with Bear, then ages 3 and 6 and they got the giggles.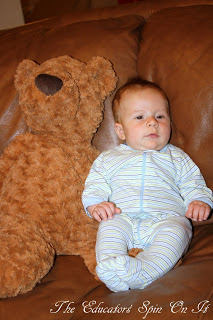 "Bear can poop like us." He he he they told me.
"What???" My eyes widened and then I looked. Sure enough, the stitching had come loose and Bear had a gaping hole from the bottom of his tail to… well his bottom. I grabbed a needle and some brown thread and sewed him back up.
Month 6 came along and Bear's head flopped. No matter how we moved the stuffing inside, there wasn't enough. His shoulder also had a large gaping hole where the stitching vanished there as well.
How can a toy only 6 months old be falling apart. As my baby grew, Bear shrunk. I got the needle and thread out again, only this time, brought some stuffing too.
We re-stuffed his head, neck, arms, legs and chest using stuffing from an old pillow, then I stitched up that gaping hole in the shoulder.
By month 9 Bear's stitching on his legs and arms were open and the stuffing was pushing its way out. My big kids asked if they could make him a heart of felt. How could I resist – Bear was already wide open. We tucked the heart inside and sewed him back up again.
It has now been 12 months since bear has been in our lives. He remains a constant on our couch. Our reading buddy and our snuggle buddy. All of his seams have been completely re-stitched with love and his re-stuffed stuffing still stays. We know he won't be around forever, but for now, we have mended his open wounds.
He has become part of our life and we enjoy his company immensely.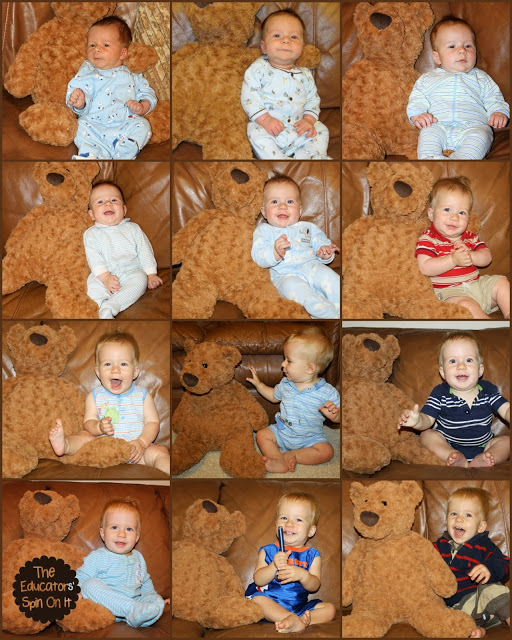 Bear sits on my couch, in plain view, a constant reminder to make conscious choices about the things we purchase for our household, for ourselves, and for our children. I should NOT have brought Bear home with me, for he was not made to withstand the love we were ready and willing to dish out to him.
I often think of the thousands of Bears' brothers and sisters that once sat beside him of the edge of the Toys-R-Us counters last December with large $4.99 price tags next to them. Are they limp necked, ripped seems, holes gaping, piled in landfills?
Or have they found loving homes who have regretted their impulse buys for a toy that was made not to last even 3 months.
With parents who want their kids to understand the true value of money, not just what is printed on the price tag. I sure hope that for Bears sake, the latter is true.
Bear did make it though my son's first 12 months here on this Earth, and because of him, we have learned many valuable lessons.
Bear's Lessons
Learn how to treat your belongings with respect and care.
If what you own breaks, take the time to repair it.
Basic sewing can repair many cloth items
What may seem like a good deal at first isn't always true.
Most times, you get what you pay for.
Resist the urge to impulse buy
Shop for handmade, well made if possible
No matter what the price, make sure you have space for it in your home and heart.
So as you shop for gifts this holiday season and throughout the year think of our well-loved Bear.
Be a conscious, well-informed consumer.
Stand strong against cheap and poorly made items.
Shop purposely, not recklessly.
And care for the things you buy so that they will last the year and more.
You may also enjoy these activities for your child…