Dive deep into these fun and easy ocean activities for kids of all ages! Explore these ocean crafts, learning games, books, songs, and more.
You'll find lots of hands-on learning and easy under the sea activities for preschool and kindergarten.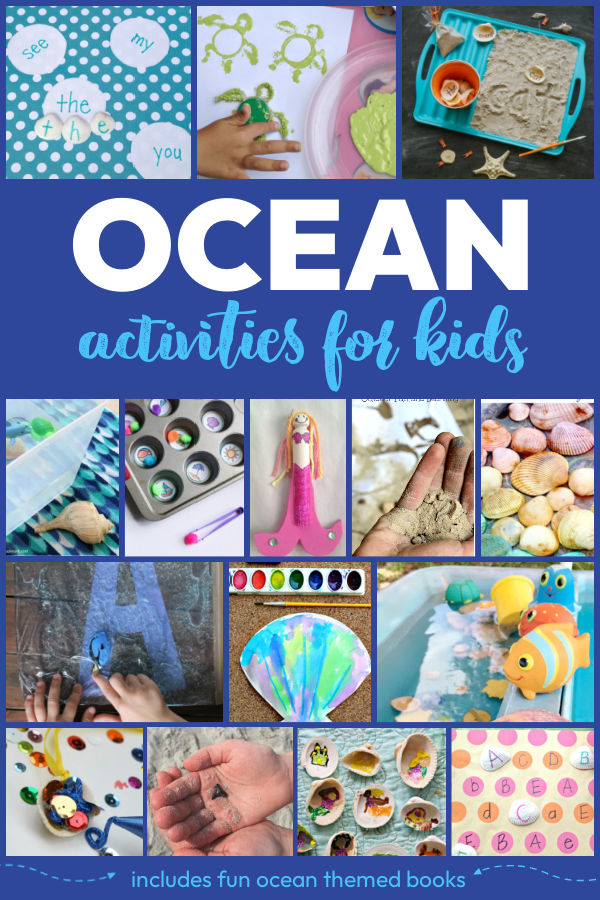 Disclosure: This post contains Amazon Affiliate links.
Fun Facts About the Ocean for Kids
The ocean is a vast and mysterious place, and it is important for kids to learn about it so that they can appreciate its beauty and diversity. The ocean covers over 70% of the Earth's surface, and it is home to a vast array of plants and animals.
The ocean plays a vital role in regulating the Earth's climate, and it is a major source of food and jobs for people around the world.
However, the ocean is facing a number of threats, including pollution, overfishing, and climate change. It is important for kids to learn about these threats so that they can take action to protect the ocean.
Here are some ways that kids can learn about the ocean:
Visit an aquarium or marine museum.
Go on a field trip to the beach or a tide pool.
Watch documentaries about the ocean.
Read books about the ocean.
Talk to people who work in the ocean, such as fishermen, scientists, or conservationists.
Kids can also take action to protect the ocean by:
Reducing their use of plastic.
Recycling and composting.
Conserving water.
Eating sustainable seafood.
Supporting ocean conservation organizations.
Overall, there are many reasons why kids need to learn about the ocean. The ocean is a vital part of our planet, and it is important for kids to understand its importance and how to protect it. By learning about the ocean and taking action to protect it, kids can help to ensure that the ocean will be healthy for generations to come.
Here are some fun activity ideas about the Ocean for kids to help them learn about it.
Ocean Activities for Kids of All Ages
Ocean scavenger hunt: Hide seashells, fish toys, and other ocean-themed objects around your house or yard. Give kids a list of items to find and see who can find them all first.
Ocean sensory bin: Fill a bin with sand, water, and ocean-themed toys. Let kids explore the bin and create their own ocean scenes.
Ocean art project: Make ocean-themed paintings, sculptures, or collages. Use seashells, sand, and other ocean-themed materials to create your masterpieces. There are endless possibilities for ocean-themed arts and crafts, such as making fish prints, seashell jewelry, and sandcastles.
Ocean story time: Read ocean-themed books to kids. This is a great way to introduce kids to the wonders of the ocean. Read books about sea creatures, coral reefs, and other ocean-related topics.
Ocean dance party: Put on some ocean-themed music and have a dance party. Let kids move their bodies and pretend to be ocean animals.
Ocean science experiment: Do an ocean-themed science experiment. Try making a saltwater aquarium or growing sea monkeys.
Ocean field trip: Visit a local aquarium or beach. Learn about the different ocean animals and plants.
Ocean playdate: Invite some friends over for an ocean-themed playdate. Play ocean-themed games, eat ocean-themed snacks, and make ocean-themed crafts.
Ocean-themed movie night: This is a fun way to relax and bond with your kids. Watch a movie about the ocean, such as "Finding Nemo" or "The Little Mermaid."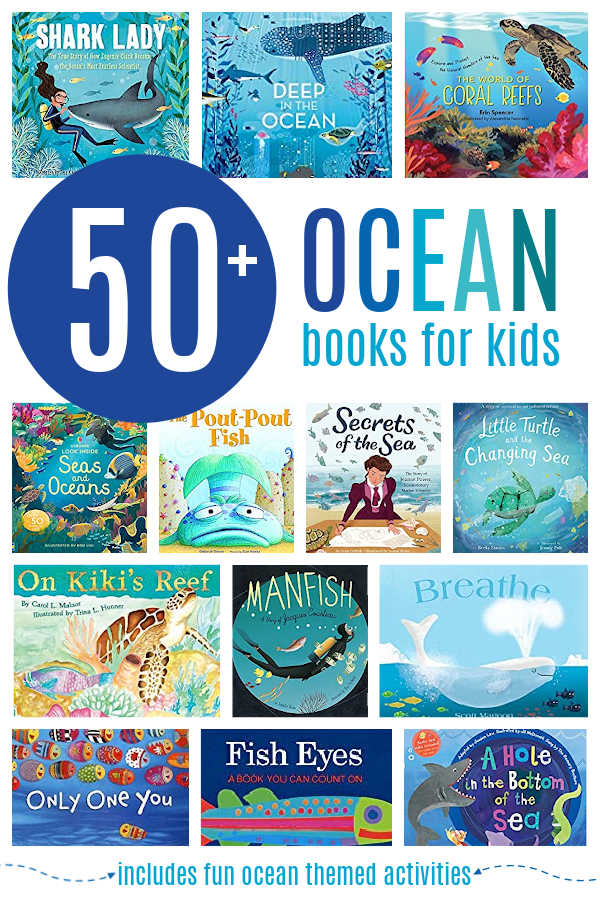 Ocean Books for Kids
To kick off your ocean fun and learning, you need to start with some great Ocean Books for Kids. There are so many options for ocean-themed books available. Start off with an animal your child loves from the Ocean and build from there.
You can even spend each day on one sea animal, or even a full week just with Shark Books.
Here's a list of our Favorite Ocean Themed Books to Explore:
Ocean Activities for Elementary Students
One of my favorite subjects to teach elementary students about is the ocean. Honestly, I wish we could focus on it throughout the school year with how important our oceans and ocean life is to our planet. I always tried to at least end the school year with ocean-themed activities in my classroom.
I strongly encourage parents to teach their kids during the summer with ocean-themed activities, it is such a fun theme, and really easy to find activities for it. Plus makes for a fun field trip to the beach or local aquarium!
Here's a peek at some of my favorite ocean activities for elementary students.
Sneak in some summer reading with this Summer Sight Words Game with Shells.
Add a little color to summer by learning How to Make Rainbow Shells.
Expand on your summer reading with this Storytelling Seashells Activity.
Make sight words even more fun with this Finding Dory Sight Word Sensory Bag.
Create a fun way to explore the ocean layers with this Ocean Zone Density Jar.
Time for a little summer art by painting a Watercolor Seashell Craft.
Create your own Ocean scene by painting with these DIY Sea Turtle Stamps.
With just sand and shells you can create your own Sight Words in the Sand Game.
This open ended summer art projects is so much fun by Making Sand Art with Kids.
This ocean playdough invitation with the free printable fish accessories is a simple sensory activity to set up for the kids, and a fun way to learn about the ocean, beach, and sea creatures.
Take a field trip virtually on one of our popular Ocean Virtual Field Trips for Kids.
Add a little summer literacy practice with this printable Ocean Muffin Tin Syllable Game.
At the beach or maybe even a local stream try Hunting for Sharks Teeth.
Make your own "Little Mermaid" with this adorable Clothespin Mermaid Craft.
Get wet with this fun Drip Drip Drop Outdoor Water Game.
Ocean Activities for Preschoolers
There are so many fun activities for preschoolers when it comes to the ocean. They are naturally drawn to learning more about ocean animals, which makes it that much easier. Explore ocean-themed alphabet and number activities together during the summer for hours of fun and learning.
Here are some of my favorite ocean activities for preschoolers:
Learn the letters of the alphabet by making a Swimming Letters with Dory Sensory Bag.
Host an Ocean Themed Playdate with these fun and easy ocean crafts and games.
Make a quick ABC game with this Alphabet Fun with Shells Tray.
Enjoy your favorite Disney Fish with a few Finding Dory Books for Preschoolers and Early Readers.
A House for Hermit Crab Activities
Ocean Activities for Toddlers
Learning Alphabet Letter Shapes with Goldfish
Ocean Attractions for Kids
One fun way to expand your learning about the ocean is to go on a field trip! Here's a few attractions that we've had fun exploring during our summer adventures.
Do you have a local aquarium or beach? If not you can take an Ocean Virtual Tour to one.
If you're able to head to the beach in person try these fun ocean activities!
Beach clean-up: This is a great way to teach kids about the importance of protecting the ocean and its wildlife. You can either organize a beach clean-up in your own community or join a larger event.
Seashell hunt: This is a fun activity that kids of all ages can enjoy. Simply head to the beach and see how many different types of seashells you can find.
Sandcastle building: This is a classic beach activity that is always a hit with kids. Be sure to bring along some buckets, shovels, and other sandcastle-building supplies.
Crab races: This is a fun and active game that kids can play at the beach. Simply draw a line in the sand and have the kids race their crabs to the finish line.
Ocean scavenger hunt: This is a great way to get kids exploring the beach and learning about the different types of plants and animals that live there. Create a list of items for kids to find, such as seashells, seaweed, shark teeth, and sand dollars.
Ocean Movies for Kids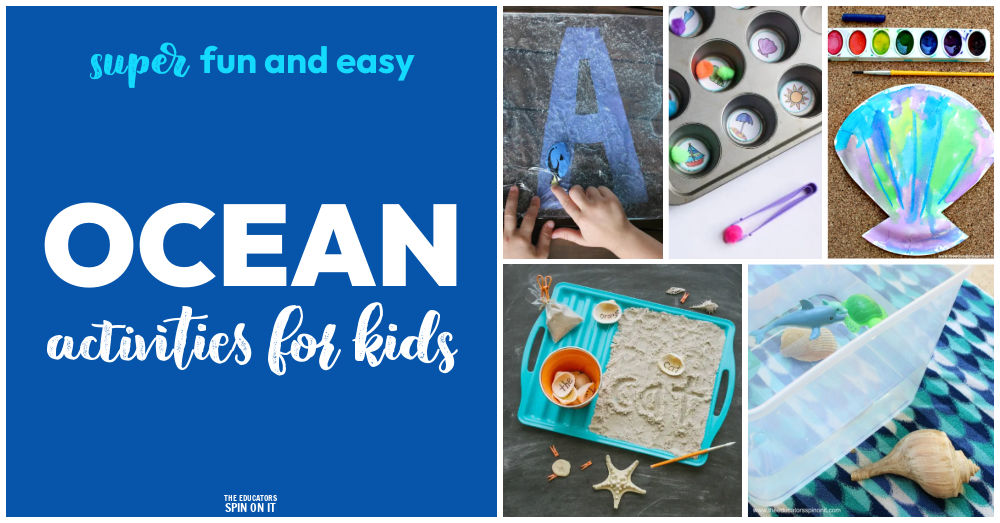 Ocean Songs for Kids