This is a sponsored post written by me on behalf of Tabtor. All opinions are authentic and my own.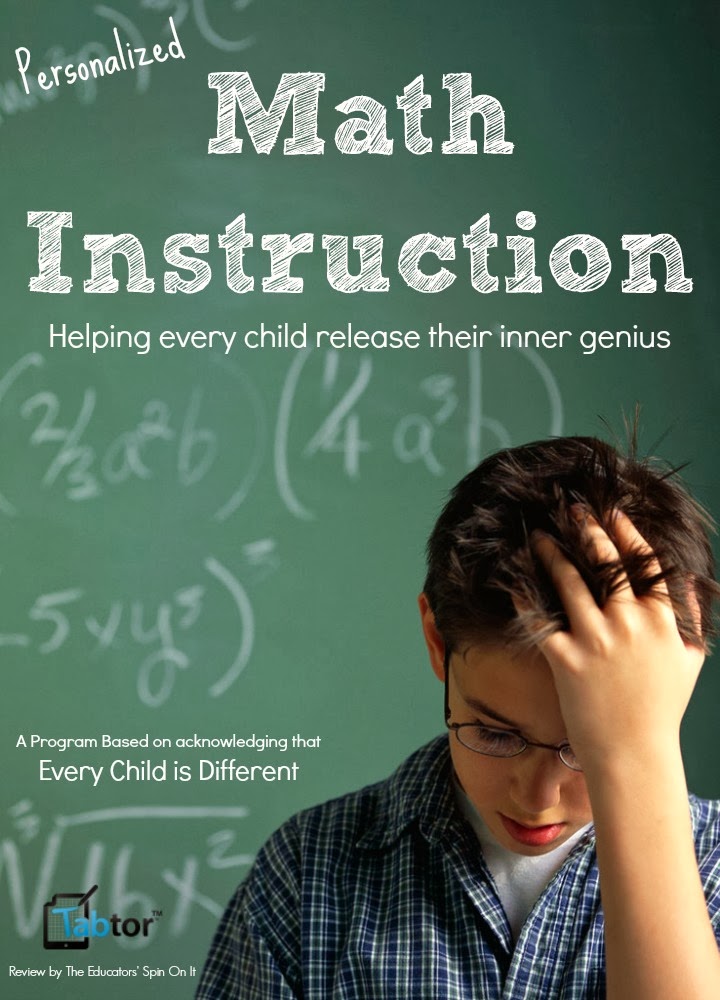 Personalized Online Math Tutoring Program
I'm often asked as a former teacher for ideas for supporting math at home for children. Sometimes it's because a child is struggling and also at times because a child is not challenged enough in school. Either way parents try to navigate the curriculum world trying to discover a good fit for their child.
That's why we created a Math Pinterest Board with over 200 Hands On Activities to share math resources onto. With a son who's done extremely well in school with Math I know that it's a challenge to keep them challenged at the level they truly are at and having fun with math at the same time.
Recently Tabtor reached out to me to take a look at their program with my 7 year old daughter. She's currently in a program at school that does keep her challenged and we were noticing it wasn't as much fun for her this school year so I was pleasantly surprised with how much fun we both have had exploring their program and the interest it's sparked in her with math again.
I've been a Math tutor in the past and I'll be honest it's not that much fun for the kids to have to sit through another lesson after school in a subject they already know is challenging for them but Tabtor takes it to a whole other level of interest and fun especially with the use of the Ipad.  
Plus you're not having to take your child back and both to a tutor. You still get that teacher's feedback to ensure your child is performing at they right levels that they should be to be the best benefit from the program. Take a peek at this video from Tabtor to see what I'm talking about.
Tabtor is a revolutionary tutoring service that provides more customization, instant feedback, and more personalization. This makes tutoring fun for the student and efficient, all at a cost and engagement-level parents love!
Personalization – Tabtor offers an extremely-personalized learning experience that is often not available in standard K-6 education. The Tabtor solution allows for customized worksheets for each individual student's needs, as well as a dedicated Tabtor instructor to maximize student engagement.  This includes specific instruction for those who struggle with math and problem solving skills – providing personalized attention in these areas.
Convenience – Via an iPad, Tabtor worksheets can be completed in the convenience of the students own home, during downtime at school, in the car, or even at a sporting event among many others. The Tabtor solution also eliminates the hassle of carrying around heavy practice workbooks, which are also environmentally wasteful.
Proof of Learning Analytics – Tabtor allows instantaneous grading feedback and guarantees 24-hour feedback to issues or questions. Providing comprehensive analytics, Tabtor can track every student activity – keystroke, penstroke, eraser, etc., to help teachers and parents understand student performance and potential intervention points. The analytics are so in-depth that they can tell instructors how long it takes a student to complete a problem and can identify key areas of struggle for the students Tabtor currently has 500 active students enrolled and students have shown a 20 percent improvement in just two months.
I really appreciate that Tabtor personalizes the math learning to each students particular needs and learning level. And when I signed up I was contacted by a real teacher within days to discuss any questions or concerns I might have had. Plus as they are completing the activities there is a built in reward system that really motivates them to do more keeping that level of interest High!

You can sign up to try Tabtor free for two weeks to see if it's a good fit for you and your kids. It's super easy:
Click on this link and fill in your first and last name, email address, and create a UserID and password.
Please note, during the 2-week free-trial, a dedicated instructor will contact the reader to discuss his or her child's progress
If you think Tabtor is a good fit for you, you can sign up through this link.
You may also find these math activities helpful for your child…