Summer has arrived at our house! Our last day of school was Thursday and now it's time to kick back and enjoy our summer days by the pool and with friends and family.
My now third grader will be at home with me for 10 weeks!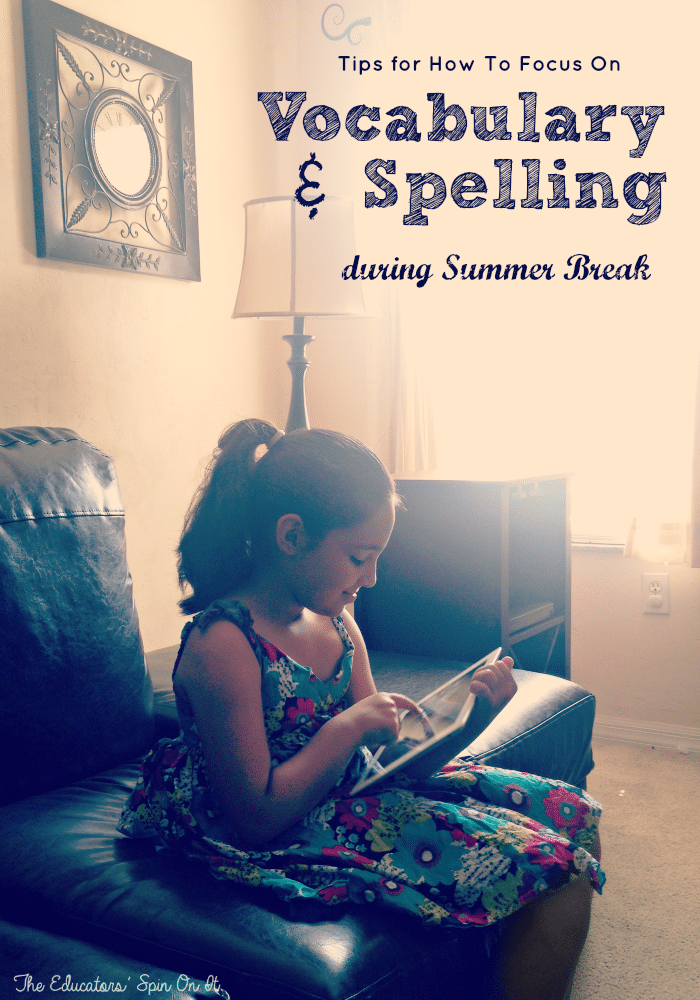 This is a sponsored post by VocabularySpellingCity.com.  All opinions are 100% my own. 
Join me on a little mental math adventure….
She's home for Summer 7 Days a Week for 10 Weeks, 24 hours a day.
That means she's out of school for 1848 hours. Let's say she sleeps for 10 hours a night, wishful thinking. We're now at 1048 of waking hours for nearly 3 months. Let's schedule at least 6 hours a day for fun play, creative activities and time with friends you are still left with 586 hours. We probably eat at least 2 hours a day with meals and snack I suppose.
So 432 hours left of WHAT? At The Educators' Spin On we have a few planned events…
Hmmmm that still leave me with_______.
Did you do the math there is still lots of open time in the summer to slip in a little focused learning.
Summer Spelling Program for Kids
Each summer I like to set goals with my children that are creative and fun. As a former teacher I also set goals that are academic. Summer Slide is real, when you are out of the school environment you do start to forget things. Here's our printable Summer Planning Guide.
Each summer we create a Summer Learning Board fill with this goals, even a word list to work on. Sometimes it can be a challenge to find the word lists your child should be working on.  We usually focus on the Dolch Word List but I know she needs more than just that so I usually pull ideas from her teacher.
I was excited that we were recently asked to test out a Summer Spelling Program online with Vocabulary Spelling City. The Summer Program is available for use up to Sept 15, allowing students the flexibility to work at their own pace. I love that it's available as an app so that we can use it during summer travels too.
I sat with my daughter as we explored the first few units of the summer program and together we had a lot of fun. She is excited to have this as a source for technology this summer. As a parent I love that I have an option to turn to that I've approved for Computer Games and even ipad app.
We are entering into the cursive handwriting phase and the best bonus feature is that allows you to print the words too!  
Here's a little bit more about this Summer Program and honestly why I feel it's worth paying $29.99 to invest in your child's summer learning.
What is the Summer Program with Spelling City?
It is an 8-week long structured program of weekly word study for students in 1st through 12th grade. Each daily assignment includes a new grade level appropriate word list and 5 learning activities. Although it can be used as a daily exercise, the program is self-paced, so kids can take vacation breaks, or choose to work at the pace they prefer.
The Summer Program has pricing options for families or schools which include:
Self Paced for Grades 1 thru 12
Summer Program includes 40 Customizable Assignments
Select Just Complete Grade Level or next year's Grade Lev
30+ Learning and Engaging Learning Activities online or App
My personal opinion as a mom and teacher…
This Summer Program was easy to set up and monitor my child's progress. Having word lists already created helped to take the burden off my shoulders of having to dig in and do the research of words for her grade level.
I loved that it kept track of what she was working on and how she performed for me to see. Plus I'm excited to know that those hours of time we have throughout the summer can be filled with something I know my child can benefit from.
Go Check it out to see how it could work for your child.
VocabularySpellingCity's Summer Program strengthens literacy skills and enriches summer reading activities!
You can find Spelling City On Pinterest, Twitter, youtube
Looking for more ideas for summer learning with your child? Try these…
BONUS: Make sure you stop by our Sight Word and Word Family Pinerest Board to get ideas for HANDS ON FUN with your child this summer. It's so important when learning new words!