A playful teddy bear picnic story writing activity to create with your child. The activity plan includes many fun teddy bear picnic ideas too.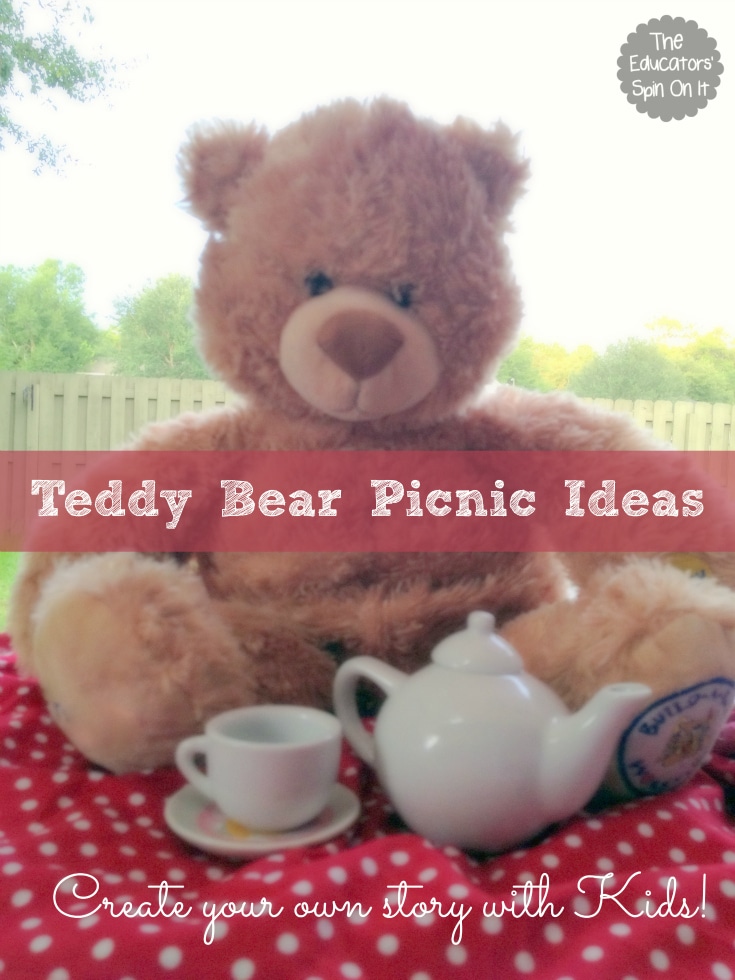 It's Forest Week at the Virtual Book Club Summer Camp!
I couldn't help but think of one of my favorite stories Where's My Teddy by Jez Alborough when I found out we were exploring the forest this week! It's a story about a little boy who has lost his teddy bear and ends up discovering a real bear's big teddy bear instead believes that his has grown far too big for him to hug and sleep with.
You'll never guess what the real bear discovers at the same time. It's such a fun story that your child will love.
Teddy Bear Picnic Story Writing Activity for Kids

Actually all three of the books about this bear and boy are a great find! It's the Bear and My Friend Bear are two more that are written by Jez with the same characters. You could spend a whole week with just bears in the forest if you really wanted to!
For our activity, we decided to create our own Teddy Bear Adventure from our Teddy Bear Picnic!
Teddy Bear Music and Snacks

First you gather a few Teddy Bear Songs . Then you bake some Teddy Bear Bread! Or make some bear claw cookies.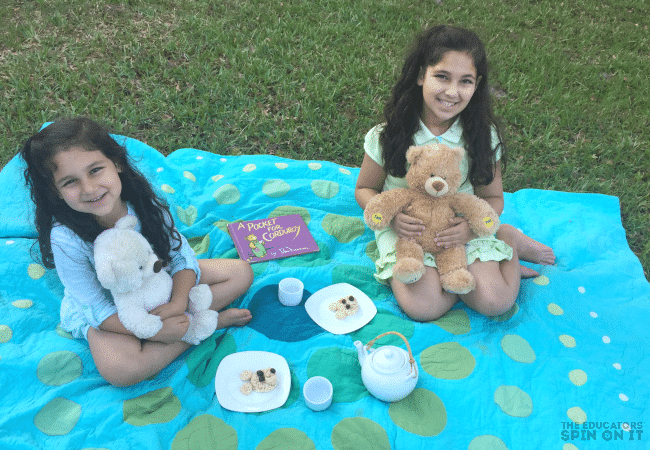 Teddy Bear Picnic Ideas

Now it's time for a special Teddy Bear Picnic! Gather your supplies for your Teddy Bear. We gathered our play kitchen toys and a few other toys and books for our bear and a special blanket to sit on. Now it's time to turn on your imagination! Allow your child to make believe, it may take some imagination from you for younger children to role model what to do.
Picture Time with Teddy Bears

Here's the fun part. It's time to take out your camera and take pictures of the bears and what they are doing. Here are some ideas of what our bears were doing!
Drinking Tea
Reading a Book
Talking on the Phone
Combing their fur
Playing a Game
Have your child or you, depending on the age, take pictures of the bears and what they are doing. Be creative!
Write a Teddy Bear Book
Then it's time to create your own book of bears! You can print out the images and then have your child write the story. For younger children, you can write the story together on your computer. It's a great way to build up writing skills and their imagination.
I can't wait to see what types of things your Teddy Bears are up to!
For more ideas for a Teddy Bear Picnic visit Ready, Set Read and her adorable Teddy bear Books!
We're sharing this activity on the Jez Alborough Virtual Book Club for Kids.
For More Teddy Bear Ideas explore these with your child
This post contains an affiliate link to Amazon.com for easy reference for the books.