Jez is the bestselling author and illustrator of the Where's My Teddy, Duck in the Truck and Hug Series,as well as many other modern classics for children. He's written over 30 books. Here are a few of our favorite Books by Jez Alborough.
It's always fun to get to know an author as you are doing an author study. Here are a few videos of him personally sharing how he writes a book. It's such a fun way to inspire future authors!
Don't have Jez's books at home or at the library. Here's Jez reading two books just for you!
Here's a fun way to inspire your future illustrators. Jez describes how he creates the Monkey for HUG.
Learn how to draw more of Jez's Character Coloring Sheets for Jez Alborough Characters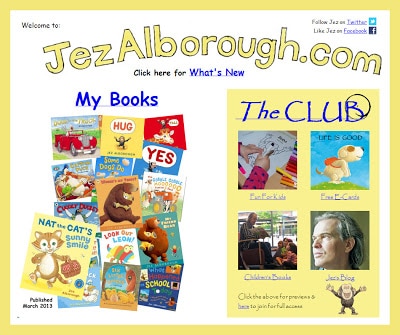 I encourage you to check out Jez Alborough's Website to find even more information about him to share with your child or students!
Virtual Book Club for Kids participating bloggers
Toddler Approved – Rainy Day Mum –  The Educators' Spin On It – Adventures in Reading with Kids – 3 Dinosaurs – Royal Baloo –Inspiration Laboratories – Pleasantest Thing – Edventures with Kids – Two Big Two Little – Playing With Words 365 – Kitchen Counter Chronicles – Outlaw Mom – Mommy and Me Book Club – Crafty Moms Share – No Twiddle Twaddle – The Good Long Road – Ready. Set. Read 2 Me – Reading Confetti – Mama Smiles – Juggling with Kids– Mom to 2 Posh Lil Divas – Creekside Learning – Creative Family Fun – The Usual Mayhem – Teach Preschool – PlayDrMom – CraftoArt – Here Come the Girls – Being a Conscious Parent –Smiling like Sunshine – Crayon Freckles – Train Up a Child – Smile Play Learn – Enchanted Homeschooling Mom – Coffee Cups and Crayons – Having Fun at Chelle's House– Love, Play, Learn – Juggling With Kids – Motherhood on a Dime – Growing Book By Book– This Reading Mama – Fantastic Fun and Learning
This post contains affiliate links to Amazon affiliate to help you save time.