Now is a great time to bring those teddy bears out of the toy boxes for play. Young children delight in feeding, snuggling, and reading to their teddy bears.
Connect playtime with writing in this teddy bear writing activity for kids.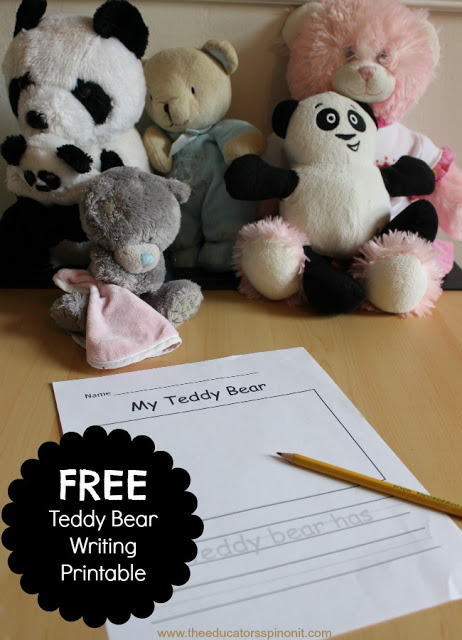 Teddy Bear Writing Activity for Kids
Learning Objective: Write and illustrate a sentence about your teddy bear.
Materials Needed
Your teddy bear
pencil
crayons
Print your teddy bear writing activity here
Directions for Teddy Bear Writing Activity for Kids
1. Select your favorite teddy bear. Talk about what it has.
My teddy bear has
2 eyes
2 ears
4 paws
2 legs
a fluffy tummy
a pink blanket
a baby bear
a hole
blue fur
2. Choose one item that your bear has and draw a picture about it.
3. Write your sentence.
*I encourage inventive spelling with my young children.  This means, they sound out the words and write down the sounds they hear.  As they become more confident writers, then I work on correct spelling. 
For now, the goal is to get ideas onto paper.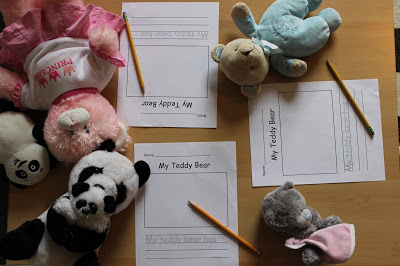 Activity Variations
Write 2 sentences.
Challenge your child to use a describing word
Have your child say the words and write them down for them.
Assemble all the papers together and make a Teddy Bear Class book (thanks Jodie for the suggestion!)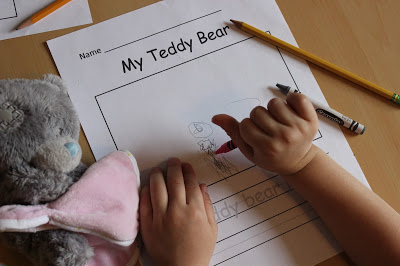 2 1/2 year old Teddy Bear Writing Activity Sample
My teddy bear has a pink blanket.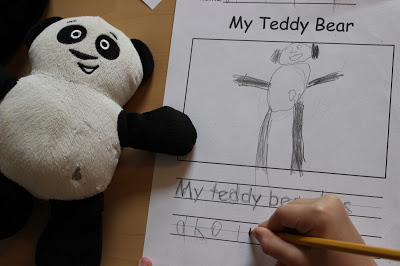 5 1/2 year old Teddy Bear Writing Activity Sample
My teddy bear has a hole.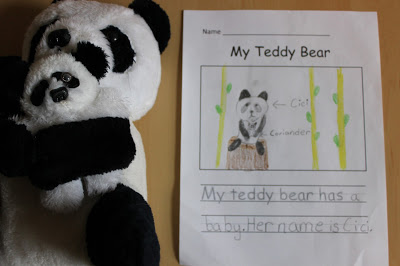 9 Year old Teddy Bear Writing Activity Sample
My teddy bear has a baby. Her name is Cici.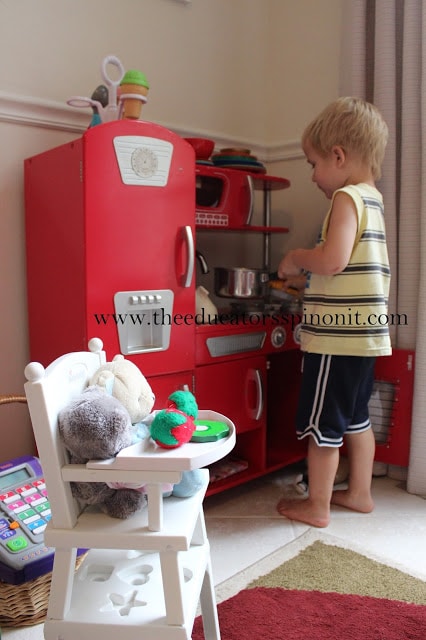 When you are done writing, make sure to cook your teddy bears some lunch.
They are hungry!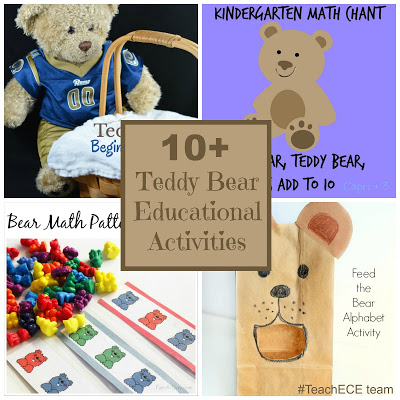 More Teddy Bear Learning Activities from the Early Childhood Education Team. #TeachECE
Teddy Bear Beginning Sounds Picnic by Growing Book by Book
Feed the Bear Alphabet Activity by Mom Inspired Life
Teddy Bear Alphabet Activities by Tiny Tots Adventures
Bear Counters Name Recognition Activity by Munchkins and Moms 
The Dissolving Teddy Bears: Simple Preschool Science! by The Preschool Toolbox Blog  
Teddy Bear, Teddy Bear, Let's Add to Ten-Kinder and Pre-K Math activity by Capri + 3
Printable Bear Math Patterns for Preschoolers by Fun-A-Day 
Teddy Bear Preschool Theme Counting Activities by Learning 2 Walk 
Gummy Bear Science | Exploring Osmosis with Preschoolers by Raising Lifelong Learners
Teddy Bear Writing Activity for Kids with FREE Printable by The Educators' Spin On It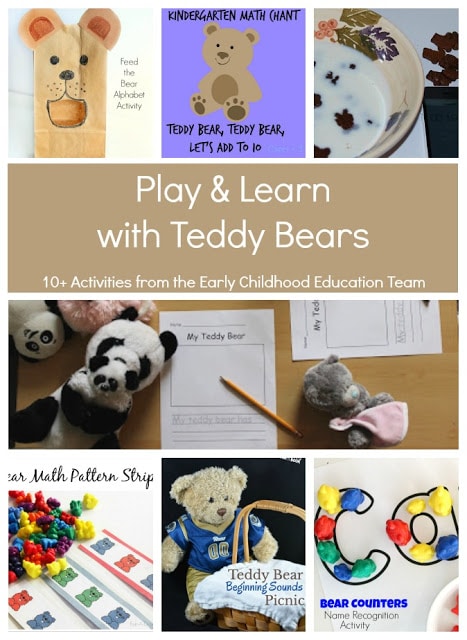 And more teddy bear activities here at The Educators' Spin On It
Bear Chocolate Bar Gift Covers
20 Teddy Bear Books the Kids Will Love to Read
Teddy Bear Rice Krispie Treats Recipe
So many fun ways to have fun with bears with your child!