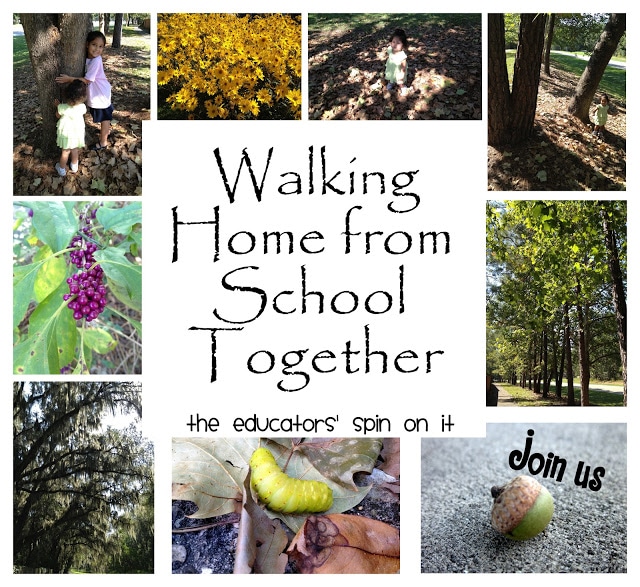 Now that the weather has started to cool off slightly we've been having fun walking home after school together.  I love avoiding the car pick up line that takes up nearly 40 minutes of my afternoon in a car with a toddler.  I'd much rather spend that time with my daughter talking about her day, exercising, and discovering our neighborhood on our adventures after school.  This is something I missed with my son who went to an after school day care provider while I was teaching I do know it's harder in working families  You can always sneak a walk in before dinner or after dinner too.  Plus I know we can't always do it but at least trying to fit in one day a week or two will change the way your child sees and learns about their world.
Here are some fun things we'd pass along the way home this week in our neighborhood community.  It really creates opportunities for learning around every corner.  You never know what you might find in nature if you're looking closely!  Here's what we found this week using my iPhone camera.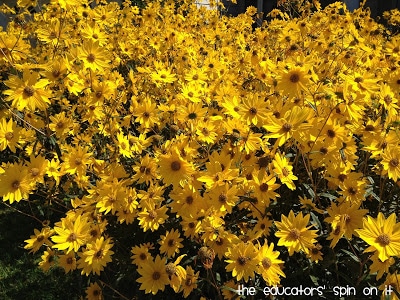 Swamp Sunflower
Southern Living
helped us to identify the Swamp Sunflower. They are all over our neighborhood right now.  Amanda has asked me for years if I want any from her yard, I really need to take her up on the offer they are beautiful! It's a great fall blooming plant. Just wait until you see her photo this week with her flowers!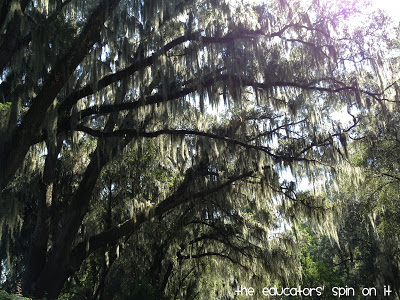 Spanish Moss
My daughter wanted to know how this hanging things got onto the trees.  One day we looked up what hanging Moss on
Wikipedia
.  We decided that it's actually is not a moss at all but an epiphyte plant which grows on another plant but does not rely on it for food.
Spanish Moss is not an air plant neither as it does not have a root system. The plant catches moisture and nutrients from the air through its silvery-gray scales, during droughts the plant just goes dormant until moisture returns. Plus many animals like to use it for making nests.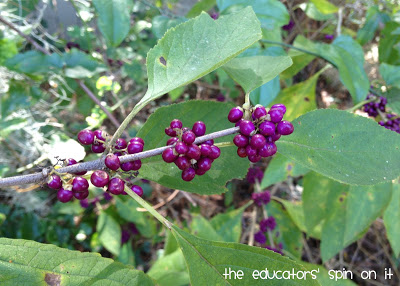 American Beautyberry
Here's a plant that I've always told my daughter not to touch as she was tiny to keep her safe and things out of her mouth.  She wanted to know, now that she's old enough, if they are really bad for you.  I told her we'd look and see because I really didn't know either.  We discovered that these American Beautyberries actually have some medicinal purposes from
Florida Native Plant Society
.  In fact the leaves contain terpenoids that repel fire ants according to one study.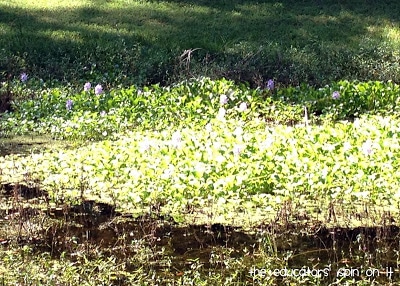 Water Hyacinth
Belize Blooms
helped us to idenify that we're looking at
Water Hyacinth
in our nearby water drainage area.  Seems like this plant has some advantages and disadvantages to life in water.  They are so beautiful but hard to get a close up since they're in the swampy water.  Side note: while running one day many years ago I found a baby
alligator
here.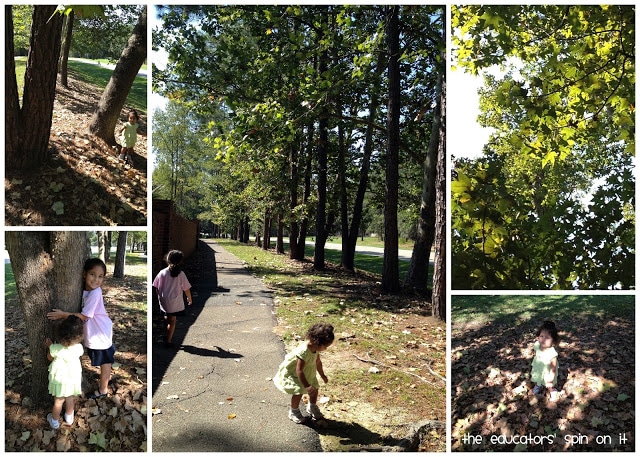 Sycamore Trees
Every fall there is one tree I can rely on to start to change when we're learning about the changes that fall brings.  The Sycamore trees turns a pretty yellow if the right cool conditions happens and then it looses all of it's leaves.  Which if you're from the south  you know that not all trees do that so you have to search for them.  According to School of Forest Resources & Conservation it is one of the largest broadleaf tree species in North America. It's also where we were collecting leaves when we foudn this little treasure. Just wait and see what we create for our
Virtual Book Club
with our leaf collection and Little Hoot.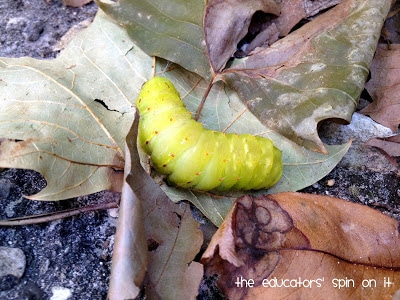 Can you name this caterpillar?
Polyphemus Moth
We had so much fun coming home and trying to research what type of caterpillar this one.  Here's are the two main sites that we concluded our results with after looking at a few more. 
A Pairie Haven
has an amazing write up about the Polyphemus Moth.
We think that we were observing a Polyphemus moth, Antheraea polyphemus (Lepidoptera: Saturniidae). Larvae feed on a variety of trees and shrubs, such as apple, ash, birch, dogwood, elm, hickory, maple, oak, rose, and willow.  We also discovered online that Polyphemus Moth is one of the biggest moths found in the United States, growing up to a 5.5 inch wingspan. It has brownish-yellow wings with a black and white, wavy line on each. It has a small, mostly yellow eyespot on each forewing (front wings), and larger blue, black, and yellow eyespots on the hindwings. Underneath, the moths' wings look like dead leaves. Polyphemus Moths are usually found in forests, but can also be seen in marshes and parks. It's funny because at Tot School this week there was a big storm and there were many branches knocked down and one of the branches had something that look very similar to their cocoons, all wrapped up in leaves.  We're thinking that this one was at the beginning stages of this transformation.  It's neat to see things happening around us when we stop to observe.
These are all things that we added to our
Printable Fall Journal
.  Have you found anything special on your Fall Walks?  We invite you to share on our
facebook page
as you begin to see signs of fall or blog about them and share on the link below!