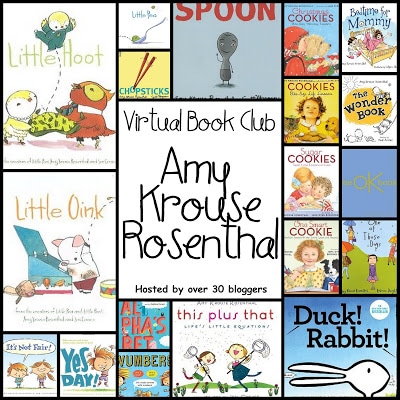 Have you discovered the author Amy Krouse Rosenthal?  My first encounter with reading her books was during our Love Books Exchange this past summer where we received The Spoon from Mommy and Me Book Club along with tons of adorable activities.
Here's more info about how much fun we had with The Spoon.
After reading her book we felt the need to see if she had others at the library and we fell in love with her books.  My daughter and I decided to do a little more exploring to get to know Amy a little bit better and I have to say we were really surprised to see how many things she creates and what an inspirational person she is.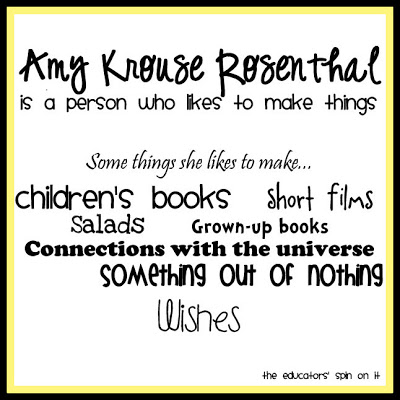 We encourage you to stop by her website
Who is Amy.com
.  By far it is one of the
best author website
we've discovered as we've done many
author studies
.  Her website is simple, effective and adorable.  With a simple click you discover that she is an author of children's and grown-up books, Amy also makes short films, which can be viewed on her site. We love the homepage feature of this site, where visitors can select the mood and ambiance.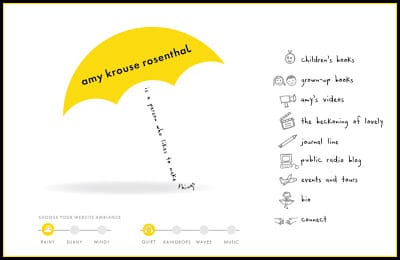 Now that you've discovered her website, here are all the books that she has written so far for children.  I love the diversity of topics that she has written about and how she has teamed up with a variety of illustrators so each one has it's own special appeal to it, yet they all have a special touch that you know comes from the imagination of Amy.  We invite you to check out a few of her titles below and see which one is your favorite.


In today's day and age it's so much fun to be able to step into the digital world of an author to get to know them a little bit better and to find out the collection of work they have created.  Many of our students have access to smart boards and computers at school so I put together a little collection from Amy Krouse Rosenthal You Tube Channel for you to watch with your child.  Once you take a peek you'll be inspired to read her books and find activities to do with them!
Here Amy Explains her Cookie Books
Find out how a tale about hope, kindness and sharing can become something grand
It's all about perspective on things.
How Do You Want to Be Remembered?
A little twist on bedtime and Mommy
What Comes after 1+1?  Just about anything… come see!
Take a little walk into Amy Krouse Rosenthal's World in 7 Notes on LifeBook Trailers
Now it's time to tell you that we've been working hard all month long to find the perfect activities to go along with all of Amy Krouse Rosenthal's books.  We've teamed up with an amazing group of Kid Bloggers who are sharing their favorites with you this month.  Still amazed that we had 100 ideas shared last month for Lois Ehlert.  We're having fun all week on our site with Owls and Little Hoot.  Check below to see some more activities and crafts for Amy's books.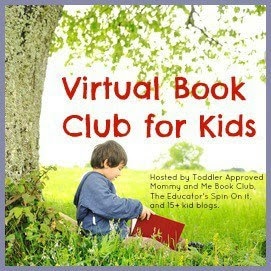 Now It's your turn to share with us what you can create! Read an Amy Krouse Rosenthal Book and be inspired to create your own activities to go with your selected book! Join our Virtual Book Club for Kids. Please add your links to any Amy Krouse Rosenthal inspired posts to the blog hop linky below.

There are a few rules for this blog hop that we ask you to follow, so make sure to read them:
Link up only posts inspired by Amy Krouse Rosenthal that share children's book inspired crafts, activities, recipes, etc. Any other posts will be deleted.

Visit other blog posts on the linky and comment on or share the ones you love!

Add our Virtual Book Club button to your post if you'd like.

Check out our other Virtual Book Club Featured Authors&
more to come
!
We are part of Amazon Affiliates program. When you are purchasing ANY products on Amazon we'd love for you to use our LINK and it will help continue to support great projects like this on The Educators' Spin On It THANK YOU!