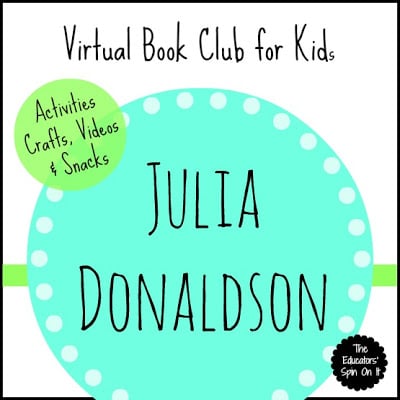 We are so excited to announce that
Julia Donaldson
 is this month's featured author for the Virtual Book Club for Kids!  Julia has written a number of books including
The Gruffalo, Room on the Broom, The Snail and the Whale, What the Ladybird Heard, Where's My Mom, Superwurm, The Princess and the Wizard, Paperdolls, Stickman, Tiddler, One Ted Fall Out of Bed
and MANY MANY more!
One unique fact about Julia is that she is from the United Kingdom.  We've shared quite a bit about the
United Kingdom
on our site and now we can add authors to it!  Truthfully I wanted to know more about her and explore her work with my daughter.  We checked out her website and found that she's involved in many things from writing to singing to performing!  We actually learned that many of her books originated from songs. Although she's famous for the Gruffalo, she's love to be known for all the many other books s he's written too!
We discovered that there are so many videos of her.  Many include her husband Malcolm singing too!  It was quite fun to be able to get to know her and to show my daughter how the writing process works.  She even shares her brainstorming notebook in one of the videos below.  For beginning story writers I love showing kids how the process works for even adults.  Do you have an author's notebook set up for your child?
I've taken my time to share a few of our favorite video clips for you and your child.  The videos below have all be screened and are age appropriate for all young children. This would be great to use during your Julia Donaldson Author Study, especially is you're using a Smart Board in Class.
Pinterest Boards & Websites We LOVE for
Julia describes in the video clip how she receives
The Book of A Thousand Poems
for a her 5th birthday from her father.  Books are wonderful gifts for birthdays and look how much it inspired her to become the person she is today.
Julia shares her own writers inspiration of the Gruffalo by showing children how to brainstorm and singing The Gruffalo Song with Julia Donaldson.  There's even a special visit from the Gruffalo himself!
What the Ladybird Heard Song by Julia Donaldson
Cave Baby Song song by Julia Donaldson
For more Videos Check out her Website
Here are the Printables of Julia Donaldson Songs
Get to know both author Julia Donaldson and illustrator Alex Scheffler and how they worked together to create so many wonderful stories!
Julia Donaldson, The Gruffalo's Mum ,sharing props from her Performances and how at age Twelve she was influenced by Shakespeare in a little performance.  Do you read Poetry with  your kids?  Do you create Show with them?  Use Julia's books to inspire you to start!
We will be sharing many of Julia Donaldson's books all month long. There were just too many choices to do just one post about her this month.  After watching all of these videos we have learned so much more about her and have a better appreciation of her work.  We hope that you'll join along with us and share a story with your child!
Do you have any other fun book-inspired activities to go along with a book by Julia Donaldson? If you have blogged about it, we'd love for you to share in the comments below!
We can't wait to see all of your amazing ideas!