Explore top picks of popular destinations in New Delhi to visit with your family. We're sharing everything you need to know for a culturally eye-opening and unforgettable journey with your kids in India.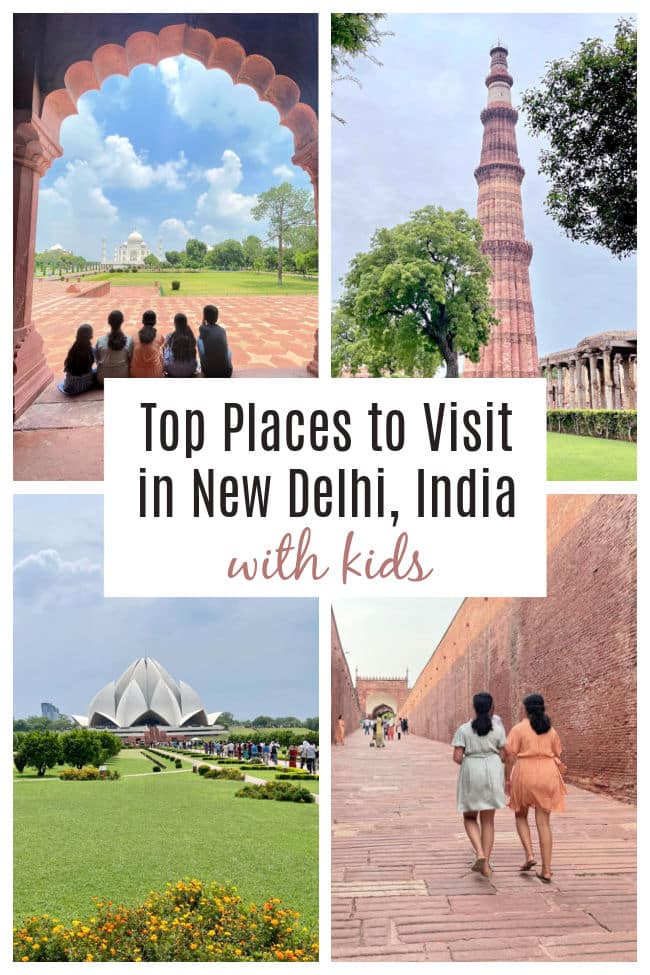 My husband and I have talked about taking our girls to India for a very long time. This summer we finally made it happen, the stars aligned and we were able to visit India for a month. The best part was that it was a family reunion with my sister-in-law's family and brother-in-law's family visiting there too along with their parents at their family home in Faridabad, India.
The whole house was filled with cousins, fun, and memories of a lifetime.
Here's a peek at what we fit into our 4 weeks of traveling in India with all 13 of us.
Best Places to Visit in New Delhi with Kids
Planning for an international flight can be quite an adventure, ours was a direct flight from New York for 15 hours to New Delhi. We first had to make a few connecting flights out of our tiny town in North Florida with all our luggage.
After arriving, we spent a few nights in Aerocity, near the airport at the Novotel hotel, and enjoyed ourselves as the girls transitioned into the Indian culture… very slowly. It was the perfect way to deal with jet lag for a few days after our 30-hour journey.
And we got the chance to begin our India culinary adventure with tons of restaurants in WorldMark and the amazing buffet at the Novotel Hotel.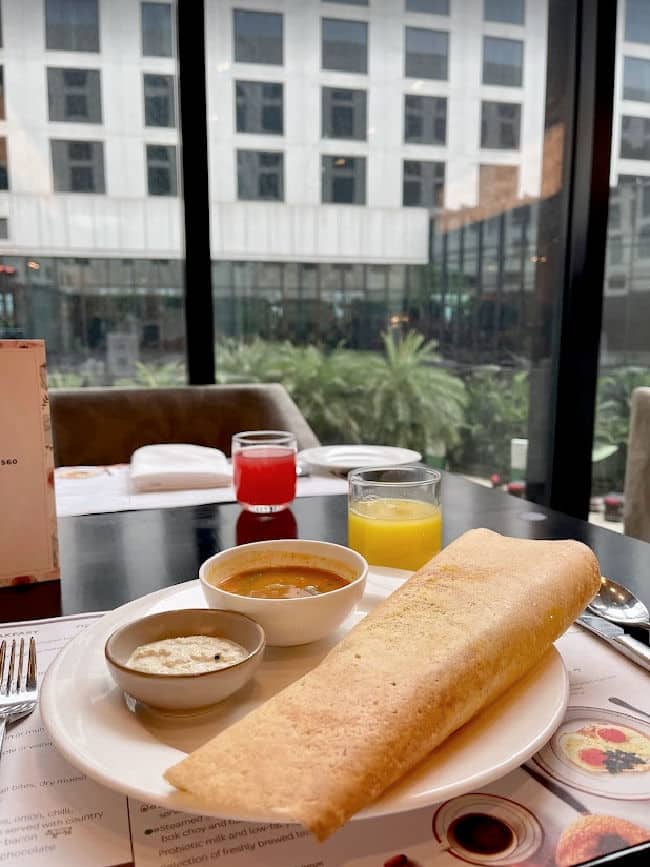 We had lots of places to visit on our agenda but the main focus for me was simply for us to experience everyday life in India.
This was my 5th visit and I still feel quite humbled each time I go to this magical country. The scale of economic diversity in one location is hard to put into words. The sounds, smells, and sites are unlike any other place I've visited. Here's a peek at my other visits to India.
After being home for just 24 hours, it feels so quiet and simple here in our Florida home.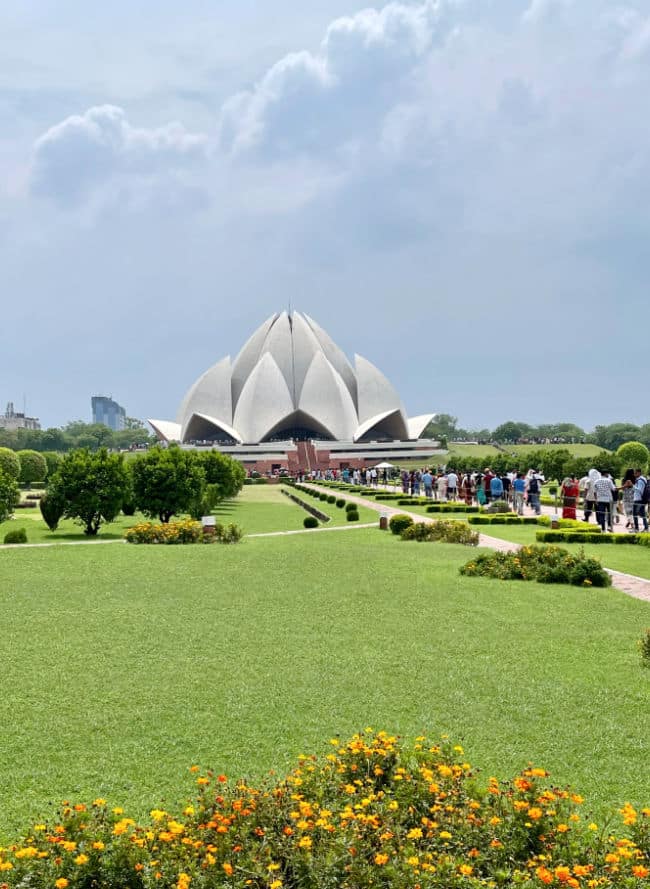 Did you know that over 32 million people call the city of New Delhi home? One of the biggest changes since visiting nearly 14 years ago, was the Delhi metro, it's changed how easy it is to get around town and enjoy the landscape of one of the largest cities in the world.
Here are helpful tips for tourist sites near Delhi Metro Stations.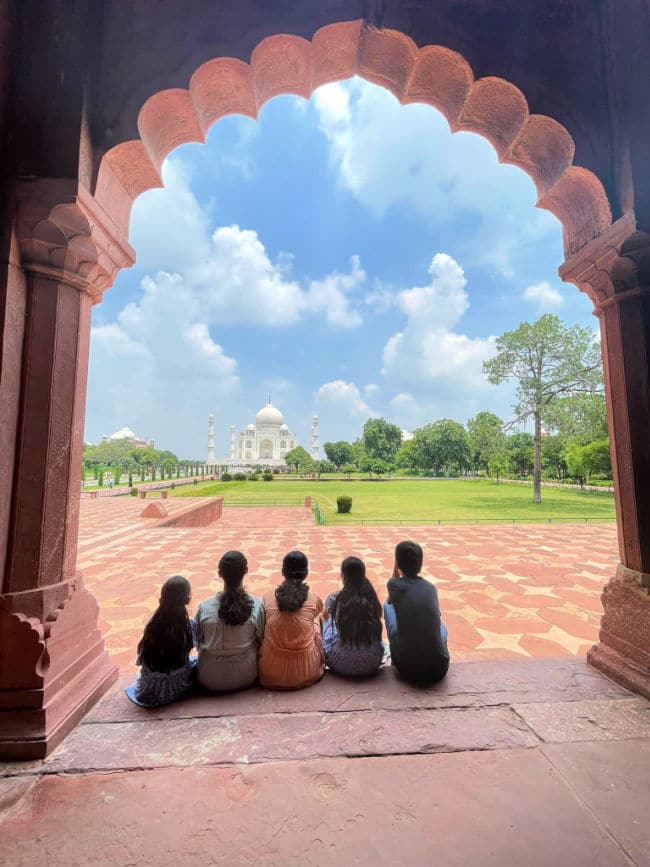 The bonus of our trip was realizing that India Google Maps exists now (My last visit was 14 years ago) I was able to understand more easily where everything is and how to get there.
Take a moment to explore India using Google Earth, it's pretty cool.
We traveled either with the metro, the new e-rickshaws or we hired a private driver to take the whole family to key locations, which is pretty easy to do there and budget-friendly. By the way, they even have OLA and Uber, and a few other mobile app options for getting a ride.
Disclosure: This post contains Amazon affiliate links.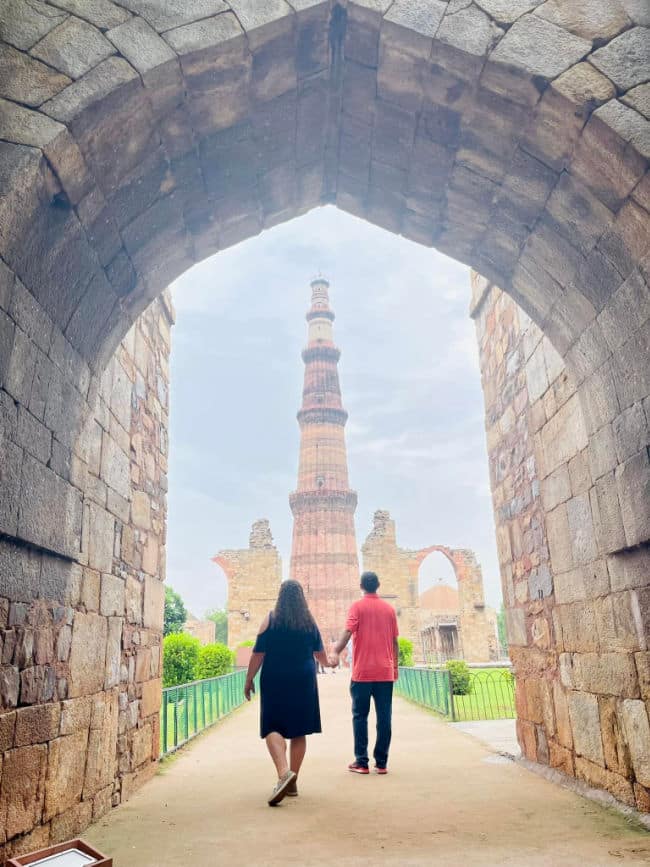 Top Places to Visit in New Delhi with Kids
On our list of things to visit were historical landmarks, tourist attractions, and a few temples that are located in New Delhi. These are the places we visited with many locations left on our list for our next visit to India. We learned very quickly you can only fit so much in when traveling with grandparents and kids and a large group of people.
Most of these key attractions are located within the city with a few that are a day trip option to visit, including the city of Agra. One of my goals was to see as many Indian UNESCO sites as we could.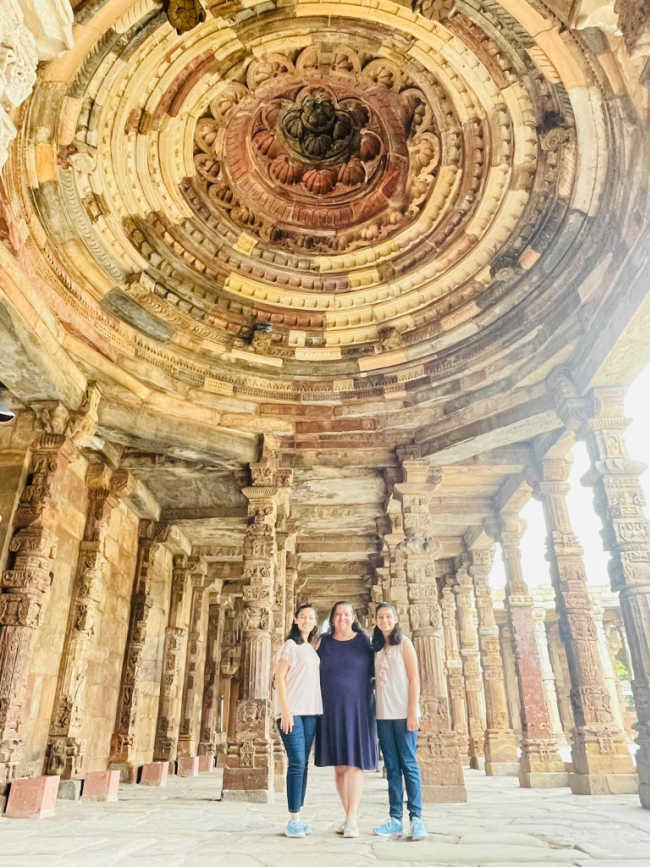 Historial Landmarks
One of the unique things about visiting India is the historical landmarks that were built by the various dynasties thousands of years ago. There's so much to learn about the Mughal dynasty as you explore these breathtaking sites.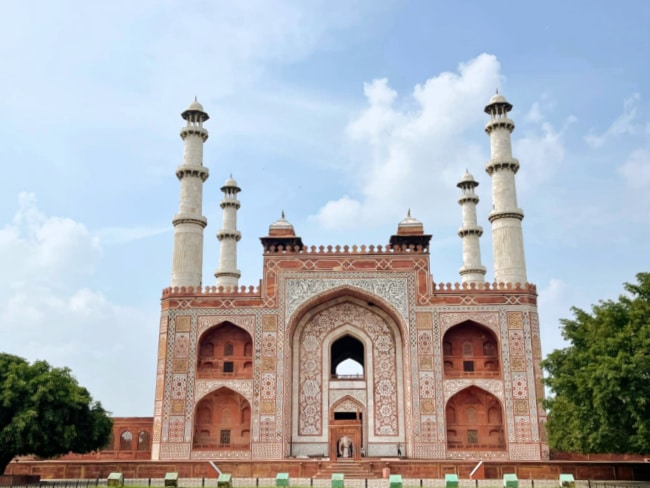 A quick day trip you can head to Agra to visit this top places…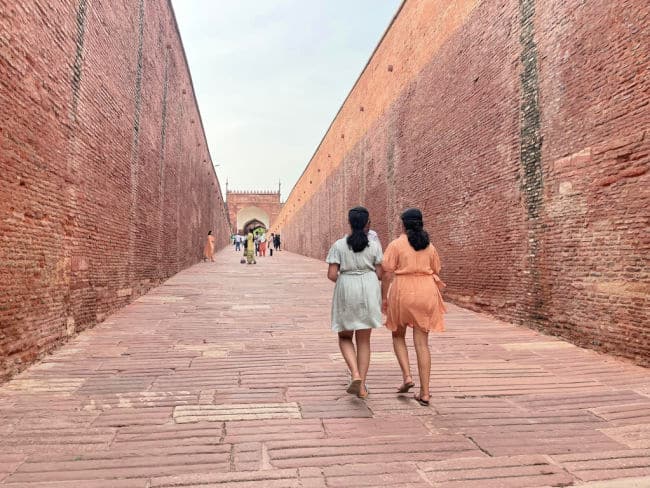 Tourist Attractions
There are a few hidden gems in New Delhi to explore with your family. The nice part is so many things are just a short e-rickshaw ride away from one another if you plan it right.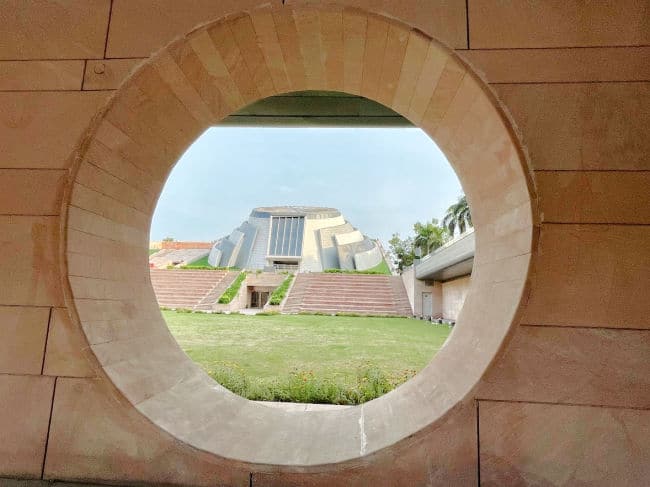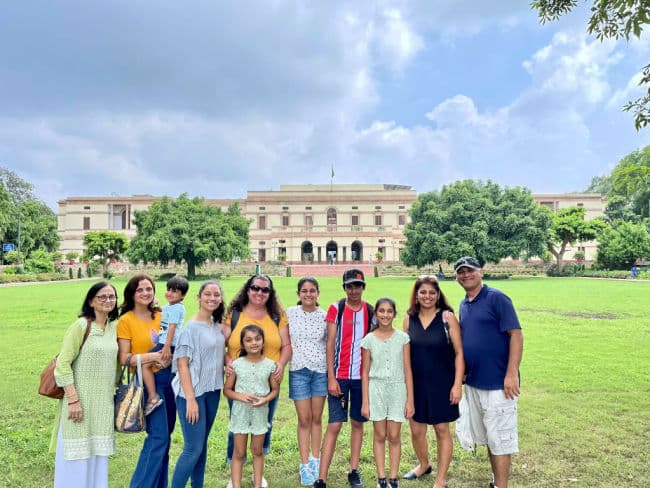 These attractions were on our list to do but life got a bit busy with all of us, no worries it's on our bucket list for the next visit.
Temples
Exploring the temples in India and learning more about religion and how it is so connected to daily lives is something unique to experience. These are a few temples that we visited based on our family members preferences. Before entering a temple everyone is required to remove shoes. Be sure to remember to dress accordingly, for both men and women, this generally means not wearing shorts and keeping the shoulders covered.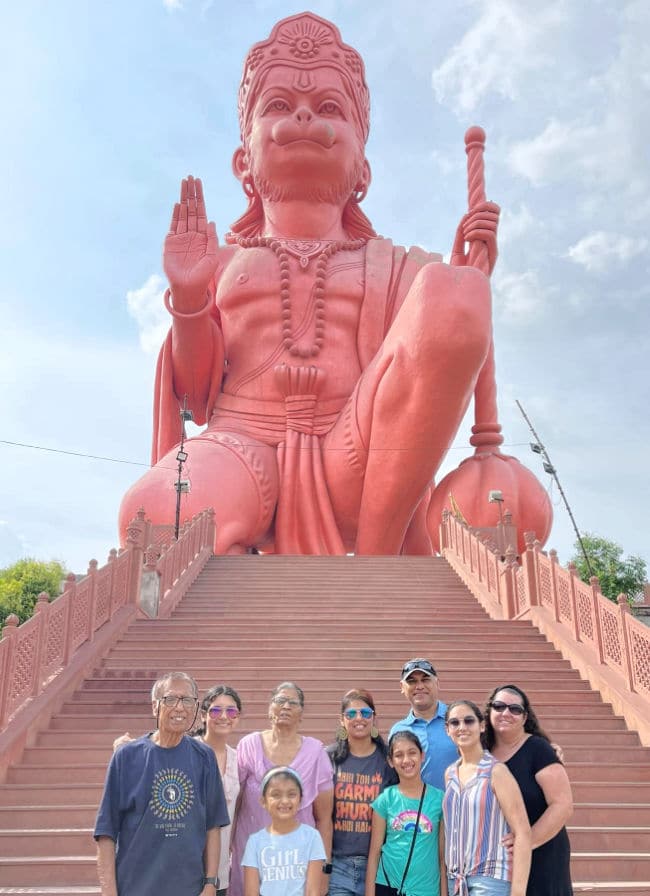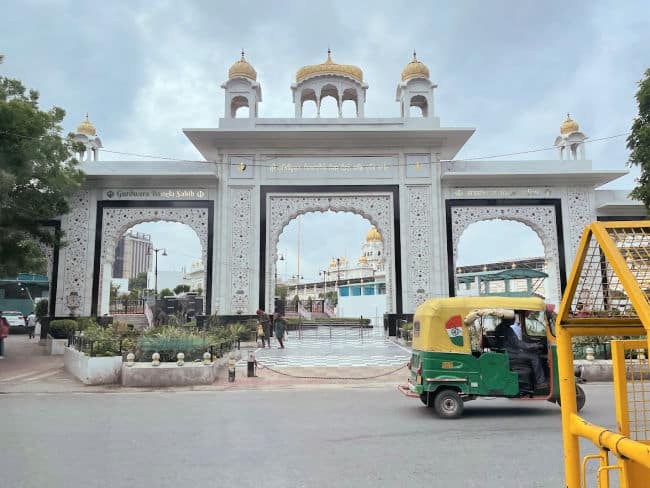 Typically you should also avoid taking photos inside of temples. Here are a few more things to know about visiting a Hindu temple or a Sikh temple (Gurdwara).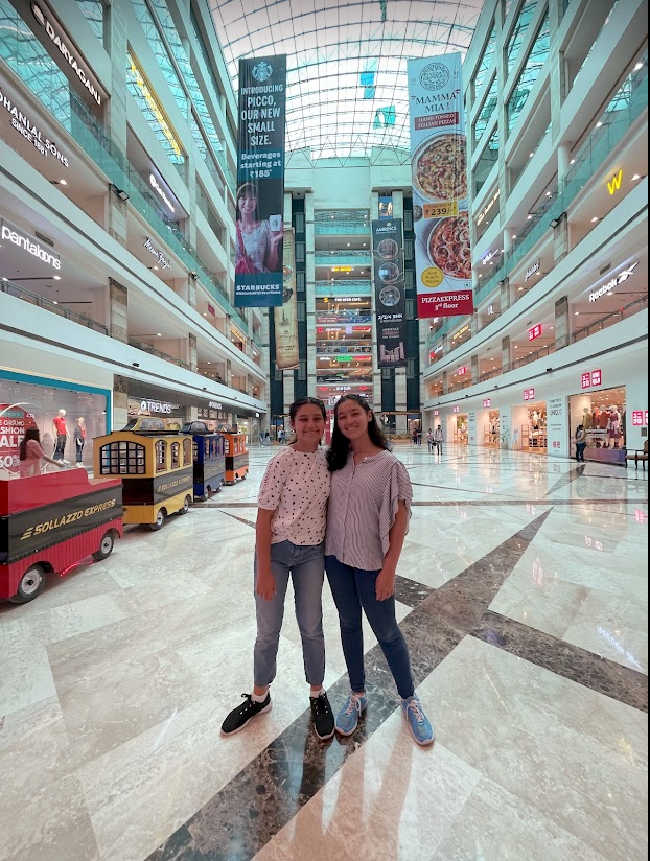 Places to Shop
It's not a trip to India without doing some shopping. Here are a few of our favorite local places to find traditional Indian clothing, jewelry, and local artwork. We took our kids to both market street vendors where bargaining is expected and to some extremely large malls with set prices and great food courts.
TIP… I learned from my husband's last trip, Amazon India can be a resourceful place for shopping for items from India too. On this trip, we were able to get a few traditional Indian Kurta With Palazzo And Dupatta. Plus some items to decorate for Diwali. Plus they offer cash on delivery.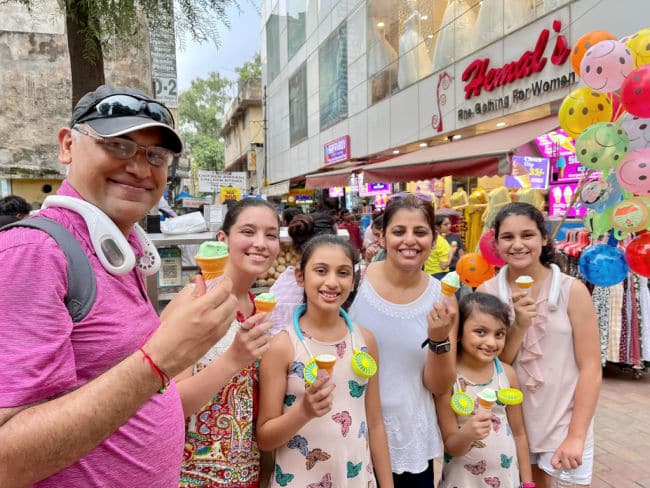 Ideas for Family Time in India
Because we were spending time in India with all of our family members, experiencing everyday life through food and play was really important to us. Walking in the footsteps of my husband's childhood was important to me for our kids to experience, it's part of them now as they begin the next generation.
We were so lucky to be invited into the homes of our family members and neighbors throughout our stay. This was actually our daughters' favorite thing from the trip, to connect with everyone and see into their daily lives. We wish would have had even more time with each of them and are so grateful for the support they provide to my inlaws when they are in their home in India.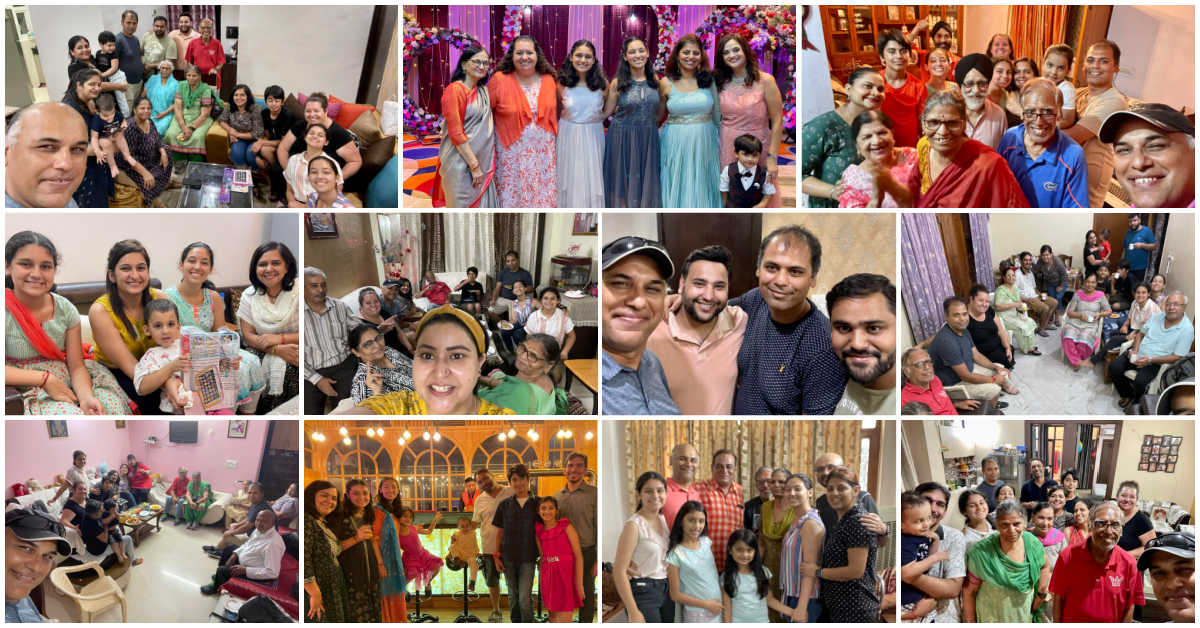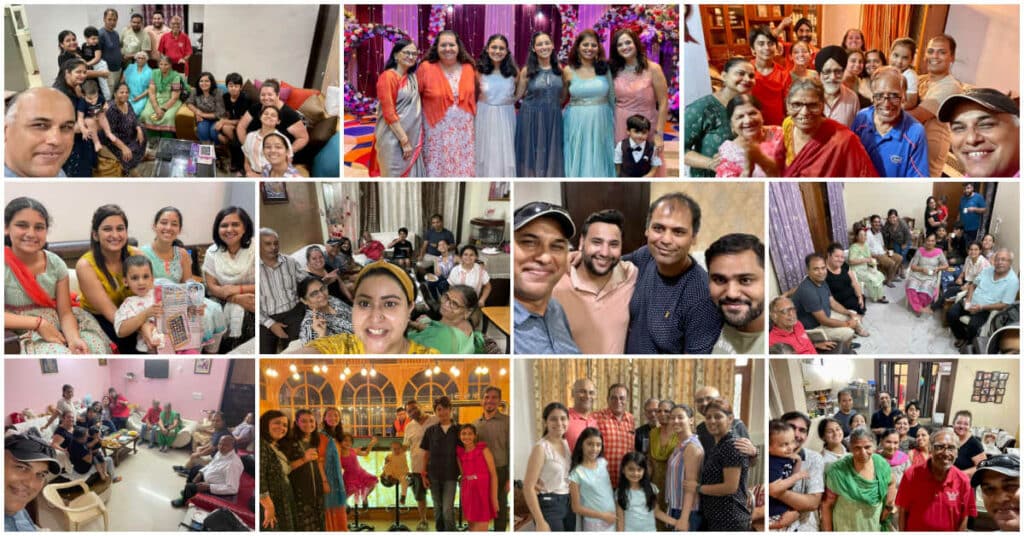 Here are a few of the fun things we included in our family time in India.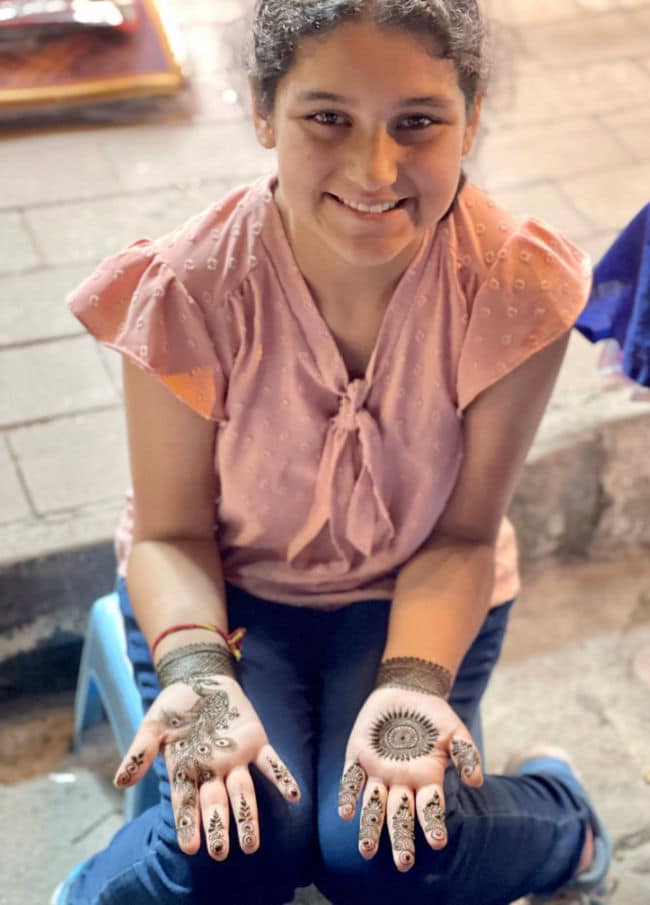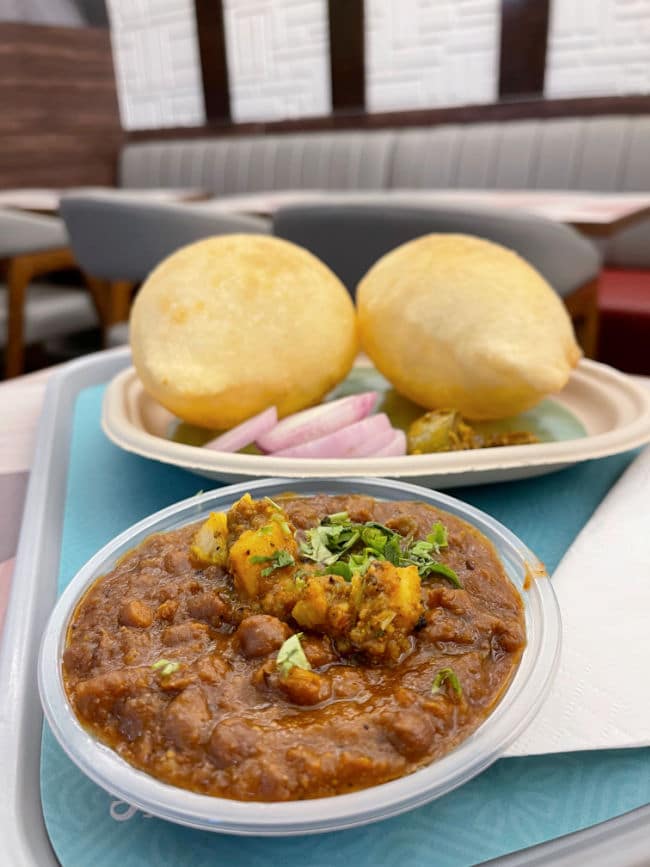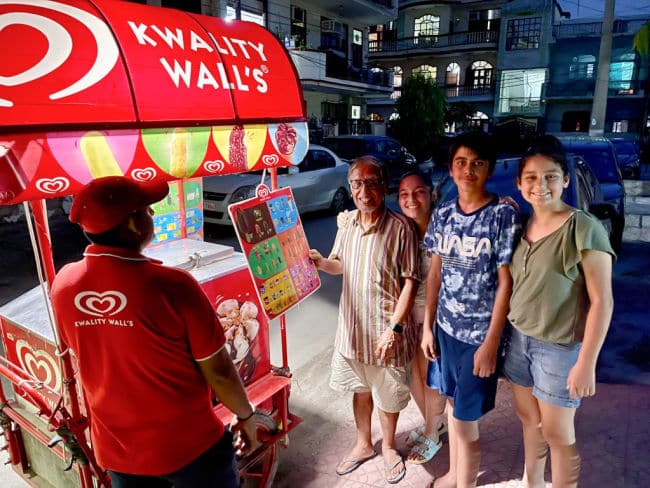 We can't wait to return to do these all again very soon with all 3 of my kids and husband.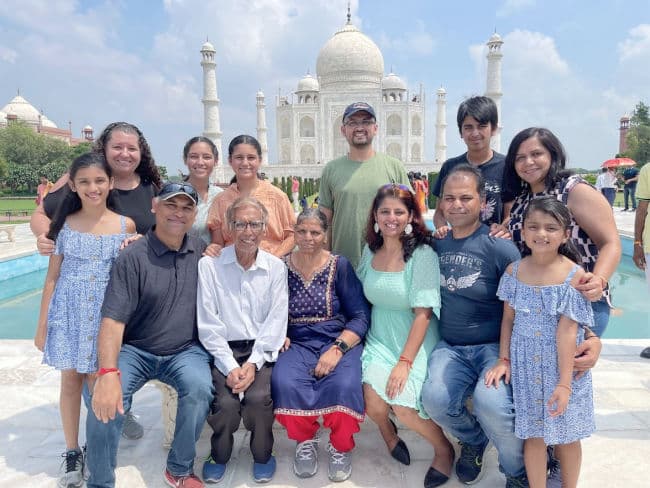 Tips for Taking Kids to India
Here are a few more travel tips if you're planning to travel to India with Kids.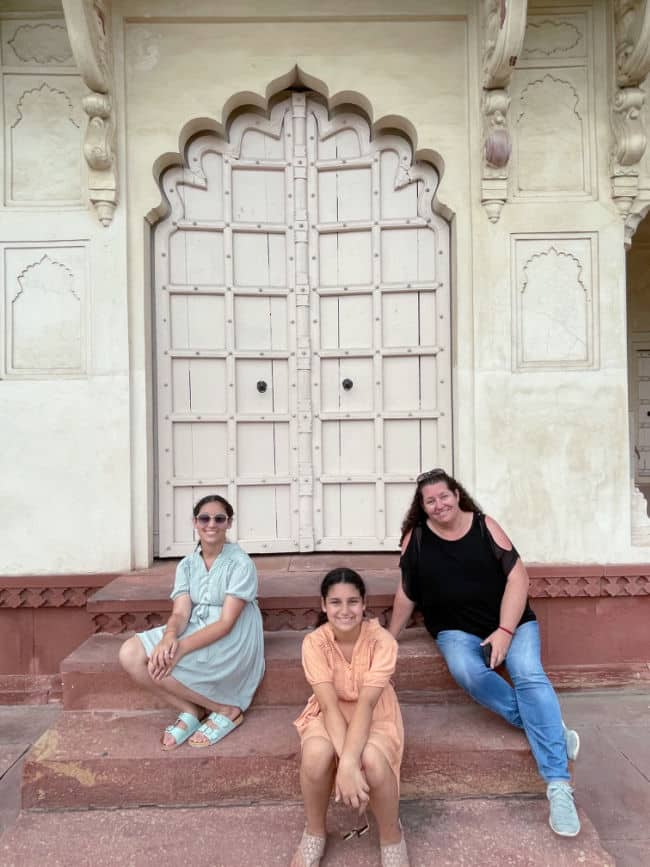 COMING SOON: Virtual Field Trip of New Delhi, India! Start with this Virtual Field Trip Log for India.
Explore now our 30+ Virtual Field Trips for Kids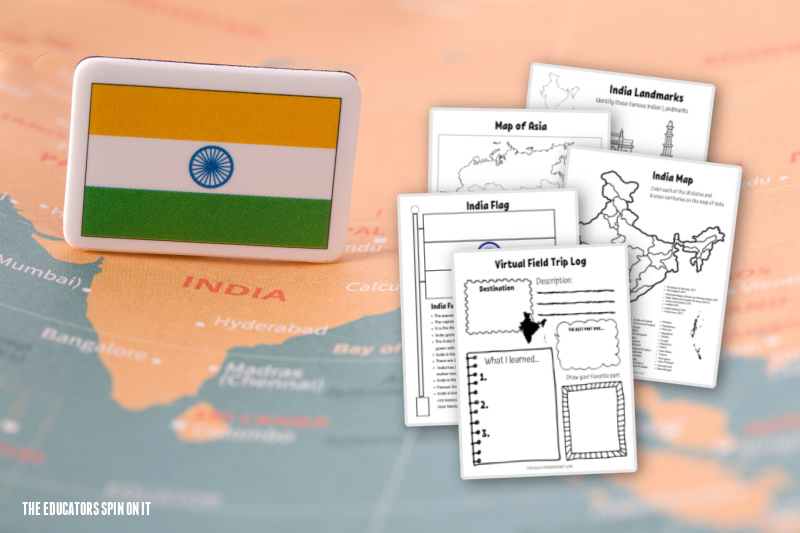 Activities About India for Kids
Here are a few activities to explore with your child to learn more about India. From books to crafts to even kid-friendly Indian recipes, we have many options available for you.
Things to Do in New Delhi with Kids
On our next trip, we plan to leave the crazy busy city of New Delhi and venture out into the vast space of India as one of the top 10 largest countries in the world.
On my India Travel bucket list are Jaipur, Shimla, Kashmir, Goa, Kerala, Mumbai, and a few others. We hope to take advantage of the Indian railway system and short flights to tour the beautiful terrain of India.
Do you have a favorite location in India to visit on your vacation? Share with me in the comments below…