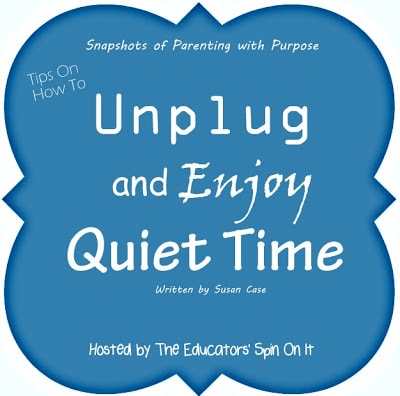 I love it when my grandchildren come over to visit. But they often want to turn on the television or play on my computer. I offer them other things to do and it helps us all relax and enjoy each other's company.
We live in a fast-paced world bombarded by stimulation. It's so easy and tempting to turn on the television or an electronic game to keep a child occupied. But what if YOU need some peace and quiet? Establish a quiet time as a routine or scheduled time and it will help everyone in your family.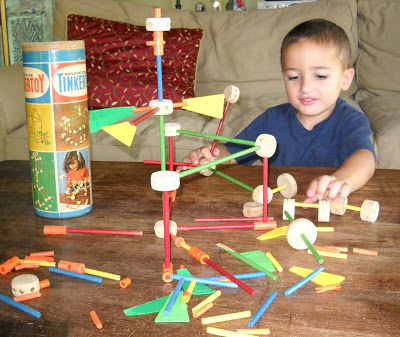 Tips on How to Unplug and Enjoy Quiet Time with Kids
You may be thinking that you'd love to have some down time but how in the world do you get an active preschooler to remain quiet and alone? With young children who have given up napping, you need to start them with five to ten minutes of quiet time. Tell your child that they don't have to take a nap, but they now have a chance to play quietly on their bed or in their room. They may need a timer so they can understand that the time is short. Very gradually, increase the time to 30 or 45 minutes. This time must be established as a routine or part of your schedule.
You may need to begin the quiet time with your child. Read books and put on soothing music. Leave your child with their favorite books and toys. If they come out of their room before the time has ended, quietly led them back to their room and assure them that the timer will go off soon.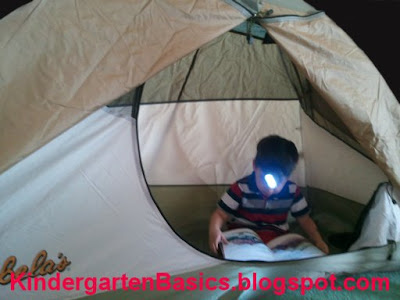 Eventually, children will develop a habit of wanting some alone time as they recognize and learn the benefits, such as being able to:
    Relax, become calm and learn patience,

    Develop problem-solving skills,

    Use their creativity and imagination,

    Develop independence,

    Reflect and absorb what they are experiencing, seeing, feeling, learning, and

    Appreciate siblings more.
Giving your child some quiet time offers them opportunities to explore, expand, and extend activities. And possibly the greatest benefit of all, is that you will have some quiet time to focus inward and become the mother you want to be. You deserve, and need, some alone time, too.
Susan Case is the author of
Kindergarten: Tattle-Tales, Tools, Tactics, Triumphs and Tasty Treats for Teachers and Parents
and co-author of
The Happy Mommy Handbook: The Ultimate How-to Guide on Keeping Your Toddlers and Preschoolers Busy, Out of Trouble and Motivated to Learn
.
Susan blogs at
Kindergarten& Preschool for Parents & Teachers
.



Kim's "Spin On It"
Thank you so much Susan for sharing the important of taking time for Quiet Time with your children and grandchildren.  Some great parenting tips that Susan has shared on her site are Caught Being Good , Moms Need Me Time, Building Self Esteeem, and Random Acts of Kindess Jar. We encourage you to stop by her site and tell her went sent you!
Quiet time…as adults we need it and as children we need it. Children need quiet time to become creative. When we're overloaded and they're overloaded everything gets out of balance. Unplugging our lives also helps to encourage more natural play and exploration.
We all know it's so easy as a grandparent watching your grandchildren to just let them turn on the TV or play a Video Game because you know they'll enjoy it.  However over an extended time with you you'll find it will be a much more pleasant visit and time together if you're unplugged.  Most importantly they'll remember their time spent with you and the fun things they did.
Amanda's "Spin On It"
These are all great reasons why it is important to take time to be unplugged!  Although we do not own a T.V., the kids are not always enjoying quiet time.   I find that my kids NEED the quiet time just as much as I do.  Every day after school, my 6 year old snuggles up in the chair next to my bed with a book and reads for almost an hour.  On the days that she doesn't have this quiet time, she really struggles to maintian her composure until bedtime.  My 3 year old is similar in this way too.  Lately, I have trying to do a better job modeling ME taking quiet times to reflect, write, read, and build with the kids.
Looking for a few Ideas for  Quiet Time Activities?
Quiet Time Activities
from All Our Days
10 Sanity Saving Activities for Quiet Time
from Inner Child Fun
Q is for Quiet Play Activities
from Childhood 101
Calming Activities for Kids
from Kids Activities BlogFor more info on the importance of limited screen time please read our post about 
Screen Free Week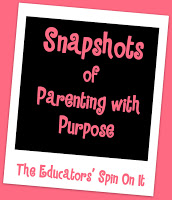 Email us
 and share your own Parenting Success Story!
{Discloser: This post contains Affiliate links}