This week is screen-free week, a time to un-plug and re-connect with the people in your life.
Look UP!
Look OUT!  
Take as much time as you possibly can this week to UNPLUG from electronic devices and PLUG into wonder, play, experiences, and re-connect with the PEOPLE that you love.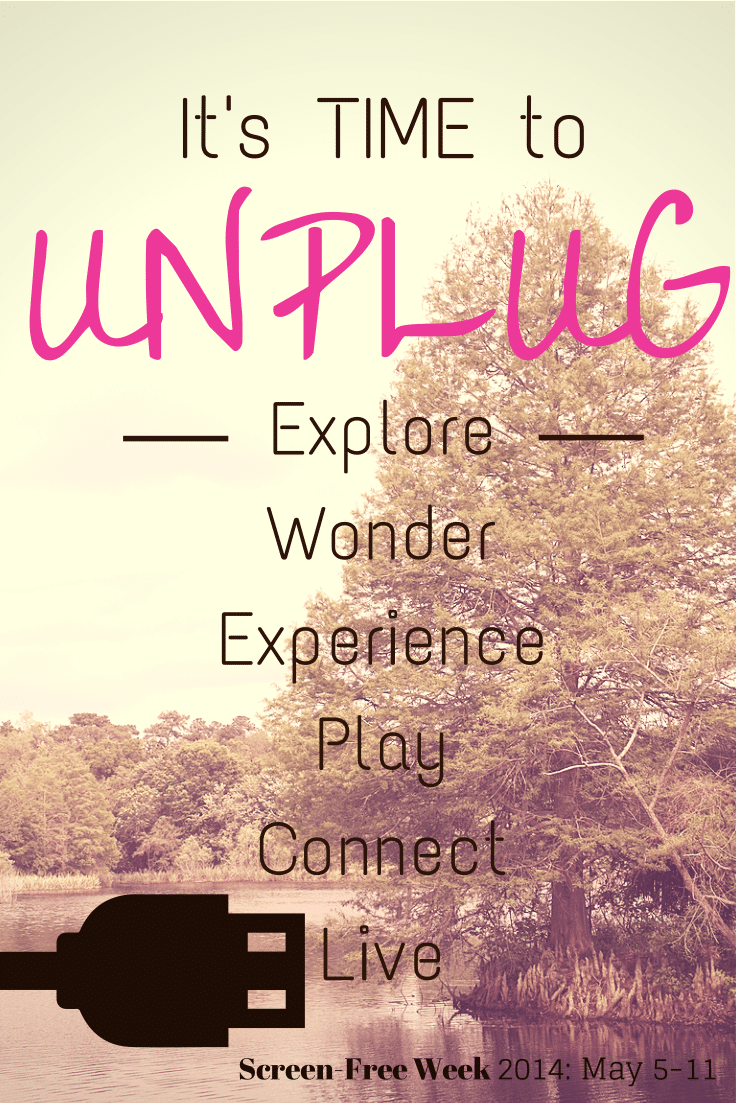 Here at The Educators' Spin On It, we believe in the power of parenting with purpose and have pledged to turn off our screens for the week and make even more meaningful connections with our children, spouses, friends, and community members. Because of this, no new posts will be added to the blog during this time.  We will be reading, gardening, getting caught up with the mending, playing board games, going on field trips, and just having fun with our kids!
Admittedly, this 7 day challenge may be difficult for some families.  We urge you to consider modifying the challenge to meet your family needs; it can be "just when the kids are awake," or it can even be just TV vs all screens, or it can be just for 3 days.
Here are just a few of the screen-free activities that you could do with your family!
Take a texture walk
Set up science experiments
Indoor learning activities
Outdoor learning activities
Mommy and Me heart healthy activity stations
Go on an outdoor adventure: Fossil Hunting
Read
Get crafty with shells
Garden with your kids
Make connections with other professionals in your field
Use your garden to teach math
Set up a movement challenge
Have a Teddy Bear Chalk Challenge
Do nice things for others
Screen-Free Articles
FREE screen free printables & certificate
Unplug and enjoy the quiet time by Susan Case
Afterschool Screen-Free activities
Certificate of achievement
To search activities at the Educators Spin On It by age:
Baby
Toddler 
Preschool
Grade School
Parenting
Follow The Educators' Spin On It's board Screen Free Activities and Resources on Pinterest.
JOIN US {
CLICK HERE
} TO PRINT YOUR CERTIFICATE OF PARTICIPATION