The holidays are a great time to volunteer at your child's school! Here are a few ways to help with holidays crafts and gift in your child's classroom this year.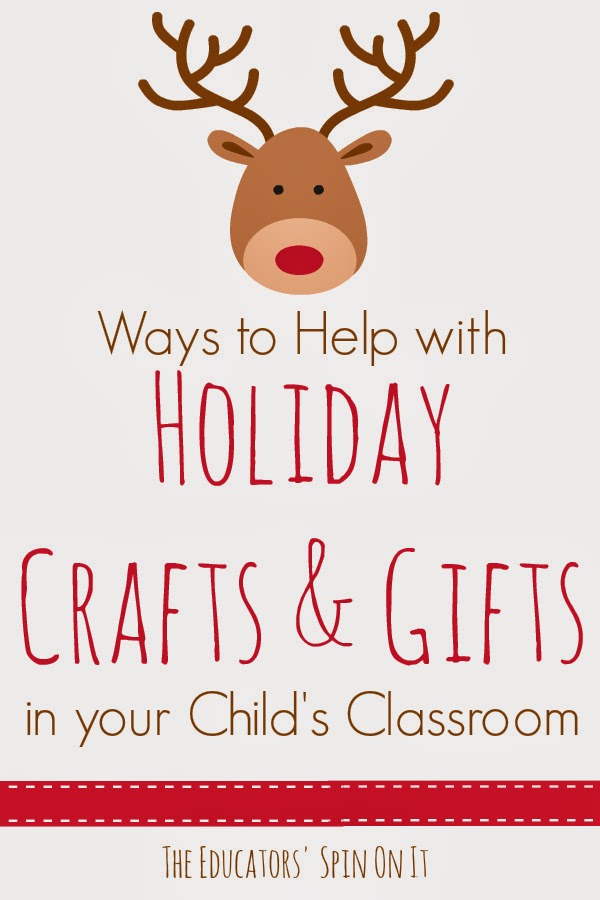 It's here DECEMBER! It's a busy time of year for all of us but I want to take a moment to encourage you to reach out to your child's classroom and see how you can help support your child's teacher. For many the end of the semester and report cards, and assessment time is getting closer they are returning from a shortened month of November and now a shortened month with Winter Break.
Teachers are starting to feel the pressures of it all.
While we're all at home getting ready for the Holidays they are busy teaching our children to prepare them for end of the units tests and for the standardized tests that are coming in just a few months in the spring. As much as we want the holiday spirit all around our kids we also want business to take place as usual at school to keep our kids on track for success.
Finding Joy with Kids in Handmade Gifts for Parents
After mentioning our busy schedules I must admit that there's nothing more special than a handmade gift being brought home from a child from school. The excitement on their face as they prepare it for their parents. Finding a way to create a special gift wrap brings such joy to our children's hearts. And truthfully is extremely important for them to have the opportunity to be able to express this gratitude and joy to their parents.
However with Busy Schedules and the Need for Handmade Holiday Crafts, I'm sure you're thinking….
How to make it all work? How can I help?
Tips for Ways to Help with Holiday Crafts and Gifts for Parents
Ways to Help with Holiday Crafts and Gifts in the Classroom
Volunteer in the Classroom
One simple way is to volunteer to come into the classroom and make a craft with the kids as a gift for their parents. It can be a
Handmade Christmas Card

Handmade Ornament for the tree

Handmade Gift
The key is in presentation. Helping come up with the gift wrap idea and doing it with the kids helps so much.
Pick a Simple Project
Simple really is best when it comes to this find a budget-friendly idea and ask the teacher if they would mind if you came in and prepared it with the students. You've taken away all the hard work!
Offer to Prepare at Home
If you're not able to come in you could also just offer to send in the items prepared for the class.
Offer to Read a Holiday Story & Create
There are fun ways to sneak the holidays into everyday lesson plans by sharing stories about the holidays. Offer to come in and read a specialized book to the class with a coordinating activity. There are fun ways to incorporate reading, writing, math, social studies, and science with a holiday book. Here are 1000+ Activities and Crafts to have some fun with Jan Brett's Books or Tomie dePaola's Books.
Help Organize a Crafting Party for the Holiday Party
You could even plan to have them create it during the holiday party. Most simple projects can be done for the whole class in less than 30 minutes. However, if that time is not there you could offer to come in a few days at the beginning or end of school to get a few students done at a time.
There are 3 weeks until Holiday break for most of us which gives us enough time to get things rolling.
Where to Start with Ideas? Contact your Child's Teacher
Where to Get Ideas? Start with a few Pinterest Boards
Psst…. Starting Planning for a Holiday Gift Idea for your Child's Teacher