Hands on ideas for learning about solar energy with kids. We LOVE sunny days!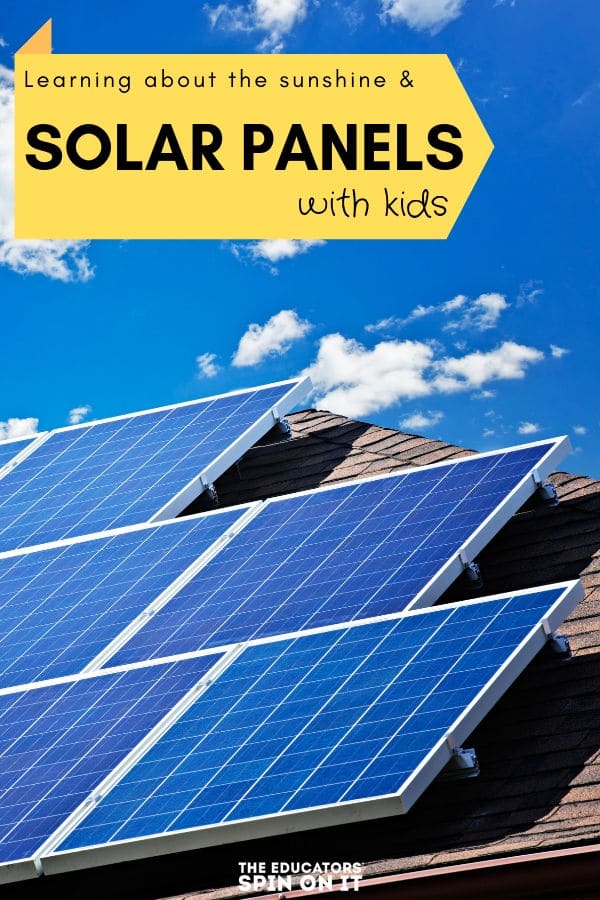 This post contains Amazon affiliate links.
Learning about Solar Energy with Kids
The sun is a pretty amazing and powerful bundle of energy. It can turn your skin pink if you do not protect yourselves, it can make fabric color lighter if left on the clothes line too long, it heats things up, and it can even power homes.
If you are a follower of our blog, you will know that we are dedicated to raising thoughtful, informed, happy children. We love gardening, eating healthy, being active and playing outside.
Several years ago, my husband and I (Amanda) made a choice to "go solar" to not only harvest this powerful, renewable energy source, but also to make an investment in our environment to hopefully help make the world a better place for our children as they grow up.
Many people watch or listen to the meteorologist's predictions on what the weather will be to see how they will dress, plan trips, and make decisions on things like what to plant in their garden.
We don't just watch for sunny days, we track them too! Here is a collection of graphs from our solar panel recording. We use most of what the panels make to run our household. Each city has different programs when it comes to Solar Energy.
Learn about Solar Panels with Kids
We are fortunate to live in a community where "going solar" is very popular and many homes, business, libraries and even schools are harnessing the power of the sun!
In our case, if we make more than what we use, the electric company buys back the extra energy. Often times, we don't make enough to meet our needs and we must buy electricity from our electric company.
The graphs below can show how the suns energy varies throughout time. In the top left quadrant is a graph from yesterday. You can see that at 12:00 noon, our panels produce the greatest amount of electricity. Why? This is a great question to discuss with your kids!!! The top right corner shows a graph from the last week.
All sorts of things play into the amount of energy we can collect from the sun, weather plays a HUGE factor. Some people with large systems can even see small dips in their energy collection when a plane passes over. Cloudy, rainy days are not high producing energy days at all.
The bottom left graph shows our energy collection for the span of last year. One may think that the summer months of June and July would be the biggest producers of energy. Solar panels however, do not function as well with the heat of the summer sun.
The spring months with sunny days and a little cooler weather are optimal for our system. The bottom right quadrant is a screenshot of our lifetime statistics.
As of this morning, we have produced 11.057 MWh of energy and avoided 6745.1 kg of CO2. If you compare this to a large system it is not a lot, but we are of the philosophy of; if everyone takes small steps and makes small changes then the world will be a better place. Your small step and my small step may mean something entirely different. The most important thing is that you make that step.
Sun Activities for Kids Learning about Solar Energy
Let's celebrate sunny days and the gifts that the sun's energy gives us!!! What can you do???
1. Sun Prints
You could talk to your kids about the sun and have them make sun-prints. We used the solar sun print kit, but should have just bought the re-fill package ($5.99 vs $10.49) as we just used the paper.
The extras in the kit were not necessary! In 4 easy steps we had beautiful prints from the sun!
You first gather items from nature with different shapes.
Then, you set them on the paper in a dark room and bring them out to the sun.
When the paper starts to turn white (after 1-3 minutes) you rinse it in a container of water for 1 minute.
Last you set it out on a flat surface to dry!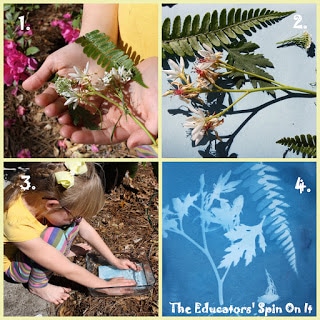 2. Clothesline Fun
Hang your clothes up on the line to dry. Sing a song with your kids while you do it. We sing this one..
This is the way we hang up the clothes,
Hang up the clothes,
Hang up the clothes.
This is the way we hang up the clothes,
Thank you sun for helping.
3. Experiment with Solar Powered Lights
Purchase solar-powered outdoor lights for your home walkway. Have your kids help you install them!
4. Sun Craft
Make a craft sun and sing, "Oh Mister Sun"(Kim did this every year with her kindergarten class!)
Using two sheets of yellow paper have your child cut out a large circle on the first sheet.
Then on the second sheet have your child cut strips of paper about one inch wide.
Once they cut the stripes of paper have them fold the paper accordion style.
Then attach to the circle for the sun rays.
(This is meant to be an independent craft for older child but can be cut ahead of time for younger children to glue together.)
Finish with a smiley face!
4. Solar Powered Oven
Make a Solar Powered Oven, Like the one at PBS Zoom, or this one here, or better yet – have the kids design their own! Here's how ours turned out.
5. Sun Shapes with Math
Connect the concept of the sun to your math lessons about shape, sizes, and colors.Make your own using pattern blocks (yes, you know we love these!)
We hope some of these ideas have inspired you to celebrate the sun!